Power your workouts on the Horizon Fitness 7.8 AT treadmill with a 4.0 Continuous-Duty Horsepower motor and 500-pound thrust incline motor. Together, they create the most responsive drive system available on a treadmill. That means faster changes and a smoother, more efficient run.
You'll experience faster, smoother transitions between intervals using QuickDial controls on the Horizon Fitness 7.8 AT treadmill. On the right, roll the dial forward to increase speed and back to decrease speed. On the left, roll it forward to go up the hill and back to come back down.
Achieve maximum results in less time with the Horizon Fitness 7.8 AT Treadmill Sprint 8 20-minute high-intensity interval training workout, proven to burn up to 27% body fat in just eight weeks. In addition, Sprint 8 is more efficient than a basic HIIT workout because it engages fast-twitch muscle fibers and naturally stimulates Human Growth Hormone (HGH).
Advanced, multi-device Bluetooth connectivity syncs your device to your treadmill's integrated speakers to stream media with crisp, vibrant stereo sound. Now it's easy to follow your coach's prompts, tune into your favorite show, or sweat it out to motivating music. Don't let a low battery slow you down. The rapid-charge USB port keeps your device fully powered during long runs.
Learn more in my complete review below!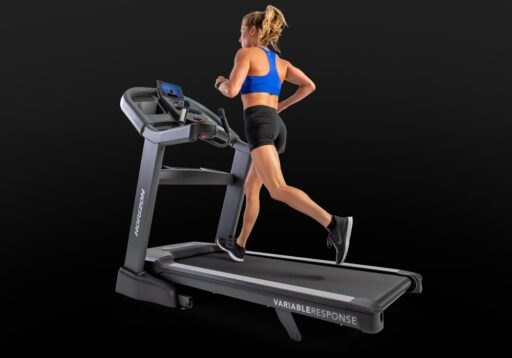 Product: Horizon Fitness 7.8 AT Treadmill
Price: For a great deal on this treadmill, merely go here to Amazon.com
Warranty: Frame lifetime / Motor lifetime / Parts 5 years / Labor 2 years
My rating: is 9/10
Affiliate Disclosure: As an Amazon Affiliate Program participant, I earn commissions on purchases made through links in this post. Full disclosure
Details and Specifications
Assembled dimensions: 76L x 37W x 64H inches (193L x 94W x 163H cm)
Running surface: 60L x 22W inches (152L x 56W cm)
Assembled weight: 330 lbs (150 kg)
Max. weight capacity: 375 lbs (170 kg)
Deck cushioning: 3-Zone Variable Response Cushioning
Motor: 4.0 CHP, RapidSync Drive System
Speed range: 0.5-12 MPH
Incline: Automatic, 0-15%
Console: 10 workout programs, Bluetooth, compatible with AFG Pro Fitness app
Extras: Sound system, cooling fan, device holders, bottle holders, USB charging port
Warranty: Frame lifetime / Motor lifetime / Parts 5 years / Labor 2 years
7.8 AT Frame Construction
The Horizon Fitness 7.8 AT treadmill features a heavy-duty thick steel tubing frame. It combines oval and rectangular tubes in its construction for improved sturdiness and aesthetics. In addition, all the steel parts come coated with a corrosion-resistant black paint finish.
The treadmill also integrates several non-steel parts. The most notable ones are the motor cover, the accessory tray, and the base frame covers. In addition, the side rail covers are aluminum-reinforced.
Like most other commercial-grade treadmills, the Horizon 7.8 AT is pretty bulky. With all the parts assembled, it is approximately 76″ (193 cm) long and 37″ (94 cm) wide. It is also advisable to leave at least three feet of clearance at the rear of the deck and at least two feet on each side of the machine for easy access and safe usage.
The unit's frame is foldable. The deck can fold up to save space and provide better cleaning possibilities under the machine. With the deck folded up, its footprint becomes 42″L x 37″W (107 x 94 cm), while its height reaches 71″ (180 cm). The folding mechanism uses a hydraulic element that slowly lowers the deck when unfolded.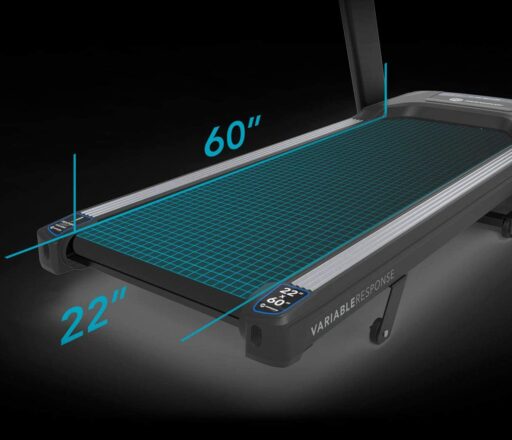 The treadmill is pretty heavy. Its net weight is 330 lbs (150 kg). Thus, two people should carry and assemble the treadmill. However, one person can move the treadmill as its base frame integrates transport wheels.
Deck Construction
The Horizon Fitness 7.8 AT treadmill offers a relatively large running surface. It is 60″ (152 cm) long and 22″ (56 cm) wide, so the machine comfortably accommodates users up to 6'6″ (198 cm) with no problem. In addition, its inner deck board is 0.8″ (20 mm) thick, durable enough to support users up to 375 lbs (170 kg).
The treadmill integrates a 1.6 mm silicone belt designed to provide a secure grip and minimize static. The internal rollers are reasonably large. The front one is 2.3″ (60 mm) in diameter, while the rear one is 1.8″ (46 mm).
Rollers have a tapered finish to provide better traction and prolong the belt's lifespan. The rollers also integrate industrial-grade, sealed ball bearings for a smooth motion.
The machine's deck comes equipped with a variable response cushioning system. The front section is the impact area with more cushioning to alleviate the shock of each foot strike. The center section offers moderate cushioning for a better transition, while the rear section is harder to promote a better push-off.
Thus, the treadmill considerably reduces the impact on your joints instead of running on asphalt or concrete.
7.8 AT Incline system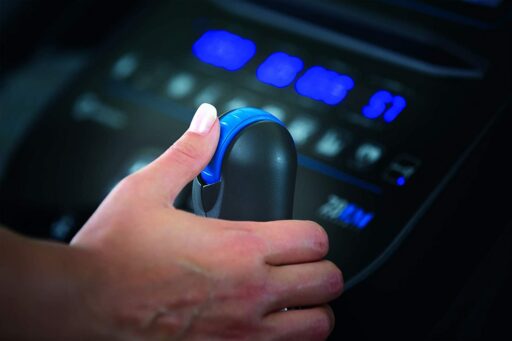 The Horizon Fitness 7.8 AT treadmill features an automatic incline system. Therefore, you can adjust the incline as you run, and the console can also automatically adjust the incline depending on the program or app in use.
In addition, of course, the incline can adjust manually, either from the console controls or from the controls integrated into the left upright grip.
The machine comes equipped with a 500-pound thrust incline motor which won't have any problem lifting the deck even if the user is close to the maximum specified weight limit. The incline system also uses a small lift under the deck's front part.
Thus, when you adjust the incline, the motor moves the lift, elevating or lowering the front section of the deck. The machine does not have a decline system, like the NordicTrack Commercial 2450.
The unit's incline range is 0% – 15%. It adjusts in 0.5% increments from the controls integrated into the console or the left upright grip. However, the console also has quick incline selection buttons on the left for the 0, 2, 3, 4, 5, 6, 7, 8, 9, 10, 12, and 15 incline positions.
Last but not least, the step-up height of the machine's walking platform is eight 3/4″ (~22 cm). With the incline set to maximum, the front section of the deck gains a few extra inches. Therefore, using this treadmill in a room with a ceiling at least 20″ (51 cm) higher than the tallest user is advisable.
Drive motor
The Horizon Fitness 7.8 AT comes equipped with a more powerful motor than the 7.4 AT model. In addition, it integrates a 4.0 CHP motor designed for superior performance and traction.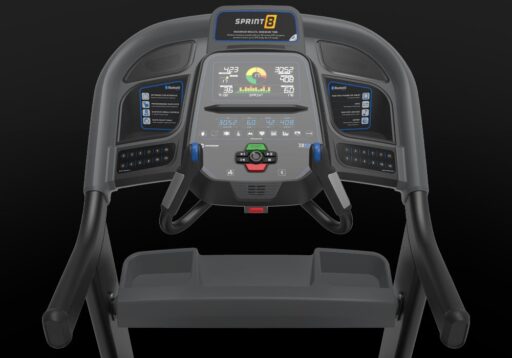 In addition, it has RapidSyncTM technology to eliminate lags or delays between speed changes. Furthermore, it also integrates a small flywheel for improved motion stability.
The unit's drive motor makes a speed range between 0.5 and 12 MPH. The speed adjustment increments are 0.1 MPH. Thus, it results in a smooth transition from one-speed level to another, giving you plenty of time to adjust your pace.
The console offers controls for gradual speed adjustment and quick speed selection keys from 1 to 12 MPH. Plus, the right front grip of the machine integrates a scroll wheel for gradual speed adjustment.
The two vertical grips of the machine also have built-in interval keys. You can program these with a specific incline and speed setting for quick selection if you want to perform an interval workout.
7.8 AT Console
The Horizon Fitness 7.8 AT treadmill comes equipped with an advanced multi-function console. To begin with, it features a sizeable 9.3″ LCD that shows distance, pace, incline, speed, time, calories, and heart rate.
It also shows the segments of the program in use. In addition, there is also a LED display under the main LCD; this is divided into four windows and shows time/countdown, speed/incline, distance/pace, and calories/pulse.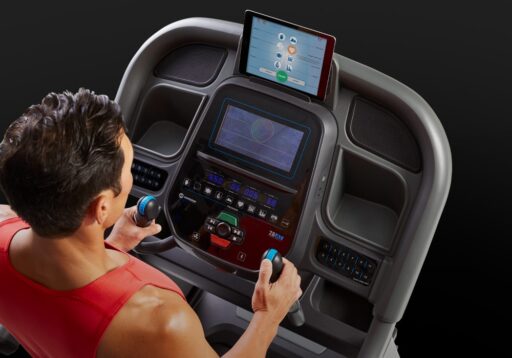 The console has Bluetooth connectivity. Thus, you can sync it with your smartphone or tablet via the free downloadable AFG Pro Fitness app. This app allows you to track your progress online, view your workout history, keep a fitness journal, and more.
The console is also compatible with Zwift, Kinomap, Peloton, and other apps (subscription required). Unfortunately, the treadmill does not come with a subscription for any of these apps.
The use of a fitness app is not necessary. The console has ten built-in workout programs. Each one of them has its quick-access key. The programs are Manual, Hill Climb, My First 5K, Fat Burn, Custom, Target Distance, Target Calories, Target Heart Rate, Custom Heart Rate, and Sprint 8.
These programs cover all the workouts that you can perform on a treadmill. Some only adjust the speed, and others adjust both the incline and speed. And some of them have multiple levels or modes.
Note: The tablet pictured in the console images to the right does not come with the treadmill.
Amenities
I can count a workout fan, a USB port, two device holders, four accessory compartments, and a sound system, among other console amenities. The cooling fan is in the console's bottom, with the on/off button in the bottom left corner.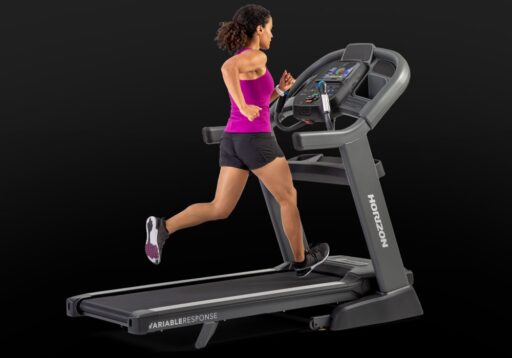 The sound system consists of two prominent speakers integrated into the top corners of the unit. In addition, there is an audio in and an audio out port on the right side of the console. The USB port is also near the audio ports; it can serve as a charging port for your phone or tablet.
And finally, there are two device holders, one above the LCD and one underneath it, on which you can store your phone or tablet.
7.8 AT Assembly and Maintenance
The machine's deck comes pre-assembled. Therefore, you only need to attach the two upright bars, their bottom covers, the accessory tray between them, and the console.
Consequently, this may take more than an hour, but the task is straightforward, and the manual provides all the necessary instructions. In addition, the tools for assembly and belt adjustment come with the treadmill. Also, two people should assemble the machine due to its impressive weight.
For maintenance, it is advisable to keep the machine clean, especially the belt, to prevent any dirt or textile fibers from being caught in the motor or the rollers.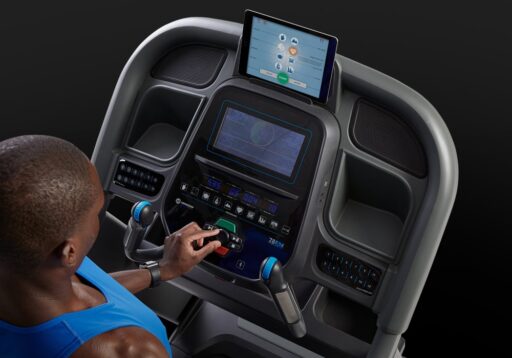 The belt requires lubrication every three months or every 300 miles. A bottle of lubricant comes with the treadmill. Other than this, you only need to periodically check for loose bolts and parts and retighten them as required.
Pros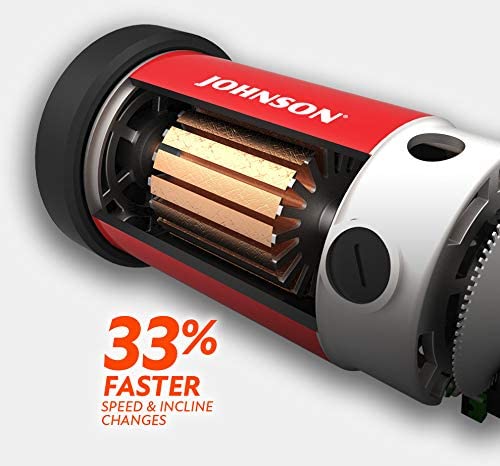 Heavy-duty construction – can support users up to 375 lbs;
Folding frame, space-saving design;
Transport wheels on the machine's bases;
Cushioned deck;
Motorized incline, 0% – 15%;
4.0 CHP commercial-grade motor with RapidSyncTM technology;
Excellent speed range (0.5 – 12 MPH);
Speed can adjust in increments of 0.1 MPH, allowing you to find the perfect pace for your workout;
Quick keys for speed and incline;
Programmable interval buttons for speed and incline integrated into the upright grips;
Scroll speed and incline controls integrated into the vertical grips;
EGK pulse sensors integrated into the vertical grips;
HR chest strap included;
Ten workout programs;
Bluetooth connectivity;
Compatible with the free AFG Pro fitness app for iOS and Android;
Compatible with multiple fitness apps, including Zwift, Peloton, and Kinomap;
Various amenities such as cooling fan, speakers, tablet holder, and accessory trays;
USB charging port;
One bottle of lubricant included;
Tools for assembly and belt adjustment come with the treadmill;
Quiet operation;
Reasonably easy to assemble;
Little maintenance is required;
Excellent warranty.
Cons
The cooling fan is not too powerful;
Horizon Fitness 7.8 AT Treadmill Summary
The Horizon Fitness 7.8 AT is a commercial-grade treadmill. It comes with a 4.0 CHP motor, an automatic incline system, a console with ten built-in workout modes, and Bluetooth connectivity, compatible with apps like Zwift, Peloton, and Kinomap.
The treadmill offers a large running surface (60″L x 22″W) as well as a sturdy deck that can support users up to 375 lbs. Moreover, it's a heavy-duty machine, great for users of all levels.
I hope you found this article helpful and informative. Would you please speak up if you have anything you'd like to share or any opinions about my website? I look forward to your comments, questions, and the sharing of ideas.
Please note you should consult your physician to determine if you have any medical or physical conditions that could risk your health and safety or prevent you from using the equipment properly. In addition, your physician's advice is essential if you are taking medication that affects your heart rate, blood pressure, or cholesterol level.