The Marcy Pro Smith Machine SM-4903 is jam-packed with exercises that help you maintain and achieve a toned and fit physique. It combines a smith machine with precision linear bearings, an Olympic weight rack, a dip station, and a cable-routed pulley system in one attractive and compact design.
Use the Marcy Pro Smith Machine SM-4903 to safely do smith machine squats and other power racks / squat rack exercises. Add resistance bands to amp up your workout and improve your form. The upper and lower dual cable crossovers utilize two pulley systems, allowing you to balance your training correctly.
The pull-up bar and dip station allow you to use your body weight to work out your upper body. The adjustable bench with the smith machine is for chest presses and various bench pressing degrees. You can also pull the bench away from the Smith Machine / Rack and use free weights to target even more muscle groups.
The Marcy Pro Smith Machine SM-4903 looks sleek, professional, and sophisticated, making your body look the same. With a heavy-duty steel construction and a durable powder-coated finish, this bad boy can hold up to 600 lbs. It's perfect for your house's basement, garage, or workout area.
Learn more in my complete review below!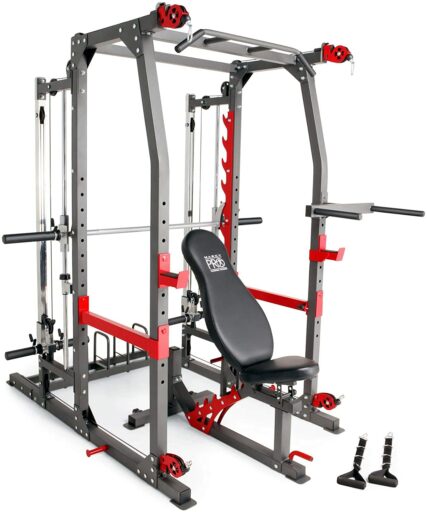 Product: Marcy Pro Smith Machine SM-4903
Price: For a great deal on this gym, merely go here on Amazon
Warranty: 2 years limited
My rating: is 8/10
Affiliate Disclosure: As an Amazon Affiliate Program participant, I earn commissions on purchases made through links in this post. Full disclosure
Details and Specifications
Assembled dimensions cage: 86L x 73W x 85H inches (218L x 185W x 216H cm)
Assembled dimensions bench: 48L x 37W x 49H inches (122L x 94W x 124H cm)
Shipping weight: 390 lbs (177 kg)
Weight capacity:
Maximum weight for the bench: 600 lbs (272 kg) (including user's weight)
Maximum weight for the press bar: 300 lbs (136 kg)
Maximum weight for sliding weight trolley: 300 lbs (136 kg)
Maximum weight for pull-up bar and dip station: 300 lbs (136 kg)
The bar catch braces and bar catches have a maximum weight of 300 lbs (136 kg)
Compatible weight plates: Olympic & Standard
Possible exercises: 50+
Warranty: 2 years limited
SM-4903 Smith cage
The main element of the Marcy Pro SM-4903 is the Smith machine. Its frame is heavy-duty steel tubing. The main upright posts and the upper and base bars feature a gray, corrosion-resistant paint finish, while the rear bars that serve as guides for the weight trolleys and the stability bars for the weight bar have a chrome finish.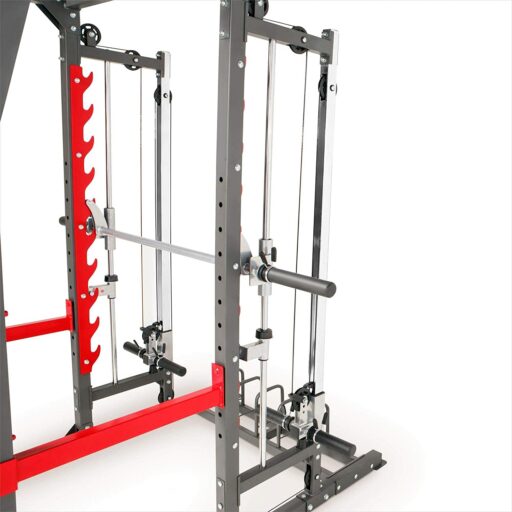 The Smith machine's safety catches, and the catch bars on the opposite side have a red painted finish. The catch bars also have a rubberized layer to reduce a bar drop's noise and prevent paint chipping.
The fully assembled Smith machine is relatively large. Its footprint is 86″L x 73″W (218 x 185 cm), while its height is 85″ (216 cm). Therefore, the machine won't fit in a room with a seven-foot ceiling, and you will need at least one foot of clearance above it to perform pull-ups correctly.
Also, the included lifting bar is seven feet long so you will need at least a few feet of clearance all around the unit for safe usage and ease of access.
The rear base of the cage consists of a double bar with five weight plate dividers. These dividers can also double up as push-up points if the cage's rear is not close to a wall.
Safety elements
Regarding safety elements, the Marcy Pro SM-4903 cage comes with two catch bars, a set of two catch braces, and the safety catches of the Smith machine. These all have a  weight capacity of 300 lbs (136 kg).
The cage's rear upright posts have 12 adjustment positions, while the front posts have 11. The catch bars' highest set of adjustment holes is approximately 56″ (142 cm) above floor level.
The cage's top front bar has a pull-up bar featuring curved lateral grips and parallel grips at the center so that you can perform a wide array of pull-ups and chin-ups. This bar has a weight capacity of 300 lbs (136 kg).
Since the Marcy Pro SM-4903 has a dual sliding weight trolley system, several pulley sets are on each side. The pulleys are made of heavy-duty nylon material and integrate sealed ball bearings for a smooth motion.
The cables are steel ropes tested for 2,000 lbs tensile strength to support more than the carriages' specified weight capacity. In addition, each cable comes coated with a layer of PVC material to prevent scratching of the pulleys.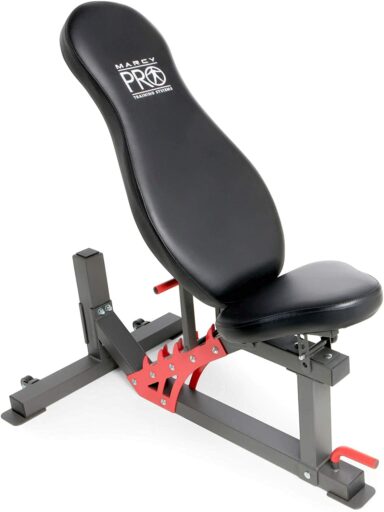 SM-4903 Accessories
The Marcy Pro SM-4903 includes a dip station attached to one of the upright bars. In addition, it features two extended rubberized grips and has a weight capacity of 300 lbs (136 kg), like most other machine parts.
The high and low pulley systems come with two D-handles with rubberized grips. This strength training system does not include a short bar for low rows or a lat bar. And finally, both the Smith bar and the weight trolleys have Olympic 2″ removable adapters with spring collars.
Bench
The Marcy Pro SM-4903 Smith Machine system includes a multi-position bench. It offers six positions for the backrest and four positions for the seat. However, it is essential to note that the backrest does not provide a decline position.
The bench is relatively large. Its footprint is 48″L x 37″W (122 x 94 cm), while its highest point is approx—49″ (124 cm) when the backrest is at its most upright position. The bench does not attach to the cage in any way.
Its rear base has two tiny wheels, while its front base has a small lifting handle, so you can remove it from the cage if you want to perform squats, pull-ups, or other exercises that do not require a bench.
Both the seat pad and the backrest has generous cushioning. The seat and backrest integrate approx—2.5″ (6.3 cm) foam padding and durable vinyl upholstery. In addition, the seat and backrest are approximately 14″ (35 cm) wide, offering plenty of support.
The weight capacity of the bench is 600 lbs (272 kg). Of course, this includes the user's weight and the barbell or dumbbells used for the exercises.
SM-4903 Weight Resistance
The Marcy Pro SM-4903 Smith Machine has a dual sliding weight trolley system. Each weight carriage holds up to 300 lbs (136 kg) and 150 lbs (68 kg) on each peg. The pegs can load with Standard 1″ weight plates, but as I've mentioned earlier, each carriage has a set of Olympic 2″ adapters so that you can use Olympic plates as well.
The machine has two sets of upper pulleys and two lower pulleys. Therefore, you can perform a variety of crossover exercises. Each pulley side or each carriage offers a weight resistance of 2:1.
In other words, if you load one weight carriage with 100 lbs, you will benefit from a weight resistance of 50 lbs. Thus, using the pulley system, you can have a maximum of 150 lbs (68 kg) weight resistance per arm.
Possible Exercises
Pull-ups
Wide grip pull-ups
Muscle pull-ups
Behind head pull-ups
Cliffhangers
Chin-ups
Close grip chin-ups
Wide grip chin-ups
Hanging knee raises
Hanging leg raises
Lat pulldowns
Close-grip pulldowns
Behind head pulldowns
Dips
Low cable cross-overs
High cable cross-overs
Aerobic rowing
Kneeling rowing
Biceps curls
Triceps press downs
Incline presses
Horizontal presses
Single-arm chest presses
Wide grip chest presses
Close grip chest presses
Cable crunches
Cable twist crunches
Seated trunk rotations
Standing trunk rotations
Calf raises
Squats
Single-leg squats
Kneeling single-leg squats
Wide squats
Twisting squats
Jumping squats
Hip extensions
Hip adductions/Hip abductions
and more
Of course, some of these exercises require extra accessories. For example, using a short bar to do rows is advisable. Likewise, for standard lat pulldowns, you'll need a pulldown bar. Also, the bench is useable outside the cage for a wide array of dumbbell exercises.
SM-4903 Assembly and Maintenance
This Marcy Pro SM-4903 strength training system requires complete assembly. Consequently, the task will take a few hours but is not complicated. However, it is advisable to do this with the help of another person. The included manual provides clear assembly instructions and schematics.
Unfortunately, tools for assembly do not come with the cage. Therefore, you will need a set of Allen wrenches, two adjustable wrenches, and a rubber mallet.
It is advisable to periodically lubricate the guide rods of the lat attachment and the Smith machine's guide tubes for maintenance. A bottle of silicone lubricant comes included with the machine. Other than this, inspecting the machine occasionally to ensure no damaged parts and retightening any loose parts would be best.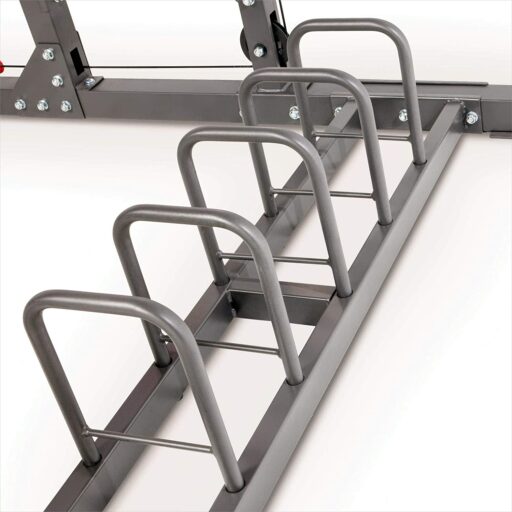 Pros
Heavy-duty steel construction;
12 adjustment positions for the bar catches;
Dual sliding weight system;
Barbell included;
Olympic 2″ adapters for both the carriages of the pulley system and the barbell;
Five weight plate dividers on the rear base bars;
Heavy-duty nylon pulleys;
2,000 lbs tensile strength steel cables with PVC sleeves;
Two anchors included;
Multi-grip pull-up bar comes included;
The removable dip station comes with the machine;
D-handles included;
Bar catches and safety catch braces included;
Multi-position bench included;
Premium cushioning on the bench pads;
600 lbs weight capacity for the bench;
Over 50+ possible exercises;
Quiet operation;
Little maintenance is required.
Cons
No preacher pad attachment;
No leg developer;
Only 300 lbs capacity for the Smith cage (some users may want more);
A lat bar does not come with the machine.
Marcy Pro Smith Machine SM-4903 Summary
The Marcy Pro SM-4903 is a strength training system with a Smith machine, a dual overhead pulley system, and a heavy-duty, multi-position bench. It also has a pull-up bar and a removable dip station. It offers the possibility to perform more than 50+ exercises.
Moreover, it's excellent for beginners and mid-range lifters, perfect for any home gym setup. In all, it offers superb value for the price.
I hope you found this article helpful and informative. Would you please speak up if you have anything you'd like to share on the topic or any opinions about my website? I look forward to your comments, questions, and the sharing of ideas.
Please remember to consult your physician to determine if you have any medical or physical conditions that could risk your health and safety or prevent you from using the equipment properly. In addition, your physician's advice is essential if you are taking medication that affects your heart rate, blood pressure, or cholesterol level.