Fitness Reality 2646D Fan Rower is a sleek, modern cardiovascular fitness machine with a foldable, user-friendly ergonomic design and Bluetooth functionality to sync with the MyCloudFitness app and On-Demand Coaching by Fitness Reality.
The FR 2646D has a robust and durable frame with a maximum user weight capacity of 250 pounds (113 kg) and 14 magnetic and infinite fan resistance levels. It runs smoothly and quietly as you row along the sturdy aluminum slide rail.
MyCloudFitness (MCF) app (30-day free trial) is compatible with the Bluetooth fitness monitor that tracks calories burned, distance, time/500 strokes, strokes per minute-SPM, watts, and workout based on your resistance level. In addition, the Start/Pause, Stop Hold for Reset, Up, Down, Enter-Mode, and Goal buttons are on the LCD.
It offers a great workout without needing to leave the comfort of your home. And you get your whole body involved on the FR 2646D, not just your back. You'll work on your legs and core section- abs, arms, shoulders, chest, and back. And by increasing the resistance level to 14, you'll get a strength training workout.
Learn more in my complete review below!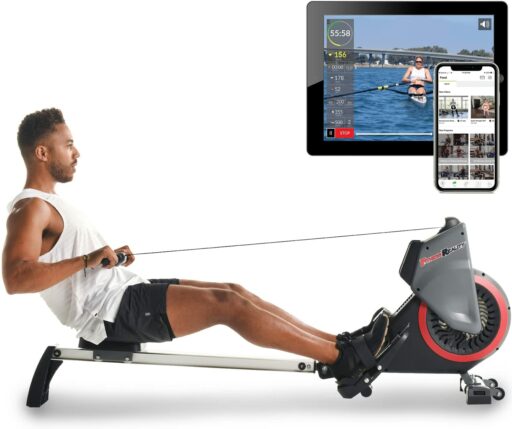 Product: Fitness Reality 2646D Fan Rower
Price: For a great deal on this rower, merely go here on Amazon
Warranty: 1 year limited
My rating: is 8/10
Affiliate Disclosure: As an Amazon Affiliate Program participant, I earn commissions on purchases made through links in this post. Full disclosure
Details and Specifications
Assembled dimensions: 70L x 23W x 26H inches (178L x 58W x 66H cm)
Assembled weight: 49 lbs (22 kg)
Weight capacity: 250 lbs (113 kg)
Frame: Steel & aluminum
Resistance: Air & magnetic, 14 levels
Fitness Monitor: Time, time/500, distance, strokes, strokes per minute, calories, Watts, goals, Bluetooth
Warranty: 1 year limited
FR 2646D Frame Construction
The Fitness Reality (FR) 2646D Fan Rower combines steel, aluminum, and thermoplastic parts in its construction. The front part of the frame that holds the fan and the rear stabilizer is steel. The machine's rail is extruded aluminum, while the fan's coves, the footrests, and other minor elements are heavy-duty plastic.

All the steel parts come coated with a black and dark gray corrosion-resistant paint finish. The rail features a natural aluminum finish. The front casing's drive and resistance elements are black, gray, and red for an extra aesthetic touch.
The fully assembled machine is not too large compared to other rowers but still is approximately 70″ (178 cm) long and 23″ (58 cm) wide. In addition, leaving at least two feet of clearance at the rear and on each side is advisable for easy access. So, at least lengthwise, you'll need a bit of space. Thus, it may not fit too well in a small room.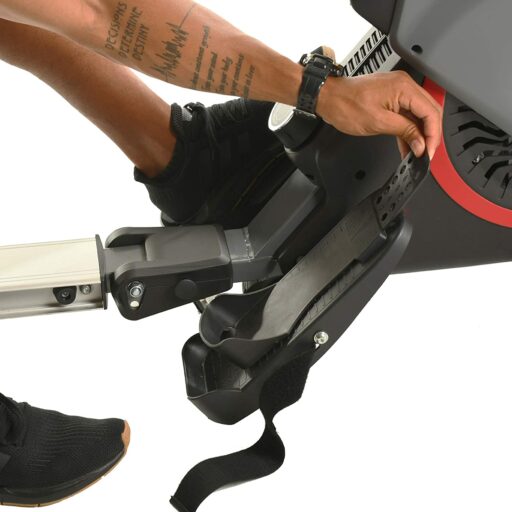 The machine's rail is approx—38″ (96.5 cm). Therefore, the rower should also comfortability accommodate users up to 6'2″ – 6'3″ (188 – 190 cm). In addition, it has a maximum user weight limit of 250 lbs (113 kg).
On the other hand, this Fitness Reality rower folds for storage. Its rail and seat assembly folds up, leaving the machine with a footprint of 33.5″L x 23″W (85 x 58 cm) and a height of 46″ (117 cm).
The rower is relatively light. Its net weight is only 49 lbs (22 kg). Thus, one person can carry and assemble the machine. Once built, its relocation is via the small wheels that integrate into the front stabilizer. Also, the front stabilizer comes equipped with two adjustable levelers.
Seat, footrests, and other parts
The FR 2646D rower comes equipped with a seat similar to the one included on other rowers in this price range. Its top section is high-density foam featuring a contoured surface for optimal comfort.
Its steel base frame integrates two wheels that slide along the rail's side grooves. The wheels have built-in sealed ball bearings to provide a smooth seat motion, while on the outside, they have a thick layer of silicone or urethane high-density rubber to eliminate noise.
The machine's rail is not horizontal; it slightly inclines forward by a few degrees. Therefore, it provides a somewhat better workout for the legs, and the seat is a bit higher when it extends to the back of the rail. Its maximum height is approx—10″ (25.4 cm).
The FR 2646D rower comes equipped with two large footrests. They're heavy-duty thermoplastic material, are size-adjustable, and accommodate athletic footwear of all sizes. In addition, they also have adjustable straps and heel guards, so you can entirely secure your feet on them.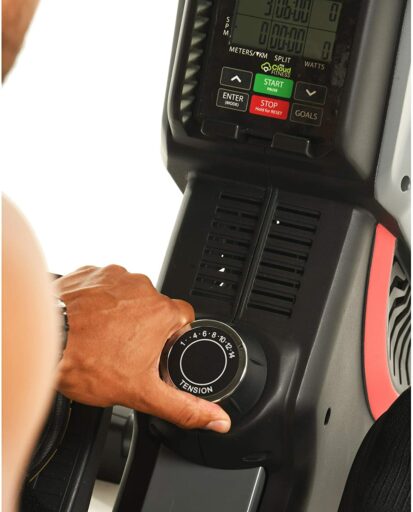 If you're wondering, the machine's footrests do not pivot. Instead, they attach to two parallel steel rods fixed at approximately 45 °.
The pulling handle is a simple short steel bar with foam sleeves for a more comfortable grip. Unfortunately, it does not come with resistance controls or HR pulse sensors. Instead, it is attached to a heavy-duty nylon strap, highly resistant to abrasion.
This type of drive comes with two main advantages over the chain drive. First of all, you don't have to lubricate it, and second of all, it generates less vibration delivering a smoother rowing motion.
FR 2646D Resistance system
The FR 2646D rowing machine's resistance system combines air and magnetic elements. The main resistance-generating component is a large fan integrated into the front section of the rower. The fan spins inside its casing generating resistance as you pull the handle.
Like any other air resistance rower or bike, the FR 2646D produces a dynamic response during rowing. For instance, the faster you pull, the faster the fan will spin and the more resistance you will get. This type of resistance resembles the feeling of rowing a real boat through the water, which is quite a plus.
The rower also integrates a magnetic brake and a slight metallic flywheel. This braking system offers the possibility to adjust the overall resistance of the machine. The brake connects to the tension knob visible on the front section of the rower. For example, when you turn the knob, the brake shifts to the internal metallic flywheel, increasing or decreasing the workout load.
Of course, since the rower's primary resistance mechanism involves a fan, along with the resistance, it also generates some noise. Nonetheless, the rower is not very noisy. When the rower is in use, the fan's sound is similar to an electric fan of the same size.
The machine's magnetic brake requires manual action. Therefore, you won't need a power adapter for this rower. In addition, it offers 14 distinct levels of resistance. On the lowest level, you will work only with the resistance generated by the fan.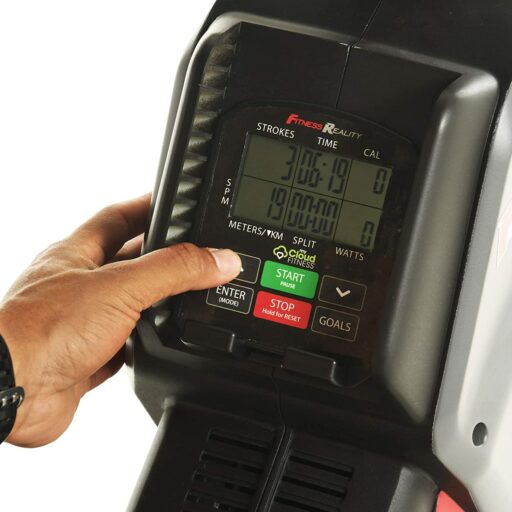 Conversely, the 14th tension level adds considerably more resistance for anyone who wants to push their limits and improve strength and stamina.
Fitness monitor
The included fitness monitor cannot automatically adjust the resistance. However, the machine's magnetic brake connects to it and depending on the resistance selected, the monitor will alter the distance per stroke, Watts output, and calories burned.
The monitor has a 6-window LCD that indicates time, split time, distance, strokes, strokes per minute (SPM), Watts, and burned calories. The distance and SPM share the same window and change every four seconds.
Furthermore, the distance displayed in meters does not have a miles selection. If it exceeds 9,999 meters, it will change to kilometers.
The monitor does not have pre-set workout programs but does offer the possibility to select workout goals for distance, time, calories, and strokes. The goal setup mode has its quick-access button. The monitor will count down from the specified value until it reaches zero and beeps when you have completed your goal.
The battery-operated fitness monitor requires four AA batteries, which do not come with the machine. It automatically turns on when it detects flywheel movement or when you press a button. In addition, it also automatically turns off after approx—20 minutes of inactivity on the rower.
MyCloudFitness app
An important feature to note here is Bluetooth connectivity. This allows you to sync your exercise bike with your smartphone or tablet, track your progress online, or view your workout history via the MyCloudFitness app for iOS and Android. Try it free for 30 days, then $14.99 a month. The 30-day free membership gives you access to the following:
Hundreds of coaching videos led by top trainers
Bike scenic routes in Paris, Central Park, and more with World Tour Maps
Row with an Olympic champion on the water in beautiful San Diego
New Content is added monthly
The MyCloudFitness app is reshaping wellness with personalized workout programs, award-winning trainers, workout tracking, on-demand fitness classes, world tour maps for cycling and rowing, and live fitness reports.
With a MyCloudFitness subscription (free for 30 days), you can view hundreds of workouts with top trainers, get personalized programs, and World Tour Solo allows you to work out in Paris, Central Park, and more. Take a day trip or ride at night, and with Scenic workout videos, you can transport anywhere, anytime you want, without ever leaving the comfort of your home.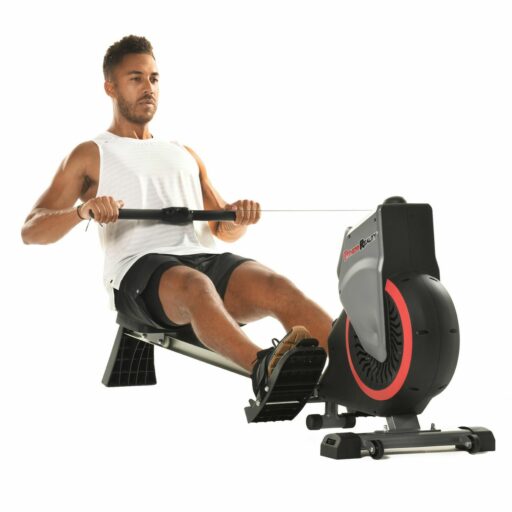 FR 2646D Assembly and Maintenance
The front section of the rower, with all the drive and resistance elements, comes pre-assembled. However, the rest of the parts do require user assembly. You must connect the front base stabilizer, connect the rail, insert the seat on the rail, and add the rear stabilizer and the footrests.
Therefore, it shouldn't take more than 40 minutes of your time. All the necessary tools come with the rower, and the manual provides clear assembly instructions and schematics.
Once assembled, you don't have to worry too much about maintenance. However, it would help if you kept the rower clean, especially the rail, to prevent damage to the wheels. It is also necessary to periodically check if all the parts function correctly, hold them tight in their places, and retighten them if necessary.
Pros
Light-weight construction, easy to carry and handle;
Fairly decent weight capacity – can support users up to 250 lbs;
Folding design;
Transport wheels and adjustable levelers on the front stabilizer;
Large padded seat;
Wide aluminum rail for improved seat stability;
Large, adjustable footrests with straps and heel guards;
Offers a reasonably long motion range – can accommodate users up to 6'2″;
Air resistance for a dynamic response;
Magnetic resistance for adjusting the overall workout load;
6-panel multi-window fitness monitor – it tracks time, time/500, distance, strokes, strokes per minute, calories, and Watts;
Goal settings for time, distance, strokes, and calories;
Bluetooth connectivity and compatibility with the MyCloudFitness app for online workout history tracking;
Phone holder included;
Easy to assemble;
Little maintenance is required.
Cons
No backlight on the fitness monitor LCD;
The fitness monitor doesn't have a pulse reading function.
Fitness Reality 2646D Fan Rower Summary
The Fitness Reality 2646D Fan Rower is an air & magnetic resistance rower designed for home use. It offers 14 levels of magnetic resistance, a reasonably long aluminum rail with a maximum weight capacity of up to 250 lbs, and a multi-function fitness monitor with Bluetooth connectivity, compatible with the MyCloudFitness app. (Membership sold separately.)
Moreover, it's an excellent machine for a full-body cardio workout, interval training, muscle toning, stamina building, recovery training, and weight loss.
I hope you found this article helpful and informative. Would you please speak up if you have anything you'd like to share on the topic or any opinions about my website? I look forward to your comments, questions, and the sharing of ideas.
Please remember to consult your physician to determine if you have any medical or physical conditions that could risk your health and safety or prevent you from using the equipment properly. In addition, your physician's advice is essential if you are taking medication that affects your heart rate, blood pressure, or cholesterol level.