The MiM USA SM+FT Combo 1001 is an all-in-one commercial-grade home gym machine. It features a Smith machine and a functional trainer. The MiM USA SM + FT Combo 1001 is the leading all-in-one home gym for personal training. No other gym equipment is required for a thorough full-body workout.
With this in mind, it works out all muscle groups, and as a result, the MiM USA SM+FT Combo 1001 offers a lot of versatility. It also comes with many accessories, including a multi-position, heavy-duty bench. In particular, the weight bench is fully adjustable for additional comfort. In addition, it has a user weight limit of 350 lbs (158.7 kg) and a weight tolerance of up to 800 lbs (362.8 kg).
It's perfect for a variety of functions and exercises such as Smith Deep Squat, Smith Dead Lift, Free Weight Exercise, Incline Chest Press, Flat Chest Press, Weight incline, Press Squat, Morning Exercise, Tricep Extension, Arm Curl, squat with cable, Wood Chopper, Hip Abduction, Pulley Tricep Extension, Seated Row, alternating Chest Press, Chest Fly and many more. Truly "All in One"
The MiM USA SM+FT Combo 1001 is fully adjustable to deliver an enjoyable bodybuilding experience; this multipurpose fitness setup belongs in your gym, weight room, or workout studio. Furthermore, fitness trainers and bodybuilders need to sculpt perfectly chiseled bodies, and the MiM USA combo is the trainer of choice.
Learn more in my complete review below!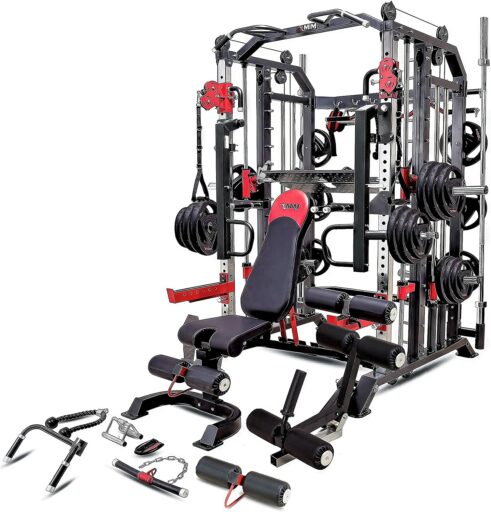 Product: MiM USA SM+FT Combo 1001
Price: For a great deal on this gym, merely go here on Amazon
Warranty: Lifetime on the Structure
My rating: is 10/10
Affiliate Disclosure: As an Amazon Affiliate Program participant, I earn commissions on purchases made through links in this post. Full disclosure
Please note that the weight plates do not come with the machine.
Details and Specifications
Assembled dimensions: 60L x 80W x 87H inches (152L x 203W x 221H cm)
Total assembled weight: 579 lbs (262.6 kg)
Weight capacity:
Bench: 800 lbs (362.8 kg)
Pull-up bar: 350 lbs (158.7 kg)
Press bar: 555 lbs (251.7 kg)
Long & short safety bars: 555 lbs (251.7 kg)
Weight carriage (each): 200 lbs (90.7 kg)
Weight storage (each): 135 lbs (61.2 kg)
Compatible weight plates: Olympic & Standard
Possible exercises: 100+
Warranty: Lifetime on the Structure
1001 Smith cage
The Smith cage is the main element of the MiM USA SM+FT Combo 1001. It features a heavy-duty frame made of thick steel tubing. Additionally, most of the bars in its construction come with a black powder paint finish resistant to corrosion; the only exceptions are the Smith element's upright guide bars, which are chrome plated.
At the top, the cage comes equipped with a fixed, multi-grip pull-up bar. This element offers the possibility to perform all forms of pull-up and chin-up exercises. In addition, it has a weight capacity of 350 lbs (158.7 kg), so as long as you don't weigh that much, you can also also also perform weighted pull-ups.
The median upright bars of the cage feature 14 locking positions for the Smith bar. In addition, the Smith element comes equipped with top-grade ball bearings to provide a smooth glide of the bar during squats, presses, and other exercises. The main bar included with the cage is an Olympic 7′ bar with 2″ sleeves, but a Standard bar also comes included. The Smith element of the machine has a weight capacity of 555 lbs (251.7 kg).
The cage's frame has two reinforcement bars within its top rear section, while the base bars feature anchor points on their ends. However, the enclosure is relatively heavy (without any plates loaded). Although it weighs approximately 480 lbs (217.7 kg) provides excellent stability.
The cage frame is relatively large. It is 60″ (152 cm) deep and approximately 80″ (203 cm) wide, providing plenty of inside space for users of all sizes. Also, its pull-up bar assembly reaches approximately 87″ (221 cm) above floor level and offers plenty of legroom during pull-up exercises.
Finally, the cage's rear upright bars feature four storage pegs (Olympic), holding up to 135 lbs (61.2 kg) of plates.
Functional trainer
The MiM USA SM+FT Combo 1001 incorporates a functional trainer. Furthermore, this additional strength training system features two weight carriages on each side and two adjustable pulleys on the unit's front bars.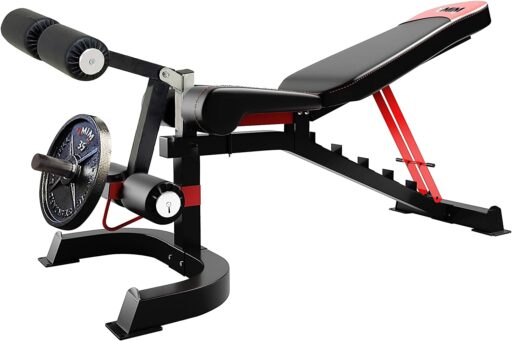 Each weight plate carriage can be loaded with up to 200 lbs (90.7 kg) weight plates and has Olympic (2″) sleeves. Also, each plate carriage glides on two upright chrome-plated bars for extra stability.
All the machinery's pulleys are made of durable nylon material and integrate sealed ball bearings for smooth operation. The cables are steel-made with PVC sleeves to prevent the scratching of the pulleys. Their strength is not specified, but they should withstand at least two times the maximum weight for each carriage.
The front adjustable pulleys can pivot on their axis in a 180° range side-to-side. Also, their upright bars have 32 adjustment positions. The distance between the holes is approx — 1″ (2.5 cm).
Various other attachments can attach to the front bars of the MiM USA SM+FT Combo 1001. For example, the system includes two J-hooks and two safety bars, which you can use for free squats or chest presses if you don't want to use the Smith element.
Also, a set of dip bars comes with the trainer. The J-hooks and safety bars are rated as the Smith element for 555 lbs (251.7 kg). However, the weight capacity of the dip bars is not specified.
1001 Bench and other accessories
The bench included with the MiM USA SM+FT Combo 1001 is the CB 777S Pro model. It's a heavy-duty commercial-grade multi-position bench designed for superior stability. In addition, it has a user weight limit of 350 lbs (158.7 kg) and a weight tolerance of up to 800 lbs (362.8 kg).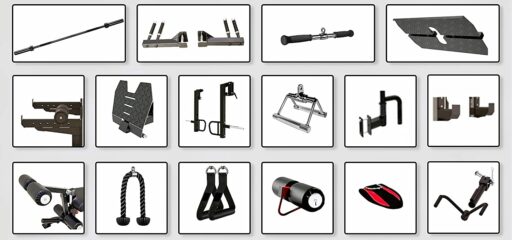 The bench offers excellent adjustability. Its seat offers four adjustment positions for 0°, 5°, 9°, and 14°. The backrest provides a 0° place and eight incline positions for 10°, 19°, 28°, 36°, 46°, 56°, 68°, and 81°, along with a decline setting for -13°.
The bench frame is steel tubing, combining ovalized and rectangular bars for improved functionality and aesthetics. In addition, it has 2.7″ foam cushioning for superior comfort.
In addition, its headrest section is approximately 11.5″L x 9.3″W (29 x 23 cm), its backrest is 27.5″L x 13″W (70 x 33.4 cm), while its sitting section is 14″L x 12.5″W (36 x 32 cm).
The fully assembled bench is reasonably substantial. Thus, it weighs approximately 84.8 lbs (38.4 kg). Once built, it's reasonably easy to carry. Its rear base features transport wheels, while its front bar comes equipped with a lifting handle. It's important to note that the bench does not include a preacher pad or a leg developer attachment.
The MiM USA SM+FT Combo 1001 strength training system comes with many accessories. I've already mentioned the J-hooks, the safety bars, and the dip handles. In addition, the list includes a curl bar, Standard and Olympic bar storage, straight bar, D-handles, knurling bar, short bar, V-handle, tricep rope, rotating bar, and an ankle cuff. Unfortunately, weight plates do not come with the machine.
1001 Possible Exercises
The MiM USA  SM+FT Combo 1001 machine can perform more than 100+ exercises. The list below includes at least 60 of them: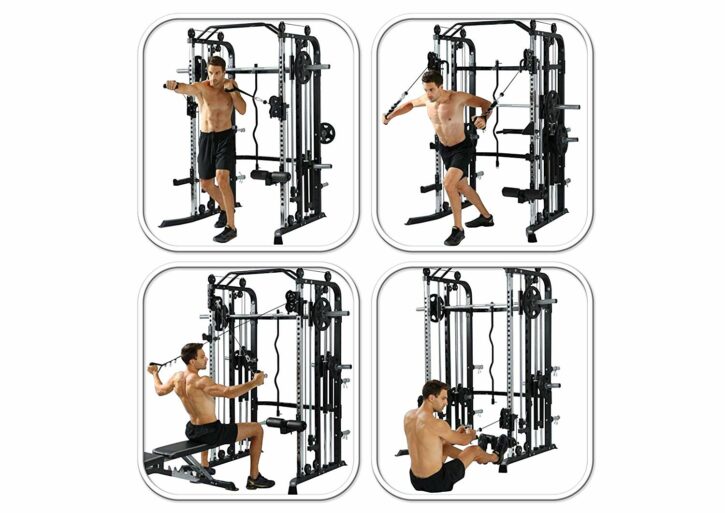 Arm Exercises
Biceps curls
Lateral single-arm biceps curls
Lying biceps curls
Close-grip pulldowns
Triceps extensions
Triceps press-downs
Kneeling triceps extensions
Lateral single-arm triceps extensions
Prone triceps extensions
Pull-ups
One-arm pull-ups
Wide grip pull-ups
Close-grip pull-ups
Behind head pull-ups
Chin-ups
One-arm chin-up
Wide grip chin-ups
Close grip chin-ups
Cliffhangers
Low cable cross-overs
High cable cross-overs
Abdominal Exercises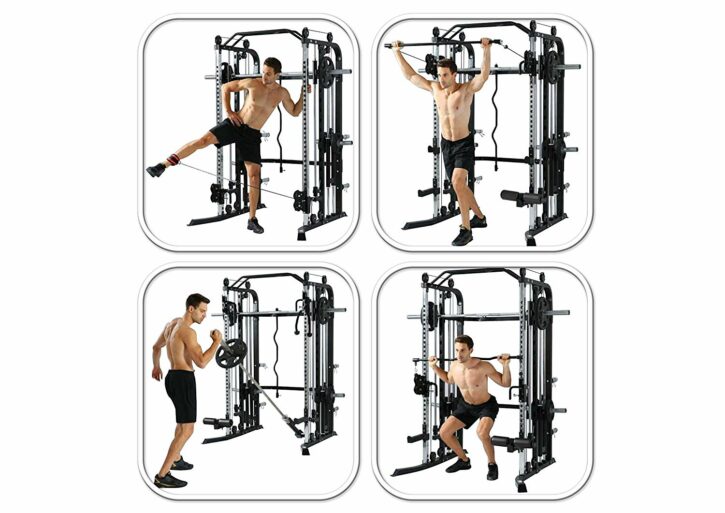 Cable crunches
Cable twist crunches
Seated trunk rotations
Standing trunk rotations
Back Exercises
Back flies / Back presses.
Prone back flies
Prone reverse flies
Lat press-downs
Lat pulldowns
Low rows
Mid rows
Kneeling rows
Chest Exercises
Chest presses
Single-arm chest presses
Wide grip chest presses
Close grip chest presses
Cable flies
Incline chest flies
Lateral chest flies
Single-arm chest flies
Pullovers
Pullovers with crunches / Pullovers with twisting crunches
Leg Exercises
Stand-up leg curls
Calf raises
Squats
Single-leg squats
Kneeling single-leg squats
Wide squats
Twisting squats
Jumping squats
Lunges
Reverse lunges
Hip extensions
Hip adductions / Hip abductions
Shoulder Exercises
Shoulder presses
Upright rows
Lateral deltoid raises
Front deltoid raises
Lying front deltoid raises
Front deltoid raises with leg curls
Shoulder extensions
Lateral arm pulls
and many more.
1001 Assembly and Maintenance
The MiM USA SM+FT Combo 1001 strength training system requires complete assembly. Consequently, it will take more than a few hours of your time due to the many parts. Therefore, it's also advisable for two people to complete the assembly. In addition, the manual does provide clear assembly instructions.
For maintenance, periodic lubrication of the Smith gliding bars, weight carriage guide bars, and pulley adjustment bars is advisable. However, the pulleys shouldn't require lubrication for long if you apply lubricant during assembly.
Furthermore, it would help if you periodically inspected the machine for any loose or broken parts to replace them or re-tighten them before any accidents happen.
Please note that the weight plates do not come with the machine.
Pros
Sturdy, all-steel frame;
Excellent weight capacity – 555 lbs for the Smith element and J-hooks / safety bars;
Heavy-duty, multi-position (incline, decline, horizontal) bench included – can withstand up to 800 lbs of weight;
Thick and durable upholstery on the bench for maximum comfort;
Transport wheels and lifting handle on the bench;
Smooth pulley and cable movement;
Functional trainer elements included;
32 adjustment positions for the mobile pulleys of the functional trainer;
Compatible with both Olympic and Standard weight plates;
Pull-up bar assembly offering multiple grip possibilities;
Four storage pegs for weight plates;
Numerous accessories, including curl bar, straight bar, D-handles, knurling bar, short bar, V-handle, tricep rope, rotating bar, ankle cuff, short and long safety bars, dip handles, multiple spring clips, and more;
Over 100+ possible exercises;
Little maintenance is required;
Quiet operation.
Cons
It requires two people and takes a few hours to assemble.
MiM USA SM+FT Combo 1001 Summary
In conclusion, the MiM USA SM+FT Combo 1001 is a Smith Machine and Functional Trainer, including a heavy-duty, multi-position bench. Furthermore, the whole strength training system offers commercial-grade quality featuring very sturdy construction and can hold weight loads of 555 lbs.
In addition, it has a consistent package of accessories, Hard Chrome Plated Sleeves for all Plates Positions, Barbell Bar and Lat Bar Storage, Straight and Curl Bar Storage, Standard Olympic Bar Storage, Different Sizes of Spring Clips, Rubber Stopper, and long Slide Tube for smooth Slide. Moreover, it offers the possibility of performing more than 100+ quality exercises and all types of workouts, from high-intensity cable cardio workouts to heavy lifting.
I hope you found this article helpful and informative. Would you please speak up if you have anything you'd like to share on the topic or any opinions about my website? I look forward to your comments, questions, and the sharing of ideas.
Please remember that you should consult your physician to determine if you have any medical or physical conditions that could risk your health and safety or prevent you from using the equipment properly. In addition, your physician's advice is essential if you are taking medication that affects your heart rate, blood pressure, or cholesterol level.