Enjoy low-impact exercise customized to your needs on the NordicTrack R 35 Recumbent Bike. Move freely on and off your bike. You'll be able to smoothly mount and dismount your bike when finishing a workout or transitioning to other parts of your fitness routine.
Participate in high-powered cross-training workouts designed to move your entire body. Automatic Trainer Control: With iFIT (membership required), your trainers will auto-adjust your resistance (26 levels of magnetic resistance) to match global terrains or studio classes and optimize every workout to help you meet your fitness goals.
Remove discomfort and distraction on the Nordictrack R 35 recumbent bike with the lumbar cushioned seat that can adjust horizontally in seconds to set you up for your best form. In addition, choose between multiple fan speeds with a button to ensure that you stay cool and comfortable through every workout.
Learn more in my complete review below!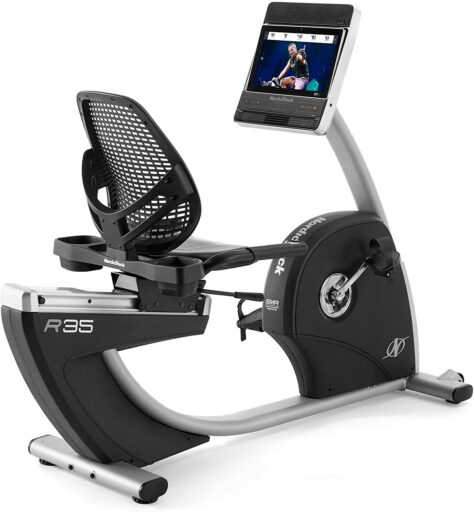 Product: NordicTrack R 35 Recumbent Bike
Price: For a great deal on this bike, merely go here to Amazon.com
Warranty: Frame 10 years / Parts 2 years / Labor 1 year
My rating: is 8/10
Affiliate Disclosure: As an Amazon Affiliate Program participant, I earn commissions on purchases made through links in this post. Full disclosure
Details and Specifications
Assembled dimensions: 68.2L x 23.7W x 53.4H inches (173L x 60W x 136H cm)
Assembled weight: 191 lbs (86.6 kg)
Flywheel weight: 25 lbs (11.3 kg)
Weight capacity: 350 lbs (159 kg)
Resistance: Eddy current, 26 levels
Console: 14″ display, iFit enabled
Extras: Bluetooth, workout fan, built-in speakers, bottle holders
Warranty: Frame 10 years / Parts 2 years / Labor 1 year
R 35 Frame Construction
The NordicTrack R 35 recumbent bike features a thick oval steel tubing frame. All the steel parts come double-coated with a durable gray paint finish, and the only exception is the seat's adjustment rail which is extruded aluminum.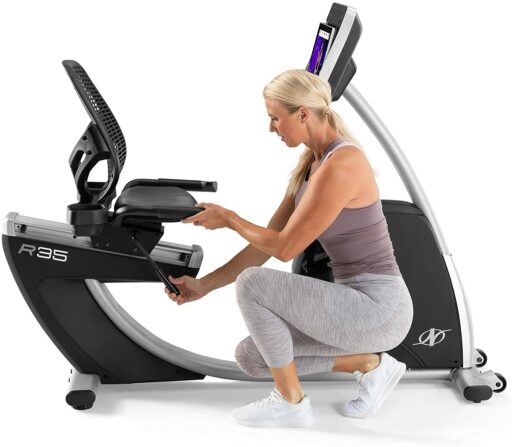 The bike also integrates several plastic parts: the seat base covers, the drive system covers, and the most notable backrest ones. These are durable plastic polymers (probably polypropylene).
The bike has a step-through frame design, which is a plus, especially for users with specific disabilities. That's because it improves access to the seat, making entry and exit considerably easier.
The NordicTrack R 35 is pretty large for an exercise bike. With all the parts assembled, it is approximately 68.2″ (173 cm) long and 23.7″ (60 cm) wide. It is also advisable to allow at least two feet of clearance on each side and at least one foot at the front and rear for easy access.
In addition, the bike is also pretty heavy, weighing 191 lbs (86.6 kg). Thus, two people should carry and assemble the bike. But once completed, one person can quickly move the bike as its front base features two transport wheels.
Seat and handlebars
The NordicTrack R 35 recumbent bike has a seat designed for superior comfort. Its bottom pad is cushioned and contoured. It is approx. 14″ (35.5 cm) wide provides plenty of contact surface.
The backrest is thick, primarily ABS plastic. It does not have padding but an ergonomic structure for improved lumbar support, and it is pretty similar to the backrest of an office chair.
The bike's seat is adjustable. It attaches to an aluminum slide rail, and its adjustment system is lever-based. Thus, you can change its position while you are seated.
The rail offers a reasonably long adjustment span, so the bike comfortably accommodates users between 5'2″ and 6'6″ (157 – 198 cm). In addition, it has a maximum user weight limit of 350 lbs (159 kg).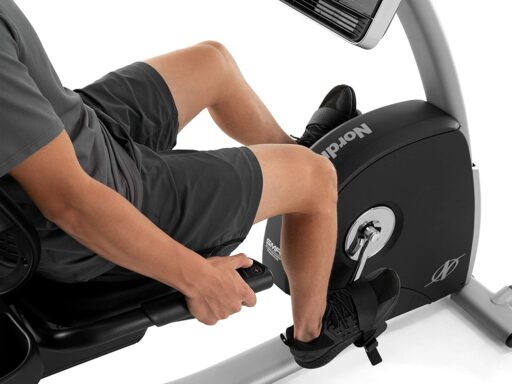 It's also important to note that the bike's backrest does not adjust independently from the seat. It does not have a reclining function like the seat of the Spirit Fitness XBR55 or a vertical slider.
The bike has only one handlebar attached to the seat assembly. The front section of the cycle does not have handlebars, just the console. In addition, the seat handlebars feature thick grips with foam sleeves for improved comfort.
Unfortunately, they do not have integrated HR pulse sensors but do have controls for resistance adjustment and console volume adjustment. The volume adjustment controls are integrated into the left grip, while the resistance controls integrate into the right grip.
R 35 Resistance system
The NordicTrack R 35 recumbent bike has an eddy current resistance system. Therefore, you need an external power source, and the bike has an adapter. Furthermore, it also means that the console can automatically adjust the resistance.
The bike's resistance system consists of a servo motor and a magnetic brake integrated into the flywheel system. The motor connects the console (or seat's resistance controls) and the brake. Thus, when you adjust the resistance, the motor changes the magnets' pull on the flywheel, increasing or decreasing the pedaling difficulty.
Of course, this automatic magnetic resistance system comes with a few advantages. For instance, the magnets do not touch the flywheel, and the pedaling is very smooth and quiet.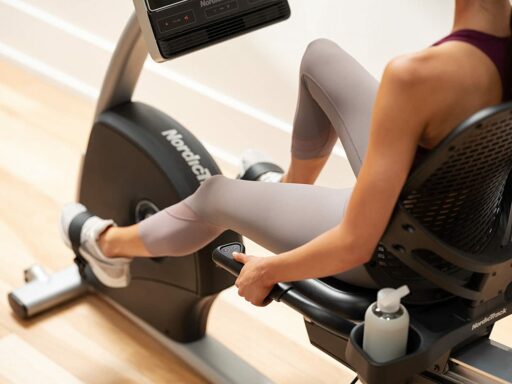 Secondly, there is virtually no wear and tear on the bike's brake. And finally, since the resistance is automatic, it can sync with the training videos or the scenic rides on iFIT.
The bike offers 26 levels of resistance. The lowest resistance levels deliver a light response, great for a workout warm-up or recovery training. Conversely, the highest tension levels offer quite a challenge, even for the most seasoned cyclists.
Drive system
The NordicTrack R 35 recumbent bike comes with a 25 lbs (11.3 kg) flywheel, which is pretty heavy for a recumbent bike. Furthermore, its structure is perimeter-weighted for improved inertia. In addition, it delivers a stable and consistent momentum enhanced by magnetic resistance.
The flywheel can move in reverse as well. Therefore, you can alternate forward pedaling sessions with reverse pedaling sessions to focus on different muscle groups. It is important to note that coasting is not possible on this bike. The pedals will move for as long as the flywheel is spinning, and if you stop pedaling, the flywheel will also stop.
The bike features a fairly sturdy crankset. It comes with chrome-plated long and flat crank arms similar to road bikes. The pedals have a metallic core and an ABS outer shell, and they feature a textured surface, adjustable straps, and weight elements for self-leveling.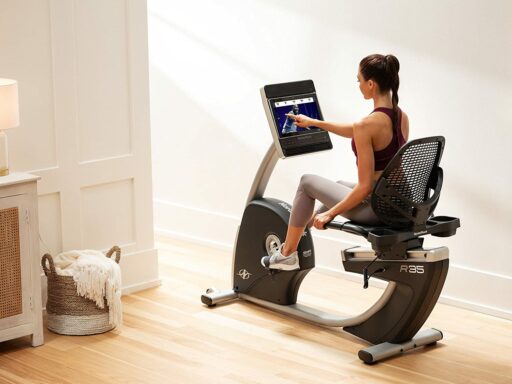 Lastly, the bike comes equipped with a belt drive system. This type of drivetrain comes with a few advantages as well. For instance, it does not need periodic lubrication. In addition, it generates slightly less vibration than a chain which contributes to the overall smoothness of the ride.
R 35 Console
The NordicTrack R 35 recumbent bike features a smart, multi-function console. To begin with, it features a 14″ display with touchscreen technology. It has a highly intuitive, easy-to-use interface and can tilt slightly.
The console is iFIT enabled. As you start it up, it will prompt you to create an iFIT account or connect to an existing one. It requires a Wi-Fi connection to sync with your iFIT account. The bike comes with a 30-day free iFIT trial, but once this expires, you will have to pay a monthly fee to continue to use iFIT.
The iFIT base offers a wide array of features. For example, it makes available live and on-demand cycling videos that sync with your bike and automatically make resistance adjustments.
In addition, it provides the possibility to cycle in various places all over the world on virtual trails based on Google Maps. You can also manage your workouts, track your progress online, compete with other users, and get nutrition, sleep, and general health advice.
The use of the iFIT feature is not necessary, though. The console has its base of pre-set programs. However, these come with the standard interface without any virtual content. Instead, they cover various workouts such as intervals, hills, fat burn, etc. In addition, the console shows a wide array of workout metrics, including time, distance, calories, pulse, etc.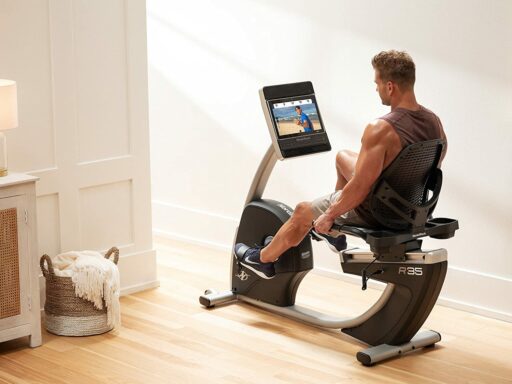 It's important to note that the pulse reading function is Bluetooth only. So, you will have to wear a wireless Bluetooth HR chest strap or armband for the console to track your pulse. Unfortunately, this accessory does not come with the bike. Also, among other notable console features are the two 2″ digitally amplified speakers and the AutoBreeze workout fan.
R 35 Assembly and Maintenance
The bike's base frame comes pre-assembled. First, the drive system is pre-attached to the front section of the frame. Next, you only need to attach the two base stabilizers, the seat, the pedals, and the console.
Consequently, it may take more than an hour of your time, but the process is pretty straightforward. The manual provides clear assembly instructions, and an essential toolkit comes with the bike.
For maintenance, you only have to keep your bike clean and wipe the sweat that may fall onto the frame at the end of the workout. It is also advisable to periodically check for loose parts and retighten them. The internal mechanism doesn't require periodic lubrication.
Pros
Heavy-duty construction – can support users up to 350 lbs;
Aesthetic design and multiple covers for the frame;
Transport wheels on the front base bar;
Adjustable levelers;
Step-through frame design;
High-comfort seat with an ergonomic backrest;
Quick and easy lever-based seat adjustment system;
Quiet eddy current resistance system with 26 difficulty levels;
Weighted pedals with adjustable straps;
Multi-function innovative console with a 14″ display;
The console is iFIT enabled;
Multiple on-demand training videos, scenic rides, online progress tracking, and more via iFIT;
30-day free iFIT trial;
Numerous onboard programs on the console;
Wireless Bluetooth HR pulse reading function;
Integrated 2″ digital speakers;
Integrated AutoBreeze workout fan;
Bottle holders included;
Reasonably easy to assemble;
Little maintenance is required;
Excellent warranty.
Cons
No handlebars on the front mast;
The seat handlebars don't integrate HR pulse sensors;
iFIT requires a paid subscription once the 30-day free trial expires.
NordicTrack R 35 Recumbent Bike Summary
The NordicTrack R 35 is a commercial-grade recumbent bike. It features sturdy construction, a 26-level eddy current resistance system, and an ergonomic seat with superior micro-adjustability.
Furthermore, it also includes an iFIT-enabled innovative console with a sizeable 14″ display, integrated speakers, and a workout fan. Moreover, it's a bike for interval cardio training, stamina development, muscle toning, and weight loss for users of all levels.
I hope you found this article helpful and informative. Would you please speak up if you have anything you'd like to share on the topic or any opinions about my website? I look forward to your comments, questions, and the sharing of ideas.
Please remember that you should consult your physician to determine if you have any medical or physical conditions that could risk your health and safety or prevent you from using the equipment properly. In addition, your physician's advice is essential if you are taking medication that affects your heart rate, blood pressure, or cholesterol level.