The Powerline PFT100 Functional Trainer by Body-Solid is a budget-friendly home unit that offers the same exercise variety and flexibility as the cable machines you find at your local gym. In addition, this trainer has dual-weight stacks, fully adjustable pulleys, and a pull-up bar.
The PFT100 has a durable steel frame. It consists of 2 independent towers that connect through the rear and a straight pull-up bar in the front. Each tower has its own 160 lb weight stack with its pulley. Therefore, you can do exercises using only one pulley (tricep extensions) and activities using both simultaneously (cable crossovers).
Remember that the pulleys give you a mechanical advantage- meaning that 160 lb doesn't feel like 160 lb when lifted on the pulley system. It's at a 2:1 ratio, so 160 lb on this system is only 80 lb of resistance, which is typical for functional trainers.
Each pulley on the PFT100 is fully adjustable vertically, allowing you to choose any 1 of 20 different starting positions (the positions are spaced out 3.2″ from each other). With this many positions, you shouldn't have problems performing any exercise comfortably.
Learn more in my complete review below!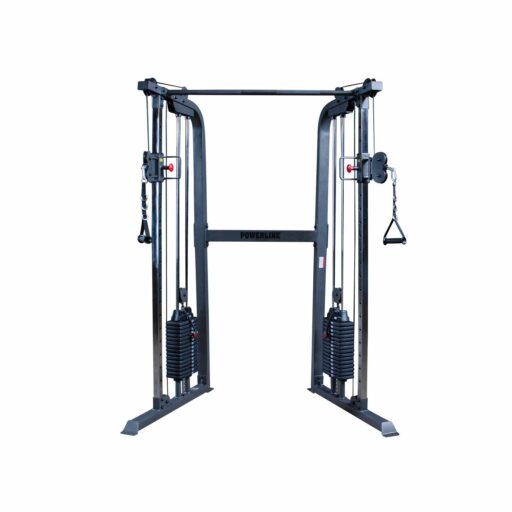 Product: Powerline PFT100 Functional Trainer by Body-Solid
Price: For a great deal on this gym, merely go here on Amazon
Warranty: Frame 10 years / Parts 1 year
My rating: 9.4/10
Affiliate Disclosure: As an Amazon Affiliate Program participant, I earn commissions on purchases made through links in this post. Full disclosure
Details and Specifications
Assembled dimensions: 42.3D x 62.6W x 83H inches (107D x 159W x 211H cm)
Assembled weight: 476.3 lbs (216 kg)
Weight plates: Cast iron
Max. weight resistance: 2x 160 lbs (72.5 kg) (2:1 ratio)
Possible exercises: 25+
Warranty: Frame 10 years / Parts 1 year
PFT100 Frame Construction
The Body-Solid Powerline PFT100 functional trainer features a full steel frame construction made of heavy-duty 11-ga tubes. In addition, the main rear frame bars, the bar that unites them, and both base bars come coated with a corrosion-resistant paint finish, dark gray.
The front upright bars, which adjust the moving pulleys, feature a chrome finish. The guide rods of the weight stacks are also chrome-plated.
This functional trainer is not an extremely large strength training system. Its widest point is approx. 62.6″ (159 cm), while its depth is 42.3″ (107 cm). The distance between the two side pulleys is 52″ (132 cm); therefore, the front section of the unit provides plenty of inner space for the correct execution of all exercises.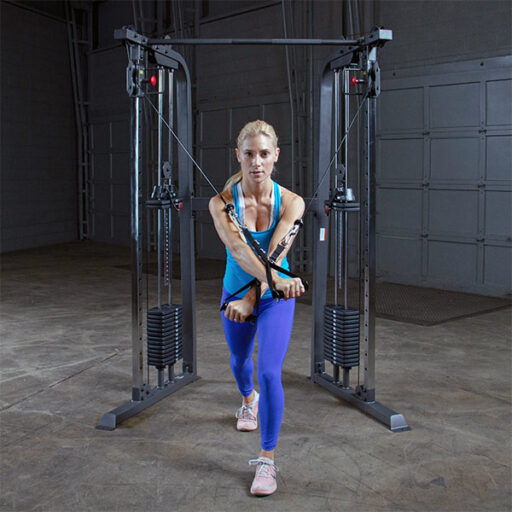 The height of the unit is 83″ (211 cm). Thus, the unit can fit a room with a seven ′ (214 cm) ceiling. However, you won't be able to execute all the pull-up or chin-up exercises correctly.
Therefore, assembling and using the machine in a room with a ceiling height of at least eight ′ (244 cm) is advisable. In addition, it's advisable to leave at least two feet of clearance on each side of the machine and at least three clearance feet at its front.
The fully assembled unit is considerably heavy, with both its stacks mounted. It weighs approx—477 lbs (216 kg). Therefore, once built, its movement is problematic; it's not moveable after assembly.
On the other hand, all this weight provides excellent stability for the unit. Plus, both bases have holes for anchoring them to the floor if you think it's necessary.
The top section of the Powerline PFT100 integrates a pull-up bar. It is a simple, straight bar with knurling in the middle to provide a better grip. It does not have curved side grips like the bar on the GDCC210 model. This pull-up bar's weight capacity is not specified, but it should support at least 300 lbs (136 kg) with no problem.
Pulleys and cables
The machine integrates 16 fiberglass-reinforced nylon pulleys with internal ball bearings. Since it's a functional trainer, its front pulleys are adjustable. Each front pulley assembly glides on its upright bar, which provides 20 lock-up positions for it.
The distance between the adjustment positions is 3.2″ (~8 cm). Also, each one of the front pulleys can swivel in a 180° range.
This Powerline functional trainer comes equipped with steel cables, which can handle 2,000 lbs of stress. In addition, the cables have a sheet of nylon material, which facilitates their travel over the pulleys.
PFT100 Accessories
The only accessories included with this home gym are the two side handles. These are pretty standard D-handles with thick rubber grips for optimal comfort. Of course, you can opt for various other accessories, such as folding benches, ankle cuffs, short handles, and more.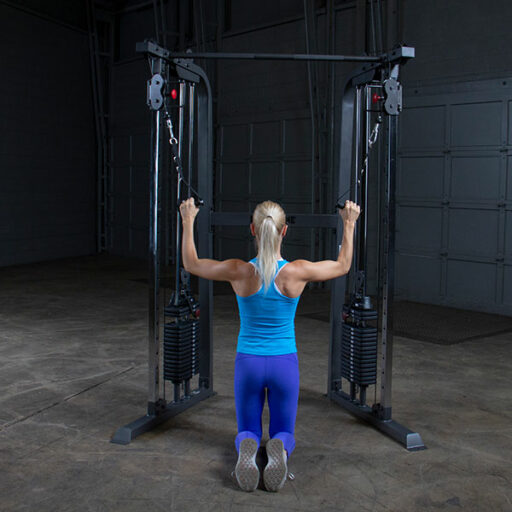 Weight Resistance
The Powerline PFT100 functional trainer has 160 lbs (72.5 kg) weight stacks each. Its weight ratio is 2:1, which means that if you select a weight of 100 pounds (45.3 kg) for one stack, the machine's weight resistance will generate for that particular stack, and the side will be 50 lbs (22.6 kg).
Each weight stack consists of 15 plates, each being 10 lbs (4.5 kg). The top selector plate weighs approximately 10 lbs (4.5 kg).
The weight plates come cast in iron material. They are considerably more durable than cement/vinyl-weight plates. The machine's prices reflect the sturdiness of the weight stacks. It's more expensive than any similar unit with cement-weight stacks.
The machine's weight stacks are upgradeable. In addition, there is the option of 5 extra weight plates for each stack, which can upgrade the total weight of each stack to 210 lbs (95.25 kg).
PFT100 Possible Exercises
The Powerline PFT100 offers the possibility to execute more than 25+ exercises. The list includes:
Standard cable press
Incline press
Front cable press
Cable fly
Leg extension
Stand-up curl
Shoulder press
Upright row
Lateral deltoid raise
Leg abduction
Leg adduction
Triceps press down
Triceps extension
Concentration curl
Oblique crunch
Oblique twist
Glute kickback
One-arm row
Seated row
Chin-up
Reverse fly
Biceps curl
Leg lift
Ab crunch
Seated crunch
and more.
Of course, some of these exercises require additional accessories that are not (included) with the machine. For example, you will need an adjustable bench to perform an incline or a seated press. Likewise, leg curls require an ankle cuff, and seated rows are achieved using the handles but are also performable via a short bar.
PFT100 Assembly and Maintenance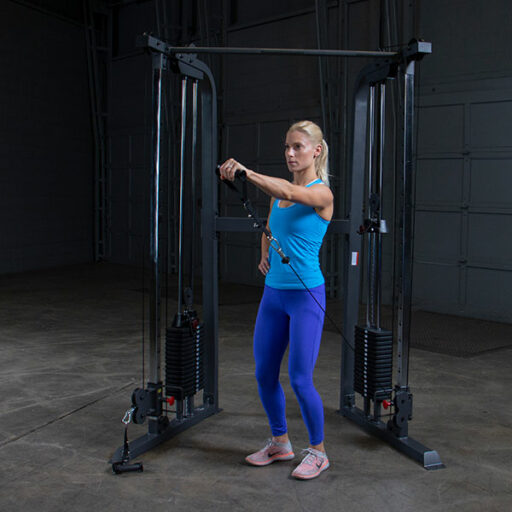 The Powerline PFT100 has a relatively standard, simple frame construction, so its assembly shouldn't be too complicated. You'll have to set up each side section of the mainframe, connect them, add the weight stacks and their guide rods, and install the pulleys and cables.
Consequently, it may take a few hours, but the manual provides clear assembly instructions and diagrams. The tools for assembly do not come included with the machine. You will need a standard or adjustable wrench and an Allen key set.
For maintenance, it's advisable to periodically inspect the machine for loose or broken parts and remedy any problem of this sort before any accidents can occur. The guide rods of the weight stacks require periodic lubrication for a smooth movement of the weights. The pulleys may also need oiling from time to time.
Pros
Sturdy and stout, all-steel frame;
Anchor points on bases;
Fiberglass reinforced nylon pulleys;
2,000 lbs tensile strength cables;
20 adjustment positions for its mobile pulleys;
180° swivel for the mobile pulleys;
Pull-up bar elements included;
D-handles are (included) with the machine;
160 lbs weight for each stack;
Upgradable weight stacks by up to 50 lbs each;
Over 25+ exercises available;
A relatively small footprint for a home gym system;
Little maintenance is required;
Quiet operation;
Relatively easy to set up;
Excellent warranty.
Cons
Other accessories, such as ankle cuffs, or a short bar, do not come with the trainer.
Powerline PFT100 Summary
The Powerline PFT100 Functional Trainer by Body-Solid comes equipped with two 160 lbs cast iron weight stacks. In addition, it provides a 2:1 weight ratio, while its front pulleys have a swivel design and offer 20 adjustment positions.
Moreover, the PFT100 trainer makes available more than 25+ exercises. Above all, it's an excellent strength training system for home use, with an outstanding price/quality ratio.
I hope you found this article helpful and informative. Would you please speak up if you have anything you'd like to share on the topic or any opinions about my website? I look forward to your comments, questions, and the sharing of ideas.
Please note you should consult your physician to determine if you have any medical or physical conditions that could risk your health and safety or prevent you from using the equipment properly. In addition, your physician's advice is essential if you are taking medication that affects your heart rate, blood pressure, or cholesterol level.