The Reebok Jet 300 folding treadmill comes equipped with a 2.5 hp motor, 20″ x 59″ (51 cm x 150 cm) oversized running area, 15 levels of electronic incline, and 27 different workouts. With a motor and deck this size, the Jet 300 is suitable for most runners regardless of height, and with a max user weight of 308 lbs (140 kg), it will cater to most family environments.
Jet Airpods provide cushioning as seen on the other Jet series machines, and, true to form, the running experience is a good one. Again, not too hard to jolt and shock the bones but not too soft and bouncy, meaning that you get a soft landing and a good launch at the same time.
The console features a bright blue LED display. LEDs make it easy to see the screen more or less, regardless of ambient light conditions. In addition, the feedback is for time, speed, distance, pulse/calories, and incline is all nicely separated, each set having its window, which makes for rapid and easy reading of the stats while you're running.
There are 27 different workout modes with plenty of preset workouts, as well as the ability to design and program your personalized activities. Inputting your workouts isn't tricky, but if you can't be bothered with all that, you can start running in manual mode and adjust the real-time settings during your run.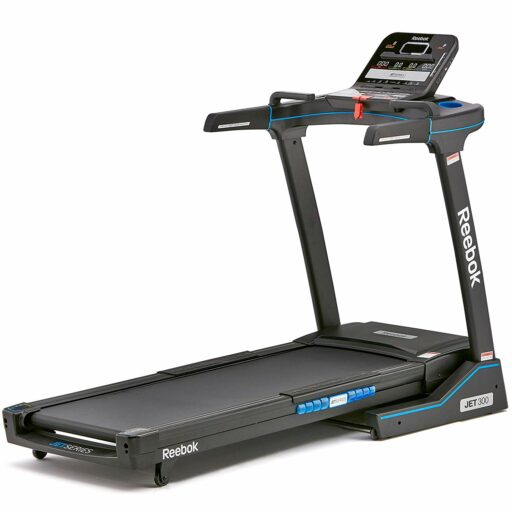 Learn more in my complete review below!
Product: Reebok Jet 300 Folding Treadmill
Price: For a great deal on this treadmill, merely go here on Amazon
Warranty: Frame lifetime / Motor 10 years / Parts 2 years
My rating: 7.5/10
Affiliate Disclosure: As an Amazon Affiliate Program participant, I earn commissions on purchases made through links in this post. Full disclosure
Details and Specifications
Assembled dimensions: 76L x 34W x 56H inches (192L x 86W x 143H cm)
Tread belt dimensions: 59L x 20W inches (150L x 51W cm)
Assembled weight: 192 lbs (87 kg)
Supported weight: 308 lbs (140 kg)
Motor: 2.5 HP
Speed range: 0.5-12 MPH
Incline: Automatic, 15 levels
Deck cushioning: Air Motion Technology
Console: 24 preset programs, three user programs, three target programs, BMI
Extras: Sound system, cooling fan, tablet holder, bottle holders, USB port
Warranty: Frame lifetime / Motor 10 years / Parts 2 years
Jet 300 Frame
The Reebok Jet 300 offers pretty sturdy construction with a deck designed to support a maximum user weight capacity of 308 lbs (140 kg). Its structure is steel tubing, but the machine does integrate several ABS plastic parts. For example, the side rail covers, the motors' covers, and the console dashboard are ABS plastic.
All the steel parts in the machine's construction come coated with a corrosion-resistant paint finish. As opposed to the Jet 100 model, the Jet 300 model's color is black, with the "Reebok" logo painted white.
As we've mentioned above, this treadmill is slightly larger than the Jet 100 model. It is approx 76″ (192 cm) long and 34″ (86 cm) wide. Plus, it is advisable to allow at least two clearance feet on each side of the deck and at least three clearance feet at its rear for safe usage.
The fully assembled treadmill is relatively heavy. It weighs approx — 192 lbs (87 kg). This weight delivers excellent stability. Despite its weight, the unit is easy to move as its front base comes equipped with transport wheels.
Deck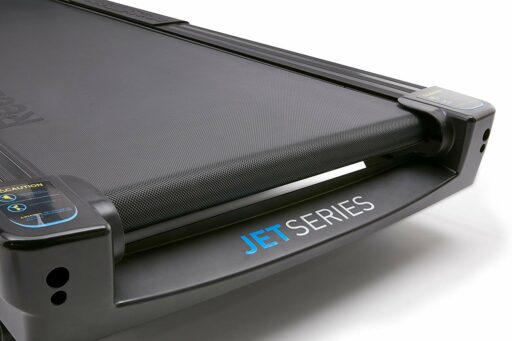 This Reebok treadmill has a folding design. With it folded up, the unit's length reduces to approx—49″ (124 cm). The folding mechanism is hydraulic; it consists of a cylinder that slowly lowers the deck to prevent damage.
The Reebok Jet 300 treadmill offers a running surface of 59″ (150 cm) long and 20″ (51 cm) wide. Therefore, it can accommodate users up to 6'3 ″ – 6'4 ″ (190 – 193 cm) with no problem, allowing a complete range of motion.
Like many other treadmills, the unit's deck has cushioning. It comes equipped with Air Motion cushioning technology. In addition, it features a set of cushioning elements on each side, placed under the front half of the deck, to absorb a part of the shock for each foot strike.
The rear section also has two concealed shock absorption elements, which provide a bit of boost for each foot push. Therefore, running on this treadmill results in less impact stress on the joints, ore less workout-related joint pain.
Jet 300 Incline and step-up height
The Reebok Jet 300 treadmill features an automatic incline system. Therefore, you can adjust the incline without interrupting your workout. Also, the console has built-in programs that can automatically change the slope depending on their setting.
The unit's incline system consists of a small lift placed under the deck's front and a different motor from the drive motor. The motor controls the lift as you adjust the incline, raising or lowering the front deck.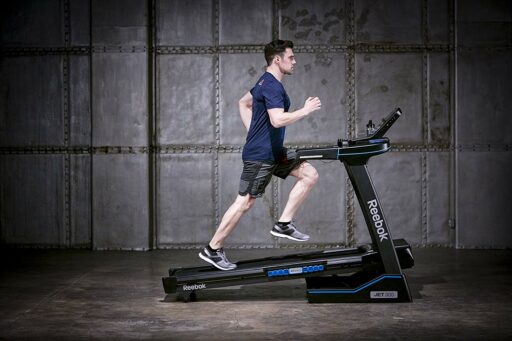 The machine makes available 15 incline levels. The incline is adjustable in increments of 1%. In addition, there are keys for gradual adjustment and quick adjustment on the console. The quick adjustment keys cover the 3, 6, 9, and 12 incline settings.
The Jet 300 treadmill has a step-up deck height of approx. 9″ (23 cm) above floor level. However, the front part is several inches higher, with the incline set at maximum. Therefore, it's best to place and use the machine in a room with a ceiling that exceeds your height by at least 16″ (41 cm).
Drive motor
The Reebok Jet 300 comes equipped with a 2.5 HP motor. It's not one of the most powerful motors, as some machines for home use offer up to 3.0 CHP in terms of the motor. Nonetheless, it gets the job done. It offers a pretty decent speed range and has an internal flywheel for motion stability.
The motor offers a speed range between 0.5 MPH and 12 MPH. Although the running belt's starting speed is 0.6 MPH, the speed is adjustable in increments of 0.1 MPH. Thus, it is quite a plus, as it allows you to find the perfect pace depending on your height and workout.
The gradual speed adjustment keys have a double function, though. By pressing and holding them, you can adjust the speed in increments of 0.5 MPH. Quick speed adjustment settings are also available on the console. They allow quick speed selection for 3, 5, 7, and 10 MPH.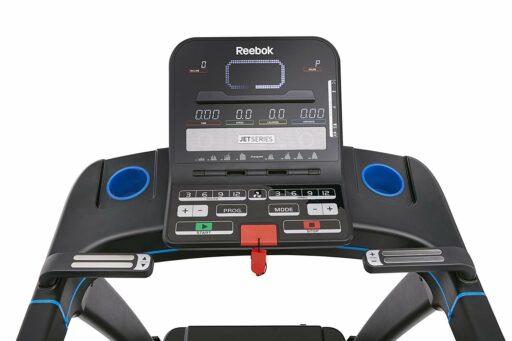 Just as for incline, if you choose to exercise using one of the onboard programs, the machine will auto-adjust the running belt's speed. In addition, some programs will auto-adjust both the incline of the deck and the speed of the belt.
One last aspect to note here regards power consumption. Since it's not a super powerful motor, the machine's power usage is also minimal. In other words, even if you will be using it daily, it shouldn't add more than a few dollars to the electricity bill.
The motor itself doesn't generate much noise when in use, but your cadence may create more or less sound depending on how fast you go.
Jet 300 Console
The Reebok Jet 300 features an LED display console. It comes equipped with 7 LED displays that indicate incline, pulse, time, speed, calories, and distance, while the large one in the middle shows selected programs' profile seams.
There are both metric and English unit settings for speed and distance. Also, distance is viewable on the larger monitor as a 1/4 mile (0.4 km) track.
The console unit is not telemetric, which means it cannot read your pulse via a wireless HR transmitter. However, the treadmill has built-in sensors in its front grips.
The console unit has 24 preset workout programs that adjust the belt speed and deck incline automatically. Each program is adjustable, though; you can change its time, speed, and incline for each segment. The P0 program is the manual mode, which allows you to freely control speed and incline as you like during your workout. In addition, there are countdown settings available for time, distance, and calorie metrics.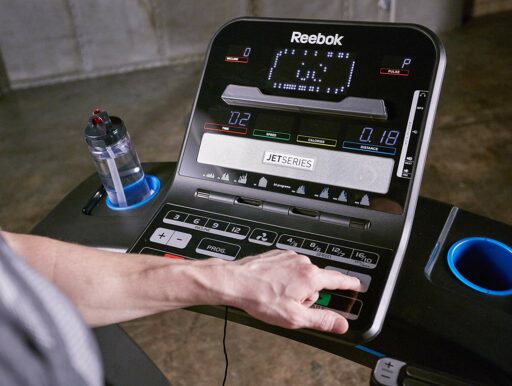 Along with the preset programs, the machine also has goal settings for time, distance, calories, three user-defined programs, and a bodyfat program.
Amenities
Other notable features regarding the machine's console are a sound system, a cooling fan, a tablet holder, two bottle holders, and a USB port.
The sound system consists of two speakers placed in the mid-section of the unit. It is compatible with any smartphone, tablet, or MP3 player. In addition, you can connect your device to the treadmill console via AUX cable and play your music through the integrated speakers.
The cooling fan is under the sound system section. It's not a very strong fan but does offer a bit of cooling, if necessary, during a more intense workout. Finally, the tablet holder is between the two display sections. Therefore, if you place a tablet on it, the top displays will be covered by it.
The USB port is on the right side of the console. Unfortunately, it is only a charging port; it does not allow workout data transfer on a USB stick, and the console is not compatible with any fitness apps. And finally, the console dashboard also integrates two bottle holders, one on each side.
Jet 300 Assembly and Maintenance
The treadmill's deck with its motors, belt, rollers, and the two front masts come pre-assembled. You only have to unfold the two poles, lock them in an upright position, and then connect and secure the console. Therefore, it shouldn't take more than 30-40 minutes of your time. The manual provides clear assembly instructions, and all the necessary assembly tools come with the treadmill.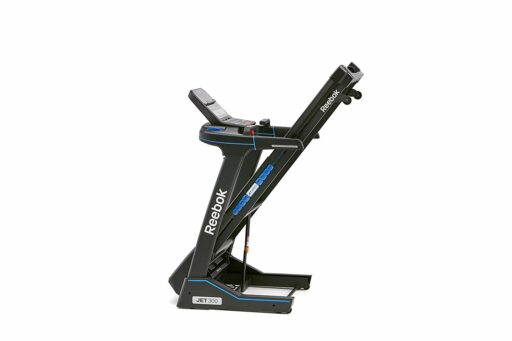 For maintenance, belt lubrication is necessary. The manual also provides instructions on how to lubricate it. Other than this, you have to keep the belt clean and periodically check for loose bolts and parts and retighten or replace them if necessary.
Pros
Sturdy construction – can support users up to 308 lbs;
Folding frame;
Soft-drop hydraulic folding system;
Transport wheels included;
Air Motion cushioning technology;
Automatic incline – 15 levels;
Speed settings up to 12 MPH;
Speed adjustment increments of 0.1 MPH allow you to find the perfect pace for your workout;
Quick speed and incline adjustment keys;
Low power consumption;
7-window LED display with significant digits for superior readability;
Both standard and metric units for speed and distance;
Racetrack function with lap count for distance tracking;
24 preset workouts;
Three goal settings;
Three custom user programs;
Body Fat Index function;
Sound system included;
Tablet holder included;
Cooling fan included;
Bottle holders included;
Little assembly required;
Little maintenance is needed.
Excellent warranty.
Cons
A tablet placed on the tablet holder will cover the console LCD;
The cooling fan is not extremely powerful;
The console is not telemetric.
Reebok Jet 300 Folding Treadmill Summary
The Reebok Jet 300 is a mid-range treadmill made for home use. It comes equipped with a 2.5 HP motor, an automatic incline system with 15 levels, and a cushioned deck. In addition, its console offers 24 workout programs, three user programs, and a Body Fat function.
Moreover, it's a pretty decent machine for intense cardio workouts, interval training, muscle toning, stamina development, and weight loss. And finally, it's not an extremely expensive machine, offering excellent value for the price.
I hope you found this article helpful and informative. Would you please speak up if you have anything you'd like to share on the topic or any opinions about my website? I look forward to your comments, questions, and the sharing of ideas.
Please note: Before starting any exercise program, you should consult your physician to determine if you have any medical or physical conditions that could put your health and safety at risk or prevent you from using the equipment properly. In addition, your physician's advice is essential if you are taking medication that affects your heart rate, blood pressure, or cholesterol level.