Challenge your muscular and cardiovascular endurance with the Sunny SF-RW5866 Water Rowing Machine. Enjoy maximum stability when you strap your feet onto the adjustable foot pads. Position the leveling endcaps before using the water rower to keep the water row machine stable across home surfaces.
The aluminum build of the 48″ slide rail ensures a sturdy and quiet experience during your workout. The rail, which folds upright to save space when stored, has a maximum user weight capacity of up to 265 lbs (120 kg)—tilt and roll out of the way for storage, no need for heavy lifting or muscle strain. In addition, the wheels at the front of the rower allow the user to move it around with ease.
Pull the belt-drive and elastic rope mechanism with each stroke on the SF-RW5866 to push four blades through the water tank. Four blades move more water than the standard two, creating more progressive resistance per stroke. Gain even more control over the water rowing resistance by adjusting the water tank level.
Check the battery-powered fitness console to track your time, distance, stroke count, and calories burned during each workout session. After your workout, you can fold the aluminum slide rail upright to save space. Then, use the front-facing transportation wheels to move the machine across several home surfaces.
Learn more in my complete review below!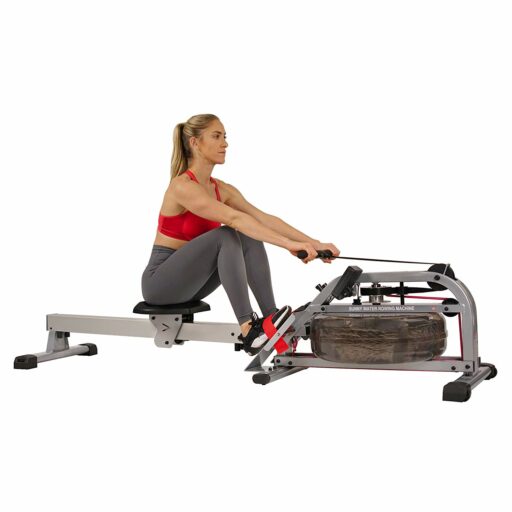 Product: Sunny SF-RW5866 Water Rowing Machine
Price: For a great deal on this rower, merely go here to Sunny Health & Fitness.com
Warranty: Frame 3 years / Parts 180 days
My rating: 8/10
Affiliate Disclosure: As a Sunny Health & Fitness Affiliate Program participant, I earn commissions on purchases made through links in this post. Full disclosure
Details and Specifications
Assembled dimensions: 88L x 23W x 19H inches (223L x 58W x 48H cm)
Assembled weight: 81 lbs (36.7 kg)
Weight capacity: 265 lbs (120 kg)
Frame: Steel & aluminum
Footrests: Adjustable, with straps
Resistance: Water
Console: Time, distance, total distance, count, calories, goals
Warranty: Frame 3 years / Parts 180 days
SF-RW5866 Frame construction
The Sunny Health & Fitness SF-RW5866 water resistance rower features a sturdy frame combining steel and aluminum parts. The front part that supports the water tank and the base stabilizers are steel-made, while the rail is aluminum.
The fully assembled unit is not exactly light. It weighs approximately 81 lbs (36.7 kg). However, its relocation is smooth once built using the wheels incorporated into its front base bar. Also, this weight provides excellent stability.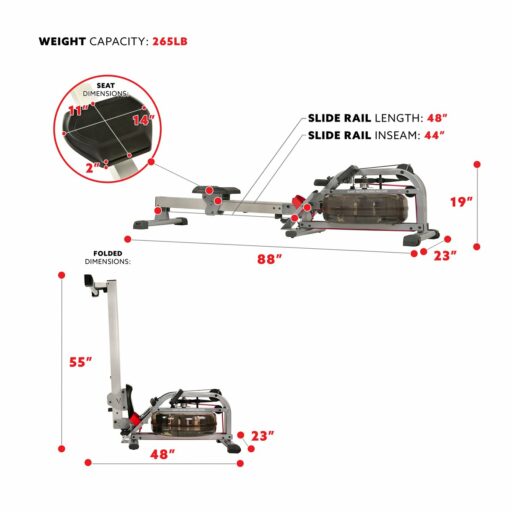 Additionally, the machine's rear base comes with adjustable levelers. Finally, the other base stabilizers are rubberized, providing an excellent grip to the floor and preventing the unit from moving during a more intense rowing session.
The Sunny SF-RW5866 rower is a relatively large unit, especially lengthwise. It is 88″ (223 cm) long and 23″ (58 cm) wide. Plus, it requires at least two clearance feet at the rear and both sides to ease access and unhindered operation. Therefore, it may not fit too well into a small room.
On the other hand, its frame has a folding design. As a result, the rail with the seat can fold up, providing better storage possibilities. With the track folded up, the machine's footprint is 48″L x 23″W (122 x 58 cm).
An essential aspect to note here regards the length of the rail. This element measures 48″ (122 cm) and allows approx. 44″ (111 cm) of travel for the seat. Thus, the machine can accommodate users up to 6'5″ (196 cm) with no problem, promoting a complete and healthy leg extension during rowing.
Also, the rail and seat assembly have a weight capacity of 265 lbs (120 kg), which is not bad for a machine designed for home use.
The unit's steel parts come with a rust-resistant and chip-resistant paint finish; the color used is gray, this being the only color available for this rower. The aluminum rail has its natural polish.
Seat and other parts
The Sunny SF-RW5866 rowing machine features a reasonably large seat designed for optimal comfort. Its top is 11″ (28 cm) deep and 14″ (35.5 cm) wide, providing plenty of contact surface. In addition, it's a high-density foam (2″ thick), so it alleviates the lower back's impact.
It's also contoured to reduce muscle pressure and provide superior adherence, preventing you from sliding backward during rowing.
The base frame of the seat is steel. It integrates three sets of rollers. Two are placed on top of the rail, while the third is underneath to add stability. The rollers incorporate high-grade ball bearings and have a rubberized layer outside to minimize noise and deliver a smooth motion for the seat.
Also, the seat frame's side panels conceal all of the rollers to prevent your clothing from getting caught in them.
The machine's footrests feature a durable metallic base. They come attached to the front part of the frame and the middle base bar, so they do not pivot forward or backward during rowing. Their angle is approx — 50 °, offering optimal positioning for the feet.
The footrests are length-adjustable. They offer plenty of adjustment, accommodating athletic shoes of all sizes comfortably. They also have heel guards and adjustable straps so you can correctly secure your feet on them.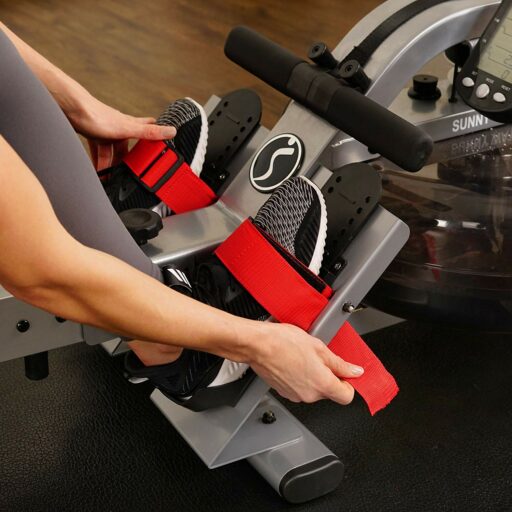 The rower's pulling handle is a simple straight bar with ovalized grips with a layer of rubber foam material for extra comfort. It is attached to a durable nylon mesh strap, highly resistant to abrasion.
SF-RE5866 Water tank and resistance system
This Sunny Health & Fitness rower comes with a water resistance system that consists of a heavy-duty polycarbonate water tank with a 4-blade internal impeller. The water tank's exact capacity is not specified, but it should be between 3-4 gallons as a general idea.
The water tank does not have a mechanical resistance adjustment system. Therefore, you can only adjust the overall water resistance by adding or removing water from the container.
There are six water levels marked on the tank. If filled up to level 1, it provides the lowest resistance. Conversely, if the tank is on level 6, the machine will give the highest resistance possible.
Like any other water resistance rower, the Sunny SF-RW5866 provides a dynamic response for each stroke. In other words, the harder you pull the handle, the faster the impeller will spin into the tank, and the more resistance the machine will generate.
Therefore, this leads to a sensation similar to rowing a real boat through the water. Thus, it is one reason water resistance rowers are for users who want to train on a professional level.
If you're wondering, the level of noise generated by the impeller's spinning inside the water tank is far from being high. So, for example, machine usage should not cover the sound of a TV set at a low volume.
Fitness Monitor
The Sunny SF-RW5866 water resistance rower's fitness monitor offers fewer features than the Sunny Obsidian Surge. For example, it does not have a pulse reading function, a recovery function, or preset programs; to be more specific, it also does not have any online connectivity capabilities. Instead, it's only a monitor for the main workout metrics.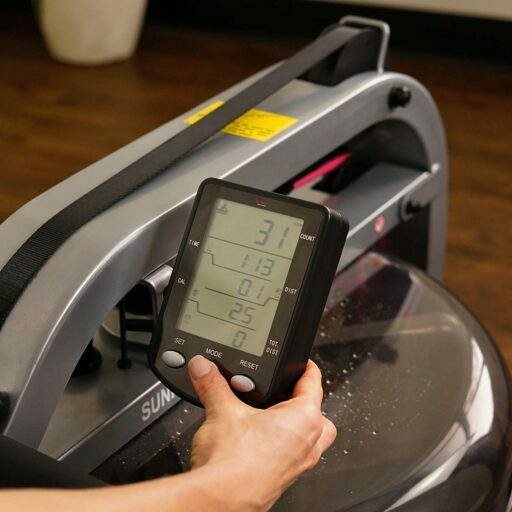 The monitor features a 5-panel LCD, which shows time, count, distance, total distance, and calories burned. It has three buttons which cover all of its functions. The MODE button allows you to select the desired display value for time, count, distance, and calories.
The SET button allows you to choose a goal for any of these metrics. After selecting a goal, the console will show the remaining value until you reach the desired target. The Reset button allows you to clear all the data to zero.
The monitor is battery-operated, and it requires two AA batteries (included). It starts up when you begin rowing or press one of the buttons. It also has a self-shutdown function, which initiates after 4 minutes of inactivity on the machine.
SF-RW5866 Assembly and Maintenance
The machine's water tank comes pre-assembled and attached to the front steel frame part. Therefore, you only need to attach the seat to the rail, connect the sensor wire and rail to the tank section, add the rear stabilizer, and fill the tank with water.
Therefore, it shouldn't take more than 20-30 minutes of your time. The manual provides clear instructions, and all the necessary tools for the assembly come with the machine.
Like any other water resistance rower, the water in the tank requires periodic treatment. One packet of water purification chlorine pills comes with the machine. You don't have to periodically change the water in the reservoir, but adding a purification tablet to it every six months is advisable.
A funnel and a small siphon pump for filling or emptying the water tank come with the rower. Other than this, it is advisable to keep the unit's rail clean and periodically check for loose parts and retighten them if necessary.
Pros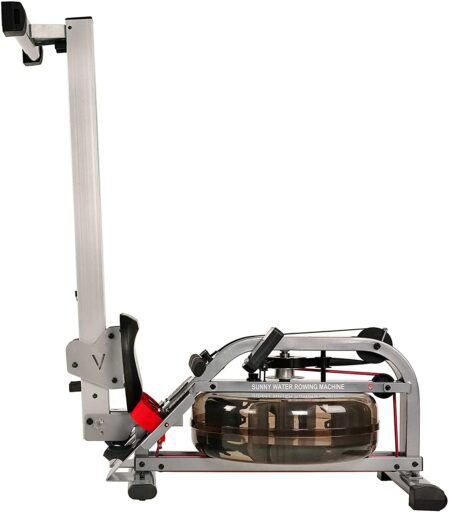 Sturdy steel frame which can support users up to 265 lbs;
Folding frame;
Relatively long rail – can accommodate users up to 6'5″;
Transport wheels for easy relocation;
Adjustable levelers on the rear base;
Contoured and padded seat for optimal comfort;
Water-resistance system which provides a dynamic response during rowing and natural feel;
It comes with a 6-level water tank;
The included fitness monitor – tracks time, distance, total distance, count, and calories burned;
Goal settings on the fitness console for time, distance, calories, and count;
Its operation is smooth and quiet;
Chlorine tablets for water purification included;
Batteries for the console included;
Tools for assembly included;
Little maintenance required;
Easy to assemble.
Cons
No pulse reading function;
The fitness monitor LCD does not have a backlight;
No preset programs.
Sunny SF-RW5866 Water Rowing Machine Summary
The Sunny Health & Fitness SF-RW5866 is a water resistance rowing machine featuring a durable steel frame with a 48″ long aluminum rail and a folding design. It includes a fitness monitor that tracks the essential workout metrics. However, it's not a commercial-grade machine but does offer an excellent, full-body aerobic workout.
Moreover, it is great for interval training, light to intense cardio training, stamina, and losing weight. It's also one of the most affordable water rowing machines compared to WaterRower or First Degree Fitness machines.
I hope you found this article helpful and informative. Would you please speak up if you have anything you'd like to share on the topic or any opinions about my website? I look forward to your comments, questions, and the sharing of ideas.
Please note: Before starting any exercise program, you should consult your physician to determine if you have any medical or physical conditions that could put your health and safety at risk or prevent you from using the equipment properly. In addition, your physician's advice is essential if you are taking medication that affects your heart rate, blood pressure, or cholesterol level.