The WaterRower Natural Rowing Machine with S4 Monitor is one of the most aesthetically pleasing rowers on the market. It is also one of the best-performing ones! It is part of the "Natural" series of WaterRowers, due to its solid Ash Wood and stained Honey Oak construction material.
It uses a "water flywheel" or paddles suspended in a water tank to provide the rower's resistance. Therefore, this is called 'variable' resistance because there are no "adjustments" to feel more resistance, row faster, and feel less resistance, row slower.
In addition to determining resistance based on your rowing intensity, you can further adjust the rowing experience by adding or subtracting water from the water tank. The more water you add, the "heavier" the rowing will feel (like rowing a boat with passengers). The less water you have, the "lighter" the rowing will feel (like rowing by yourself).
The WaterRower Natural Rowing Machine provides one of the best resistance any water rowing machine offers. Therefore, it is difficult to find any complaints about WaterRower resistance. It is smooth, durable, and relatively quiet. Plus, it closely mimics the resistance felt while rowing on the water!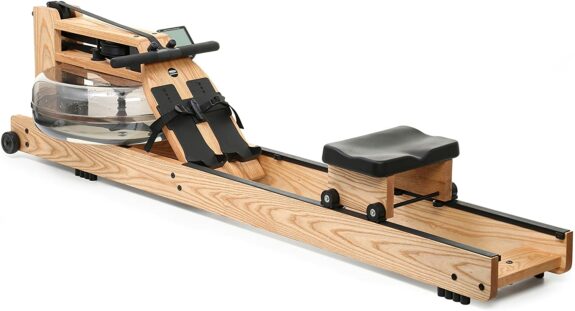 Learn more in my complete review below!
Product: WaterRower Natural Rowing Machine with S4 Monitor
Price: For a great deal on this rower, merely go here on Amazon
Warranty: Frame 5 years / Parts 3 years
My rating: is 0
Affiliate Disclosure: As an Amazon Affiliate Program participant, I earn commissions on purchases made through links in this post. Full disclosure
Details and Specifications
Assembled dimensions: 82.25L x 22.25W x 20H inches (209L x 57W x 51H cm)
Product weight: 66.5 lbs (30.5 kg) w/o water; 103.5 lb (47 kg) w/ water
Supported weight: 700 lbs (317 kg)
Frame: Wood (Ash)
Footrests: With straps
Resistance type: Water
Progress tracking computer: S4
Warranty: Frame 5 years / Parts 3 years
Natural Frame
First, this rower's frame is ashwood-made, with a sleek and "warm" finish, reminding me of an actual boat. Second, the frame comes coated with Danish oil, which results in a smooth finish without being glossy or slippery, considerably increasing its liquid resistance.
Since it's a wood frame, it absorbs shock and vibration much better than a metallic frame, also being lighter.
The WaterRower Natural takes quite a bit of space length-wise, 82.25 (209 cm long) regarding its footprint. It also requires at least 20″ (51 cm) clearance at the back, and about 12″ (30.5 cm) on each side, to ensure safe training.
Therefore, make sure you have the required available space for it before purchasing. On the other hand, the machine can store vertically when not in use, occupying 20 x 22.25 x 82.25 inches (51 x 57 x 209 cm) (L x W x H).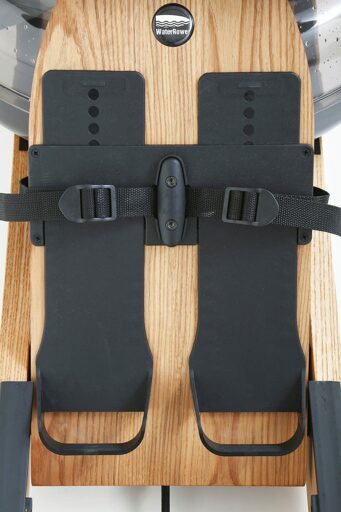 The frame features rubber feet to ensure maximum stability and prevent damage to the flooring if the machine is placed directly on the floor. Also, the front end features transport wheels to facilitate the relocation and storage of the rower.
Being a more extended machine, this water rower can accommodate tall users, with an inseam of 37″ (94 cm). In general, users up to 6'6″-6'7 ″ (198 – 201 cm) tall should not have any difficulties training on this machine. As for the supported user weight, you shouldn't worry about it. This rower is rated to support users up to 700 lbs (317 kg).
Seat and Handle
The seat of this WaterRower comes without cushioning. However, it has a contoured design to adapt better to the user, eliminate the numbness effect, and facilitate the rowing motion. In addition, it supplies a horizontal glide, simulating a natural rowing stroke.
The footrests are oversized, accommodating feet of any size. They're also equipped with straps to prevent slippage of feet and help them achieve a correct rowing motion.
The rower's handle is simple, with rubber foam grips to absorb sweat, ensure a good grip, and prevent palm sores or blisters. The handle comes attached to a durable nylon strap, a material similar to the one used in automobile seatbelts.
Natural Water tank
Like any water rowing machine, this model includes a water tank with quite a sizeable WaterFlywheel, consisting of two paddles enclosed in a container. This water flywheel emulates the dynamics of a boat moving through water. Therefore, this machine renders a very natural rowing feel with every stroke. The resistance adjusts naturally, just like rowing a real boat: the harder you pull, the more resistance.
The water tank has a volume higher than 19 liters. However, 19 liters is the maximum water quantity. Adding more water into the tank can lead to the voiding of the warranty. WaterRower recommends that the basin shouldn't contain more than 17 liters of water. The tank has pretty clear level markings on it. Also, the water can remain in the container when the rower stores it vertically.
The tank is made of polycarbonate material and is gray-colored. The subtle blue color depicted in some of the photos is water dye. Unfortunately, the water dye isn't (supplied) with the rower. However, the box does include chlorine pills to be added to the water to prevent algae or mold formation.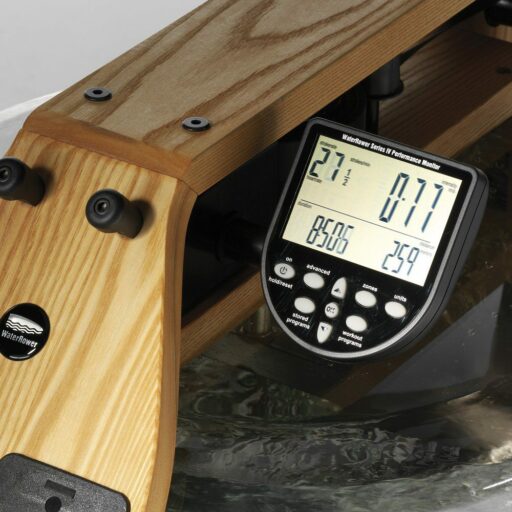 S4 Console
The WaterRower Natural rowing machine comes with an S4 performance tracking monitor. It has a user-friendly interface, even though it's a pretty advanced unit. It can display all the values a professional rower wants to know during training.
In other words, this unit will indicate intensity (or speed), watts, KCalories per hour, stroke rate, heart rate, distance covered, and time spent on a training session.
The unit has interval workout settings for length and intensity and 9 Advanced Workout Programs. The S4 monitor is telemetric. However, it requires a heart rate chest strap, which does not come with the rower.
Also, the S4 performance monitor is a PC interface capable of via a monitor cable. We-Row, WebRacing, and WaterCoach Fit are several commercially available software apps. They allow you to join online rowing communities, compete with others, or customize your workout.
The S4 performance monitor is battery-operated and requires 4 AA-type batteries.
Natural Assembly and Maintenance
The WaterRower Natural ships in two boxes, one for the rails (6 x 6 x 30 inches), one for the water tank and console, and the other (24 x 24 x 24 inches). The assembly part is relatively easy, requiring ten main steps, which should take no more than 30 minutes of your time.
It requires you to combine the two main rails, add the seat, water tank, footboard, and transport wheels, and connect the bungee cord to the recoil belt and the console. The manual and the necessary tools come with the machine.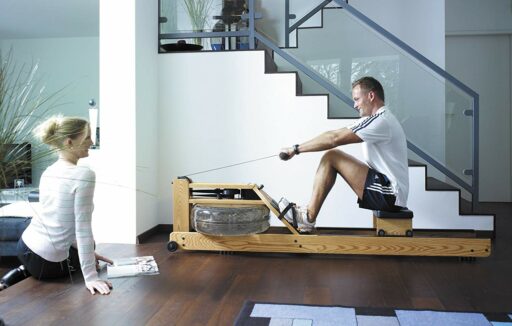 If you may be wondering, all frame pieces already have holes drilled into them, so you must put the nuts in and screw them in place.
Maintenance also doesn't require much. All you need to do is change the water in the tank every six months and add a new chlorine pill. Since the wooden parts of the frame have Danish oil, other than occasional dusting, the wood requires no maintenance.
Also, ensure you keep the rails clean of any dirt or particles that might be nick. Also, keep the console from moisture or wipe any water or sweat droplets that might fall on it during a workout.
Note: This WaterRower rowing machine has a base warranty of one year. However, if you register the product on the WaterRower official website, the warranty automatically extends to five years for the frame and three years for the parts.
Pros
Water rowing system, resulting in a natural feel for each rowing stroke;
Resistance adjusts depending on the intensity of your training;
Quiet exercising machine. The sound emitted by it is pretty tranquil and soft;
Smooth and warm design, reminding an actual rowing boat;
Durable and stable frame; can support users up to 700 lbs;
Contoured, ergonomic seat for optimal user position;
Maintenance-Free;
Easy to move. Stores vertically to save space;
Advanced, yet easy to use the console, telemetry enabled, and PC compatible;
An excellent choice for users of all levels;
It's of superior quality and design at an excellent price.
Cons
The fitness monitor LCD isn't backlit;
The footrests are non-adjustable.
WaterRower Natural Rowing Machine Summary
The WaterRower Natural is one of the water rowing machines with the best price and quality ratio that you can find at the moment. Moreover, it provides a training set for all ages and levels, from beginner to professional.
It's an excellent choice for cardio training, muscle toning, and weight loss. With regular exercise on this rower, you can drop at least 1-2 pounds per week at a moderate pace. All in all, you will never regret investing in this particular rower.
I hope you found this article helpful and informative. Would you please speak up if you have anything you'd like to share on the topic or any opinions about my website? I look forward to your comments, questions, and the sharing of ideas.
Please remember that you should consult your physician to determine if you have any medical or physical conditions that could risk your health and safety and prevent you from using the equipment properly. In addition, your physician's advice is essential if you are taking medication that affects your heart rate, blood pressure, or cholesterol level.