The Sunny ASUNA 7700 Treadmill from Sunny Health & Fitness is the best manual treadmill for running and more intense workouts. HIIT and Tabata enthusiasts love it. At 167 lbs., with transport wheels and a soft-drop system, this unit is portable and compact—with a fold-up length of 27.5 inches. Surprisingly, it has a very high user weight capacity of 440 lbs.
The ASUNA 7700 has two heavy-duty magnetic flywheels at the front that give a smooth ride with eight different resistance levels—you can control the resistance by a gear shift that is easy to reach the user's right side. Also, the incline is adjustable in 1-degree gradients from 10 to 14 degrees.
Even as it has no fitness console, it does have a rubber gripping surface to hold an iPad/tablet—many users might prefer this. Furthermore, the handrails— made of sweat-resistant, grip-able material—are extensive to allow eight different holding positions.
With the ASUNA 7700, you can walk/run forward, backward, and sideways—you can even do a series of squats on it. In addition, you can do sled-push/drive movements. You can also do climbing exercises—with the hands-on floor, pushing with legs, or hands walking on the treadmill, with feet on the floor.
Learn more in my complete review below!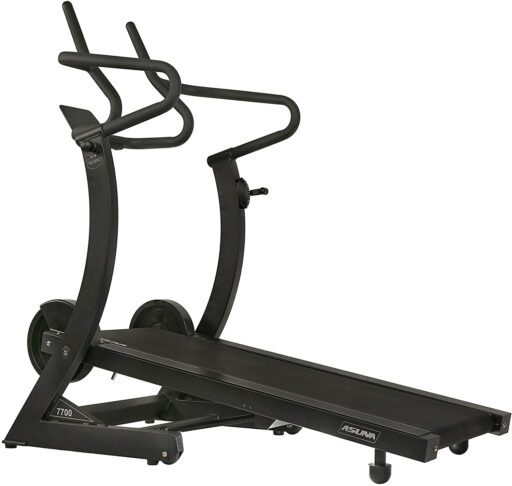 Product: Sunny ASUNA 7700 Treadmill
Price: For a great deal on this treadmill, merely go here to Sunny Health & Fitness.com
Warranty: Frame 5 years / Parts 180 days
My rating: 8.5/10
Affiliate Disclosure: As a Sunny Health & Fitness Affiliate Program participant, I earn commissions on purchases made through links in this post. Full disclosure
Details and Specifications
Assembled dimensions: 55L x 30W x 57H inches (140L x 76W x 145H cm)
Running surface dimensions: 49L x 19W inches (124L x 49W cm)
Deck cushioning: 6 cells
Assembled weight: 167 lbs (76 kg)
Weight capacity: 440 lbs (200 kg)
Incline: Manual, 10°-14°
Resistance: Magnetic, eight levels
Fitness console: No
Warranty: Frame 5 years / Parts 180 days
ASUNA 7700 Frame construction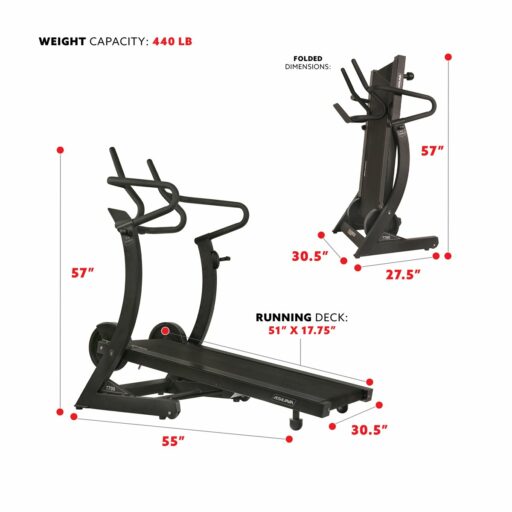 The ASUNA 7700 treadmill is a Hi-Performance machine that features heavy-duty steel tubing. Both its deck and the front section of the frame with the upright masts are very sturdy, and the whole machine has a maximum load capacity of 440 lbs (200 kg).
The machine's front masts are curved to improve sturdiness and provide an aesthetic touch. The handlebar assembly features a multi-grip design, offering the possibility to perform a wide variety of workouts, from light-cardio, walking, and recovery training to high-intensity HIIT workouts. In addition, the whole handlebar assembly comes coated with a rubber layer to provide a sweatproof, secure grip.
The fully assembled unit is not extremely large compared to other treadmills. It only takes 55″L x 30″W (140 x 76 cm) of floor space. On top of that, its deck is foldable. So you can fold it vertically and lock it in this position with the knob on the left mast.
The folding mechanism also integrates a hydraulic cylinder, which assists you when unfolding the deck, slowly lowering it until it touches the floor to prevent any damage. With the deck folded up, the unit's length reduces to 27.5″ (70 cm).
Although it is a relatively small treadmill, the ASUNA 7700 is not exactly a light fitness machine. It weighs approx. 167 lbs (76 kg); therefore, it is advisable for two people to carry and assemble the machine.
However, once fully assembled, its transport shouldn't be too difficult because its front base frame features a set of transport wheels. In addition, the front metallic base frame has adjustable stabilizers to perfectly level the unit on any floor.
All the steel parts in the machine's frame construction come coated with a durable black paint finish resistant to corrosion.
Deck and running surface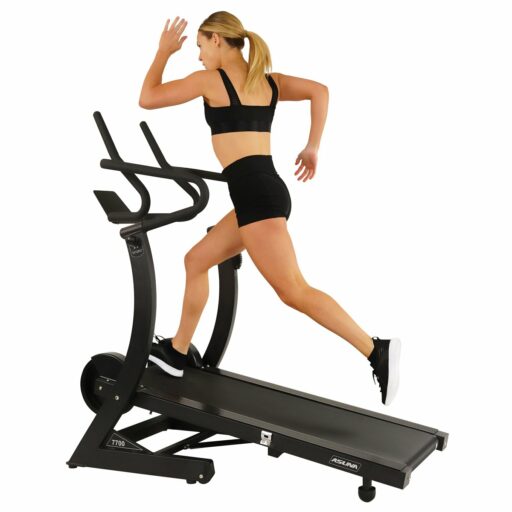 This Sunny ASUNA 7700 treadmill features a highly durable deck that can support users up to 440 lbs (200 kg). It integrates a solid running board, while the side rails as steel-made, with a sheet of non-slip material on top.
The tread belt is heavy-duty rubber material featuring a textured surface to adhere to all exercises. It offers a running surface of 49″L x 19″W (124 x 49 cm), which should be enough for users up to 6'2″ (188 cm). Taller users may find it a bit small for their complete stride, but walking or light jogging workouts are still possible for them as well.
The integrated rollers' diameter is not specified, but they are relatively thick for a small deck, providing excellent traction for the belt. They also integrate high-grade ball bearings for smooth motion.
Like most other treadmills, the ASUNA Hi-Performance 7700 features an integrated deck cushioning system. Its deck integrates six cushioning cells, placed in pairs of two at its rear, middle, and front. Therefore, the unit delivers a lower impact on your ankles, knees, hips, and spine during running.
ASUNA 7700 Incline and step-up height
The Sunny ASUNA 7700 comes equipped with a manual incline system. It consists of two adjustable "feet" situated at the rear of the deck. Thus, to adjust the deck's incline, you have to fold it first, change the two feet to the desired position, and then unfold it once more. Since the incline system is not automatic, you cannot adjust it during exercising.
The lowest incline of the deck is with the two rear feet extended to their maximum position. This way, the unit provides a slope of approx—10 °.
Conversely, with the feet adjusted to their minimum length, the deck's rear will be lower, and therefore, the deck will provide an incline of approx 14°. Thus, the incline span is approx 4°. It's also imperative to mention that the deck does not offer a completely horizontal position.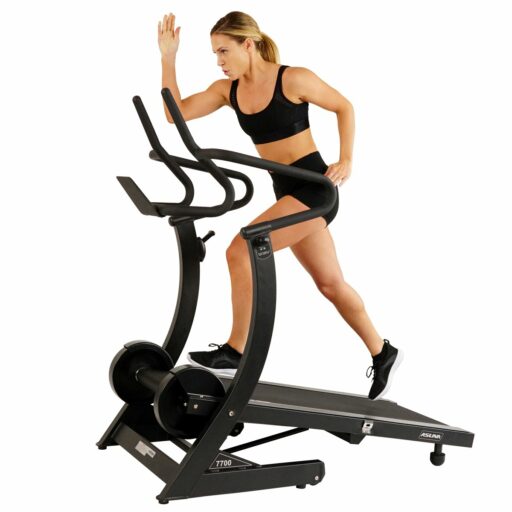 The deck's rear part is approximate—5″ (13 cm) above floor level when the incline is its lowest setting when it comes to step-up height. Conversely, the highest point of the running surface is approx. 15″ (40 cm) above floor level.
Therefore, to prevent any hindrance during exercising, it is advisable to assemble and use the unit in a room with a ceiling at least 20″ (51 cm) higher than your size.
Resistance system
The Sunny ASUNA 7700 is a manual treadmill. It does not use a motor for moving the belt. Thus, the belt speed adjustment cannot be done automatically and doesn't have a limited speed range; you can run as fast as you can on it.
The machine's front roller integrates a dual flywheel system, which adds smoothness to the ride and reduces belt and deck vibration. The flywheel assembly on the right incorporates a manual magnetic resistance system with a magnetic brake attached to the tension dial on the right mast through a steel cable.
If you press the dial down, the brake moves closer to the flywheel, resulting in an increased magnetic pull on the wheel, which increases the overall belt movement difficulty.
The unit's tension dial features eight distinct levels of difficulty. According to several user reports, even the lowest tension delivers quite a bit of belt movement difficulty. Thus, the treadmill promotes high-intensity training and great possibilities to develop stamina and strength.
ASUNA 7700 Assembly and Maintenance
The ASUNA 7700 comes fully assembled and in a folded position. The only part that requires assembly is the tablet holder. Thus, the machine's setup should not take more than 5-10 minutes. The manual provides all the necessary instructions.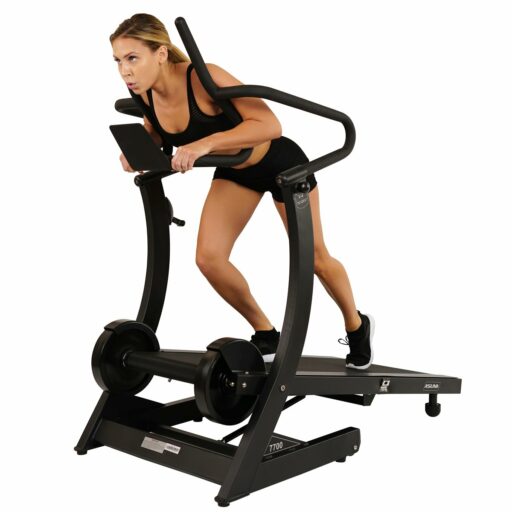 For maintenance, the deck will require lubrication before the first use and then periodically, depending on how often you use the machine. The manual provides the necessary instructions for this and includes a tube of silicone lubricant. Other than this, it is advisable to inspect the machine from time to time and re-tighten any potential loose bolts or parts.
Pros
Heavy-duty frame and deck – can support users up to 440 lbs.
Small footprint;
Folding design with a soft-drop hydraulic system;
Adjustable stabilizers on the front base;
Transport wheels included;
Multi-grip handlebars;
Tablet holder included;
Non-slip side rail covers;
Manual belt action offers the possibility to run as fast as you can;
Manual incline with a range between 10°-14°;
Six shock absorption elements integrated into the deck;
Dual flywheel system for a smooth and steady belt movement;
Manual magnetic resistance with eight distinct levels;
Quiet operation;
No power consumption;
It comes almost completely assembled;
Little maintenance required;
Excellent warranty.
Cons
The deck does not have a horizontal position;
No fitness console;
The incline is not adjustable during the usage of the machine.
Sunny ASUNA 7700 Treadmill Summary
The Sunny ASUNA 7700 is a heavy-duty manual treadmill designed for high-intensity cardio and interval workouts. It features a dual flywheel system for a smooth belt motion, a magnetic resistance system for adjusting the belt movement difficulty, and a multi-grip handlebar with a tablet holder.
Moreover, it also has a manual incline system. And finally, it's not exactly an affordable treadmill but does offer excellent quality for the price.
I hope you found this article helpful and informative. Would you please speak up if you have anything you'd like to share on the topic or any opinions about my website? I look forward to your comments, questions, and the sharing of ideas.
Please note: Before starting any exercise program, you should consult your physician to determine if you have any medical or physical conditions that could put your health and safety at risk or prevent you from using the equipment properly. In addition, your physician's advice is essential if you are taking medication that affects your heart rate, blood pressure, or cholesterol level.