The ProForm Elliptical/Recumbent Hybrid Trainer is one of my top picks for the best budget-priced elliptical/recumbent bike on the market. This trainer offers impressive versatility as it can be transformed from a recumbent bike into an elliptical trainer with a few simple adjustments. Thus, allowing users to perform cross-training on a single machine.
You can use it as either a recumbent bike or as an elliptical. It only takes two quick adjustments – in the pedals and the console – to change it from a recumbent bike into an elliptical – or vice versa. And unlike some other 2-in-1 elliptical bikes, it's not hard (or back-breaking) to make these adjustments. You can do it in less than 30 seconds.
The console on this trainer is relatively basic and straightforward, but you get the essential feedback of speed, time, distance, calories burned, pulse, and RPM. In addition, the machine comes with built-in Bluetooth/iFit compatibility. From there, you can monitor and track your workout progress over time to see how far you've come. You can also download new workouts and even run world-famous bike trails.
The seat is adjustable forward and back with extra padding to ensure a comfortable recumbent bike ride. The back is a mesh back – which lets the airflow keep you fresh as you cycle. The bike also has oversized pedals with built-in traction that you can adjust to fit your frame – again, for a more comfortable ride or run.
Learn more in my complete review below!
Product: ProForm Elliptical/Recumbent Hybrid Trainer
Price: For a great deal on this hybrid, merely go here on Amazon
Warranty: Frame 5 years / Parts 90 days
My rating: 7.5/10
Affiliate Disclosure: As an Amazon Affiliate Program participant, I earn commissions on purchases made through links in this post. Full disclosure
Please note the tablet pictured in some images does not come with the machine.
Details and Specifications
Assembled dimensions: 70.5L x 24.5W x 60.5H inches (179L x 62W x 154H cm)
Assembled weight: 116.8 lbs (53 kg)
Flywheel weight: 13 lbs (5.8 kg)
Weight capacity: 350 lbs (158.7 kg)
Seat: 2-way adjustable
Stride: 15 inches (38 cm)
Incline: No
Resistance: Motor-assisted magnetic, 16 levels
Console: 16 workout programs
Warranty: Frame 5 years / Parts 90 days
Hybrid Trainer Frame
The ProForm Hybrid Trainer features a two-piece frame made of steel tubing. The connection point between the two frame parts is close to the front, and the two pieces connect via several bolts, resulting in a sturdy, overall construction.
The steel parts feature a corrosion-resistant coating, silver for the main body and black for the mobile bars. The machine also features several PVC parts, such as the pedals, resistance system covers, and several other covers.
The machine's frame features a step-through design. Differently put, it's effortless to position your feet on the pedals, sit down or get up, which can be quite a plus for users with disabilities.
Speaking of sturdiness, this ProForm trainer can support users up to 350 lbs (158.7 kg), which is quite impressive for a machine of this caliber. Also, it delivers excellent stability. Both its base tubes come with adjustable, rubberized stabilizers. On top of that, the assembled machine weighs approx. 117 lbs (~53 kg), a weight that plays an essential role in its stability.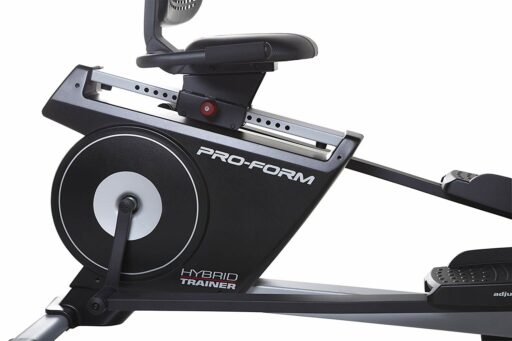 Despite its weight, the ProForm Hybrid Trainer is not difficult to transport. Its front base tube has a set of wheels. By lifting it from the rear and using the wheels to relocate it, you will handle less than 60% of its total weight.
It takes approx. 70.5″L x 24.5″W (179 x 62 cm) of floor space and the top of the moving handlebar reach approx. 60.5″ (154 cm) above floor level. The pedal arms will extend over the machine's front base for approximately1′ (30.5 cm) during usage. Therefore, keeping at least two ′ (61 cm) of clearance around the trainer is advisable for safe operation.
Stride and step-up height
The ProForm Hybrid Trainer offers a 15″ (38 cm) stride. Differently, users up to 6'0 ″ (183 cm) should feel right at home using the machine as an elliptical trainer. Taller users shouldn't experience difficulties using this fitness machine, but its stride length will limit their range of motion.
Therefore, if you're taller than 6'0 ″ and you're looking for an elliptical trainer with a longer stride, a model such as Schwinn MY17 470 may be a better choice.
The step-up pedal height (the distance between the top of the pedal and the floor is at its lowest position) is approx — 9″ (23 cm). Also, at its highest position, the rear of the pedals rises by approx. 15″ (38.1 cm) above floor level. Therefore, it's best to assemble and use the machine in a room with a ceiling at least 20″ (51 cm) above your height to avoid ceiling issues.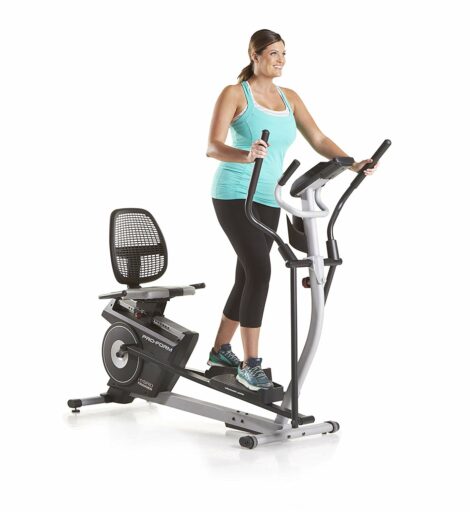 Hybrid Trainer Seat and handlebars
The seat integrates a generous layer of padding to provide optimal comfort for all the seated workouts. Its upholstery is a durable and waterproof vinyl material. The backrest features a curved design and a vented structure to prevent overheating during a more intense workout and promote superior blood flow. It also provides excellent lumbar support.
The seat is adjustable. The adjustment rail to which it is attached features 17 adjustment positions. It slides along the rail closer or farther to the pedals. Therefore, users up to 6'3″-6'4 ″ should be able to benefit from a complete leg extension when using the machine as a recumbent exercise bike.
If you're wondering, the backrest does not adjust independently from the rest of the seat. It does not recline, nor can you change its height. Instead, it is attached directly to the seat's metallic frame and will move along the adjustment bar.
This ProForm trainer features three sets of handlebars. The seat handlebars are attached directly to the seat frame and are non-adjustable, featuring small grips. The console mast handlebars integrate EKG sensors, so the console can monitor your pulse if you hold on to them.
The machine's mobile arms have a simple design, with more extended grips to provide the correct hand positioning for users of all sizes. In addition, the machine's portable arms will continue to move as long as the pedals move.
Drive system
As you can see in the attached photos, the ProForm Hybrid Trainer features a rear drive. Due to this, its elliptical path is slightly inclined forward, which means it will feel like descending on a gentle ramp when using the machine as an elliptical.
The machine comes with a 13 lb (5.8 kg) flywheel. However, it delivers consistent momentum and a steady motion, as it features a balanced construction, with most of its weight on its perimeter.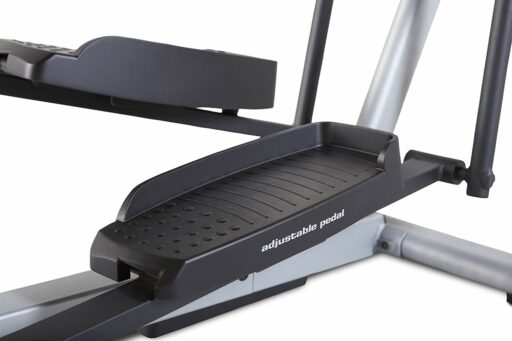 Since it's a trainer with magnetic resistance, it features a belt drive; it uses a heavy-duty, stretch-resistant belt. This belt drive comes with two main advantages. One, it's much quieter (almost silent) than a chain drive. And two, it doesn't require any lubrication or maintenance whatsoever.
The pedals are adjustable. They feature two positions; horizontal for the elliptical and inclined for the recumbent bike. Their adjustment is relatively easy. You lift the pedals, unfold the braces, insert their ends into the pedal arms, and lock them into the upright position to use the recumbent bike.
To use the machine as an elliptical, you must fold the braces so that the pedals will remain flat on the metallic pedal arms.
The pedals do not have any articulation or suspension system. However, they do have a ribbed surface that offers excellent adherence. They're also large enough to accommodate athletic footwear of all sizes.
Hybrid Trainer Resistance system
The ProForm Hybrid Trainer features a motor-assisted magnetic resistance system. Therefore, the resistance is only adjustable from the console, which is battery-powered. However, there also is the option of using a power adapter.
The resistance system consists of two main elements: a C-magnet and a small servo motor. As you select a certain level of resistance from the console, the servo motor will adjust the C-magnet position to the metallic flywheel, generating more or less resistance.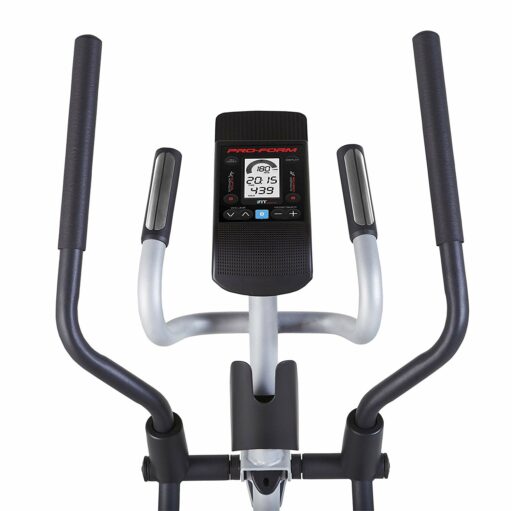 The C-magnet does not contact the wheel, so there is no friction between the resistance elements, which results in no wear and tear.
The machine offers 16 exceptional levels of resistance. The first few levels offer light workouts, great for warmups or recovery training. Conversely, the top 15-16 resistance levels are "quite tough." Therefore, the machine also offers the possibility to undertake more intense workouts.
Console
This hybrid trainer features a mid-range console. The fitness monitor has an LED-backlit LCD with three display panels. The monitor tracks time, speed, distance, RPM, pulse, and calories and simultaneously show three. However, it also has a SCAN function, alternating the values showing each set for a few seconds.
The console has 16 pre-set workouts, 8 for the elliptical and 8 for the recumbent bike. The machine will auto-adjust resistance when using one of these pre-set workouts. However, if you use the manual mode, you can freely adjust the resistance from the + / – keys as you pedal.
The ProForm Hybrid Trainer is iFit ready (membership required), and Bluetooth enabled. Therefore, you can sync it with your Android or IOS device to use the iFit app and transfer your workout date directly into your iFit account.
The Bluetooth connection also allows a wireless heart rate chest strap. Unfortunately, the HR chest strap does not come with the machine. However, you can still monitor your heart rate using integrated EKG pulse sensors from the front handlebars.
The console is battery-powered, and it requires 4 D batteries. Unfortunately, the batteries do not come with the machine, and ProForm recommends the usage of alkaline batteries. An adapter can also power it, but it does not come included either.
Amenities
The console also integrates a sound system and a tablet holder. The sound system is compatible with most MP3 players, smartphones, or tablets. It consists of a prominent speaker situated at the bottom part of the console.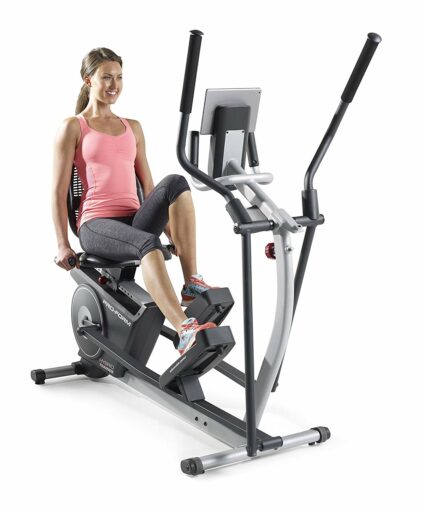 The sound rendered by it is no match for a dedicated sound system, but still, it offers a better and louder sound than the average tablet or smartphone. The console has volume keys, while the audio jack is on the unit's right side.
The tablet holder is at the top of the console unit. It's spacious enough to provide support for any tablet.
Hybrid Trainer Assembly and Maintenance
This ProForm elliptical/recumbent machine is not too difficult to put together, but its assembly may take up to three hours due to the many parts. As a general idea, the machine's construction requires connecting the two main frame parts, adding the base stabilizers, the seat, the pedal arms, the pedals, the console mast, the fixed handlebar, the mobile arms, and the console.
The included manual provides precise assembly instructions. Some of the tools required for the assembly (are included), i.e., Allen wrenches, but you will also need an adjustable wrench, a Phillips screwdriver, and a rubber mallet.
It's a good idea to apply some all-purpose lubricant (not WD-40) to the machine's joints during assembly. Also, you have to register the product with the ProForm website to activate the warranty.
Maintenance doesn't require much. The internal parts come pre-lubricated from the factory, so they shouldn't need further lubrication for an extended time. However, the joints may require greasing every time, especially if they develop squeaks. Also, a periodic check for loose bolts and parts and retightening them if necessary is advisable.
Pros
2-in-1 machine, elliptical trainer, and recumbent bike, making available a wide array of workouts;
Extremely sturdy construction and an impressive weight capacity of 350 lbs;
2-way adjustable seat, with 17 adjustment positions;
Durable backrest with a contoured shape and a vented structure, promoting excellent blood flow during exercising;
Angle-adjustable pedals;
Angle-adjustable console;
EKG pulse sensors;
It has a generous cushioning in the seat and backrest for optimal comfort;
Quiet, smooth, and maintenance-free belt drive system;
Balanced flywheel for a consistent momentum;
Motor-assisted, magnetic resistance, with 16 distinctive levels;
The fitness console integrates an LED backlight and features significant digits, offering excellent readability;
16 fitness programs, 8 for the elliptical, 8 for the bike;
Bluetooth enabled and iFit ready console;
The sound system included;
Tablet holder included;
The bottle holder comes included;
Straightforward assembly;
Little maintenance is required.
Cons
The seat handlebars don't have HR pulse sensors;
No cooling fan on the fitness monitor;
iFit membership does not come included with the trainer;
Batteries or adapters do not come with the trainer.
ProForm Elliptical/Recumbent Trainer Summary
The ProForm Elliptical/Recumbent Hybrid Trainer is a 2-in-1 fitness machine, offering the training possibilities of both an elliptical trainer and a recumbent bike. It features sturdy construction with an impressive weight capacity of 350 lbs, and it excels in comfort factors and micro-adjustability.
Additionally, it comes with an iFit and Bluetooth-enabled console with 16 onboard programs. It uses a motorized magnetic resistance system, offering 16 distinctive difficulty settings. Moreover, it's perfect for light to intense cardio training, interval training, stamina development, muscle toning, and weight loss. And finally, it's pretty affordable, offering an excellent price/ratio value.
I hope you found this article helpful and informative. Would you please speak up if you have anything you'd like to share on the topic or any opinions about my website? I look forward to your comments, questions, and the sharing of ideas.
Please note you should consult your physician to determine if you have any medical or physical conditions that could put your health and safety at risk or prevent you from using the equipment properly. In addition, your physician's advice is essential if you are taking medication that affects your heart rate, blood pressure, or cholesterol level.