The ProGear 9900 Stepper/Elliptical is an affordable machine that can help you burn more calories faster than many other models on the market. That's because this design combines elements of both an elliptical and a stair-climber. The 8" vertical and 9" horizontal stride path provides a significant amount of fixed incline.
Beyond the aggressive incline, the ProGear 9900 also helps you torch calories with its eight different magnetic resistance levels and 29 lb flywheel. Compared to fan-wheel models, magnetic wheels provide a smooth and ultra-quiet ride.
The 3.5" LCD provides you with workout statistics to keep you on track. With the free MyCloudFitness app, you can set workout goals, track your workouts, and more. So train hard and get the results you want with the ProGear 9900 Stepper/Elliptical Trainer.
Its compact design is perfect for limited space while still providing a high-intensity interval training (HIIT) workout. In addition, the ProGear 9900 has pulse sensors, eight magnetic resistance levels, and a 29 lb cast iron exposed flywheel, allowing you to burn calories in a shorter time.
Learn more in my complete review below!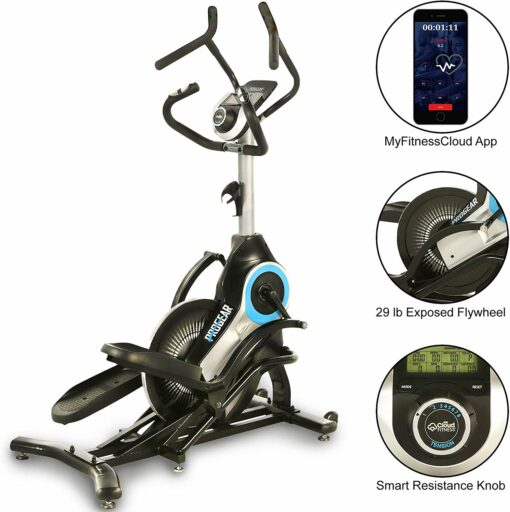 Product:  ProGear 9900 Stepper/Elliptical
Price: For a great deal on this hybrid, merely go here on Amazon
Warranty: 5 years
My rating: 8/10
Affiliate Disclosure: As an Amazon Affiliate Program participant, I earn commissions on purchases made through links in this post. Full disclosure
Details and Specifications
Assembled dimensions: 45L x 26.5W x 59H inches (114L x 67W x 150H cm)
Assembled weight: 116.8 lbs (53 kg)
Flywheel weight: 29 lbs (13 kg)
Weight capacity: 220 lbs (100 kg)
Stride: 9 inches (23 cm)
Incline: No
Resistance: Manual magnetic, eight levels
Console: Time, speed, RPM, distance, odometer, calories, watts, pulse, Bluetooth
Extras: Bottle holder, tablet holder
Warranty: 5 years
9900 Frame construction
The ProGear 9900 stepper/elliptical machine features a durable steel frame, combining cylindrical, ovalized, and rectangular bars in its structure. The base frame, along with the pedal bars, is coated with a black powder finish, while the upright mast is gray; these are the only colors available for this machine. In addition, the paint finish is chip-resistant and corrosion-resistant.
Compared to the average front-drive elliptical, this machine is considerably smaller. Its footprint is only 45″L x 26.5″W (114 x 67 cm), while its height reaches approximately 59″ (150 cm). However, it is advisable to leave at least two feet of clearance all around it for ease of access and safe usage.
Despite its tiny footprint, the machine is relatively heavy. It weighs over 116 lbs (53 kg), so it is advisable to be transported by two persons. However, once assembled, its relocation can be done quickly via the small wheels integrated into its front bar.
The weight of the machine contributes to its excellent stability. Not only that, but it also has a low center of gravity. Plus, its three base bars are all equipped with adjustable stabilizers, so you can perfectly level it on any floor.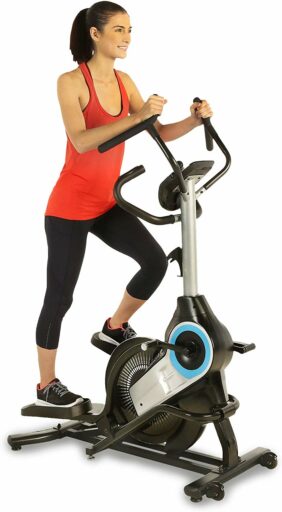 As opposed to elliptical trainers, the ProGear 9900 does not have mobile arms. Both its handlebar sets are stationary. However, both handlebar sets have a multi-grip design. A layer of rubber foam material covers them to provide a secure grip, while the lower grips integrate stainless steel pulse sensors.
Elliptical path, stride, and step-up height
First of all, the ProGear 9900 stepper/elliptical machine's pedals are attached to a set of durable, curved steel bars. These bars connect to the crank arms and glide on the unit's oblique rails on a set of heavy-duty rollers. The pedal trays are durable ABS material; they feature front and side borders to provide better foot stability. They also have a non-slip surface. However, they are non-adjustable and do not have any extra cushioning.
Since the machine is an elliptical and stepper hybrid, it offers an oblique elliptical path, delivering a pedaling motion that is closer to a stepper than an elliptical. The unit's stride is approximately 9″ (23 cm). Thus, it should accommodate users comfortably up to 6'4″ (193 cm). Also, the pedal weight capacity is 220 lbs (100 kg).
The unit does not have an incline system like various other elliptical trainers. At their lowest point to the floor, the pedals are at approximately 5″ (12 cm). When they're at the most down position, the pedals are slightly inclined backward, which makes stepping on them much more comfortable, especially when coming from the back of the machine.
Conversely, the maximum pedal elevation is approximately 16″ (40 cm). Therefore, it is advisable to use the machine in a room with a ceiling that is at least 20″ (51 cm) higher than your height.
9900 Resistance and drive
The ProGear 9900 comes with a manual magnetic resistance system. This means the machine does not require an external power source. Although the tension knob incorporates into the console, the machine has a mechanical brake without an internal motor, which connects to the knob via a steel cable. This also means the console cannot automatically control the resistance. You can only adjust the pedaling difficulty manually.
The machine's resistance knob makes available eight difficulty levels. The lowest one provides a relatively light pedal tension, basically powered only by the flywheel's weight. Conversely, the 8th tension level delivers considerably more resistance, exceptional for achieving a higher cardiovascular rate in a shorter time, and provides a more intense workout.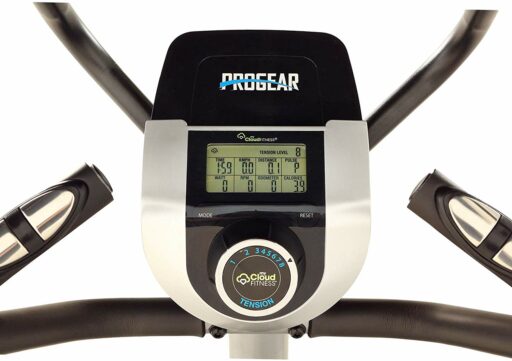 The ProGear 9900 stepper/elliptical features an open flywheel design. The integrated flywheel is relatively heavy compared to other similar machines. It weighs 29 lbs (~13 kg) and is perimeter-weighted for more inertia and improved stability.
The transmission between the pulley and the flywheel of the machine is via a heavy-duty poly-v belt. This type of drive system comes with a few advantages. First of all, the pedaling motion is very smooth and quiet. And second of all, you don't have to go through the hassle of lubricating it.
Console
Since the machine does not have an automatic resistance system, the console is a fairly basic one. This means it does not have preset programs; it only tracks your main workout metrics, including time, distance, total distance (odometer), speed, RPM, watts, calories, and pulse.
It features an LCD divided into nine sections to show all the metrics at once, so you won't have to use a Scan function to rotate them. Also, since the machine's resistance knob integrates into the console, it shows the selected resistance level.
The distance and odometer functions are only in kilometers. However, for the speed function, you can select either KM/H or MPH via the Mode button. The Reset button allows you to clear all the values to zero, except the odometer. The odometer resets by removing the batteries from the unit.
For the pulse reading function, the console does not have an internal receiver. Therefore, it cannot communicate with an HR chest strap. So, to benefit from a pulse reading, you will have to hold on to the sensors integrated into the handlebars.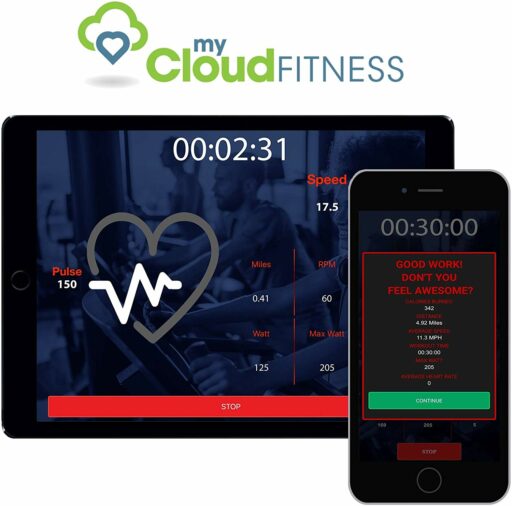 Although the console unit does not have preset programs, it does have an integrated Bluetooth module. Therefore, you can sync it with your smartphone or tablet via the MyCloudFitness App. This app gives you the possibility to select workout goals for time, distance, and calories burned, as well as keep track of your workout progress online.
Last but not least, the console requires two AAA batteries as a power source. It starts up when you press the Mode button. It also automatically turns off after approx — 3.5 minutes of inactivity on the stepper.
9900 Assembly and Maintenance
The main body of this stepper/elliptical comes pre-assembled. The flywheel, the belt, the pulley, the pedal bars are already attached to the base frame. Therefore, you only have to connect the front and rear base bars, unfold and fix the console mast in an upright position, attach the pedal trays, the handlebars, the console, and several small covers.
This shouldn't take more than one hour. All the necessary tools are (included). Also, the manual provides step-by-step assembly instructions and schematics.
As I've mentioned above, the machine has a belt drive system, so its transmission does not require lubrication. So, for maintenance, you only need to keep the unit clean, especially the pedal rail bars, and periodically check for loose parts. Other than this, the machine's joints may need lubrication from time to time.
Pros
Solid frame with a low center of gravity for extra stability;
Adjustable stabilizers;
Transport wheels;
Durable, non-slip pedals;
Two sets of multi-grip handlebars;
Pulse sensors integrated into the lower handlebars;
Perimeter-weighted flywheel (29 lbs) for a more consistent momentum;
Zero-friction magnetic resistance system with eight difficulty levels available;
LCD console which can track time, distance, total distance, speed, RPM, watts, calories, pulse, and the selected resistance level;
KM/H and MPH options for the speed reading;
Bluetooth function and compatibility with the MyCloudFitness App;
Batteries for the console included;
The bottle holder comes included;
Tablet holder included;
Silent operation;
Reasonably easy to assemble;
All the assembly tools come with the machine;
Very little maintenance required;
Excellent warranty.
Cons
No backlight on the console;
Calorie reading isn't too accurate.
ProGear 9900 Stepper/Elliptical Summary
The ProGear 9900 is a stepper/elliptical crossover designed for home use. It has a 29 lb open flywheel, a manual magnetic resistance system, and a fitness console covering all the essential workout metrics. The console is also Bluetooth capable and compatible with the MyCloudFitness app, which allows you to track your progress online and set up goals for your workouts.
It's an excellent trainer for light to mid-range cardio training with a low impact on the joints, muscle toning, boosting stamina, weight loss, and interval training.
I hope you found this article helpful and informative. If you have anything you'd like to share or any opinions about my website, please speak up. I look forward to your comments, questions, and the sharing of ideas.