The Mevem M3 Indoor Cycling Bike is a belt-drive bike that should be on your buying shortlist for several reasons. The Mevem M3 indoor cycle, in particular, offers a sturdy frame with 280 pounds of weight capacity and comes with a manual magnetic resistance adjustment.
The flywheel weighs 18 pounds, providing a high-cadence spin workout with consistent momentum, extra stability, and smooth pedaling motion. In addition, it is bi-directional, meaning you can pedal in reverse and practically double the number of exercises you would perform on this bike.
The computer included with this Mevem M3 indoor cycling bike displays your time, speed, distance, and calories burned. It enables you to see your results to stay motivated and on pace. However, it is not an advanced monitor, so you can not save stats or ride on cycling apps online.
If you want to track and save your daily workouts and join spinning apps such as Zwift for more exciting rides, I suggest buying two Wahoo sensors. They attach to the pedal and the flywheel to track your RPM (revolution per minute), time, distance, and more. Using Bluetooth, these affordable sensors connect and send data to your phone or tablet.
Learn more in my complete review below!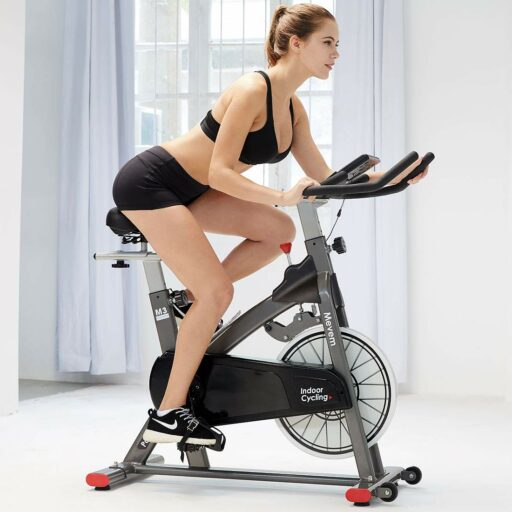 Product: Mevem M3 Indoor Cycling Bike
Price: For a great deal on this bike, merely go here on Amazon
Warranty: 1 year limited
My rating: 8/10
Affiliate Disclosure: As an Amazon Affiliate Program participant, I earn commissions on purchases made through links in this post. Full disclosure
Details and Specifications
Assembled dimensions: 38.9L x 18.1W x 42.9H inches (99L x 46W x 109H cm)
Flywheel weight: 18 lbs (8 kg)
Supported weight: 280 lbs (127 kg)
Seat: 4-way adjustable
Handlebars: 2-way adjustable
Drive mechanism: Belt
Resistance: Manual-magnetic
Fitness console: Time, speed, distance, odometer, calories, goals
Extras: Bottle holder, tablet holder
Warranty: 1 year limited
M3 Frame construction
The Mevem M3 indoor cycling bike features a frame made of steel tubing. It's a classic V-type frame, but its main tube curves for an extra aesthetic touch. The steel bars in its construction are pretty thick for a home-use unit; the bike has a user weight capacity of 280 lbs (127 kg), which is not bad at all.
The Mevem M3 is slightly smaller than other trainers made for home use. Its footprint is approx. 39″L x 18″W (99 x 46 cm). However, with the seat extended to the back, the unit is a few inches longer. So, as a small conclusion here, you will need a usage area for it of at least 70″ x 50″ (178 x 127 cm).
Since it's a magnetic exercise bike, it comes with a lighter flywheel than other models. Thus, the unit is considerably lighter, as well. It weighs approx. 66 lbs (30 kg), so its transport and assembly shouldn't be too difficult for only one person.
Once assembled, its relocation is smooth by using its front transport wheels. By using these wheels, you won't be handling more than 25% of its total weight. Also, the bike rests on four adjustable levelers with large rubber pads. Therefore, a rubber mat shouldn't be necessary for it.
A corrosion-resistant and chip-resistant paint finish thoroughly coat the bike's frame. The color used for the mainframe is dark gray, while the seat and handlebars' tubes are a lighter gray hue. These are the only colors available for this bike.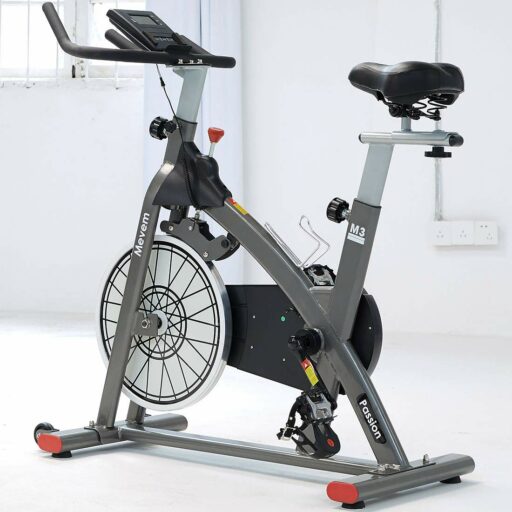 Seat and handlebars
The Mevem M3 indoor cycling bike includes a saddle designed for superior comfort. It is considerably more significant than the slim seats included with various other spin bikes. In addition, it integrates a thick layer of cushioning, especially in its rear section, and has a central cutout for better heat dissipation.
Additionally, it also has two suspension springs at the rear, which enable it to adapt better to the user's movement during seated pedaling routines.
It is essential to mention that the bike's saddle has a standard (collar-based) connection system to its slider. Therefore, if you will ever have/want to replace it, compatible options are widely available.
The Mevem M3 bike offers four-way adjustability for its seat (up, down, front, back). Its upright post provides multiple adjustment positions for an inseam between 28″ and 33″ (71 – 84 cm). The horizontal slider also provides a few inches of front-to-back adjustment.
Therefore, the bike can accommodate users between 5'0″ and 6'3″ (153 – 190 cm) with no problem, promoting a complete leg extension during seated exercising routines.
The bike comes with a multi-grip handlebar. It features two extended side grips and two smaller aero grips. It also has a loop bar in the middle to which you attach the exercise console. A layer of high-density foam covers the whole handlebar assembly to provide a superior grip.
As opposed to the seat, the bike's handlebar only offers two-way adjustment (up, down). Its adjustment span is between 39.3″ and 42.9″ (100 – 109 cm).
M3 Resistance and drive
As I've mentioned earlier, the Mevem M3 indoor cycling bike comes with a manual-magnetic resistance system. This means you don't need to connect it to a power source to adjust the resistance. Unfortunately, the console does not play any role in the resistance adjustment and cannot change the resistance automatically.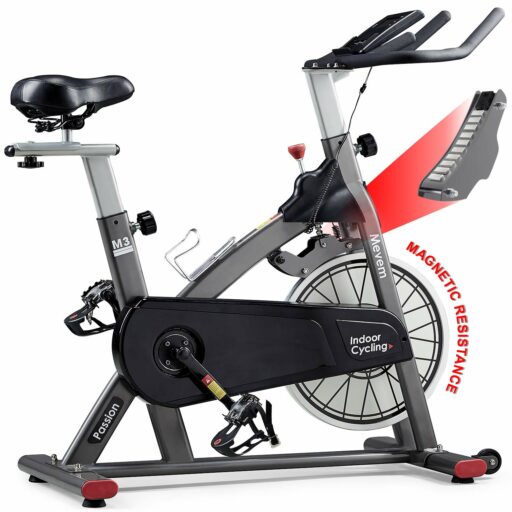 The bike's resistance system consists of a large magnetic bracket attached to the frame's top tube, right above the flywheel. This magnetic brake connects to the tension knob on top of the frame tube.
Therefore, by turning the knob clockwise, the magnets move closer to the flywheel, increasing the intensity of the created magnetic field, which also increases the pedaling difficulty.
The resistance system doesn't have pre-determined difficulty levels. Instead, you adjust the brake until you get the desired pedaling difficulty. However, as a general idea, it provides pretty decent resistance simulating a steep climb. Also, as opposed to a friction resistance system, the tension elements do not touch, and the pedaling motion is smoother.
Since the bike's resistance system is magnetic, a super-heavy flywheel is not necessary. That's why the bike's flywheel only weighs 18 lbs (8 kg). It does have a perimeter-weighted design, though, for improved inertia.
The flywheel is bi-directional. In other words, you can pedal in reverse if you want. But since the transmission system is simple, you cannot coast on a regular road bike. So instead, the pedals continue to spin for as long as the flywheel is spinning.
The bike supports any spin workout. Therefore, it has a heavy-duty crankset with steel crank arms and metallic pedals. The pedals integrate toe cages but do not have SPD clips. However, their threads are standard 9/16″, so you can easily find replacements for them if you want a different set.
Last but not least, the bike's drive system involves a belt. This type of transmission comes with several advantages. First of all, you won't ever have to lubricate it. Second of all, it generates considerably less vibration than a chain, and third of all, the pedaling motion is very smooth and quiet.
Console
The console does not play any role in the bike's resistance adjustment. It is only a fitness console that tracks the main workout stats. It also does not have any preset programs and does not connect online to any fitness apps.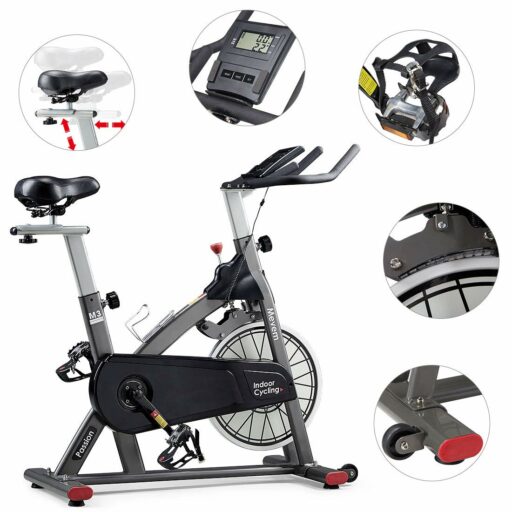 The console features an LCD, which indicates time, distance traveled per session, total distance traveled (odometer), and calories burned. Unfortunately, it does not have a pulse reading function. Therefore, if you want to monitor your pulse during your workouts, you will have to use a separate device.
The console is straightforward to use. It has three buttons – Mode, Set, and Reset. The Mode button allows you to scroll through the workout metrics and select the one you want to see on display or select the Scan Mode, which rotates all the metrics showing each one for a few seconds.
The Set button allows you to set up goals for time, distance, and calories burned. And finally, the Reset button clears all the values on the console to zero if necessary.
Finally, the console is battery-powered. It requires two AAA batteries. It starts when you press the Mode button and has a self-shutdown function, which triggers if the console doesn't detect any activity on the bike for more than four minutes.
M3 Assembly and Maintenance
The main body of the bike with all the drive and resistance elements comes pre-assembled. Thus, you only need to attach the two base bars, the seat, the handlebar, the console, and the pedals. This shouldn't take more than 30 minutes. The included brochure provides precise assembly instructions, and all the tools needed also come included with the bike.
Since it's a belt-drive bike, its transmission does not require any lubrication. Therefore, all you have to do for maintenance is periodically check for loose bolts and parts and retighten if necessary. Also, since the bike's resistance uses a magnetic brake, you don't have to worry about replacing it.
Pros
Durable frame, sturdy construction for a home use bike;
Can support users up to 280 lbs;
Adjustable stabilizers on both bases;
Transport wheels included;
4-way adjustable seat;
Thick cushioning, center cutout for breathability, and spring suspension on the seat;
Multi-grip handlebar with extended side grips short aero grips;
Smooth, almost silent belt drive;
Bi-directional, perimeter-weighted flywheel;
Magnetic resistance, with zero friction;
Fitness console included – it can track time, distance, total distance, speed, and calories burned;
Goal settings for time, distance, and calories;
Tablet holder included;
The bottle holder comes included;
Easy to assemble;
Little maintenance is required.
Cons
No pulse reading function;
The LCD doesn't have a backlight.
Mevem M3 Indoor Cycling Bike Summary
The Mevem M3 is an indoor cycling bike that is great for home use. It comes with a manual-magnetic resistance system, a large cushioned seat, and a multi-grip handlebar. It also includes a fitness console with goal settings for time, distance, and calories burned.
Moreover, it's an excellent trainer for all kinds of spin workouts, muscle toning, stamina development, and weight loss. It's also one of the most affordable magnetic indoor cycling bikes.
I hope you found this article helpful and informative. If you have anything you'd like to share or any opinions about my website, please speak up. I look forward to your comments, questions, and the sharing of ideas.