The Stamina Elite Total Body recumbent bike has hand and foot pedals to give you twice the workout you typically get on a standard recumbent. For instance, this is an excellent cardio exercise for people who need low-impact exercises for their arms and shoulders after rotator cuff surgery.
The bike has eight levels of magnetic resistance. Therefore, it's suitable for everyone, from new to experienced users. This feature also provides scope to increase the challenge as your fitness improves. Resistance adjustments for the foot and hand pedals are made by turning a knob clockwise to increase the resistance and anti-clockwise to decrease it.
An integrated fitness monitor displays your time, speed, distance, pulse, and the number of calories burned. There's also the option of setting targets for these. In addition, HR pulse sensors in the handlebars enable you to train in your optimal target heart rate zone, displaying your stats on the monitor.
The padded seat of the Stamina Elite Total Body Recumbent Bike is 4-way adjustable. It is height adjustable, and the distance between the seat back and foot pedals adjusts to suit people of different sizes. In addition, the bike's step-through design makes it easy to get on and off the seat without stepping over the frame.
Learn more in my complete review below!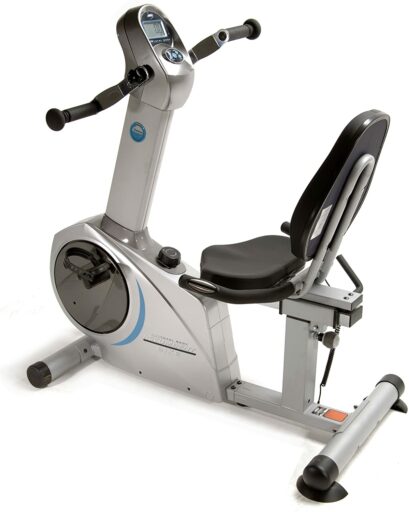 Product: Stamina Elite Total Body Recumbent Bike
Price: For a great deal on this bike, merely go here on Amazon
Warranty: Frame 5 years / Parts 1 year
My rating: is 8/10
Affiliate Disclosure: As an Amazon Affiliate Program participant, I earn commissions on purchases made through links in this post. Full disclosure
Details and Specifications
Assembled dimensions: 52L x 24W x 49H inches (132L x 61W x 124.5 H cm)
Assembled weight: 121 lbs (55 kg)
Max. weight capacity: 250 lbs (113.3 kg)
Handlebars: Mobile and stationary
Seat: 4-way adjustable
Pedals: With straps
Resistance: Magnetic
Fitness Monitor: Distance, time, speed, calories, pulse
Warranty: Frame 5 years / Parts 1 year
Elite Frame Construction
Like most exercise bikes, this Stamina model features a steel tubing frame. The only plastic parts in its construction are the flywheel and crank guards, the base caps, and the console casing. All steel parts come with a corrosion-resistant silver paint finish.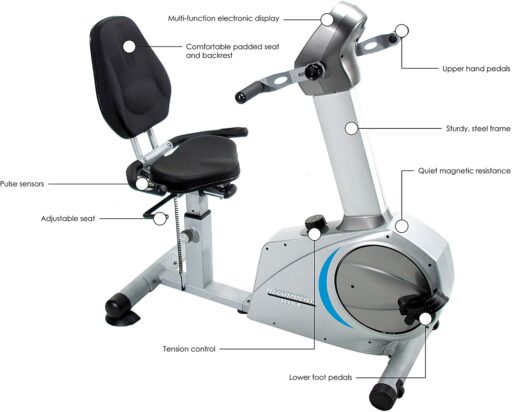 The mainframe of the bike has two pieces. The rear part (which holds the seat frame) slides into the front piece and connects with two bolts. Their joint is pretty solid; you can be sure that the frame won't wobble in the middle.
The bike's frame does not fold. However, it doesn't have a considerable footprint either. It only takes 52″L x 24″W (132 x 61 cm) of floor space, and thus it should fit with no problem, even in a small room. Also, it doesn't require a lot of clearance on the sides to pedal safely.
The assembled bike is rather heavy, weighing 121 lbs (55 kg). However, the front base integrates small wheels, facilitating its transport once completed. In addition, lifting its rear base and leaning it onto its front wheels will raise less than half its weight. Thus, relocating it after you've finished your workout shouldn't be a problem.
The rear base integrates two adjustable stabilizers with rubber caps. There's also another stabilizer attached to the back part of the frame. Right next to its connection point to the front section.
These elements will help you achieve maximum stability for the bike, so it won't move when you exercise. The front base doesn't integrate stabilizers, only the plastic caps.
Seat
The seat and backrest feature contoured padding to provide maximum comfort and excellent lumbar support, and the thickness of the padding varies between 2 and 3 inches. The upholstery on both the seat and backrest is a durable vinyl material.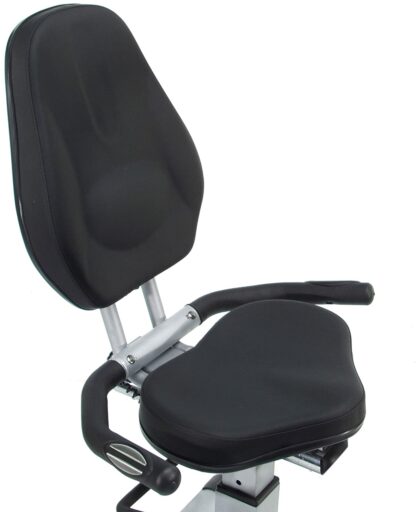 The seat and backrest are attached to a steel tubing frame designed to support 250 lbs (113.3 kg) users. The seat assembly is 4-way adjustable, meaning it can slide closer or farther to the pedals and up and down.
Its vertical adjustment features four positions, offering a total adjustment span of approximately 6″ (15 cm). Therefore, this Stamina exercise bike comfortability accommodates users between 4'8″ and 6'5″ (142 – 196 cm) with no problem.
One last aspect regarding this bike's seat assembly is that the backrest is non-adjustable. It will move up / down or forward to aft along with the seat, but, unfortunately, you cannot independently adjust its angle or height.
Elite Handlebars
This exercise bike features two sets of handlebars: stationary and mobile. The stationary handlebars are attached to the seat assembly and feature rubber foam padding and integrated stainless steel HR pulse sensors.
On the other hand, the front handlebars are mobile to provide additional workouts for your arms. These handlebars rotate both ways; however, they're not independent of one another. This handlebar assembly's rotation motion can provide some resistance, but only as long as you don't rotate the pedals.
Once you begin pedaling as well, the resistance on the handlebars stops. This is because the mobile handlebars' resistance is when you rotate them forwards, not reverse.
The rotating handlebars can attach in either the same or opposite direction, depending on the workouts you want. As a general idea, these handlebars can provide exercises that focus on your forearms, triceps, and deltoid muscles. They help tone your arm muscles and bolster your overall aerobic training, not building a vital muscle mass.
Resistance and drive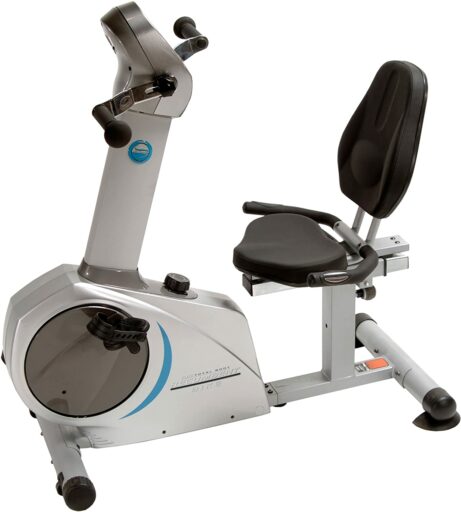 The Stamina Elite Total Body recumbent bike features a magnetic resistance system involving a magnetic flywheel. This flywheel weighs approx—18 lbs (8 kg), offering a smooth and steady pedaling motion.
Furthermore, the wheel connects to the resistance knob on the plastic enclosure via a steel cable. As you turn the knob, the magnet will move closer or farther to the metallic element in the flywheel, generating more or less drag.
The tension knob has eight distinctive levels of resistance specified on it. The resistance levels between 1-6 offer light workouts, while the seven to eight levels provide a superior challenge. But as a general idea, this exercise bike is not for intense workouts. Instead, it's a bike for light aerobic training and recovery training.
This Stamina recumbent bike uses two V-Ribbed, heavy-duty belts for its drive system, a longer one that connects the mobile handlebar's pulley to the flywheel and a shorter one for the pedals pulley connection.
Thus, the bike's operation is peaceful, making it perfectly suitable for apartment use. You can be sure you won't bother the neighbors or other household members when exercising. Also, since it's a belt-driven bike, the transmission's lubrication is unnecessary.
The bike's crankset uses a reasonably large pulley, approx — 10″ (25 cm) in diameter. The pulley has a set of plastic covers. Although they're solid steel, the bike's crank arms most definitely won't support the entire weight of the user, such as a spin bike, for example. Thus, a recumbent bike is exclusively for seated workouts.
Finally, standard pedals come with this bike. They're made of heavy-duty nylon material, also integrating adjustable straps.
Elite Fitness monitor
Although it's not advanced, the fitness monitor supplied with the Stamina Elite Total Body recumbent bike can offer a little more than a simple bike monitor.
It does not have a database of preloaded workouts. However, it does offer the possibility to select targets for your workout time, distance, pulse, and calories.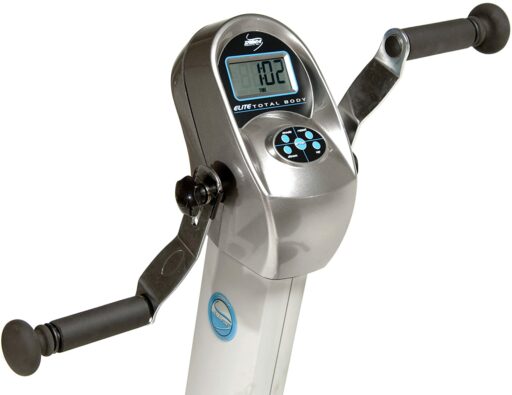 It can track distance traveled, time, speed, calories, and pulse. The distance is measured in increments of 0.1 miles, while speed is in MPH. Unfortunately, the fitness monitor doesn't have an Odometer function.
You can choose to view any of the workout metrics on-screen. However, the fitness monitor has a SCAN function, automatically scanning all these values and displaying each one on the screen for 6 seconds.
The digits on LCD are relatively significant and easy to read. However, the LCD it's not backlit. Therefore, the screen may be difficult to read in a darker room or in direct sunlight.
The fitness monitor is easy to operate. It features five buttons: MODE, RESET, ENTER, UP, and DOWN. MODE scans through the screen's values; UP/ DOWN is for setting up your time, distance, pulse, or calorie target goals, while ENTER is for their final selection. Finally, RESET will reset all the values to zero.
Finally, since the bike features a mechanical, magnetic resistance system and does not require a connection to a power circuit, the monitor is battery-powered, requiring 2-AA batteries.
Elite Assembly and Maintenance
The most problematic parts of the bike, such as the magnetic resistance system, pulleys, handlebar post, and console, come already assembled. Thus, for assembly, you only need to attach the frame's rear side to the mainframe after connecting the HR pulse sensor cable, adding the base stabilizer bars, then mounting the seat frame, the seat, and the backrest mobile handlebars, and finally, the pedals.
Consequently, the whole task shouldn't take more than an hour. A hard copy of the manual supplied provides comprehensive assembly instructions. In addition, all the tools required for assembly also come with the bike.
When it comes to maintenance, there's nothing much required. All you need to do is check the bike's joints from time to time to make sure the bolts still hold them tight. Also, remove any moisture or sweat from the frame, especially from the console.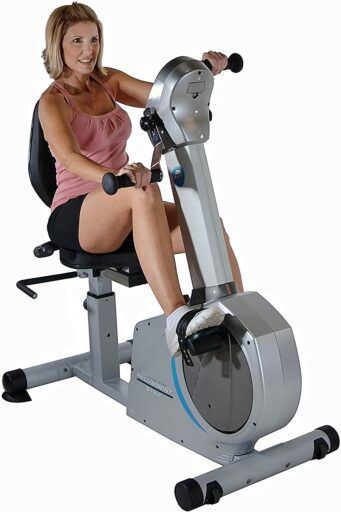 Pros
Sturdy frame, appealing design;
Small footprint;
Padded seat and backrest, with a contoured design, for maximum comfort;
4-way adjustable seat, the bike can accommodate users between 4'8″ and 6'5″.
Two sets of handlebars, stationary and mobile;
HR pulse sensors integrated into the stationary handlebars;
Eight levels of mechanical and magnetic resistance;
The included fitness monitor allows setting up targets for your workout time, distance, calories, and pulse.
Smooth and quiet operation, suitable for apartment use;
Easy to assemble;
Very little maintenance is required.
Cons
No bottle holder;
No reading/tablet rack;
The maximum user weight capacity is only 250 lbs.
Stamina Elite Total Body Recumbent Bike Summary
The Stamina Elite Total Body is a recumbent exercise bike that offers diversity in possible workouts due to its rotating handlebars. It's a model with manual magnetic resistance designed for light cardio and recovery workouts. It is excellent for anyone who wants to tone leg and arm muscles, regain or maintain cardiovascular shape, build Stamina, and even lose weight.
It features excellent ergonomic factors and a fitness monitor with goal-setting possibilities to help track your progress. However, it's not exactly one of the most affordable recumbent bikes. Still, due to its versatility, durability, and overall quality, it's safe to say it stands up to its price.
I hope you found this article helpful and informative. Would you please speak up if you have anything you'd like to share on the topic or any opinions about my website? I look forward to your comments, questions, and the sharing of ideas.
Please remember that you should consult your physician before starting any exercise program to determine if you have any medical or physical conditions that could put your health and safety at risk or prevent you from using the equipment properly. In addition, your physician's advice is essential if you are taking medication that affects your heart rate, blood pressure, or cholesterol level.