The Stamina X Fortress power tower is known as the most versatile power tower made by Stamina. It provides a workout to every muscle aiming for a total body workout through its multiple workout stations. For example, it has four pull-up stations to strengthen the arm and back muscles.
For further challenges, users can use stronghold grips. The X Fortress power tower offers triceps dips with adjustable dip bars, while vertical knee raises are for the ripped midsection. The push-ups and rows target the strengthening of the arms and chest.
Stamina X Fortress Power Tower's build quality is strong, sturdy, and powerful with a solid steel frame construction. This substantial building is beneficial in providing stability to users while performing advanced strengthening exercises. In addition, it can support a maximum user weight of up to 250 lbs.
The Stamina X Fortress power tower is one of the most affordable mid-range models available at the moment. However, it has much more to offer than a basic model, as it integrates multiple workout stations and accessories, providing support for a much broader spectrum of exercises.
Learn more in my complete review below!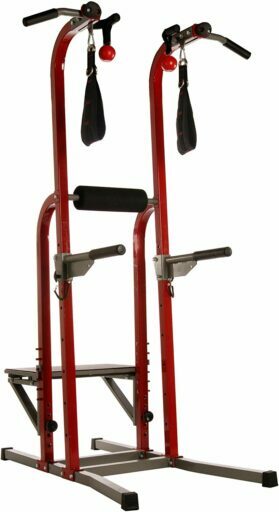 Product: Stamina X Fortress Power Tower
Price: For a great deal on this gym, merely go here on Amazon
Warranty: Frame 3 years / Parts 90 days
My rating: 9.6/10
Affiliate Disclosure: As an Amazon Affiliate Program participant, I earn commissions on purchases made through links in this post. Full disclosure
Details and Specifications
Assembled dimensions: 58L x 48.5W x 85H inches (147L x 123W x 216H cm)
Assembled weight: 150 lbs (68 kg)
Weight capacity: 250 lbs (113.3 kg)
Possible exercises: 30+
Warranty: Frame 3 years / Parts 90 days
X Fortress Frame
The Stamina X Fortress power tower features a steel frame made of 2″ x 2″ steel tubing. Although it doesn't have an enormous footprint, its construction offers excellent stability due to the engineering behind its construction. Thus, it's not necessary to anchor it to the ground.
The power tower's main upright posts feature long "backbone" bars, an aspect reflected in the tower's overall sturdiness. Also, the fully assembled frame weighs itself approx—150 lbs (68 kg), a weight that considerably improves its stability and sturdiness.
This power tower doesn't have an extensive footprint, like other fitness machines, such as ellipticals, for example. It takes only 58″L x 31″W (147 x 79 cm) of floor space. However, the tower's widest point is 48.5″ (123 cm), given its outer pull-up handles.
The base of the frame features an H shape, reinforced by two transversal bars for extra sturdiness. The ends of the main base bars are finished with rubberized caps also to enhance stability.
When it comes to height, the highest point of the frame stands at approx. 85″ (216 cm) above floor level, so the tower won't fit in a room with a 7′ ceiling. Also, it requires at least 7-8 inches of clearance above so that you can perform pull-ups safely.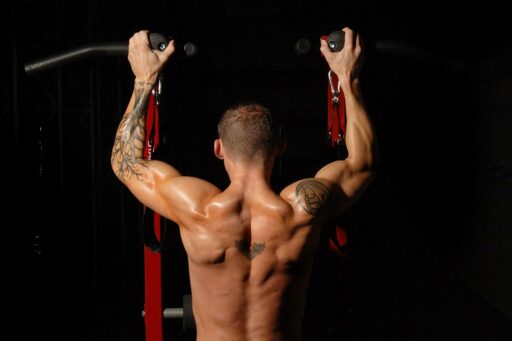 All steel parts of the frame feature a corrosion-resistant paint finish, red for the upright tubes, gray for the base, dip arms, pull-up handles, and plyometric station frame. In addition, a sheet of rubber foam covers grips to provide maximum comfort. The dip station's back support bar also features an extra thick roller pad for comfort when performing specific exercises.
Last but not least, although the frame of this power tower is well-engineered and sturdy, it's only rated for 250 lbs (113.3 kg) of user weight. However, several users reported that it could withstand at least 10-20 lbs more without any issues.
Workout stations
Pull-up station.
The Stamina X Fortress power tower features a pull-up station, including two external handles for wide grip pull-ups and two inner handles. The internal handles are parallel, though, and only offer the possibility to perform parallel grip pull-ups or chin-ups.
Rock climbing grips.
This is a set of accessories that most power towers don't have. These grips are similar to the ones attached to rock climbing walls. However, on this power tower, they're connected to the upper ends of the vertical bars, offering the possibility to diversify the spectrum of pull-ups, and of course, to fortify your grip.
Ball grips.
These accessories are attached to the inner grips of the pull-up station. They offer support for various pull-up exercises, and just as rock climbing holds, they offer the possibility to put more focus on your forearm and hand muscles during pull-ups.
Plyometric training station.
The plyometric box offers support for jumps, step-ups, and one-leg squats, and several other accessories. It's built on a sturdy steel frame, features a non-slip surface and five adjustment positions for 16-18-20-22-24 inches (40-45.7-50.8-55.8-60.9 cm). Although it may not offer extreme height settings as a commercial plyometric box, it still provides the means to train your lower body, expanding the versatility of this particular tower.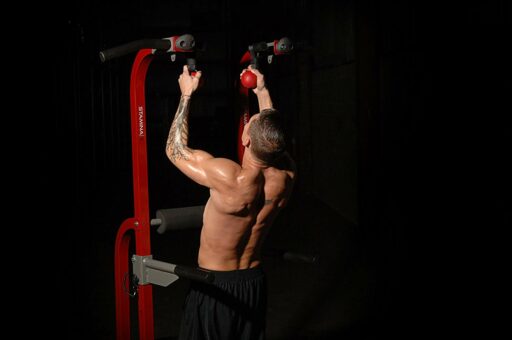 Dip station.
The dip bars supplied with the Stamina X Fortress power tower are pretty simple. They're approx. 20″ (51 cm) long, and they don't have cushions on top for assisted knee raises. There are seven height settings for the dip bars, with a distance of approx — 5″ (13 cm) in between. Unfortunately, the dip station does not integrate a backrest like other models.
However, the frame's middle transversal bar has an extra-thick, cushioned roller to offer the required comfort for various exercises.
Ab Straps.
Although the dip bars on this Stamina power tower don't have cushions on top of them to offer support for knee or leg raises, the ab straps supplied offer the possibility to perform all kinds of variations exercises to tone and strengthen your core.
X Fortress Possible Exercises
Pull-ups
Wide grip pull-ups
Muscle pull-ups
Behind head pull-ups
Around the world, pull-ups
One-arm pull-ups
Parallel grip pull-ups
Cliffhangers
Weighted pull-ups
Chin-ups
Parallel grip chin-ups
Wide grip chin-ups
One hand chin-ups
Weighted chin-ups
Rock climber grip pull-ups
Stronghold grip chin-ups/pull-ups
Stronghold grip cliffhangers/one-handed cliffhangers
Dips
Weighted dips
Dip to leg raise
Side-to-side dips
Gironda dips
Reverse Gironda dips
Hanging knee raises
Hanging leg raises
Push-ups
Push-ups with feet elevated
Jump training
Step-ups
One-leg squats
Rows
and more
X Fortress Assembly and Maintenance
The assembly of this power tower is far from being confusing. It may take up to 2 hours due to the many parts that you have to connect. The hard copy of the user's manual included offers comprehensive, step-by-step assembly instructions. Also, all the tools required for assembly comes with the machine.
Maintenance doesn't require much. The only care needed for this power tower is the periodic check of its joints.
Pros
Sturdy, steel frame;
Pull-up station with wide grips and parallel grips;
Stronghold grips for pull-ups included;
Rock climber grips for pull-ups included;
Ab straps for knee/leg raises included;
Dip station, with seven adjustment positions for the dip handles;
The plyometric station included offering the possibility to perform jumps, step-ups, and one-leg squats;
Provides the opportunity to achieve more than 30+ exercises;
Easy to assemble;
Virtually no maintenance required;
Excellent price/quality ratio.
Cons
There is no transversal bar for close grip chin-ups, so you have to use the ball grips for this exercise.
Stamina X Fortress Power Tower Summary
The Stamina X Fortress is a power tower with several extra accessories than other models, including ball grips, rock climber grips, and a plyometric workout station. In addition, it features a sturdy frame with a weight capacity of 250 lbs.
It offers the possibility to perform more than 30+ gym-quality exercises for the arms, core, and lower body. Moreover, it's an affordable mid-range power tower. Therefore, quality matches its price.
I hope you found this article helpful and informative. If you have anything you'd like to share or any opinions about my website, please speak up. I look forward to your comments, questions, and the sharing of ideas.