The FDF Newport Challenge AR (Adjustable Resistance) fluid rower features FDFs patented adjustable fluid resistance technology, allowing the user to control and adjust the resistance from 'Feather light' to 'Olympic sprint' load levels. With the FDF Newport challenge, you'll benefit from a strength-building and challenging cardiovascular training session.
The Newport Challenge AR is a best seller among home rowing machines. This rowing machine is ideal for people of all fitness levels. If you are searching for a beautiful, functional piece of fitness equipment that offers a total body workout, the Newport Challenge AR fluid rower is perfect. This indoor rower offers a low-impact, intuitive movement at an affordable price.
The FDF Newport Challenge AR fluid rower comes with a fully programmable fitness monitor that will help you keep track of critical fitness-related data to keep an eye on your long-term progress. Therefore, you will benefit from information about tempo signal, time, strokes count per minute, distance, calories count per hour, interval training, and 500m split time.
The FDF Newport Challenge features an ergonomically shaped seat with padding to guarantee your comfort while enabling you to train for more extended periods with very little or no discomfort. In addition, the seat rail is a high-quality anodized aluminum that can resist rust and wear and tear.
Learn more in my complete review below!
Product: FDF Newport Challenge AR Fluid Rower
Price: For a great deal on this rower, merely go here on Amazon
Warranty: Frame 5 years / Tank and seals three years / Mechanical 2 years / Wear parts one year
My rating: 8.75/10
Affiliate Disclosure: As an Amazon Affiliate Program participant, I earn commissions on purchases made through links in this post. Full disclosure
Details and Specifications
Assembled dimensions: 77.8L x 20.9W x 20.1H inches (197L x 53W x 51H cm)
Product weight: 60 lbs (27 kg)
Supported weight: 300 lbs (136 kg)
Frame: Aluminum / steel / acrylic combo
Footrests: Adjustable, with straps
Resistance type: Water
Fitness monitor: Yes
Warranty: Frame 5 years / Tank and seals three years / Mechanical 2 years / Wear parts one year
Newport AR Frame
The seat's gliding rail's most crucial piece of the structure is anodized aluminum, like most rowers with a metallic frame. It's exceptionally durable and enables the rower to withstand up to 300 lbs (136 kg). It's also long enough to accommodate users up to 6'8″ (203 cm), with an inseam up to 39″ (99 cm).
However, the other metallic parts of the frame, such as the water tank's support, the base of the footrests, and course, the bases of the machine, are steel-made. These are the heavy elements within the frame, adding consistency and sturdiness to the machine's overall build, rendering it relatively stable during workouts.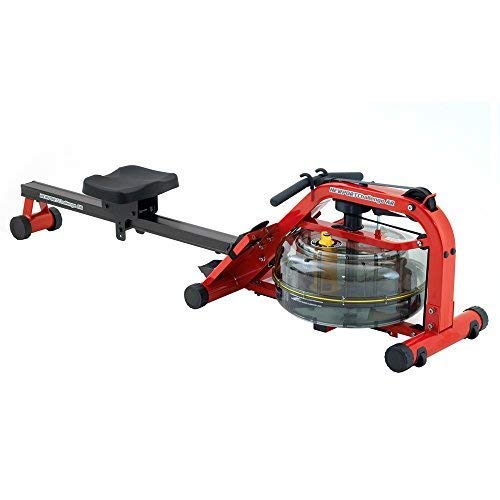 The frame features three main bases, all finished with round caps, adding stability to the frame. The front base also features transit wheels to provide a more comfortable relocation or storage of the machine.
This rower does not have a foldable frame, but you can store it vertically. When in an upright position, it only takes 20″L x 21″W of floor space.
And if you're wondering, the water can remain in the tank when the machine is upright. In the training position; the FDF Newport rower has a 78″L x 21″W footprint.
Seat, Pulling Handle, and Footrest
The seat is a durable acrylic material, featuring a molded design for maximum ergonomics. It glides on low friction, Delrin® rollers with precision bearings along a concealed track for safe and smooth operation.
The pulling handle also has an ergonomic design, slightly curved towards the user, to prevent any strain on arms, hands, and wrists. It also comes with rubber foam material for a solid grip and prevents blistering or damage to your hands.
The handle attaches to a highly durable nylon strap, 1″ (2.5 cm) wide, but the pulling mechanism also features a bungee cord for return.
Finally, the FDF Newport Challenge AR fluid rower features size-adjustable acrylic footplates, accommodating feet of just about any size. They also feature straps and heel guards to ensure your feet' maximum stability during workouts.
Newport AR Water tank and resistance system
The Newport Challenge fluid rower's water tank is a solid polycarbonate material with a maximum capacity of 17 liters (4.5 gals). For the rower to be functional, it requires holding a quantity of water between 9 liters and 17 liters (2.3 – 4.5 gal). However, it's advisable to fill the tank up to its 17-liter maximum capacity so that you can benefit from the top resistance setting.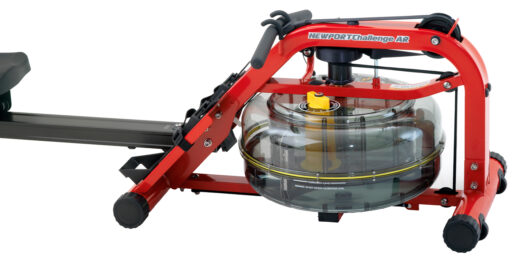 The water tank is equipped with a triple-bladed impeller, offering instant catch and no dead spots. It supplies consistency with each rowing motion and the all-natural rowing feel.
Since this rowing machine's resistance is a water-based model, the resistance varies with each stroke, depending on how hard you pull. In other words, the resistance is pretty similar to rowing an actual boat. However, the water tank comes with a dial that adjusts the average resistance.
The adjustable resistance (AR) tank features two chambers: the "storage" chamber and the "active" chamber. Water moves between these chambers, depending on the resistance setting.
For example, suppose you set the resistance to "MIN" on the tank adjuster. It will take about ten strokes to fill the central (storage) tank, leaving only a minimum amount of water in the main (active) tank, resulting in less demanding strokes.
As opposed to that, if you set the resistance to "MAX," the water will pass into the active tank, providing the user with higher resistance.
The rower comes with a small pump for filling the tank with water. The box also contains water treatment conditioners for preventing algae growth inside the container. The water treatment conditioners supplied with the rower should last for several years of use.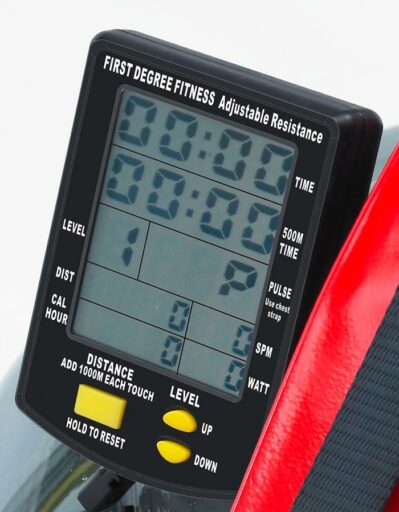 Fitness monitor
The fitness monitor equipped with the FDF Newport Challenge AR fluid rower is quite an advanced unit. First, it displays all the values that a monitor should track, such as distance, calories per hour, strokes per minute, wattage, time, 500M time, and pulse.
In addition, distance goals have a specific key on the fitness monitor. Also, it features two LEVEL buttons ("UP" and "DOWN"), which enable the monitor to synchronize to the resistance level of the water tank. Therefore, the monitor (1-4) should always be the same as the water tank's current resistance level.
The monitor is powered on as you commence rowing. It automatically pauses 5 seconds after ceasing any activity on the rower, and it will automatically shut down after 5 minutes. The SPM, 500 Meter, Watt will return to zero within the pause time. Likewise, the Distance/Time is saved, and Cal per Hour will default to Total Cal. Once the monitor shuts down, all values will revert to zero.
The fitness monitor can track your pulse, but it requires a compatible heart rate chest strap. Unfortunately, this accessory does not come with the rower; however, you may purchase it separately.
One of the monitor systems' neat capabilities with the FDF Newport Challenge AR fluid rower is its online USB connectivity. You can connect it to your PC or laptop, compete with other rowers, or use Virtual Reality 3D environments via the NetAthlon 2XF for Fluid Rowers.
Last but not least, the monitor is battery-operated and uses 2x AA batteries.
Newport AR Assembly and Maintenance
In terms of maintenance, this rowing machine does not require much. You'll need to keep the gliding rail of the seat free of any dirt or debris that may cause dents in it. You must also apply water treatment from the supplied packs approximately every six months to prevent algae formation in the water tank.
Assembly doesn't require much either. The water tank is already attached to the front part of the frame. Next, you have to connect the seat rail to the mainframe and install the seat and the rear base. Additionally, add the supplied batteries into the monitor, and fill up the water tank.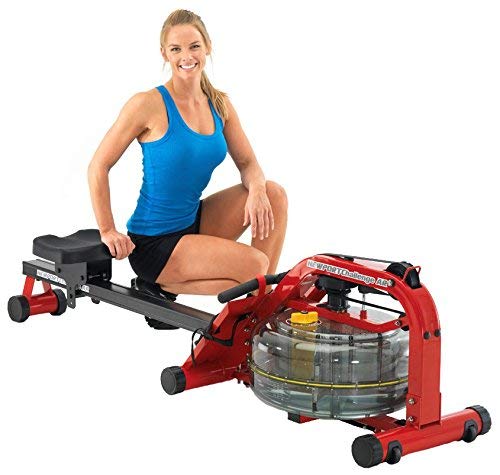 Pros
Solid frame construction and excellent balance;
Appealing, professional design;
Rower for users of all levels, including pro athletes;
Can be stored vertically to save space;
Transit wheels for ease of storage and transport;
Comfortable, contoured seat;
Hidden track for the seat rollers for cleaner and smoother operation;
Ergonomically designed handle;
Adjustable footrests;
Water-resistance system, which offers the most natural rowing feel;
Adjustable resistance levels;
Fitness monitor, covering all the necessary values an athlete requires to know during their workout;
PC connectivity via USB and the possibility to compete online with other users;
Easy to assemble;
Quiet;
Low maintenance.
Cons
It does not support users more than 300 lbs (136 kg).
FDF Newport Challenge AR Fluid Rower Summary
The First Degree Fitness Newport Challenge AR Fluid Rower is one of the best fluid rowers. It's an excellent rowing machine for users of all levels, including professional rowers. The Newport Challenge AR is great for cardio training, stamina building, weight loss, or merely a tool that can diversify your daily workout by a lot.
On top of that, it's much easier on the joints than other fitness machines and involves multiple muscle groups. And finally, the FDF Newport Challenge AR fluid rower also comes with an excellent price/quality ratio.
I hope you found this article helpful and informative. Would you please speak up if you have anything you'd like to share on the topic or any opinions about my website? I look forward to your comments, questions, and the sharing of ideas.
Please note that you should consult your physician before starting any exercise program to determine if you have any medical or physical conditions that could put your health and safety at risk or prevent you from using the equipment properly. In addition, your physician's advice is essential if you are taking medication that affects your heart rate, blood pressure, or cholesterol level.