If you're looking for a reliable starter treadmill for a fantastic price, you may want to consider the Proform 705 CST folding treadmill. It packs a lot into a small price tag like a healthy-sized motor, an extra-long running belt, and up to a 12% incline.
Even the tallest runners will feel comfortable training on this spacious ProForm 705 CST tread belt. The 20W x 60L inches provides more than enough room for you to stretch out your stride without worrying about running out of space. In addition, runners and taller users will enjoy stretching out on the extra-long 60-inch belt.
The ProForm 705 CST folding treadmill comes equipped with a motorized 0% to 12% incline. You can add extra challenge and high-calorie burning intervals with the slope. Plus, there are one-touch incline buttons on the console for quick, on-the-fly changes.
The 705 CST treadmill comes with a dual-color, easy-to-read backlit console that gives you a constant display of your workout stats as you walk. There's also a scrolling message board to help lead you through your workout. In addition, you can connect through your tablet on this treadmill and use it to run trails worldwide – from the streets of Paris to the Grand Canyon's rugged trails.
Learn more in my complete review below!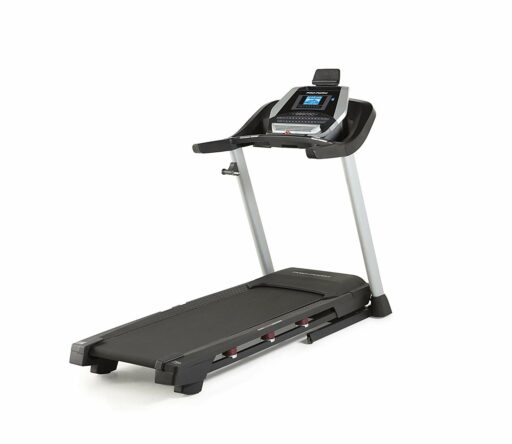 Product: ProForm 705 CST Folding Treadmill
Price: For a great deal on this treadmill, merely go here on Amazon
Warranty: Frame Lifetime/ Motor lifetime / Parts 2 years / Labor 1 year
My rating: 8/10
Affiliate Disclosure: As an Amazon Affiliate Program participant, I earn commissions on purchases made through links in this post. Full disclosure
Note: The tablet pictured in the images does not come with the treadmill.
Details and Specifications
Assembled dimensions: 79L x 37W x 58.5H inches (201L x 94W x 149H cm)
Tread belt dimensions: 60L x 20W inches (152.4L x 51W cm)
Assembled weight: 201 lbs (91 kg)
Supported weight: 325 lbs (147 kg)
Motor: 2.75 CHP
Incline: Automatic, 0%-12%
Deck cushioning: ProShox (3-cell)
Speed range: 0.5-12 MPH
Console: 22 workout programs, Bluetooth and iFit enabled
Extras: Sound system, cooling fan, tablet holder, accessory trays
Warranty: Frame Lifetime/ Motor lifetime / Parts 2 years / Labor 1 year
705 CST Frame
The ProForm 705 CST folding treadmill features a steel-made frame with a heavy construction; the fully assembled unit weighs approx. 201 lbs (91 kg). All this weight provides excellent stability, and on top of that, its rear base has a set of adjustable stabilizers. In addition, the front base rests on rubber pads for a superior grip onto the floor, while the middle base comes with two transport wheels that facilitate the unit's relocation.
Although this ProForm treadmill is a machine designed for home use, it's still relatively large. It takes 79″L x 37″W (201 x 94 cm) of floor space, and on top of that, it requires at least a few feet of clearance at the rear and at least two feet of clearance on each side for safe operation.
Last but not least, the unit's frame features a durable, corrosion-resistant paint finish. The colors used are black for the base frame and gray for the console masts.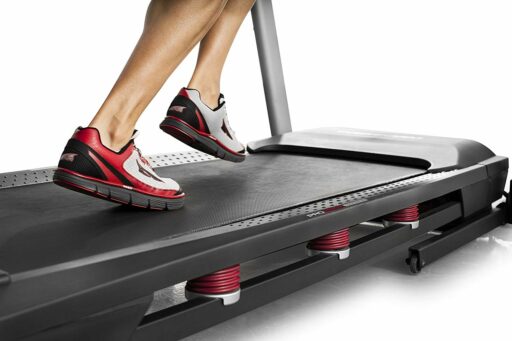 Deck
The unit's deck is foldable. However, it doesn't have a "soft-drop" folding mechanism like on some other treadmills. So, when unfolding the deck, you have to hold it and lower it down yourself. With the deck folded up, the machine's dimensions become 37″L x 37″W x 71″H (94 x 94 x 180 cm).
The treadmill's deck features a sturdy construction. First of all, it supports users up to 325 lbs (147 kg), which is pretty impressive for a home-use unit. The belt offers a running surface of 60″L x 20″W (152.4 x 51 cm). Therefore, it accommodates users up to 6'5″ (196 cm), promoting a natural stride.
The deck integrates 1.9″ precision-machined, non-flex, and crowned rollers, which provide excellent traction for the belt. In addition, they come with industrial-grade ball bearings for a long lifespan and smooth operation.
Like other ProForm treadmills, this one has the ProShox™ deck cushioning system. It consists of three spring cells on each side of the deck, attenuating up to 25% of the joints' stress. Thus, a run or walk on this treadmill results in less workout-related pain and gives you the possibility to exercise for a more extended time.
705 CST Incline & step-up height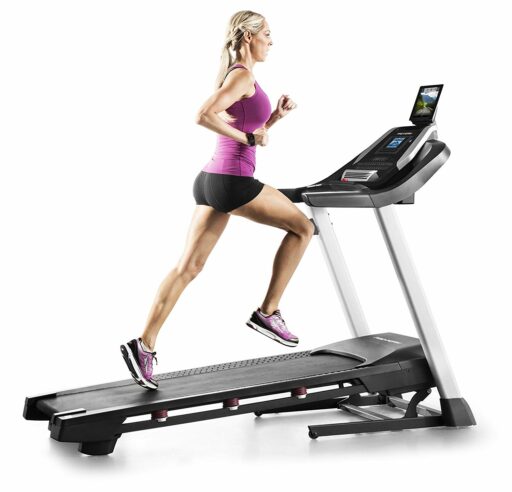 The ProForm 705 CST folding treadmill features an automatic incline system. This means you can only adjust the deck's incline if the unit has a connection to a power source. In addition, the incline adjustment is only adjustable from the unit's console.
If you use one of the exercise programs that involve incline, the console will auto-adjust the deck's ramp according to each part of that particular program.
The incline system consists of a small motor and two levers, one on each side of the deck. When you select an incline level, the gears will lift or lower the deck's front accordingly.
This treadmill's incline range is 0%-12%. It is adjustable in increments of 1%. The console offers buttons for gradual incline adjustment, but they're also are quick keys from 0 to 12, covering all the incline settings.
The deck's step-up height is approx — 8″ (20 cm). With the incline set up at maximum, the deck's front will provide an elevation of approx — 13.5″ (34 cm). Therefore, it's advisable to place and use the machine in a room with a ceiling that is at least 15″ (38 cm) higher than your height.
Motor
The Proform 705 CST folding treadmill features a 2.75 CHP motor designed to support running workouts and speed range between 0.5 MPH and 12 MPH. In addition, the motor features a small flywheel, an element that improves rotation stability and reduces vibration.
The belt's starting speed is 0.5 MPH, but the console offers adjustment increments of 0.1 MPH up from this point. This is quite a plus because it allows you to find the perfect pace for your workout.
The gradual adjustment speed controls on the console have dual-function. By pressing them shortly, the speed will adjust in increments of 0.1 MPH, and by pressing and holding, the speed will adjust in 0.5 MPH increments. Just as for the incline, the console offers quick keys for speed adjustment from 0 to 12 MPH.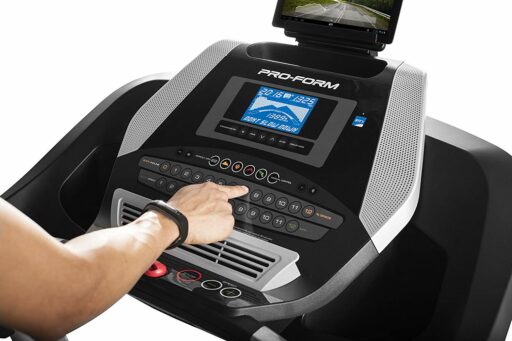 In case you're wondering, the level of noise generated by the motor is minimal. However, just as for any treadmill, your cadence will make noise, especially if you engage in a running workout. However, running on this treadmill shouldn't cover the sound of your TV or sound system.
705 CST Console
The 705 CST comes with a 5″ LCD with a blue LED backlight, which considerably improves its readability. In addition, the display covers all the essential workout metrics, including time, distance, number of vertical feet climbed, speed, incline, calories, and heart rate.
It also has an intensity bar, which indicates the relative intensity level of your workout. And, of course, the display's mid-section shows the grid of the workout program in use.
There are both metric and imperial unit settings available for the speed and distance calculation. Distance traveled is also indicated in the My Trail tab as a 1/4 mile (400 m) race track, which counts the completed laps.
The console is telemetric, and it can track your pulse rate via a Bluetooth HR chest strap transmitter. In addition, the console is compatible with all Bluetooth Smart heart rate strap monitors. Unfortunately, an HR strap does not come included, but you can still monitor your pulse using the EKG sensors in the front handlebars.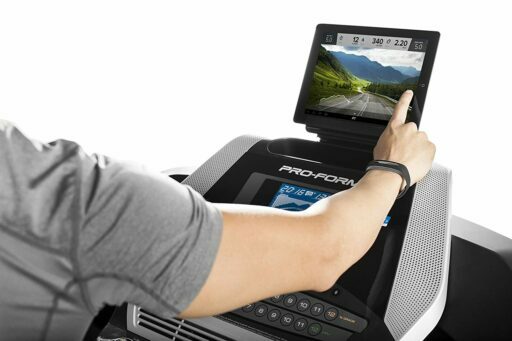 The console is iFit enabled. This means you can sync it with any smartphone, tablet, or laptop with the iFit app installed to stream your workout data to your iFit account directly. An iFit membership is not included with the treadmill, though.
There are 22 workout programs on the machine's control unit divided into four categories: each button. The categories are Incline, Speed, Intensity, and Calories.
Each workout program has a segmented grid with a one-speed setting and one incline setting for each segment. During the workout, the profiles on the speed and incline tabs show your progress.
Amenities
The unit's console integrates a sound system, a cooling fan, a tablet holder, and two accessory trays in terms of facilities. The sound system consists of two prominent speakers, one on each side of the unit.
The console has an audio jack input, so you can connect it to your phone, tablet, or MP3 player and listen to your music through the integrated speakers. There are also volume controls available on the console.
The cooling fan is at the bottom of the unit. According to various users, this cooling fan is considerably more potent than the previous unit. In addition, it has several intensity settings.
The tablet tray is at the top of the console unit. It has an adherent surface to prevent your tablet or phone from sliding off. It's large enough to accommodate any tablet. And finally, the two accessory trays are placed, one on each side of the console. They're relatively large so that they can store a wide array of hydration bottles or other small accessories.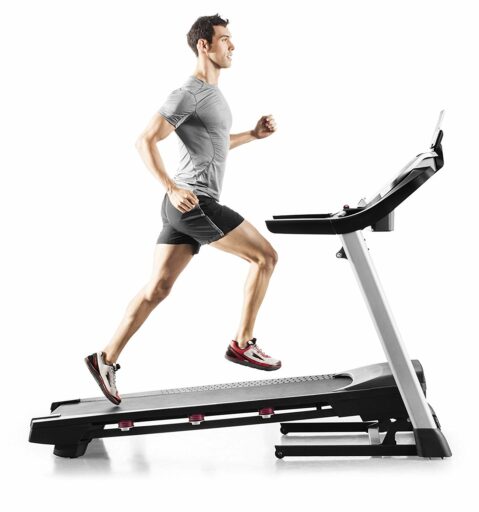 705 CST Assembly and Maintenance
With the incline motor, drive motor, belt, and rollers, the treadmill's deck comes already assembled and attached to the frame's front metallic base. Therefore, the assembly only requires you to add the console masts and the console, connecting them.
This shouldn't take more than 30-40 min. Hex keys for construction come included, but you will also need your adjustable wrench and a Phillips screwdriver. Also, the manual provides excellent step-by-step instructions.
It's advisable for maintenance to periodically check the machine for loose bolts and parts and retighten them if necessary. In addition, the tread belt must be kept clean, free of any textile fibers, dirt, or any other objects that may get into the motor.
As for lubrication, the deck comes pre-waxed from the factory and shouldn't require any further lubrication for an extended time.
Pros
Sturdy frame construction;
Solid deck, being able to support users up to 325 lbs;
Space-saving design (the deck folds up);
ProShox cushioning, with three suspension cells on each side;
Motorized incline with a range between 0% – 12%;
2.75 CHP motor offering speeds up to 12 MPH;
Speed can be adjusted increments of 0.1 MPH, allowing you to find the perfect pace for your workout;
EGK pulse sensors integrated into handlebars;
Telemetric console – can read pulse from any Bluetooth Smart HR chest strap transmitter;
Bluetooth and iFit enabled;
22 workout programs;
Sound system included;
Cooling fan included;
Tablet holder included;
Accessory trays included;
Quiet operation;
Reasonably easy to assemble;
Little maintenance required;
Excellent warranty.
Cons
No user profile settings;
An iFit membership does not come included;
An HR chest strap does not come included.
ProForm 705 CST Folding Treadmill Summary
The ProForm 705 CST folding treadmill is a mid-range, motorized treadmill. It comes with a 2.75 CHP drive motor, offers 12 automatic incline settings, and has 22 programs on the console. It's Bluetooth Smart and iFit enabled, so you can directly stream your workout data online. It has a sturdy construction and a folding frame.
Moreover, it's a machine for home use, for light to intense cardio workouts, weight loss, interval training, or stamina development. It's not the most affordable running machine but does have an excellent price/quality ratio.
I hope you found this article helpful and informative. If you have anything you'd like to share or any opinions about my website, please speak up. I look forward to your comments, questions, and the sharing of ideas.