One of the most asked questions about the Body-Solid G2B Bi-Angular Home Gym is "What is Bi-Angular motion"; what is it supposed to do for me, and does it work? Bi-Angular action is a fancy term meaning a wide range of movement. When users are free to stretch their arms, they can work out more muscles and spend less time working out without compromising their workout benefits.
With this in mind, the BiAngular motion feature mimics dumbbell workout motions, eliminating the need for expensive, space-consuming dumbbells. The Body-Solid G2B also features an impressively small footprint compared to the 40+ exercises users can perform.
The Body-Solid G2B Bi-Angular home gym also features incredibly fluid motion thanks to the SmoothGlide bearing system that reduces unnecessary friction during workouts. In addition, the G2B comes with 160 lbs of selectorized weight stack resistance adjustable in 10 lb increments; users may purchase an upgrade boosting weight resistance to 210 lbs.
Built with a heavy-duty 12 gauge steel frame, the Body-Solid G2B Bi-Angular Home Gym remains stable during workouts. Additionally, it has a powder coat finish to reduce damage from weather and scratches. The 4.5″ pulleys have 2,200 lb tension strength, military spec, aircraft cables, and are fiberglass, making them impact resistance and designed to last a lifetime.
Learn more in my complete review below!
Product: Body-Solid G2B Bi-Angular Home Gym
Price: For a great deal on this gym, merely go here on Amazon
Warranty: Lifetime
My rating: 9.8/10
Affiliate Disclosure: As an Amazon Affiliate Program participant, I earn commissions on purchases made through links in this post. Full disclosure
Note: Some images contain optional equipment.
Details and Specifications
Assembled dimensions: 71L x 63W x 83.5H inches (180L x 160W x 212H cm)
Assembled weight: 438 lbs (198.6 kg)
Weight stack: 160 lbs (72.5 kg)
Possible exercises: 40+
Warranty: Lifetime
G2B Frame construction
The Body-Solid G2B Bi-Angular home gym features very sturdy construction, made of 12-gauge steel tubing providing superior durability and support. In addition, all the steel bars within the unit's structure have a tough, electrostatically applied powder finish, which is resistant to corrosion and abrasion.
The colors used are black for most of the frame and gray for the Bi-Angular press and weight stack covers. These are the only colors available for this unit.
Like most home gyms, the Body-Solid G2B is quite a heavy unit. With the frame fully assembled, it weighs over 400 lbs. However, all this weight enhances its stability and sturdiness. The base bars do not have adjustable stabilizers but rest on large rubberized pads to protect your flooring and prevent the unit from slipping. Despite these pads, it's advisable to place and use the machine on a rubberized mat.
Compared to other home gyms, the G2B is slightly larger, especially widthwise. It's 71″ (180 cm) long and 63″ (160 cm) wide, while its highest point reaches approx. 83.5″ (212 cm) above floor level. Therefore, it won't fit well in a room with a 7′ (213 cm) ceiling. It's also recommended to assign a usage area of at least two feet on the side of the Hip Station and at the front, to be able to execute all the exercises correctly.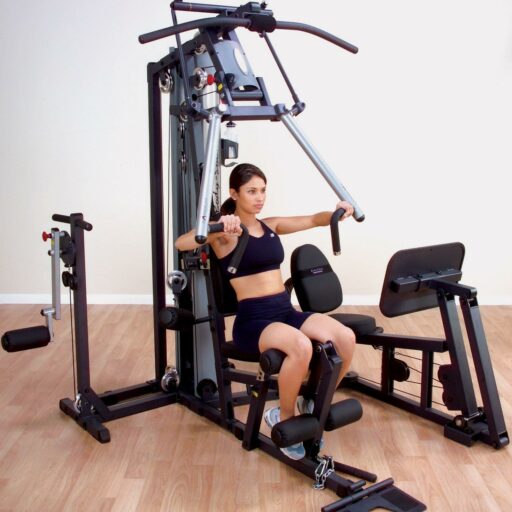 In terms of accessories, the Body-Solid G2B Bi-Angular home gym includes a revolving lat bar, a revolving straight bar, an ankle strap, an ab crunch strap, a full-size exercise chart, and the Body Workout™ DVD.
Seat and Backrest
The machine's seat and backrest are adjustable. Each one has several positions on its post. In addition, they come with DuraFirm™, which provides the optimal combination of cushioning and support.
Their upholstery is also highly durable, and with the proper care, it can last a lifetime. There is no weight capacity specified for the seat; it's durable enough to support users of all sizes.
The unit also integrates several 4″ foam rollers. Two of them are attached under the backrest to provide support for your knees during lat pulldown exercises. The unit's leg developer has four rollers, while the included Hip Station also comes with one.
G2B Cables and Pulleys
The machine comes with 2,200 lbs (998 kg) tension strength, military spec, steel cables. They have swivel elements on their ends to eliminate any hindrance for all exercises. They're coated with a sheet of polyurethane material to deliver a smooth glide over the pulleys.
One important aspect to mention here is that you don't have to swap or adjust cables if you want to alternate exercises. Each workout station has its cable, so all you need to do is attach a handle or cuff if needed.
There are multiple pulleys within the unit's construction. They're 4.5″ in diameter; they're made of fiberglass reinforced nylon material and integrate precision-machined ball bearings for smooth operation and maximum durability.
Workout stations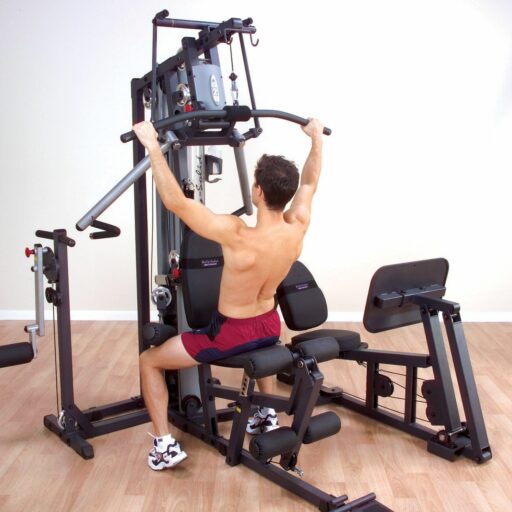 The Body-Solid G2B Bi-Angular home gym integrates six main workout stations. These are:
Bi-Angular press station.
The press station of the G2B is quite different than for other home gyms. Its side arms converge during a press exercise simulating a free-weight dumbbell press, guiding you through the optimal range of motion.
It delivers resistance from two directions (rear and lateral), and due to this fact, it generates 25% more muscle interaction, which results in a more consistent workout. In addition, its arms come with pivoting handles that provide multiple grips.
The press also has several adjustment positions, offering support for various exercises, including standard seated press, incline press, shoulder press, mid-row, etc.
Lat pulldown station.
This is a standard, one-point high-pulley and lat pulldown station. It offers the possibility to perform all the high pulley exercises and a 48″ curved lat bar with a rubberized cover.
Mid pulley station.
This workout station consists of a pulley placed above the unit's backrest. This pulley allows you to perform various mid-core and arm exercises such as trunk rotations, baseball swings, or ab crunches. An ab harness is (included) for it.
Low pulley station.
Like any home gym, the low pulley allows you to perform various exercises, such as seated rows, stand-up rows, bicep curls, etc. In addition, the front of the machine has a folding footplate to provide better support for standing-up exercises. Also, a short bar is (included) for this pulley.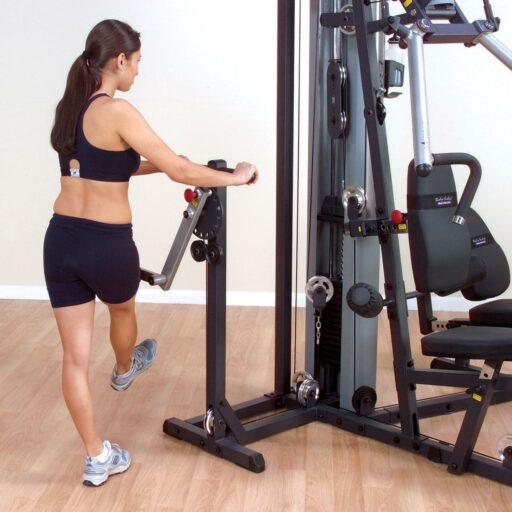 Leg developer station.
This attachment requires a connection to the low pulley, and it allows the execution of leg extensions, one leg curls, and others.
It integrates the SmoothGlide Bearing System™ with a biomechanically accurate pivot point, and self-lubricating bronze bushings are all other pivot points for friction-free shaft rotation. In addition, its large foam rollers provide superior comfort for all the exercises.
Multi-hip developer station.
This is a workout station that not all gym machines include. This attachment allows various lower body exercises, but most uses for the inner thigh, outer thigh, exercises for the hips and leg muscles. Its adjustment disc has 11 positions for the pop-pin, offering quite a bit of versatility for each exercise's start-up.
Now that I've covered the included workout stations of the Body-Solid G2B, it's also important to note several other attachments optionally available for it.
Among them, I can count the GLP G Series leg press station, which features a frame substantially similar to the main machine. It also has the same DuraFirm cushioning on its seat, the GCCA G Series cable column attachment, various cable exercises, and a weight stack upgrade.
G2B Weight Resistance System
The first aspect to note here is that the Body-Solid G2B Bi-Angular home gym includes an all-metal selectorized weight stack. The weight plates are made of heavy-duty cast iron and can take a lot of abuse before breaking. This is one reason this machine is a bit more expensive than those with vinyl/concrete weight stacks.
The total weight of the included stack is 160 lbs (72.5 kg), and it integrates 15 weight plates, 10 pounds (4.5 kg) each, plus the top stopper plate, weighing 10 lbs. The plates glide on two durable rods with a chrome finish, providing an exceptionally smooth glide. In addition, they have a metallic cover, which also reduces some of the generated noise during exercises.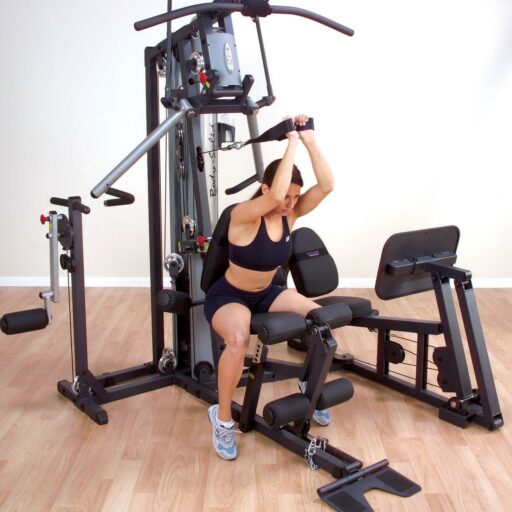 The weight stack is upgradeable. There are a 50 lbs (22.6 kg) stack option for it, which includes five more plates (10 lbs each).
Possible Exercises
Vertical grip chest press
Horizontal grip chest press
Incline grip chest press
Shoulder press
Inward shoulder press
Deltoid raise
Lateral deltoid raise
Upright row
Seated mid-row
Low pulley row
Shrug
Lat pulldown
Good morning
Ab crunch
High pulley crossover
Mid pulley crossover
Oblique ab crunch
Oblique bend
Tricep pushdown
Standing tricep extension
Seated tricep extension
Tricep kickback
Bicep curl
Reverse curl
Concentration curl
Leg extension and curl
Leg abduction/adduction
Glute kickback
Deadlift
Baseball swing
Golf swing
and more
As I've mentioned earlier, the G2B from Body-Solid features a Bi-Angular press. This means its side arms can converge. However, it does not have a conventional pec fly station, so regular butterfly exercises are impossible.
However, you can slightly close your arms during a press exercise to emphasize the same muscles engaged during a fly.
G2B Assembly and Maintenance
Like any other weight stack machine, the assembly of the G2B can take up to several hours. This is because the are many parts to put together, and some of them are heavy. Therefore, it is advisable to be assembled by two people. But on the other hand, the manual provides clear assembly instructions and schematics.
It is advisable to periodically check all parts' integrity and look for loose bolts and retighten if necessary for maintenance. In addition, it would help if you would regularly lubricate the weight stack guides and the pulleys if they begin to squeak when in use.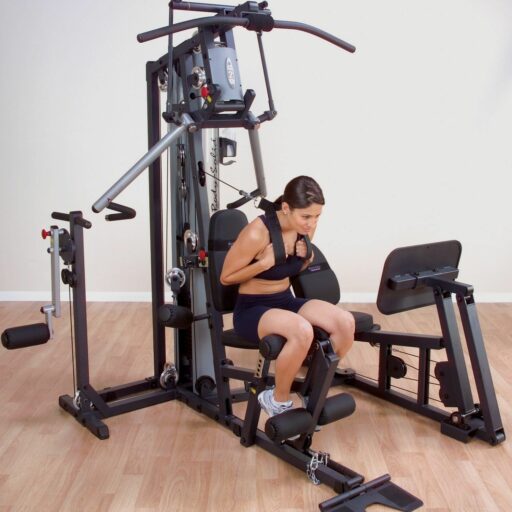 Pros
Sturdy construction – can support users of all sizes;
Adjustable seat;
Adjustable backrest;
DuraFirm™ seat and backrest;
4″ foam rollers for the knee stoppers and leg developer;
Six main workout stations: high pulley station, mid pulley station, press station, low pulley station, leg developer station, and hip developer station;
The chest press has a bi-angular design and replicates free weight presses providing up to 25% more muscle interaction;
Several adjustment positions on the press station;
Pivoting handles for the press station;
Several adjustment positions on the hip developer;
SmoothGlide Bearing System™ with a biomechanically accurate pivot point for the leg developer attachment;
Durable cast iron weight plates;
160 lbs weight stack;
The weight stack is upgradable by up to 50 lbs;
Lat bar included;
Short bar included;
Ankle strap included;
Ab harness included;
Total Body Workout™ DVD and exercise chart included;
Over 40+ exercises available;
Little maintenance required;
Lifetime warranty for home users.
Cons
Not exactly easy to assemble;
No conventional fly press, so the butterfly exercises require some improvisation.
Body-Solid G2B Bi-Angular Home Gym Summary
The Body-Solid G2B Bi-Angular home gym features six workout stations, a cast-iron weight stack of 160 lbs (upgradeable), an adjustable seat, a backrest, and a bi-angular press station which provides more muscle interaction than a regular one.
It includes several accessories such as an ankle cuff, lat bar, short bar, and others. It offers the possibility to perform more than 40+ exercises. Moreover, it's a sturdy piece of equipment with construction close to commercial machines. It's not exactly a cheap machine but does offer outstanding quality for the price.
I hope you found this article helpful and informative. If you have anything you'd like to share or any opinions about my website, please speak up. I look forward to your comments, questions, and the sharing of ideas.