The Life Fitness IC4, an indoor cycling bike, combines an attractive modern design with high-grade mechanical components, making it one of the best premium bikes in its class. The belt drivetrain and magnetic brake system are virtually maintenance-free and provide a superior ride.
Service-free technology provides a substantial resistance range. The vertical lever provides tactile feedback and allows for quick adjustment. The bar is easy to reach from all riding positions because it's beneath the handlebars. As a result, the drive belt requires little maintenance, improves pedaling technique, permits less momentum-based recovery, makes the rider work efficiently, and operates quietly.
The Life Fitness IC4 indoor cycling bike saddle has four-way adjustments to ensure a finely-tuned fit for all riders. In addition, the IC4 has a high-grade aluminum seat and handlebar posts with protection inserts that reduce weight.
The IC4 handlebars are built for comfort and performance. They, too, offer 4-way adjustments (handlebar height, handlebar fore/aft). The design provides a soft, durable rubber grip with innovative bar ends featuring a natural curve for comfortable hand positioning over the top. In addition, the handlebar integrated user-assist technology makes adjustments smooth and easy.
Learn more in my complete review below!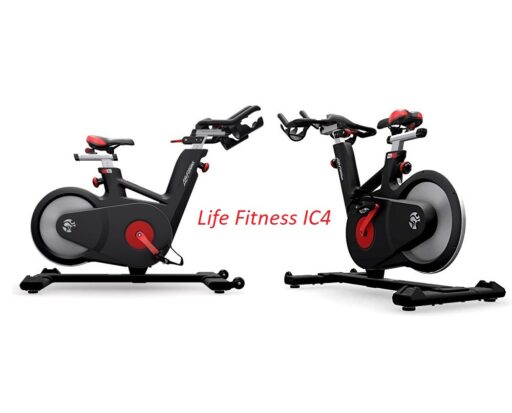 Product: Life Fitness IC4 indoor cycling bike
Price: For a great deal on this bike, merely go here on Amazon
Warranty: Frame 5 years / Mechanical three years / Labor 1 year
My rating: is 8/10
Affiliate Disclosure: As an Amazon Affiliate Program participant, I earn commissions on purchases made through links in this post. Full disclosure
Details and Specifications
Assembled dimensions: 52L x 20.5W x 47.2H inches (132L x 52W x 120H cm)
Assembled weight: 110 lbs (50 kg)
Supported weight: 330 lbs (150 kg)
Handlebars: 4-way adjustable
Seat: 4-way adjustable
Pedals: Dual-sided, SPD and toe straps
Drive mechanism: Belt
Resistance: Manual magnetic
Fitness Monitor: Not included
Accessories: Bottle holders, phone holder
Warranty: Frame 5 years / Mechanical three years / Labor 1 year
IC4 Frame Construction
The Life Fitness IC4, an indoor cycling bike, supports any spin workout. It features a very sturdy construction with a frame made of durable steel tubing, except for the seat and handlebar posts, high-grade aluminum.
All the steel parts in its development come with a corrosion-resistant and abrasion-resistant paint finish. In addition, most of the unit's core frame features solid ABS covers, which prevent sweat from reaching the paint finish. These covers also give the bike a very professional aspect, which can be pretty motivating.
The bike features a V-frame design that offers two main advantages. First, the bike has a low center of gravity, considerably improving its stability. And two, when the seat and handlebar post extends, the distance between the saddle and the handlebar also increases.
Its overall weight enhances the bike's stability. With the frame fully set up, this Life Fitness exercise bike weighs approximately 110 lbs (50 kg) which is more than twice the average mountain bike's weight. Its base bars also come with adjustable levelers with large rubber pads.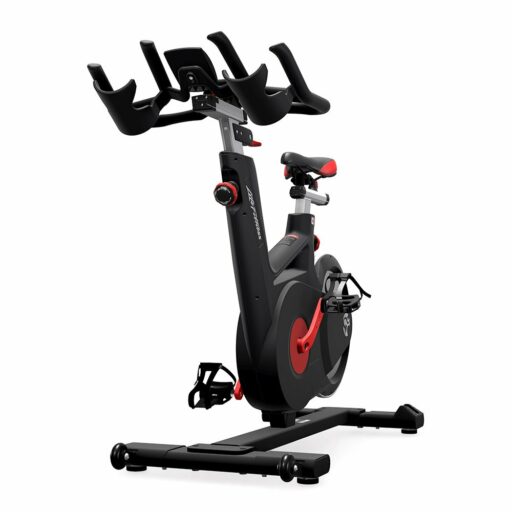 Due to the rear-drive frame design, the Life Fitness IC4 is slightly larger than other spin bikes. It measures 52″ (132 cm) in length and approximately 21″ (52 cm) in width. Therefore, for safe operation, it's advisable to leave at least two feet of clearance on the sides, at the rear, and at least one foot at the front.
Accessories
In terms of accessories, there are two that come with the IC4. One is the dual bottle holder, which integrates into the handlebar. The two bottle slots are large enough to accommodate any hydration bottle. The other is the phone holder, between the two bottle holders.
It features a plush pad to provide better stability for your phone. The whole bottle holder/phone holder assembly is a thick sheet of ABS material.
Unfortunately, the IC4 indoor cycling bike does not include a fitness console.
IC4 Seat
The Life Fitness IC4 indoor cycling bike has a comfortable spin saddle identical to the BodyCraft SPT-Mag bike. In addition, it integrates a thick layer of padding, especially in its rear section, and has a center cutout to improve breathability.
Its surface is a durable, sweatproof vinyl material. Also, its attachment system to the slider is standard, meaning that compatible options are widely available if you ever need to replace them.
The seat offers 4-way adjustability (up, down, forward, backward). Its vertical post offers 23 adjustment positions, with approx. 1″ (2.5 cm) is in-between. Its horizontal slider has 20 front-to-back adjustment positions with approximately 1/2″ (1 cm) spacing.
Due to the V-frame design, the distance between the handlebars and the seat increases when you extend them. Therefore, the bike can accommodate with no problem users between 5'0″ and 6'7″ (153 – 201 cm), allowing a complete range of motion.
Handlebars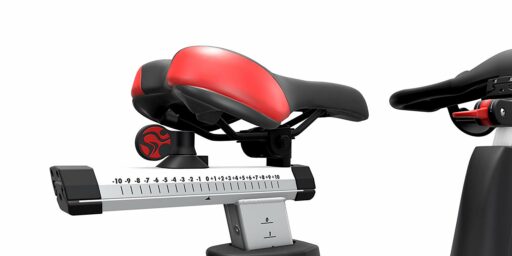 The handlebar assembly offers 4-way adjustability (up, down, forward, backward) as the seat. Its vertical post offers 15 adjustment positions (1″ in-between), while its horizontal slider offers ten front-to-back positions (1/2″ in-between). In addition, it features a multi-grip design with integrated aero bars. Furthermore, it also comes rubberized to provide a secure and comfortable grip.
One important feature that needs mentioning regards the horizontal adjustment system of the seat and handlebars. Both sliders have levers (not knobs), which can easily be unlocked when turned sideways.
Therefore, you can easily open and re-lock the saddle or the handlebar assembly to adjust them forwards or backward, even if you are already on the bike. Unfortunately, few bikes offer this feature and require you to pause your workout and dismount to make the correct adjustments.
IC4 Resistance system
The Life Fitness IC4, an indoor cycling bike, has a manual magnetic resistance system. Therefore, you don't have to connect it to a power source to benefit from resistance adjustments.
Its resistance system consists of a magnetic brake placed at the covered section of the flywheel. This brake is attached to the tension lever placed on the handlebar post.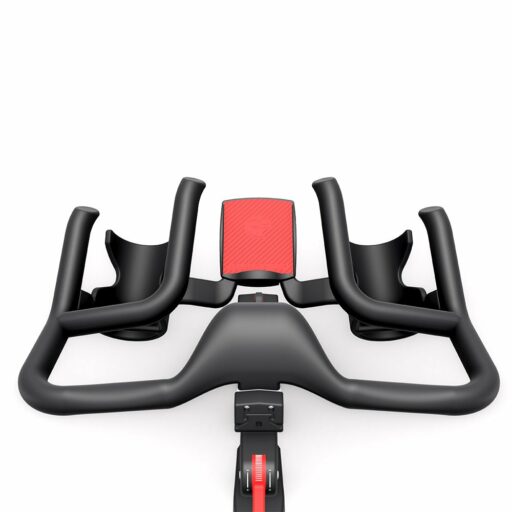 The magnetic brake covers a more significant portion of the flywheel by pressing this tension lever down, which results in more incredible pedaling difficulty. Conversely, the magnetic brake moves away from the wheel if you lift the bar, leading to less resistance.
The tension lever has markings that delimit each difficulty level. In addition, there are more than 30 markings on the bar and more than 30 distinct resistance settings. Thus, the bike provides exceptional micro-adjustability when it comes to pedal tension.
The tension lever also functions as an emergency brake. You can press it down to stop the flywheel from spinning. You might need to use the brake in some instances because the pedals turn while the wheel is spinning.
Drive system
This Life Fitness IC4, indoor cycling bike comes with a balanced flywheel. Its weight is not specified. However, its significance shouldn't matter much because the bike's resistance system uses a magnetic brake, not a friction brake.
Therefore, the resistance remains constant throughout a full rotation. More importantly, it rotates at 10:1 of your pedal stroke, which results in high inertia, perfect for spinning workouts.
The flywheel is bi-directional. It offers the possibility of pedaling in reverse. Thus, you can diversify your workouts. However, always use the emergency brake when you switch from front pedaling to backpedaling and vice versa to prevent injuries.
Like most other exercise bikes with a magnetic resistance system, the Life Fitness IC4 features a belt drivetrain. It uses a durable poly-v belt, delivering a smooth and quiet pedaling motion. It also does not need any maintenance. On the contrary, avoiding lubricants is advisable to prevent them from slipping.
IC4 Crankset and Pedals
The bike has a heavy-duty crankset featuring steel crank arms and metallic alloy pedals. Thus, it can withstand any spin workout, including standing up on the pedals, even if the user is close to the maximum weight capacity (330 lbs).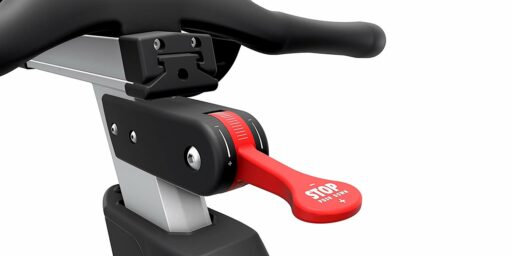 The pedals are dual-sided; they have toe cages on one side and SPD clips for spin shoes. They also have standard threads (9/16), so compatible replacements are widely available.
Finally, the Life Fitness IC4 features a narrow Q-Factor (spacing between the pedals) of 155 mm; therefore, your feet are on the pedals naturally. Thus, pedaling does not generate extra lateral stress on the knees and ankles.
IC4 Assembly and Maintenance
The core frame of the bike, with its drive and resistance elements, comes already assembled. So you only need to attach the two base stabilizers, the seat, the handlebars, and the pedals.
Consequently, it shouldn't take more than 20-30 minutes. The manual provides precise assembly instructions. However, the box does not include the assembly's required tools; you will need a set of Allen wrenches and an adjustable wrench.
This exercise bike requires very little maintenance. However, it is advisable to keep the frame clean. In addition, the seat and handlebar sliders and posts may require a bit of lubrication for smooth usage. Finally, a periodic check for loose bolts and parts is a good idea, and retighten if necessary.
Pros
Solid frame construction, 330 lbs weight capacity;
Multiple ABS covers for extra protection;
Aesthetic, professional-looking aspect;
The V-frame design enables the bike to accommodate a wide range of users;
Adjustable, rubberized stabilizers;
Transport wheels;
4-way adjustable seat;
4-way adjustable handlebar with a multi-grip design;
High-comfort, cushioned saddle with a longitudinal cutout;
Frictionless, wear-free, magnetic resistance with 30 levels;
Balanced flywheel for a smooth pedaling motion and solid momentum;
Drivetrain gear ratio 1:10 for superior inertia;
Smooth and quiet operation, great for apartment use;
Heavy-duty crank made for spin workouts;
Dual-sided pedals with toe cages and SPD clips;
Narrow Q-Factor (155 mm), minimizing the lateral stress on the knees and ankles;
Bottle holders included;
Phone holder included;
Easy to assemble;
Little maintenance is required;
Excellent warranty.
Cons
There is no fitness monitor;
Tools for assembly do not come with the bike.
Life Fitness IC4 Indoor Cycling Bike Summary
The Life Fitness IC4 is a light-commercial indoor cycling bike featuring a magnetic resistance system, a heavy flywheel for high inertia, and a durable crank with dual-sided pedals. In addition, it features a V-frame design offering superior micro-adjustability and a weight capacity of 330 lbs.
In addition, it's a reliable bike that can support any spin workout. Moreover, it's perfect for high-intensity cardio training, interval training, strength and stamina development, and weight loss. However, it's not exactly an affordable exercise bike, but it offers outstanding quality for the price.
I hope you found this article helpful and informative. Would you please speak up if you have anything you'd like to share on the topic or any opinions about my website? I look forward to your comments, questions, and the sharing of ideas.
Please remember that you should consult your physician before starting any exercise program to determine if you have any medical or physical conditions that could put your health and safety at risk or prevent you from using the equipment properly. In addition, your physician's advice is essential if you are taking medication that affects your heart rate, blood pressure, or cholesterol level.