The Powerline P2X Home Gym from Body-Solid is an excellent strength machine that is durable and well-built. Novice lifters will gain the most from this machine. However, intermediate lifters may benefit from choosing a home gym with a squat rack with a free barbell if their goal is to increase strength.
The Powerline P2X Home Gym has dozens of exercise choices thanks to six workout stations. For example, the Powerline P2X Home Gym comes with multi-function press arms, a lat pulldown bar, a high pulley station, a mid pulley station, an ab crunch feature, functional pulleys, and a low pulley station with seated row capabilities, a leg developer with multiple functions, and more.
I like the Powerline P2X Home Gym because all adjustments are accessible. Changing the function of the press arms and leg developer is straightforward. You insert a simple pin where you want it to change weights in a snap.
The Powerline P2X Home Gym has a very comfortable seat that is well-padded and features a vinyl coating. Moreover, the seat is very convenient because it adjusts height and position. In addition, the backrest can adjust forward or backward slightly. Overall, the Powerline P2X Home Gym is very comfortable, thanks to lots of padding and grip wherever needed.
Learn more in my complete review below!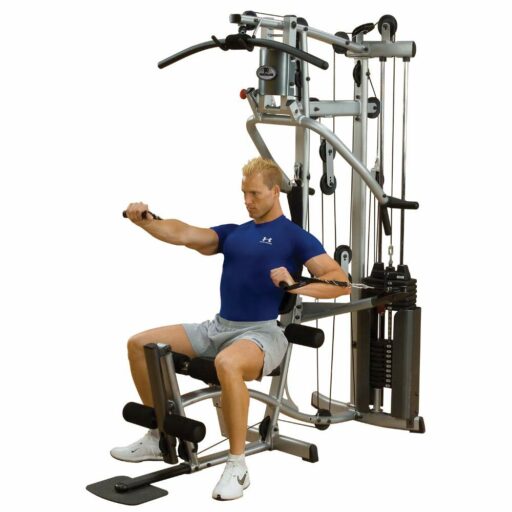 Product: Powerline P2X Home Gym from Body-Solid
Price: For a great deal on this gym, merely go here on Amazon
Warranty: Frame 10 years / Parts 1 year
My rating: is 8/10
Affiliate Disclosure: As an Amazon Affiliate Program participant, I earn commissions on purchases made through links in this post. Full disclosure
Details and Specifications
Assembled dimensions: 71L x 49W x 83H inches (180L x 124W x 211H cm)
Assembled weight: 385 lbs (175 kg)
Resistance system: Weight stack
Standard weight resistance: 160 lbs (72.5 kg)
Possible exercises: 40+
Warranty: Frame 10 years / Parts 1 year
P2X Frame Construction
Like most cable fitness machines, the Powerline P2X is ovalized steel tubing. Thus, it has a more aesthetic design. In addition, all the steel parts feature a silver finish coating, resistant to corrosion.
The P2X home gym machine is relatively large. It takes 71″L x 49″W (180 x 124 cm) of floor space. And, of course, to operate it safely and without any hindrance, it is essential to leave at least two feet of clearance all around it.
Thus, the P2X would require a 95″ x 73″ (241 x 185 cm) workout area. The machine's height is 83″ (211 cm). Therefore, it should fit in a room with a seven ′ ceiling. But it would be a very tight fit.
This fitness machine is considerably heavy when fully assembled and attached to the optional leg press. It weighs over 390 lbs, which offers excellent stability during all exercises. However, due to its weight, it may damage your floors. Therefore, it's advisable to assemble it and use it on a rubberized mat.
Seat and Backrest
The P2X and optional PLPX leg press attachments come with fixed seats. Both seats integrate 2″ (5 cm) padding to provide optimal comfort for all seated exercises. Their upholstery is a durable vinyl material designed to last for many years of use.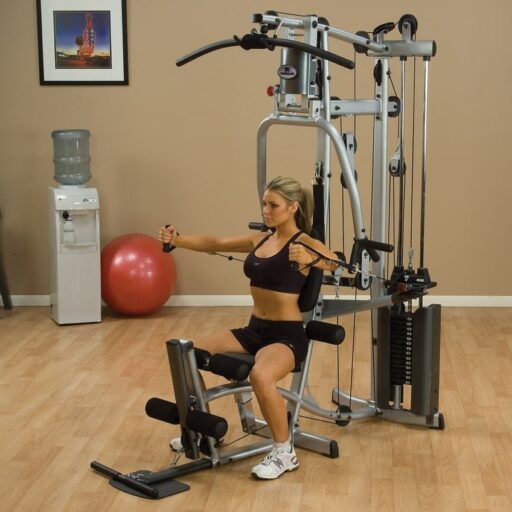 The seat and the backrest on the P2X machine are both adjustable. The seat offers a few inches of height adjustment, while the backrest can move forward or backward for a few inches. Conversely, the optional leg press attachment only has an adjustable backrest, locked closer or farther to the press plates.
P2X Cables and Pulleys
This Body-Solid Powerline home gym machine features a "no cable change" design. Therefore, it includes cables for all of the pulleys. So once you have assembled it, you won't need to swap cables from one set of pulleys to another, to perform specific exercises.
However, the grip handles and strap accessories require relocation, depending on the activities you want to achieve.
The home gym's cables spun steel ropes and tested for over 2,000 lbs of tension. A thin heavy-duty PVC covers them for a smoother glide over the pulleys. The pulleys are heavy-duty nylon, stainless steel, sealed ball bearings, and quiet operation.
They have a standard design; thus, if one break or becomes severely worn out.
Leg Attachment
The machine's leg attachment comes with 4″ foam rollers to deliver the required comfort for all leg exercises. The machine also has a knee-stopper bar, which can be helpful when performing lat pulldowns with a hefty load. This bar also has similar foam rollers as the leg developer attachment.
Accessories
In terms of accessories, this machine comes with the lat pulldown bar, a short row bar, and two pivoting cable handles. The ankle strap and ab harness are optional accessories not included with the machine.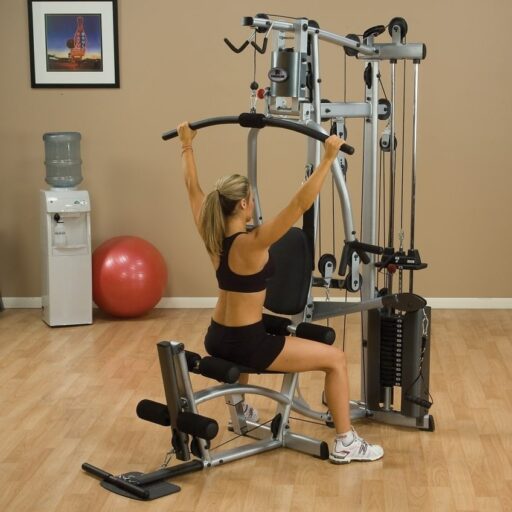 P2X Workout stations
This Powerline home gym is quite a versatile model. It integrates six main workout stations, 7 in total, with the optional leg press station. Here's a short description of each one.
Lat pulldown station. It is an indispensable element in constructing a home gym system of this type, required to develop shoulder, triceps, and back muscles.
It integrates a standard, curved, detachable lat bar with rubberized grips. In addition, this station's pulley is high enough to allow users up to 6'5″ (195 cm) to perform a complete range of motion during lat pulldowns if the seat is (adjusted) to the lowest position.
Chest press station. This workout station features a multi-grip design, offering the possibility to perform presses with three types of grips. In addition, it works the development of the pectoral and shoulder muscles.
Cable fly station. This workout station is an addition to the P1X model. It consists of an element with two metallic arms which extend one on each side of the P2X machine. They come with pulleys and cables, and by attaching the handles to them, you can perform several fly exercises.
Mid pulley station. Although this station consists of a pulley integrated into the central vertical bar of the frame, it is quite a plus, as it allows the execution of several extra exercises. For example, it will enable you to perform ab crunches using an ab harness (not included) or triceps extensions.
Low pulley station. The Powerline P2X doesn't offer a mobile seat with rollers for complete rowing exercises. However, since it has a low pulley station, you can perform seated rows and other activities that involve the low pulley, such as biceps curls.
Leg developer station. This workout station allows the execution of leg extensions, leg cable curls, or standing biceps curls. The attachment features consistently padded rollers to offer the required comfort for leg extensions.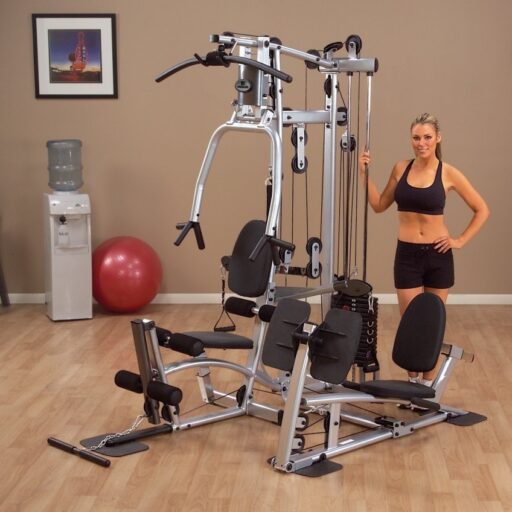 Optional
Leg press station. The PLPX attachment and mounts are on either side of the machine. It features a steel frame similar to the rest of the machine and a seat with an adjustable backrest.
Its ratio is 2:1, meaning the 160 lbs (72.5 kg) weight stack will generate a weight resistance of 320 lbs (145 kg). This home gym machine is reasonably large with the optional leg press attached. It takes 71″L x 66″W (180 x 168 cm) of floor space.
Weight Resistance
Its metallic alloy weight stack is an essential aspect of the Powerline P2X home gym system. These weight plates are considerably more durable than vinyl plates, and that's one reason this machine costs a bit more than one with vinyl plates.
The machine's included plate stack weighs 160 lbs (72.5 kg), featuring weight plates of 10 pounds (4.5 kg) each. Thus, the adjustment is in 10 lb increments.
The weight stack is upgradeable. It allows five extra plates (SP50), offering a total weight resistance of 210 lbs (95.2 kg). Therefore, this fitness machine is perfect for beginners and intermediate users. However, powerlifters may require a model with a much more massive stack.
A set of weight stickers comes with the machine, and you're supposed to place them on the plates in ascending order, top-to-bottom. The weight adjustment system is simple. First, you insert a pin into the plate with the desired weight.
P2X Possible Exercises
The Body-Solid Powerline P2X with the PLPX leg press attachment (sold separately) offers the possibility to perform more than 40+ gym-quality exercises. Among them, I can count: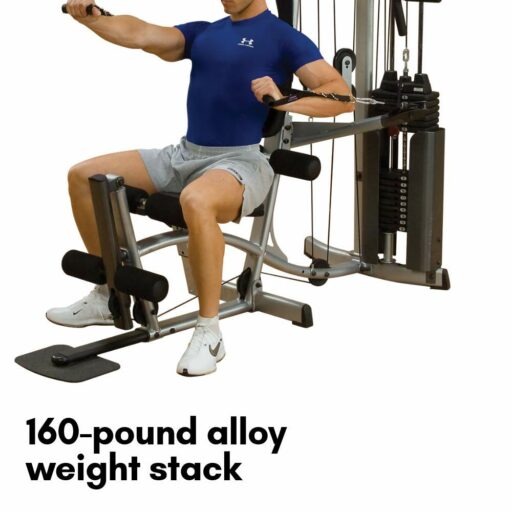 Vertical grip chest presses
Horizontal grip chest presses
Incline chest presses
Cable pec fly presses
High cable cross-overs
Lat pulldowns
Seated rows
Shrugs
Seated triceps extensions
Triceps press downs
Triceps extensions
Kneeling triceps extensions
Standing biceps curls
Concentration curls
Deltoid raises
Upright rows
Ab crunches
Oblique crunches
Standing leg curls
Leg extensions
Leg abductions/adductions
Glute kickbacks
and more.
Before I move on to the next section of this review, there still are two essential aspects to mention here.
First, it doesn't have a long bench like some other machines; thus, you cannot perform standard leg curls. However, you can stand up one-leg curls using an ankle strap and the low pulley station.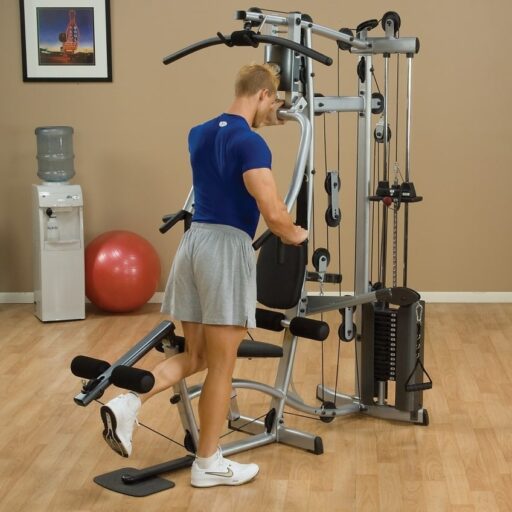 And secondly, the machine's backrest doesn't recline, so you won't be able to perform incline/decline presses.
P2X Assembly and Maintenance
The machine comes in 5 boxes, 3 for the P2X, 1 for the weight stack, and 1 for the leg press attachment. Since the boxes are relatively heavy and have some large parts, two people should carry and assemble the machine.
The included manual provides step-by-step assembly instructions. However, the process will take several hours due to the many parts that require assembly.
In addition, the tools needed for construction do not come with the machine. Instead, you will need a Phillips screwdriver, a set of Allen keys, two adjustable wrenches (6″, 8″), and a rubber mallet.
For maintenance, a periodic check for loose bolts and parts is advisable. Also, guide rods, linear rods, and pulleys may require lubrication. Therefore, applying a bit of multi-purpose lubricant to them during this assembly is advisable. Finally, if any parts sustain damage, you should replace them before re-using the machine to avoid accidents.
Pros
Sturdy and stout frame, offering excellent stability;
Adjustable seat and backrest;
The durable upholstery and thick padding for optimal comfort;
Six workout stations (7 in total with the optional leg press), including multi-press station, cable fly station, lat pulldown station, mid pulley station, low pulley station, leg developer attachment, and (optional leg press station);
Heavy-duty pulleys and cables;
Accessories included: two handles, a lat bar, and a short row bar;
Metallic alloy, highly-durable weight plates;
Upgradable weight stack;
Over 40+ exercises available;
Little maintenance is required;
Excellent warranty.
Cons
Ankle strap and ab harness not included;
Assembly may take more than 5 hours;
The tools required for assembly do not come with the gym.
Powerline P2X Home Gym Summary
The Powerline P2X is a sturdy home gym system equipped with a 160 lbs metallic weight plate stack, which is upgradable to 210 lbs with the optional SP50 weight stack (sold separately). In addition, the P2X integrates six workout stations, which are upgradeable with the optional PLPX leg press attachment (sold separately).
Moreover, it's a machine for beginners and intermediate users, allowing for more than 40+ exercises. Finally, it's an affordable home gym set with a metallic weight plate stack and is upgradeable. Therefore, I can safely say it has a decent price/value ratio.
I hope you found this article helpful and informative. Would you please speak up if you have anything you'd like to share on the topic or any opinions about my website? I look forward to your comments, questions, and the sharing of ideas.
Please remember that you should consult your physician before starting any exercise program to determine if you have any medical or physical conditions that could put your health and safety at risk or prevent you from using the equipment properly. In addition, your physician's advice is essential if you are taking medication that affects your heart rate, blood pressure, or cholesterol level.