Instead of air or hydraulic resistance, the Stamina Elite WAVE Water Rowing Machine 1450 emulates actual rowing with natural water resistance. Different stroke speeds and intensities vary in water motion, resulting in natural water resonance.
A spinning flywheel provides resistance in the water tank, which means the harder you row, the more resistance you'll feel. You can raise your work rate further by adding more water (siphon included). The tank has ten levels marked; however, you will invalidate the warranty if you fill above level 10.
The Stamina Elite WAVE Water Rowing Machine 1450 features an LCD fitness monitor displaying all the usual data you'd expect to find. In addition, this model Includes an HR chest strap that displays your pulse on-screen – unfortunately, there are no heart rate programs. Instead, you can pre-set targets such as the distance you want to row, the time you want to row, or the stroke counts or calories you want to reach.
The rowing position is comfortable, thanks to a wide-padded seat. Thanks to the rollers beneath, the seat slides smoothly and quietly up and down the solid steel beam. Your feet would fit comfortably in the wide footrests – they also tilt like all footrests should for a smooth and comfortable ride.
Learn more in my complete review below!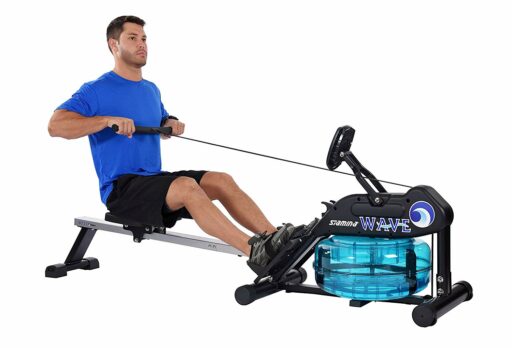 Product: Stamina Elite WAVE Water Rowing Machine 1450
Price: For a great deal on this rower, merely go here on Amazon
Warranty: Frame 3 years / Parts 90 days
My rating: 8.5/10
Affiliate Disclosure: As an Amazon Affiliate Program participant, I earn commissions on purchases made through links in this post. Full disclosure
Details and Specifications
Assembled dimensions: 85.35L x 20.25W x 32.75H inches (217L x 52W x 83H cm)
Assembled weight: 71 lbs (32.2 kg)
Weight capacity: 300 lbs (136 kg)
Frame: Steel
Footrests: Adjustable, with straps
Resistance: Water
Fitness Monitor: Time, distance, count, SPM, calories, pulse, recovery function, goal setting functions
Warranty: Frame 3 years / Parts 90 days
1450 Frame Construction
The frame of this Stamina Elite WAVE rower is steel, including the main beam. That's why it's a bit heavier than other water rowing machines. Without water inside the tank, it weighs approximately 71 lbs. The tank's capacity is not specified anywhere, but it's around 4.5 gals. (17 l).
Thus, filling the tank with water will add approx—37 lbs (16.7 kg) more than the machine's overall weight. However, the front base has small wheels to relocate the machine.
This fitness machine is rather large in terms of dimensions, especially lengthwise. It's 85.35″ (217 cm) long and 20.25″ (52 cm) wide. And it also requires at least one foot of clearance at the rear and at least two feet on each side for safe operation. Therefore, it may not be the best choice for a small apartment or room. On the other hand, the frame of the Stamina 1450 Wave features a folding design. The gliding beam with the seat folds vertically, reducing the machine's length to approx. 1/3.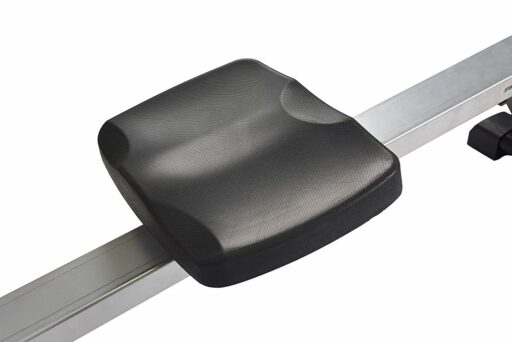 The frame of this water rower rests on three base stabilizers. The middle and front base tubes feature heat-injected caps, while the rear stabilizer integrates adjustable levelers. As a result, the machine offers excellent stability, even if it's not on a rubberized mat. However, placing it on a mat for usage is recommended.
As mentioned above, this machine's rail is steel, not extruded aluminum, as for other similar models. As a result, the rower's maximum user weight capacity is 300 lbs (136 kg). The gliding beam is relatively long; it can accommodate users over 6'5″ (195 cm) with no problem.
The rower's gliding beam is not horizontal. Instead, it's at a slight angle. Thus, it comes with three benefits. One, the recovery motion for each stroke is faster. Two, it provides a slightly more consistent workout for the legs. Three, it's easier to take a position on the seat. At its highest point, the seat is approx. 16″ (40 cm) above floor level.
Seat, Footrests, and Pulling Handle
This Stamina Elite WAVE rower comes with a contoured seat with thin surface padding for extra comfort. The seat's gliding mechanism integrates six wheels, two pairs on top of the rail and one underneath. These wheels feature sealed ball bearings for smooth gliding on the track and a long lifespan.
The Stamina Wave 1450 water rower footrests are size adjustable, accommodating sports shoes of all sizes. They also have heel guards and adjustable straps, offering all the stability required. They're on a plate set at an angle of approx 45°, the optimal angle required — their angle's non-adjustable, though.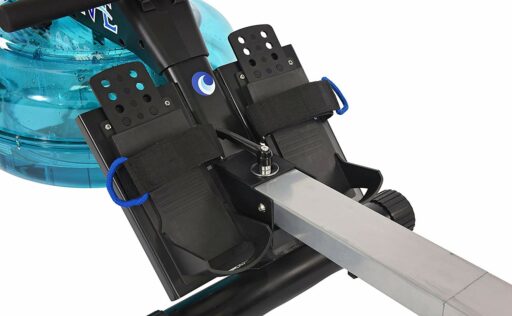 The machine's pulling handle is slightly curved to reduce the impact on the user's wrists. In addition, it's completely coated with rubber foam material, providing a superior, comfortable grip.
1450 Water tank and resistance
The Stamina Elite WAVE water rowing machine has a blue, heavy-duty water tank made of polycarbonate material. The tank integrates a 3-blade impeller attached to a heavy-duty bungee cords and pulleys system. As you pull the handle, the flywheel begins to spin into the water tank, generating resistance.
Since the resistance is water generated, it's variable. It depends on the strength you put behind each stroke or how fast you stroke. However, the overall resistance output also depends on the water level in the tank.
There are ten markings on it, and by filling it up to the 10th marking, you will benefit from a maximum overall resistance output. As mentioned above, the tank's capacity is not specified, but it's around 4.5 gals (17 l).
The rowing motion and feel are similar to the rowing of a real boat. However, it's also quiet, far from producing the noise level of an air rower.
Fitness monitor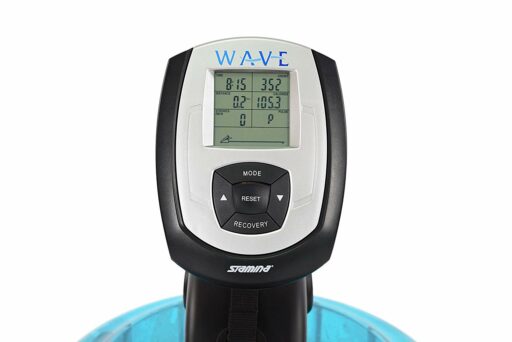 The fitness monitor included with the Stamina Elite WAVE 1450 is more than a simple one. First, it features a 7-panel display, which means it can simultaneously indicate up to 7 workout metrics, so you won't have to scroll through them all the time. It shows time, distance, strokes per minute, total strokes (count), pulse, and calories.
An HR chest strap accessory comes with the rower for your pulse reading. In addition, the console has a Pulse Recovery function regarding heart rate, which measures how quickly you return to a resting heart rate after exercising.
You can use this function to measure improvement as you get into shape. For example, the unit will monitor your heart rate for 60 seconds and calculate a Pulse Recovery value from 1 to 6.
Unfortunately, the fitness monitor doesn't have any onboard workout apps. However, it does have goal-setting functions for time, count, distance, calories, and pulse. Differently put, you can set up a specific value for each workout metric, and the console will start to count down for each of them as you begin the workout.
The monitor is easy to operate. It's powered on by pulling the handlebar or pressing any of its buttons and will automatically shut off after 4 minutes of inactivity.
Its MODE button fulfills the selection function for a specific value. The Up / Down arrows increases or decreases a particular value. RESET clears all the given values to zero. The Recovery button covers the unit's recovery function. Finally, the monitor is battery-operated and requires 2-AA batteries, which come with the machine.
1450 Assembly and Maintenance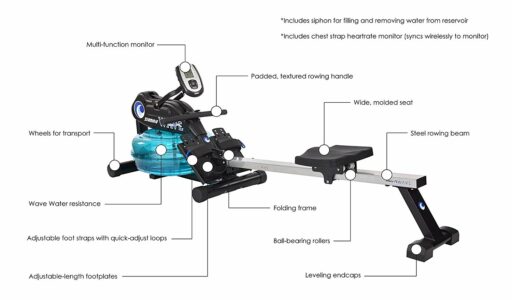 With its impeller and all the internal pulleys, the pulling handle, straps, and the footrests, the water tank comes ready-assembled and attached to the front part of the metallic frame. Therefore, for assembly, you'll need to connect the gliding beam, the seat, the rear stabilizer, and the fitness monitor.
Consequently, this whole task shouldn't take more than 30 minutes. The manual provides clear assembly instructions, and the tools required are included. A small siphon pump comes included for filling/unfilling the water tank.
For maintenance, it's advisable to change the tank's water periodically. Unfortunately, chlorine pills for treating the water do not come included. However, you'll want to use sodium dichlor (56% chlorine) tablets.
Additionally, wiping the rower's beam with a cloth before each use is advisable. Therefore, it will ensure there aren't any small particles on it, which may cause damage to the rail or the seat rollers.
Pros
Sturdy, steel construction;
Folding design;
Long gliding beam, thus the machine can accommodate tall users over 6'5″;
Padded, contoured seat;
Adjustable footrests, with straps and heel guards, for maximum stability;
Variable water resistance, which provides a natural rowing feel;
Low noise level;
Mid-range fitness monitor with a 7-panel display, pulse reading, goals, and recovery functions;
Flexible monitor bracket allowing the adjustment of its angle;
Chest strap transmitter for tracking pulse, included;
Easy to assemble;
Easy to handle and relocate;
Little maintenance is required.
Cons
The fitness monitor LCD doesn't have a backlight;
There is no angle adjustability for the footrests.
Stamina Elite WAVE Water Rowing Machine 1450 Summary
The Stamina Elite WAVE 1450 is a water resistance rowing machine for home use. It features a sturdy steel frame with a folding, space-saving design. Moreover, it provides training possibilities for users of all levels. It has a mid-range fitness monitor with a 7-panel display.
It's perfect for anyone who wants a full-body cardio workout, as rowing involves multiple groups of muscles, such as deltoids, rhomboids, biceps, paraspinal, hamstrings, quads, and glutes.
But it's also a machine great for rehab training, stamina building, muscle toning, and weight loss. Finally, although it's not an inexpensive machine, it costs a few $100s less than a WaterRower, for example. Therefore, I can safely say it offers an excellent price/value ratio.
I hope you found this article helpful and informative. Would you please speak up if you have anything you'd like to share on the topic or any opinions about my website? I look forward to your comments, questions, and the sharing of ideas.
Please remember that you should consult your physician to determine if you have any medical or physical conditions that could risk your health and safety or prevent you from using the equipment properly. In addition, your physician's advice is essential if you are taking medication that affects your heart rate, blood pressure, or cholesterol level.