The Marcy SM-4008 Combo Smith Machine is an excellent option for home use. While it is a little more expensive than some of the other mid-range options, it comes with a considerable amount of exercise options and unrivaled durability.
Keep in mind that this item is big, heavy, and bulky and requires purchasing free weights. Moreover, the Marcy SM-4008 Combo Smith Machine's oversized steel tubing frame makes it an incredibly sturdy home gym option. Every last part of this mid-range home gym is durable and built to last for years.
The SM-4008 has a total leg developer with many different leg exercise options. The Marcy SM-4008 Combo Smith Machine also comes with a pull-up bar for upper body workouts, plus it also has high cross pulleys for crossover weight lifting exercises. The SM-4008 also comes with a highly adjustable bench that can be flat, inclined, or declined for various uses, plus it is also removable.
The Marcy SM-4008 Combo Smith Machine has many different exercise options for you to explore. You can work out every muscle in your body using the Marcy SM-4008 Combo Smith Machine.
Learn more in my complete review below!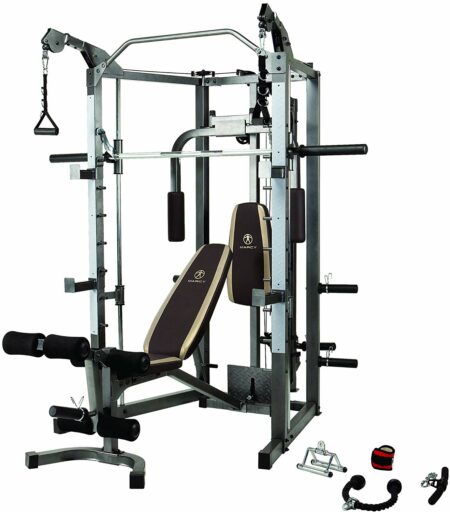 Product: Marcy SM-4008 Combo Smith Machine
Price: For a great deal on this gym, merely go here on Amazon
Warranty: 2 years limited
My rating: is 8/10
Affiliate Disclosure: As an Amazon Affiliate Program participant, I earn commissions on purchases made through links in this post. Full disclosure
Please note that the machine does not have the Olympic bar and weight plates.
Details and Specifications
Assembled dimensions: 94L x 80.75W x 84H inches (239L x 205W x 213H cm)
Total assembled weight: 279 lbs (126.5 kg)
Weight capacity:

Bench: 300 lbs (136 kg) maximum user weight capacity
Press bar: 300 lbs (136 kg) maximum user weight capacity
Leg Developer: 100 lbs (45 kg) maximum user weight capacity
Crossover, Lat Pull: 200 lbs (90.7 kg) maximum user weight capacity

Compatible weight plates: Olympic & Standard
Possible exercises: 100+
Warranty: 2 years limited
SM-4008 Frame Construction
The Marcy SM-4008 Combo Smith Machine frame is 14 gauge square steel tubing, offering excellent sturdiness and stability. Although its base bars do not have holes for anchoring them to the floor, this isn't necessary, especially if you load the storage pegs with weight plates.
This Marcy home gym system is relatively large. Without the bench and the Smith bar attached, the cage itself is approx. 66″ (168 cm) long and 60″ (153 cm) wide. With the bench attached, its length will become 94″ (239 cm), while the Smith bar is 80.75″ (205 cm). The fully assembled machine's highest point is 84″ (213 cm) for its height. Thus, it's advisable to place it in a room with at least eight ′.
The Smith bar is not an Olympic bar. It weighs only 25 lbs, and it's slightly shorter. However, it features Olympic sleeves, which are removable to accommodate Standard weight plates.
The main upright bars of the frame feature nine locking positions for safety and catch bars. In addition, the machine includes two catch bars and two safety bars, allowing you to exercise with the bar outside of the Smith machine.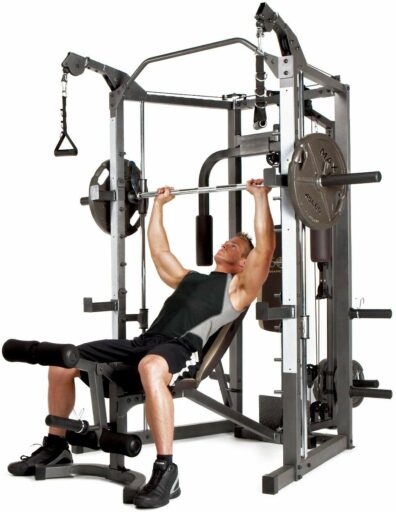 The top part of the machine includes a pull-up bar. This bar is reasonably straightforward; it does not have any rubber grips but does offer the possibility to perform wide-grip pull-ups.
Finally, most of the bars in the frame construction come with a gray, corrosion-resistant finish. However, the Smith machine's bars and the bar are chrome coated.
Bench
The bench supplied with the Marcy SM-4008 Smith machine features a metallic frame similar to the cage frame. It can connect to the main structure, but you can also use it without attaching it to the frame. Also, it is removable if needed. Its backrest features four adjustment positions. The bench offers three incline positions and a horizontal position as a general idea.
The bench and the backrest board attached to the mainframe integrate a generous layer of high-density foam, providing optimal comfort. The upholstery is two-toned, brown vinyl, which can last a lifetime if treated properly. The leg developer station attached to the bench features four 3.5″ (8.9 cm) foam rollers to deliver the required comfort for various leg exercises regarding padding.
SM-4008 Pulleys
The machine's pulleys are made of heavy-duty nylon material and integrate sealed ball bearings for smooth operation and a long lifespan. The cables have a much higher capacity than the machine's weight capacity. A sheet of PVC also covers them to deliver a smooth movement over the pulleys.
Included accessories
The main accessories included with this machine are:
Handle grip x2
Triceps rope x1
Ankle strap x1
V bar x1
Shiver bar x1
Chain link x1
The machine does not include weight plates of any kind. However, its bar and storage pegs are compatible with Olympic and Standard bars. Unfortunately, this machine does not have a Lat Bar accessory either. In addition, if you're wondering, the bench is incompatible with a Preacher Pad attachment.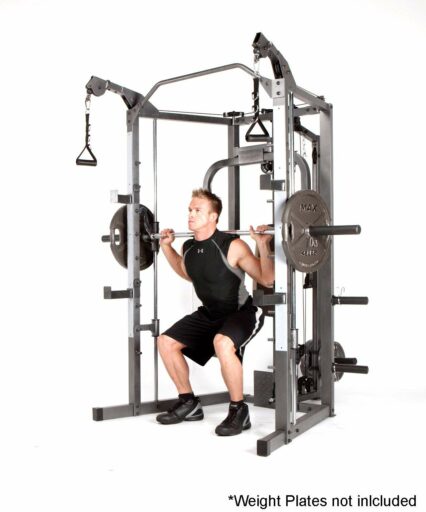 SM-4008 Workout stations
Chest press station. This workout station involves the Smith machine and bar. However, the Marcy SM-4008 has removable catch bars and safety bars opposite the Smith machine so you can work with the bar outside the cage.
Pec fly station. This workout station involves two simple arms with elbow pads, using the rear weight bar. Specifically, this station is for workouts focusing on developing pectoral muscles.
Pull-up station. This feature is the pull-up bar integrated into the top part of the machine. It's a simple bar without knurled or rubber grips, allowing various pull-up exercises.
High crossover station. Two high pulleys give this exercise station for crossover exercises or lat pulldowns. The machine does not include a lat bar accessory, but you can purchase one separately, attach it to the pulleys, and perform lat pulldowns.
Leg developer. This element is attached to the machine's bench. Specifically, it offers the possibility to perform leg extensions and leg curls;
Low pulley station. The low pulley opens many exercises, such as one-legged curls, abductions, or seated rows. With this in mind, an ankle strap and a slight shiver bar are (supplied) for the various activities you can perform on this pulley.
Weight Limits and Ratios
Like most other weight machines involving a pulley system, the weight resistance delivered by the workout stations of the Marcy SM-4008 varies. Therefore, here are a few of its weight ratios:
Fly station – 10 lbs load generates 5 lbs of resistance.
Left Cross-Over – 10 lbs load produces 5 pounds of resistance.
Right Cross-Over – 10 lbs load produces 5 pounds of resistance
Low pulley – 10 lbs load has 10 pounds of resistance
Regarding the included Smith bar, it is not a regular Olympic bar. It weighs only 25 lbs (11.3 kg) and is slightly shorter. Therefore, you will have to add more plates to compensate for this difference.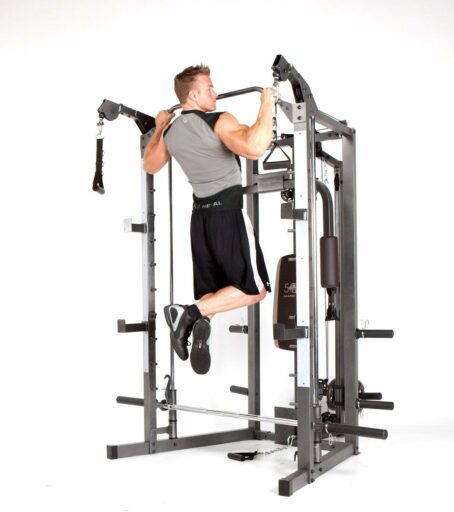 The machine's bench has a weight capacity of 300 lbs (136 kg) in terms of weight limits. The other weight limits are 300 lbs (136 kg) for the Smith bar, 200 lbs (90.7 kg) for the crossover station, and 100 lbs (45.3 kg) for the leg developer.
SM-4008 Possible Exercises
An exercise brochure covering 32 base exercises comes included with the machine. You can perform much more extensive activities, workouts, and variations. As a general idea, some of the activities that you will be able to execute on this Marcy home gym system are:
Arm Exercises
Biceps curls
Lateral single-arm biceps curls
Lying biceps curls
Close-grip pulldowns
Triceps extensions
Triceps press-downs
Kneeling triceps extensions
Lateral single-arm triceps extensions
Prone triceps extensions
Pull-ups
One-arm pull-ups
Wide grip pull-ups
Close-grip pull-ups
Behind head pull-ups
Chin-ups
One-arm chin-up
Wide grip chin-ups
Close grip chin-ups
Cliffhangers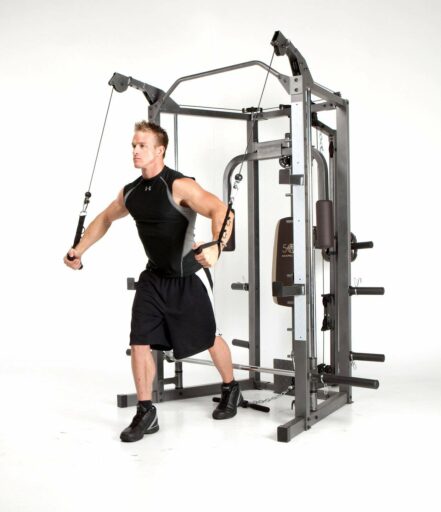 Abdominal Exercises
Cable crunches
Cable twist crunches
Seated trunk rotations
Standing trunk rotations
Back Exercises
Back flies/Back presses.
Prone back flies
Prone reverse flies
Lat pulldowns
Aerobic rowing
Crossover rowing
Kneeling rowing
Chest Exercises
Chest presses
Single-arm chest presses
Wide grip chest presses
Close grip chest presses
Chest flies
Incline chest flies
Lateral chest flies
Single-arm chest flies
Pullovers
Pullovers with crunches/Pullovers with twisting crunches
Leg Exercises
Stand-up leg curls
Calf raises
Squats
Single-leg squats
Kneeling single-leg squats
Wide squats
Twisting squats
Jumping squats
Lunges
Reverse lunges
Hip extensions
Hip adductions/Hip abductions
Shoulder Exercises
Shoulder presses
Upright rows
Lateral deltoid raises
Front deltoid raises
Lying front deltoid raises
Front deltoid raises with leg curls
Shoulder extensions
Lateral arm pulls
and many more.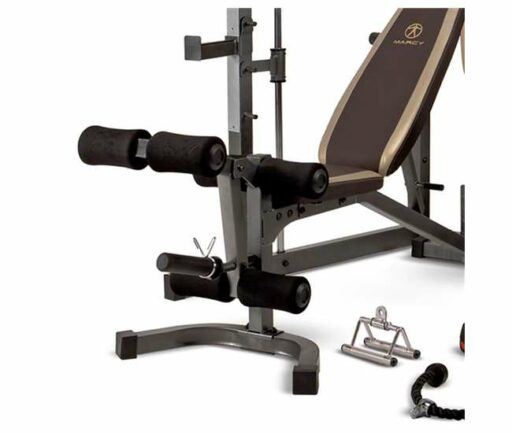 SM-4008 Assembly and Maintenance
First, just like any other Smith machine, the Marcy SM-4008 is a substantial piece of equipment, so its transport and assembly require at least two people. The assembly process isn't too complicated, but it may take several hours due to the many necessary parts.
However, the provided manual offers pretty clear step-by-step assembly instructions and diagrams. Unfortunately, the tools required for assembly do not come with the machine. Instead, you'll need two adjustable wrenches and a set of Allen wrenches.
On the other hand, the maintenance doesn't require much once assembled. You have to grease the moving parts, check for loose bolts periodically, and retighten them as needed.
Pros
Sturdy, all-steel frame;
Several workout stations, including chest press station, pec fly station, low pulley station, high pulley crossover station, leg development station, pull-up bar;
Four-position bench included;
The bench is easy to remove or attach to the main machine;
Smooth pulley and cable movement;
Two sets of catch bars included, and nine attachment positions for them on the front bars of the cage;
Compatible with both Olympic and Standard weight plates;
Four storage pegs for weight plates;
Ankle strap included;
V bar included;
Shiver included;
Handle grips included;
Triceps rope included;
Over 100+ possible exercises;
Quiet operation.
Cons
Weight plates do not come with the machine;
The weight bar is not a regular Olympic bar, being 20 lbs lighter;
It takes quite a bit of space. 10 x 10 ft. is the usage surface area recommended for its proper usage;
Marcy SM-4008 Smith Combo Machine Summary
The Marcy SM-4008 is one of the most affordable Smith machines that you can find at the moment. The Smith also integrates five other workout stations, including a crossover station, pull-up bar, leg developer, low pulley, and pec fly. It's a mid-range machine with a load limit of 300 lbs for the bar and 200 lbs for the crossover regarding weight capacity.
It's a versatile home gym system, offering the possibility to perform more than 100+ exercises and variations. And finally, since it costs less than $1,000, I can safely say that it provides excellent value for the price.
I hope you found this article helpful and informative. Would you please speak up if you have anything you'd like to share on the topic or any opinions about my website? I look forward to your comments, questions, and the sharing of ideas.
Please remember that you should consult your physician before starting any exercise program to determine if you have any medical or physical conditions that could put your health and safety at risk or prevent you from using the equipment properly. In addition, your physician's advice is essential if you are taking medication that affects your heart rate, blood pressure, or cholesterol level.