Challenge your speed and endurance with the Sunny SF-T7874 Performance Treadmill with Auto Incline by Sunny Health and Fitness. The 54L x 18W inch running deck, which can support up to 285 lbs, is equipped with shock absorption technology. Powered by a peak 3-HP motor, this foldable treadmill supports speeds from 0.6 to 11 mph.
Increase your workout intensity by adjusting the 15 levels of automatic incline on the home treadmill. Use the digital console to control your workout experience with a few taps. Change speed and incline values instantly with the large quick-start buttons or handrail controls.
Use the 7-inch performance console to track your time, heart rate, distance, incline, and calories burned. Choose to display your speed or distance in Imperial or metric units. Enjoy 14 preset workout modes and three customized user programs. Get your heart-rate data in real-time when you grab the pulse grips during your exercise.
Use the pre-installed BMI calculator to create specific workouts and target goals for your particular weight category. After your workout, fold the running deck upright to save space. Then, move the portable treadmill from room to room with easy-to-use transportation wheels.
Learn more in my complete review below!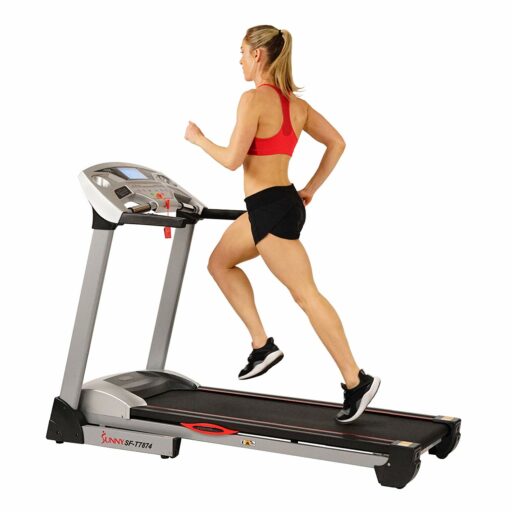 Product: Sunny SF-T7874 Performance Treadmill
Price: For a great deal on this treadmill, merely go here to Sunny Health & Fitness.com
Warranty: Frame 3 years / Parts 180 days
My rating: is 8/10
Affiliate Disclosure: As a Sunny Health & Fitness Affiliate Program participant, I earn commissions on purchases made through links in this post. Full disclosure
Details and Specifications
Assembled dimensions: 70″L x 31″W x 51″H (178L x 79W x 130H cm)
Tread belt dimensions: 54″L x 18″W (137L x 46W cm)
Assembled weight: 153 lbs (69 kg)
Weight capacity: 285 lbs (130 kg)
Motor: 3.0 HP
Speed range: 0.6 – 11 MPH
Incline: Automatic, 0%-15%
Deck cushioning: Included
Console: 14 preset programs, three custom programs, BMI,
Extras: Sound system, bottle holders
Warranty: Frame 3 years / Parts 180 days
SF-T7874 Frame Construction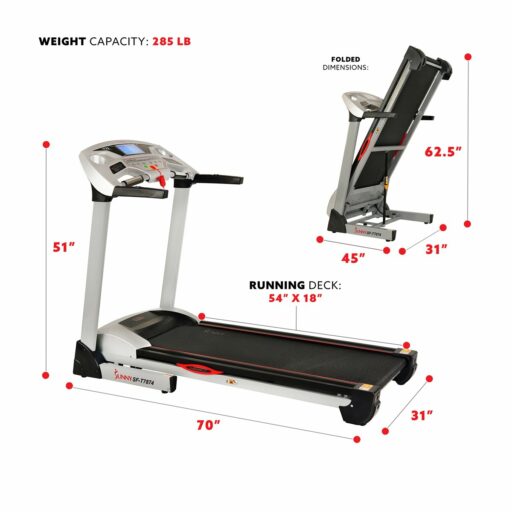 The Sunny SF-T7874 features a durable steel frame but integrates several ABS parts. For example, the covers of the side rails are ABS made and have a rubberized layer on top to prevent foot slippage. In addition, the motor cover and the front dashboard that incorporates the console are made of ABS material.
The fully assembled unit is pretty significant. It takes approx—70″L x 31″W (178 x 79 cm) of floor space. Plus, you should allow at least two feet of clearance on each side of the unit and at least three feet at the rear of the deck for safe usage and easy access.
Also, with the deck folded up, the unit's length reduces to 45″ (114 cm), while its height reaches approx — 62″ (157 cm).
Compared to other treadmills, the SF-T7874 isn't extremely heavy. But it still weighs approx. 153 lbs (~69 kg). Therefore, two people should transport and unbox the machine. Conversely, once assembled, its relocation is via the bases that come with wheels.
The SF-T7874 also has a folding design. Thus, it is quite a plus because you can save space while the unit is not in use, lock the deck upright, and easily vacuum under it. In addition, its folding mechanism involves a hydraulic cylinder that delivers a "soft drop" when you unfold the deck, preventing it from falling and sustaining damage.
I have to mention one last aspect the unit's paint finish. The Sunny SF-T7874 features a durable powder coating on all its metallic parts, resistant to corrosion and abrasion. The color is light-gray, with the "Sunny" logo painted red.
Deck
The machine's deck has a maximum user weight capacity of 285 lbs (130 kg). It uses a non-slip belt which provides a running surface of 54″L x 18″W (137 x 46 cm). Thus, the treadmill comfortably accommodates users up to 6'0″ (183 cm), allowing a complete stride.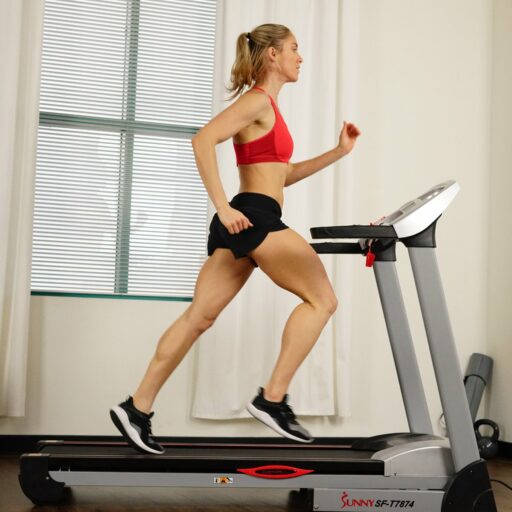 The deck integrates two cushioning elements closer to the front to alleviate shock generated during each foot strike. Therefore, running on this treadmill should reduce workout-related pain more than running on asphalt or concrete.
SF-T7874 Incline and step-up height
The Sunny Health & Fitness SF-T7874 treadmill comes with a motorized incline system. Therefore, you can only adjust its incline from the console or the controls integrated into its left handlebar. The machine requires a connection to a power source to operate these features. Also, specific programs auto-adjust the incline throughout their duration.
The machine's incline system consists of a small motor and lifts under the deck's front part. As you adjust the incline, the front of the deck will slowly elevate. It provides an incline range between 0% and 15%, the incline increments being 1%.
The console offers controls for gradual incline adjustment, but they're also keys to quickly selecting the 5%, 10%, and 15% incline.
The step-up height of the running platform is approximately 9″ (23 cm). Also, the maximum incline elevates its front part by at least a few extra inches. Therefore, make sure that the ceiling height in the room where you will be using the machine is at least 22″-23″ (56-58 cm) higher than the tallest user to avoid any issues.
Drive motor
The motor of the Sunny SF-T7874 delivers a peak power of 3.0 HP. It's a mid-range motor incorporates a small flywheel to minimize vibration and promote smooth movement for the belt.
The machine's drive motor offers a speed range between 0.6 and 11 MPH. Depending on the console's setup, the adjustment increments are 0.1 MPH or 0.1 km/h. Thus, the machine offers excellent micro-adjustment, allowing you to find the exact speed that fits your pace and stride.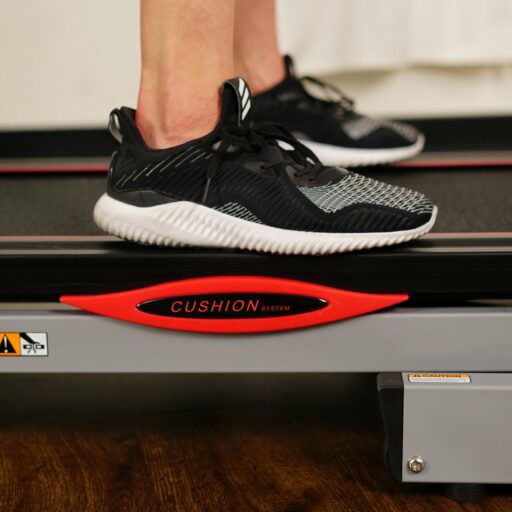 The console controls gradual speed adjustment, but they're also quick selection controls for 3 MPH, 6 MPH, and 9 MPH. The right handlebar also features controls for gradual speed adjustment.
SF-T7874 Console
This Sunny treadmill comes with a mid-range programmable console. It does not have Bluetooth or online capabilities but does offer plenty of workout programs and other features to keep you motivated.
The console features a 7-inch LCD with an LED backlight and significant digits to provide superior readability. It monitors time, distance, calories burned, pulse, speed, and incline. It also shows the grid with the profiles of the workout program in use.
You can select either Metric units or Imperial units for speed and distance. For pulse reading, you must use the sensors integrated into the front handlebars of the machine. The console is not telemetric and cannot read your pulse through a wireless HR chest strap transmitter.
The Sunny SF-T7874 treadmill offers one manual program, 14 preset, and three customized workout programs. The Manual program allows you to start the machine and adjust the speed and incline throughout your workout sessions.
The preset programs are divided into 20 segments, each with a duration of 1/20 of the set time. The default timer of each program is 30 minutes, but you can always change it. In addition, the preset programs auto-adjust both the speed and the deck's incline, depending on the current segment.
The console offers three user profiles; for each, the user can set up their gender, age, height, and weight. They can also create a custom program with specific incline, speed, and duration settings, save it, and re-use it any time they want.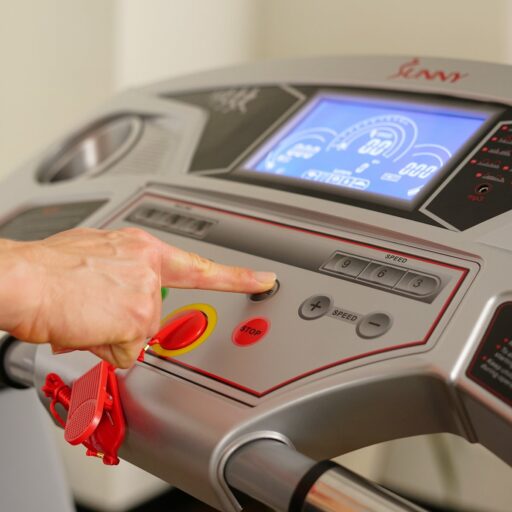 There is also a BMI function (Body Fat Calculator). The machine can calculate your Body Fat Index based on your data (age, gender, height, and weight). Therefore, you can keep better track of your progress.
Amenities
In terms of non-fitness features, there are only two notable ones. These are the integrated sound system and bottle holders. The sound system consists of two speakers placed on each LCD side.
This sound system is compatible with most MP3 players, smartphones, or tablets. In addition, there is an audio 3.5 mm aux port to connect your device and play your music through the incorporated speakers. And finally, the two bottle holders are cylindrical and large enough to accommodate most hydration bottles.
SF-T7874 Assembly and Maintenance
Like many other treadmills, the machine's deck with its motors, belt, rollers, and other parts comes pre-assembled. Then, you must attach the two front masts, the console, and several other small covers.
Therefore, it shouldn't take more than 30 minutes of your time. In addition, all the necessary tools required come with the treadmill, and the manual provides precise assembly instructions.
For maintenance, the belt requires periodic lubrication. It also needs to be lubricated before the first use. A bottle of lubricant comes with the machine, and the manual provides all the instructions for this task.
In addition, it is advisable to keep the running belt clean to prevent any small objects, textile fibers, or dirt from being dragged into the motor. And finally, you should also periodically inspect the unit for loose or damaged parts to re-tighten or replace them before accidents happen.
Pros
Sturdy frame construction – can hold users up to 285 lbs;
Folding deck;
Shock absorption elements on each side of the deck;
Motorized incline, 0% – 15%;
3.0 CHP motor, with a speed range between 0.6 – 11 MPH;
Speed can be adjusted at increments of 0.1 MPH, allowing you to find the perfect pace for your workout;
EGK pulse sensors integrated into the front handlebars;
7-inch multi-panel LCD console with LED backlight;
The console display shows time, distance, speed, incline, calories, and pulse;
14 preset workout programs;
Three custom programs;
BMI function;
The sound system included;
Bottle holders included;
Reasonably easy to assemble;
Little maintenance is required.
Cons
There is no tablet holder;
The console does not have online connectivity;
The console is not telemetric.
Sunny SF-T7874 Performance Treadmill Summary
The Sunny Health & Fitness SF-T7874 is a mid-range treadmill designed for home use. It comes with a 3.0 HP motor, a motorized incline system with up to 15% incline, an LCD console with 18 workout programs, and a BMI calculator.
It's a reasonably sturdy machine that can support users up to 285 lbs. However, it's not an extremely large treadmill and has a hydraulic deck folding system.
Moreover, it's an excellent machine for muscle toning, stamina development, light to intense cardio training, and weight loss. It's not one of the most affordable treadmills available, but it does offer excellent quality for the price.
I hope you found this article helpful and informative. Would you please speak up if you have anything you'd like to share or any opinions about my website? I look forward to your comments, questions, and the sharing of ideas.
Please remember that you should consult your physician before starting any exercise program to determine if you have any medical or physical conditions that could put your health and safety at risk or prevent you from using the equipment properly. In addition, your physician's advice is essential if you are taking medication that affects your heart rate, blood pressure, or cholesterol level.