The FDF Evolution E-316 Fluid Rower is a premium quality commercial rowing machine designed to accommodate all fitness levels and heavy-use facilities. Featuring FDF's variable fluid resistance technology, this water rowing machine accurately simulates propelling a boat through the water, with the rower experiencing an instant catch and continuous resistance.
Delivering a massive range of adjustable resistance, the FDF Evolution E-316 Fluid Rower has an angled tank with a straight-line configuration for an unrivaled stroke profile. The convenience of this water resistance technology means you can change the intensity mid-workout to meet individual fitness goals and accommodate multi-user training.
The E-316 fluid rower by First Degree Fitness has a small footprint with complete mobility and a compact vertical storage option, making it ideal for group classes, cardio areas, and quality home gyms. Designed with commercial-grade quality, the E-316 fits perfectly in a semi- or full commercial or home environment.
The E-316 is standard with an Interactive Performance Fitness Monitor. It displays all-important workout feedback, such as time, speed, and distance. The integrated Heart Rate receiver also measures your pulse using an HR chest strap. Unfortunately, the HR chest strap does not come with the rowing machine.
Learn more in my complete review below!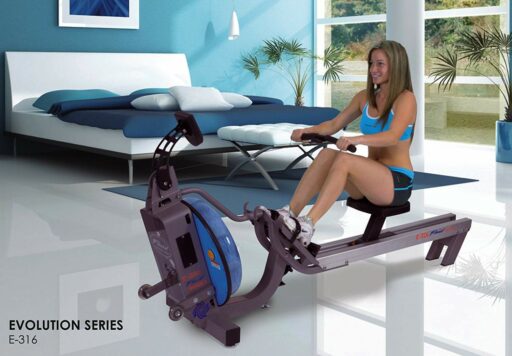 Product: FDF Evolution E-316 Fluid Rower
Price: For a great deal on this rower, merely go here on Amazon
Warranty: Frame 10 years / Tank and seals three years / Electronics 2 years / Wear items two years
My rating: is 9/10
Affiliate Disclosure: As an Amazon Affiliate Program participant, I earn commissions on purchases made through links in this post. Full disclosure
Details and Specifications
Assembled dimensions: 83L x 31.8W x 40H (211L x 80W x 102H cm)
Assembled weight: 121 lbs (55 kg)
Supported weight: 330 lbs (150 kg)
Frame: Aluminum/steel
Footrests: Adjustable, with straps
Resistance type: Water, adjustable (16 levels)
Fitness Monitor: Quickstart, manual programs, interval training, six previous workout memory, unique pacer system, USB port, online connectivity
Warranty: Frame 10 years / Tank and seals three years / Electronics 2 years / Wear items two years
E-316 Frame Construction
The first aspect to note is that the FDF Evolution E-316 fluid rower features sturdy construction, combining steel and aluminum elements. The front part of the frame, which hosts the water tank, is made of steel tubing, while the gliding rail of the seat comes with anodized aluminum for a smooth glide. The rear stabilizer is also steel-made.
The E-316 weighs approx. 121 lbs (55 kg). The front part of the frame features three adjustable stabilizers with rubber pads, while the rear base also has rubber pads for an excellent grip on the floor. The frame does not fold; however, it stores vertically, resting on the water tank base. The front part also has two transport wheels that facilitate the machine's relocation. If you're wondering, water can remain in the tank while stored vertically.
The First Degree Fitness E-316 fluid rower takes quite a bit of usable space. When fully assembled, it is 83″ (211 cm) long and 31.8″ (80 cm) wide. In addition, you'll also have to keep at least two feet of clearance on each side and at the rear for safe operation. On the other hand, when stored vertically, its footprint is reduced to approximately 31″ x 40″ (80 x 102 cm).
The E-316's main rail is anodized aluminum, providing an exceptionally smooth glide for the seat. It's long enough to accommodate users above 6'5″ (196 cm), allowing for a full leg extension. It's also durable enough to support users up to 330 lbs (150 kg).
Finally, the steel parts feature a gray, corrosion-resistant paint finish. Furthermore, the aluminum rail has its natural polish, having only the machine's number and logo painted on it.
Seat, Footrest, and Pulling Handle
The seat features a contoured and textured finish to prevent slippage. It integrates a layer of padding to adapt to the user's shape. It slides on high-grade wheels with top-quality ball bearings designed to last a lifetime. The construction of the rail and seat conceals the wheels for maximum safety.
The seat is also set up pretty high, to the average height of an office chair, to provide easy entry and exit, an excellent feature for users with disabilities.
The FDF E-316 rower comes with oversized, adjustable footrests, heel guards and straps for maximum foot stability. However, their angle is not adjustable. Instead, they're attached to a fixed metallic plate at an average 45° angle.
The pulling handle is a slightly curved bar with rubber foam grips for improved ergonomics. It's attached to a heavy-duty nylon mesh strap, not a chain like the Concept 2 Model E, so it doesn't require maintenance.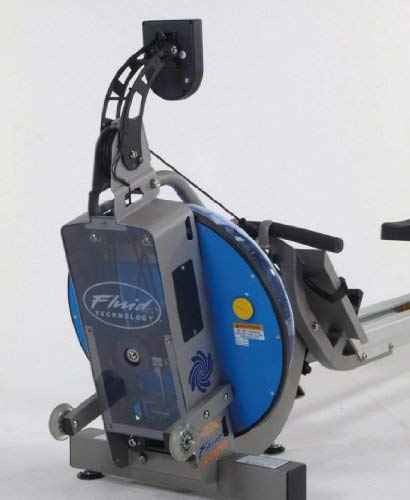 E-316 Water tank and resistance system
The FDF Evolution E-316 fluid rower has a slightly smaller water tank, which has a capacity of only two gals (7.6 liters). It's durable polycarbonate material and integrates a metallic, multi-blade flywheel.
Even though it's smaller than other models, it still has a dual chamber, offering 16 levels of resistance. The two-chamber system allows the water to transfer quickly from the active chamber to the storage chamber and vice-versa, facilitated by the dial on the tank's top.
Therefore, the machine will generate the maximum resistance level possible the machine will generate the maximum resistance level possible the machine will generate the maximum resistance level possible if you have all the water in the "active" chamberproviding pro athletes' training. Conversely, if you set the dial to the minimum level, most of the water will be transferred back into the storage chamber so that you will benefit from light resistance.
Regardless of the resistance system, since it's a fluid rower, it generates a dynamic response. For instance, the resistance also depends on the strength you put behind each stroke. So the harder or the faster you pull, the more resistance you will get.
Therefore, the rowing feel is similar to rowing a real boat. Also, the machine's operation is quiet, and most users have described the sound generated by the flywheel's spin in the water tank as "soothing."
Fitness monitor
The Evolution E-316 fluid rower from First Degree Fitness comes with the same fitness monitor as the E-520 model. However, it's an advanced monitor featuring an LCD with multiple panels, showing various workout metrics simultaneously, so you won't have to use a SCAN function.
The displayed data includes time, distance, speed, heart rate, watts, calories, revolutions per minute (RPM), strokes per minute (SPM), and 500/m units. In addition, you can select either imperial or metric units for speed and distance. The fitness monitor also integrates a heart rate receiver to communicate with various HR chest strap transmitters. Unfortunately, an HR chest strap does not come with this rower.
The machine's water tank offers 16 unprecedented resistance levels, so the monitor allows you to adjust the intensity level depending on the water tank's resistance setting. Therefore, you have to correlate the monitor's level with the tank's desired water levelt from a correct reading of calories, watts, and other parameters.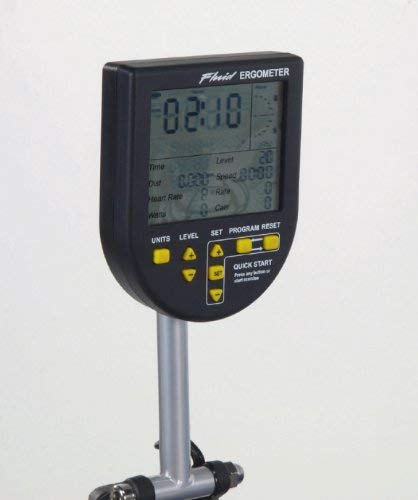 The fitness monitor offers several onboard, interval-based workout programs and goal-setting functions for time and distance. In addition, it has six previous workout memory, a unique pacer system, and online connectivity.
The monitor has a USB port, which makes its connection to a computer. You can connect it to your PC or laptop via USB cable and use various compatible online apps such as the NetAthlon 2 XF for rowers. You'll be able to compete with others or train solo in a virtual 3D environment, record your progress, and access web-based logging and ranking systems.
E-316 Assembly and Maintenance
The water tank comes pre-assembled and attached to the front part of the frame. However, the rest of the structure does require assembly. You will have to connect the front steel base to the tank part, the rail, the seat, the rear stabilizer, the transport wheels, and the footrests.
Consequently, it may take over an hour of your time. However, the provided manual provides clear assembly instructions and all the necessary assembly tools come with the rowing machine.
For maintenance, you will have to treat the water in the tank with one of the chlorine pills supplied every six months to prevent the formation of algae and keep the water clear. It would help if you also kept the rails of the machine clean. Furthermore, it's advisable to check the frame's integrity periodically; if there are any loose bolts and parts, you should re-tighten them as needed.
Pros
Sturdy construction, commercial grade build;
High user capacity, up to 330 lbs (150 kg);
Dual aluminum rail for extra stability;
It stores vertically, and the water doesn't require removal for storage;
Easy to handle and transport;
Adjustable stabilizers with large rubber caps at the front;
Water-resistance system, providing the most natural rowing feel that you can get;
Dual-chamber water tank, with 16 distinctive water resistance levels, from feather-light to Olympic level;
Ergonomic seat with a contoured and textured surface to prevent slippage;
Optional backrest for extra lumbar support;
High seat placement for easy entry and exit;
Advanced, multi-panel fitness monitor which tracks time, 500m time, pulse, distance, strokes per minute, watts, RPMs, and calories;
The USB connection for online workout data tracking or competing with other rowers;
The fitness monitor is telemetric and works with most wireless HR chest straps;
Smooth and quiet operation;
Rower for users of all levels;
Little maintenance is required;
Easy to assemble;
Tools for assembly included;
Excellent warranty.
Cons
No LED backlight on the fitness monitor LCD;
An HR chest strap does not come with the rowing machine.
FDF Evolution E-316 Fluid Rower Summary
The First Degree Fitness Evolution E-316 Fluid Rower is a commercial-grade fluid rower featuring a dual-chamber water tank with 16 levels of resistance. It comes with a versatile, telemetric, and online-capable fitness monitor. In addition, it features a very sturdy construction with a steel/aluminum combo frame and a high seat for easy entry and exit.
It's an excellent machine for users of all levels, from beginners to Olympic-level athletes. It is perfect for a full-body cardio workout, interval training, endurance building, weight loss, and rehab. Since it's a commercial machine, it's not cheap; however, it offers excellent value for the price.
I hope you found this article helpful and informative. Would you please speak up if you have anything you'd like to share on the topic or any opinions about my website? I look forward to your comments, questions, and the sharing of ideas.
Please remember before starting any exercise program; you should consult your physician to determine if you have any medical or physical conditions that could put your health and safety at risk or prevent you from using the equipment properly. In addition, your physician's advice is essential if you are taking medication that affects your heart rate, blood pressure, or cholesterol level.