Rack up a more muscular and bulkier physique with the Marcy MWM-7041 Weight Cage Home Gym System! Engage in intense training without having to leave the comforts of your home or pay club membership fees with this multifunctional home gym system!
Its cable system generates a 1:1 ratio of resistance from weights loaded on the sliding weight post. For example, 100 pounds of weight plates make 100 pounds of resistance. As a result, it can be used as a power rack to safely perform the most beneficial compound exercises like bench presses and squats without a spotter's need.
The pulley system helps practice cable exercises like lat pulldown or rowing. In addition, the multi-grip pull-up and dip bars let you do bodyweight training. And, you can keep your home gym in order thanks to the weight plate storage.
The Marcy MWM-7041 Weight Cage Home Gym is a compact machine with many functions for a total body workout. This strength training equipment is very versatile and gives a good workout experience. On top of that, its price is affordable as well.
Learn more in my complete review below!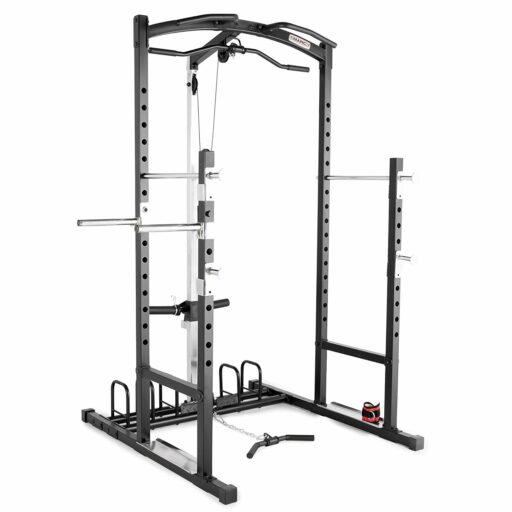 Product: Marcy MWM-7041 Weight Cage Home Gym
Price: For a great deal on this gym, merely go here on Amazon
Warranty: 2 years
My rating: 9.25/10
Affiliate Disclosure: As an Amazon Affiliate Program participant, I earn commissions on purchases made through links in this post. Full disclosure
Please note that the Olympic weight bar and plates do not come with the weight cage.
Details and Specifications
Assembled dimensions: 61D x 56W x 85H inches (155L x 142W x 216H cm)
Weight capacity:

Dip bars & chin-up bars: 300 lbs (136 kg)
Safety bars & catch bars: 300 lbs (136 kg)
Weight plate rack: 410 lbs (186 kg)
Dumbbell/kettlebell tray: 265 lbs (120.2 kg)
Sliding weight post: 220 lbs (100 kg)

Frame: Steel
Possible exercises: 50+
Warranty: 2 years
MWM-7041 Frame Construction
Even though it's not considered a commercial-grade strength cage, the Marcy MWM-7041 still has a sturdy construction featuring a steel frame coated with corrosion-resistant paint. The color used for most steel parts in its construction is black. However, the dip, catch, and safety bars have a chrome finish.
The frame has a relatively simple construction with an H-type base. As a result, the front upright bars are shorter than the rear ones. But overall, the cage offers nine height positions for the safety bars and 11 places for the catches. Evidently, for the dip bars, there are nine possible positions.
This strength cage isn't giant. Its footprint is 61″D x 56″W (155 x 142 cm) but does require more usable space than this, especially if you're going to use an Olympic bar. Therefore, you will need a usage area of at least 8'W x 7'D (244 x 214 cm). In addition, its height exceeds seven ′; it's 85″ (216 cm) high so it won't fit in a room with a seven ′ ceiling.
You'll need to assemble it and use it in a room with a ceiling of at least eight ′ to perform all the pull-up exercises without any hindrance.
The cage bases don't have any holes for anchoring them to the floor and don't have adjustable stabilizers. However, it weighs over 200 lbs, to which you may add weight plates on the racks so that stability won't be a problem. Due to its weight, it's a good idea to assemble it and use it on a rubber mat to prevent floor damage.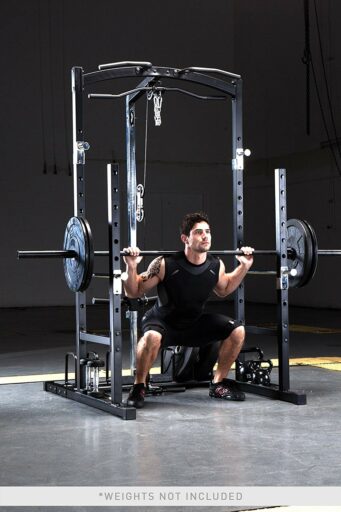 Parts and Accessories
The side bases of the frame integrate racks for dumbbells and kettlebells. In addition, the rear part features a rack for weight plates. The dumbbell/kettlebell racks are rated for 265 lbs (120.2 kg), while the rear rack has a weight capacity of 410 lbs (186 kg).
The Marcy MWM-7041 strength cage comes with dip bars and chin-up bars. They're both rated for 300 lbs (136 kg) weight capacity. In addition, both sets feature high-density foam grips to provide optimal comfort.
The integrated pulleys are made of durable nylon material. They integrate sealed ball bearings for smooth operation. The cable is steel-made and rated for loads up to 1,000 lbs, much more than the sliding weight post's capacity of 220 lbs (99.7 kg).
The sliding weight post comes with standard pegs. However, a set of Olympic plate adapters come with the cage. You can use both Standard and Olympic weight plates, and a set of spring collars come with the cage.
Finally, there are several accessories included with this Marcy strength cage. These are the lat bar, the short row and curl bar, and the ankle cuff.
MWM-7041 Workout stations
With the safety bars and catchers, the power cage allows you to execute squats or chest presses (if you also have a bench). Nine positions are available for the safety bars and 11 places for the catchers on the rear upright bars.
Dip station – consists of two quickly adjustable dip handles with rubberized grips, rated for 300 lbs (136 kg). The dip handles can mount on each one of the safety bars, inside or outside the cage. They're approx. 20″ (51 cm) long.
Lat pulldown station – offers the possibility to perform various exercises for the back, arm, and shoulder muscles, including the lat bar. As mentioned above, the lat pulldown slider's weight capacity is 220 lbs (100 kg). It can accommodate both standard and Olympic plates, as it includes adapters. Its weight resistance is 1:1. If loaded with 100 lbs of plates, the lat station or the low pulley station will generate 100 lbs of weight resistance.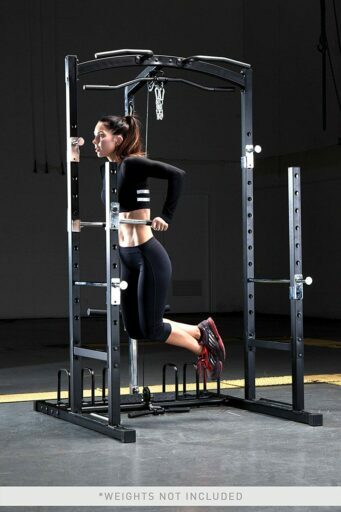 Low pulley station – offering to perform stand-up curls, seated rows, kickbacks, or leg abductions. A short bar is also (supplied) for this particular workout station.
Pull-up station – this workout station consists of two curved bars featuring rubber foam grips. They offer the possibility to perform wide-grip pull-ups and close and parallel grip chin-ups and pull-ups.
Possible Exercises
Pull-ups
Wide grip pull-ups
Muscle pull-ups
Behind head pull-ups
Around the world, pull-ups
One-arm pull-ups
Cliffhangers
Weighted pull-ups
Chin-ups
Close grip chin-ups
Wide grip chin-ups
One hand chin-ups
Weighted chin-ups
Parallel grip pull-ups
Parallel grip chin-ups
Hanging knee raises
Hanging leg raises
Dips
Assisted dips
Weighted dips
Band-resisted dips
Dip to leg raise
Side-to-side dips
Gironda dips
Reverse Gironda dips
Lat pulldowns
Close-grip pulldowns
Behind head pulldowns
Aerobic rowing
Kneeling rowing
Biceps curls
Triceps press downs
Chest presses
Single-arm chest presses
Wide grip chest presses
Close grip chest presses
Cable crunches
Cable twist crunches
Seated trunk rotations
Standing trunk rotations
Stand-up leg curls
Calf raises
Sit-ups
Squats
Single-leg squats
Kneeling single-leg squats
Wide squats
Twisting squats
Jumping squats
Hip extensions
Hip adductions/Hip abductions
and more
Of course, some of these exercises require a bench, which does not come with the cage. In addition, an Olympic bar and weight plates also do not come with the cage.
MWM-7041 Assembly and Maintenance
The Marcy MWM-7041 strength cage will take up to several hours due to the many parts requiring assembly. Therefore, two people should do the construction. However, the assembly process is straightforward. Plus, the supplied manuals offer comprehensive, step-by-step instructions for it.
In addition, some of the tools required for assembly, such as the Allen wrenches, come with the cage. However, you will also need two adjustable wrenches, a Phillips screwdriver, and a rubber mallet.
For maintenance, you may need to lubricate the pulleys from time to time. Also, periodically check for loose bolts and parts and re-tighten them if necessary.
Pros
Sturdy construction, excellent stability;
Five workout stations, including lat pulldown station, pull-up/chin-up station, low pulley station, dip station, and the cage itself;
Smooth pulley and cable movement;
11 attachment positions for the catch bars and safety bars;
Nine attachment positions for the dip handles;
Olympic plate adapters for the weight slider are included;
Weight plate rack and kettlebell/dumbbell trays;
Dip handles included;
Lat pulldown bar included;
The short bar for low pulley exercises included;
Ankle cuff included;
Over 50+ possible exercises;
Quiet operation;
Little maintenance is required.
Cons
The assembly isn't exactly easy and will take several hours;
The weight capacity of the safety bars and catchers isn't extraordinary. However, 300 lbs should be enough for beginners and intermediate users.
Marcy MWM-7041 Weight Cage Summary
The Marcy MWM-7041 is a strength cage with a lat pulldown station and a low pulley. It also includes pull-up bars and dip bars, rated for 300 lbs of weight capacity. It's a versatile strength cage, offering the possibility to perform over 50+ gym-quality exercises involving most muscle groups.
It may not be the best choice for professional powerlifters; however, it is perfect for beginners and intermediate users. And finally, it won't break the bank as it is affordable.
I hope you found this article helpful and informative. Would you please speak up if you have anything you'd like to share on the topic or any opinions about my website? I look forward to your comments, questions, and the sharing of ideas.
Please remember that you should consult your physician to determine if you have any medical or physical conditions that could risk your health and safety or prevent you from using the equipment properly. In addition, your physician's advice is essential if you are taking medication that affects your heart rate, blood pressure, or cholesterol level.