The Body-Solid GDCC200 Functional Trainer has been designed with a minimal frame width and depth to ensure the overall footprint isn't too large. Thus, making it ideal for more compact home gyms. Although the frame width is as narrow as possible, Body-Solid hasn't sacrificed any versatility when combining this trainer with a high-quality bench.
If you've ever used a cable trainer in the past, you'll undoubtedly have realized the almost limitless range of exercises you can perform. Therefore, it is particularly true when combining the cables with optional attachments, such as the GDCC pressing bar, straight bar, or rope.
Iso-lateral movements also give you much greater freedom of movement than a smith machine or single cable pulley system can provide. Thereby creating a more significant stretch and contraction in the muscles you're training.
With a space-saving footprint, dual independent weight stacks, user-friendly ergonomics and adjustability, and precision-fitted components, the Body-Solid GDCC200 represents unbeatable value in today's advanced fitness market.
Learn more in my complete review below!
Product: Body-Solid GDCC200 Functional Trainer
Price: For a great deal on this gym, merely go here on Amazon
Warranty: Frame lifetime / Hardware lifetime / Wear parts lifetime
My rating: is 9/10
Affiliate Disclosure: As an Amazon Affiliate Program participant, I earn commissions on purchases made through links in this post. Full disclosure
Details and Specifications
Assembled dimensions: 72.5L x 42.3W x 83.8H inches (184L x 107W x 213H cm)
Assembled weight: 514 lbs (233.1 kg)
Weight resistance system: Steel plate stacks
Max. weight resistance: 2 x 165 lbs (73 kg), including the 5 lb adapter plate (1/2: 1 ratio)
Possible exercises: 25+
Warranty: Frame lifetime / Hardware lifetime / Wear parts lifetime
GDCC200 Frame Construction
This functional trainer machine features a heavy, durable and stable frame made of 11-gauge, 2″ x 4″ ovalized steel tubing. The tubes of the main structure have anti-corrosive and scratch-resistant paint (gray). However, the guideposts of the handles feature a chrome finish.
When fully assembled, the machine weighs approx. 514 lbs (233 kg) means it's not easy to move. That's why it should be transported box by box and assembled in the room where it will be used. In addition, the machine's bases feature rubberized stabilizers to protect the floors and enhance their stability.
Although the Body-Solid GDCC200 is not the most extensive home gym machine, it still requires space. It has a footprint of 72.5″L x 42.3″W (184 x 107 cm). Also, it requires at least one ′ (30 cm) of clearance on each side and approximately three ′ (91 cm) at the front, so you won't experience any hindrance during exercises. Also, the machine is almost seven ′ tall when it comes to height. Thus, it will be quite a tight fit if you install it in a room with a seven ′ ceiling.
When it comes to user weight capacity, there's none specified. However, the machine is sturdy enough to support users more massive than 300 lbs. Regarding the user's height; this machine is designed for users up to 6'3″ – 6'4″, as the pull-up bar is only approx. Seven ′ (213 cm) above floor level.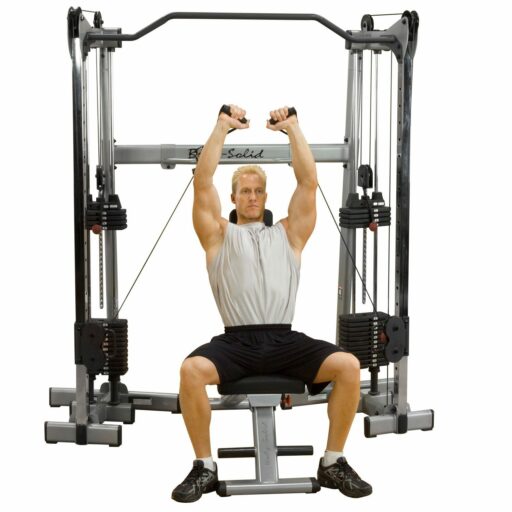 Therefore, taller users won't hang from the bar during pull-ups entirely. Also, they may require a bit closer to the floor for lat pulldowns.
Pulleys
The pulleys are made of heavy-duty nylon material and fiberglass reinforced, made to last for many years. Also, they integrate industrial-quality sealed ball bearings for a prolonged lifespan. The cables are 4.8mm diameter spun steel aircraft, rated to over 2,500 lbs resistance.
The wires come coated with PVC sheets, which evidently will wear out over time. However, even if the cables' PVC sheets have worn out completely, the cables shouldn't require replacement.
In particular, the pulleys' nylon material is exceptionally dense and durable and will wear out very slowly. That's one of the reasons the pulleys, cables, and other parts of the machine come with a lifetime home warranty.
Another aspect of the machine's pulleys and cables is that the main handles offer 20 height adjustment positions. They can also rotate 180° on the guideposts, offering various positions for various exercises.
Optional accessories
First, the machine comes with a dual-grip pull-up bar and 360° handles. However, a press/pulldown bar accessory is available but not included with the machine.
This bar connects to both cables of the weight stacks for bench presses, incline presses, squats, stand-up bar curls, or shoulder presses. So, if you want to order it too, the part number is GDCCBAR.
There are upgrades for the weight stacks on the list of available options for the machine. Each stack is upgradeable with five more plates (50 lbs).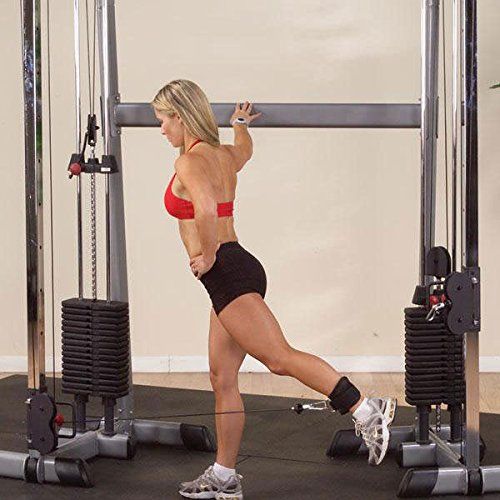 GDCC200 Weight Resistance System
For my review, this Body-Solid functional trainer comes with two stacks of steel alloy plates, 165 lbs (73 kg) each consisting of (32) – 10 lb plates and (2) – 5 lb. adapter plates. Each plate weighs 10 lbs (4.5 kg), so the weight increments are 10 lbs. Furthermore, the weight ratio of this machine is 1/2:1. Thus, the maximum load per stack is 82 lbs (36.6 kg).
Each weight stack is upgradable, though. Available with dual 165, 215, 270, and 320 lb. weight stacks. They are:
165 lb. weight stacks Include: (32) – 10 lb plates, (2) – 5 lb. adapter plates
215 lb. weight stacks Include: (42) – 10 lb plates, (2) – 5 lb. adapter plates
270 lb. weight stacks Include: (20) – 10 lb and (20) – 15 lb plates, (4) – 5 lb. adapter plates
320 lb. weight stacks Include: (40) – 15 lb plates, (4) – 5 lb. adapter plates
A set of stickers specifying the plates' weight comes with the machine to place on the weight plates in ascending order, top-to-bottom.
BODY FOCUS
Abs
Biceps
Delts
General Fitness
Lats
Obliques
Physical Therapy
Shoulders
Traps
Triceps
EXERCISES
Pec Fly
Bench Press
Incline Press
Decline Press
Pull Over
Crossover
Upright Row
Deltoid Raise
Shoulder Press
Wide Grip Front Lat Pulldown
Close Grip Front Lat Pulldown
Bent-Over Row
Seated Row
Shoulder Shrug
Ab Crunch
Oblique Bend
Biceps Curl (standing)
Tricep Press Down
Tricep Extension
Glute Kick
Outer Thigh Abduction
Inner Thigh Adduction
Reverse Fly
Curl Grab
Front Grab
Hang Crunches
Crunch & Extend
Behind-the-Neck
Wing Chin-Up
Hanging Shoulder Shrugs
GDCC200 Assembly and Maintenance
First, this weight machine comes packaged in three boxes, one for the frame components and the other for the weight plates. Since it's a heavy machine, two people should transport and assemble it.
The assembly process itself is not complicated. A manual that provides step-by-step assembly instructions is (supplied). However, the provided assembly tools include only two hex keys, but you'll also need an adjustable wrench and a Phillips screwdriver. As a result, the whole assembly may take a few hours of your time.
For maintenance, there is not much required. However, the machine's joints, bolts, and nuts should require periodically checked and re-tightened if necessary. Also, some greasing is needed if the pulleys begin to make squeaking noises.
Pros
Sturdy, all-steel frame;
Fully adjustable pulley set, with 20 positions, to accommodate users of various sizes for different exercises;
4-way adjustable hand straps;
Smooth pulley and cable movement;
Ergonomic, dual-position pull-up bar;
Over 25 exercises available;
Works well with various types of benches, such as the Body-Solid GFID31 (sold separately);
Relatively small footprint for a home gym system;
Quiet operation;
Easy to set up;
Excellent warranty plan.
Cons
Only 1/2: 1 weight ratio for each stack – but this is pretty common for crossover machines;
Pulldown bar not included.
Body-Solid GDCC200 Functional Trainer Summary
The Body-Solid GDCC200 Functional Trainer is quite a versatile machine, offering the possibility to perform more than 25 gym-quality exercises. However, it's not exactly one of the cheapest home gyms.
In addition, it comes with 330 lbs of steel weight plates (32 each – 10 lb plates and 2 – 5 lb adapter plates). It's a highly sturdy machine that can last for many years; it stands up to the price.
The Body-Solid GDCC200 Functional Trainer puts core stability within your grasp by offering a limitless variety of balance-improving, coordination-enhancing, user-defined workout regimens. It's not for hardcore weight lifters, but for any beginner or intermediate user who doesn't have time to attend a gym, the Body-Solid GDCC200 Functional Trainer is a good investment.
I hope you found this article helpful and informative. Would you please speak up if you have anything you'd like to share on the topic or any opinions about my website? I look forward to your comments, questions, and the sharing of ideas.
Please remember that you should consult your physician to determine if you have any medical or physical conditions that could risk your health and safety or prevent you from using the equipment properly. In addition, your physician's advice is essential if you are taking medication that affects your heart rate, blood pressure, or cholesterol level.