The FR 810XLT Super Max Power Cage by Fitness Reality is for those looking for any workout to build and tone muscles, including heavy lifting. It is constructed with a tubular frame from 2″ x 2″ sturdy steel, making it heavy-duty and durable. The chrome plating gives it extra toughness as well.
There is abundant space for walking in to maneuver through various side exercises. The walk-in area is 50.5″ in length, 46.5″ in width, and 83.5″ in height. The total weight of the machine is 133.5 pounds when fully assembled. With the size of the FR 810XLT, there is a need for quite a bit of space to store it.
Safety should be at the top of the priority list when purchasing a power cage. You will be doing it alone when working out in your home gym. There will be no one there to help you if something goes wrong. With this in mind, it has two 3.25 inches long chrome lock-on safety bars and two 23 inches-long chrome dual-mounted safety bars; everything stays in place.
Along with completing heavy lifting workouts, grip bars for pull-ups are available so that back muscles, shoulders, and arms can get the work you want to strengthen those areas. Additionally, two stability bars are for the back of the FR 810XLT machine, which boosts this gym equipment's stability factor.
Learn more in my complete review below!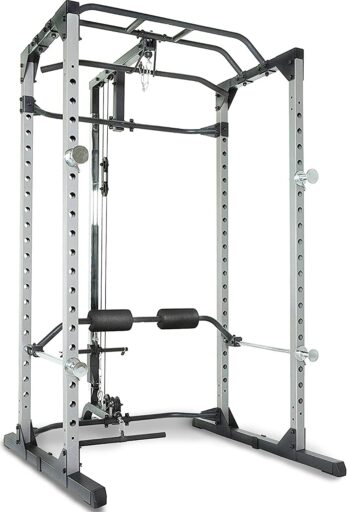 Product: FR 810XLT Super Max Power Cage by Fitness Reality
Price: For a great deal on this gym, merely go here on Amazon
Warranty: 1 year limited
My rating: 9.25/10
Affiliate Disclosure: As an Amazon Affiliate Program participant, I earn commissions on purchases made through links in this post. Full disclosure
Please note that the bench, weight bar, and weight plates pictured in the images do not come with the cage. 
Details and Specifications
Assembled dimensions: 68L x 46.5W x 84.5H inches (173L x 118W x 215H cm)
Assembled weight: 150+ lbs (68+ kg)
Weight capacity:
Cage & safety bars: 800 lbs (362.8 kg)
Lat pulldown attachment: 270 lbs (122.4 kg);
Upright bar positions: 19
Possible exercises: 40+
Warranty: 1 year limited
810XLT Frame Construction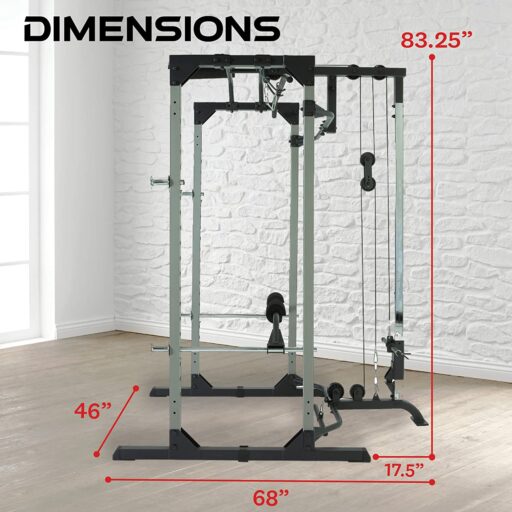 The FR 810XLT power cage features a heavy-duty frame made of 2″ x 2″ tubular steel. In addition, all the steel parts in its construction come powder coated with a corrosion-resistant finish.
The upright bars are gray, while the base bars, the top chinning bars, and the rear stabilizer bars are black. Furthermore, the vertical guide bar of the lat machine and the safety bars have a chrome finish.
The fully assembled cage with the lat machine attached is fairly large. It has a footprint of approx. 68″L x 46.5″W (173 x 118 cm), while its height exceeds 7′ (213 cm). Therefore, you will need an area of at least 100″ x 100″ (254 x 254 cm) for it and a ceiling height of at least eight feet (244 cm).
The FR 810XLT power cage is not extremely heavy, weighing more than 150 lbs (68 kg) without an attached barbell or weight plates.
Therefore, it offers excellent stability and doesn't need anchoring to the floor. Its base doesn't have pre-drilled holes for this purpose. They rest on ABS pads for floor protection, but it is advisable to assemble and use the unit on a rubberized mat.
The cage upright bars have 19 attachment positions for the safety bars or the dip bars; if you opt for them, they do not come with the cage. However, two 23″ (58.4 cm) safety bars and two every three 1/4″ (8.2 cm) catch bars come with the cage. Specifically, they all have a chrome finish and have maximum weight loads of up to 800 lbs (362.8 kg).
Furthermore, the cage does include the knee stopper attachment, which features two extra-thick foam rollers for superior comfort.
Lat Attachment
The included Fitness Reality 710 lat attachment comes with seven heavy-duty pulleys that integrate ball bearings for smooth movement and a long lifespan. The cable's exact tensile strength is not specified, but a steel cable with a nylon coating withstands much more than the lat machine's maximum load.
The FR 810XLT power cage and lat attachment system include a short bar for low rows, a curved bar for lat pulldowns, a short extension chain, and two spring clips for the lat attachment pegs.
810XLT Optional Accessories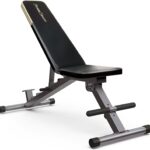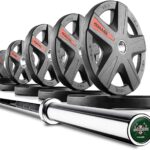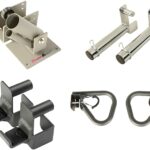 A bench does not come with the FR 810XLT power cage, but you can opt for the FR 1000 bench.
Also, the FR 2819 Attachment Set for the 810XLT Power Cage consists of the following:
Set of 2 –  9″ long extended weight plate holder shaft;
Landmine attachment with 360-degree rotation fits 1″ Standard and 2″ Olympic Bars;
Set of 2 – J hooks- triangular support design for added strength;
Set 2 – Dip bars- patent-pending multi-grip dip, pull-up, and push-up handles.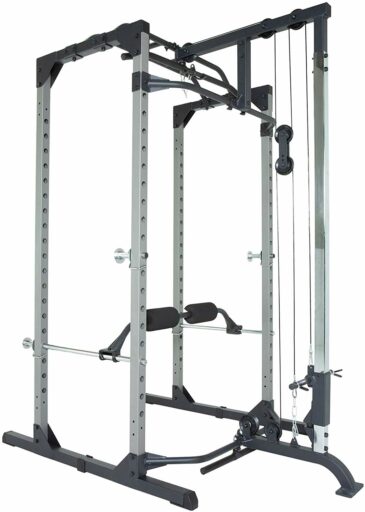 For your convenience, I also include a link for a 7′ Olympic Bar and 255 lb set of TEXAS STAR rubber-coated Olympic weights: (2) 45 lb, (2) 35 lb, (2) 25 lb, (2) 10 lb, (4) 5 lb, and (2) 2.5 lb plates. Barbell Collars (Pair) – Locking 2″ Olympic Size Weight Clamps – Quick Release Collar Clips.
Workout stations
The FR 810XLT power cage with lat attachment offers four main workout stations. These are:
Power cage. Like any other power cage, the 810XLT allows you to perform squats, curls, shrugs, or other exercises safely using a heavy barbell. However, a barbell and weight plates do not come with the cage.
Pull-up and chinning station. This workout station consists of two curved parallel bars attached to the top of the cage. They have a multi-grip design, offering the possibility to perform all types of pull-up and chin-up exercises. However, the weight capacity is not (specified) for these top bars, which means that you should be able to perform any weighted pull-ups or chin-ups without any issues.
High-pulley station. It's the primary workout station for the lat machine. For this purpose offers the possibility to perform lat pulldowns, tricep press-downs, and many other high-pulley cable exercises. As I've' mentioned above, a standard 39″ (96.5 cm) lat bar comes with the cage. In addition, it has rubberized curved grips for optimal comfort.
Low-pulley station. The unit's low pulley allows the execution of seated rows, stand-up curls, or other low-pulley exercises. A short bar with rubberized handles comes with this workout station.
810XLT Weight Resistance System
Unfortunately, the FR 810XLT power cage with a lat attachment does not include a barbell and weight plates. Therefore, the lat attachment does not have a weight stack, but two Standard pegs (1″ in diameter) can hold dumbbell or barbell weight plates. Each peg of the lat machine moving element measures 6.5″ (16.5 cm), so it can have at least a few plates.
The lat machine does not include Olympic sleeve adapters for 2″ plates, but you can set and load the lat machine with Olympic plates. Also, a collection of 1″ springs for fixing Standard plates comes with the cage.
The lat machine's moving element has a maximum weight capacity of 270 lbs (122.4 kg). However, the exact weight ratio provided by the lat machine is not specified.
Possible Exercises
Pull-ups
Wide grip pull-ups
Muscle pull-ups
Behind head pull-ups
Around the world, pull-ups
One-arm pull-ups
Cliffhangers
Weighted pull-ups
Chin-ups
Close grip chin-ups
Wide grip chin-ups
One hand chin-ups
Weighted chin-ups
Hanging knee raises
Hanging leg raises
Dips
Assisted dips
Weighted dips
Band-resisted dips
Dip to leg raise
Side-to-side dips
Gironda dips
Reverse Gironda dips
Lat pulldowns
Close-grip pulldowns
Behind head pulldowns
Aerobic rowing
Kneeling rowing
Biceps curls
Triceps press downs
Chest presses
Single-arm chest presses
Wide grip chest presses
Close grip chest presses
High-pulley crunches
High-pulley twist crunches
Seated trunk rotations
Standing trunk rotations
Stand-up leg curls
Calf raises
Sit-ups
Squats
Single-leg squats
Kneeling single-leg squats
Wide squats
Twisting squats
Jumping squats
Hip extensions
Hip adductions/Hip abductions
and more
Of course, some of these exercises require extra accessories. For example, chest presses call for a bench, while dip exercises need dip handle attachments, which do not come with the cage. But, of course, if you don't opt for the bench for lat pulldowns, you can always use a chair.
810XLT Assembly and Maintenance
The machine requires complete assembly. It comes in several boxes, and the process will take at least a few hours. However, the included manuals provide pretty clear assembly instructions, and some of the tools for assembly come with the cage.
Once assembled, maintenance doesn't require much. However, the lat machine moving element's guide bar may need periodic lubrication to smooth the load. It is also advisable to periodically check the unit for loose bolts and parts and re-tighten them if required.
Pros
Sturdy, all-steel frame – can support loads up to 800 lbs;
Four workout stations, power cage, including lat pulldown station, pull-up/chin-up station, and low pulley station;
The enclosure is for seven ′ barbells;
Smooth pulley and cable movement;
Chrome-plated catch bars and safety bars rated for 800 lbs capacity;
19 attachment positions for the catch bars and safety bars;
Knee stopper element included featuring thick foam rollers for extra comfort;
Multi-grip pull-up station;
270 lbs weight capacity for the lat machine;
Lat pulldown bar included;
The short bar for low pulley exercises included;
Spring clips for fixing weight plates on the lat attachment come with the cage;
Over 40+ possible exercises;
Quiet operation;
Little maintenance is required;
Reasonably easy to assemble for a home gym.
Cons
Dip handles do not come with the cage;
Olympic (2″) sleeve adapters for the lat attachment do not come with the cage.
Fitness Reality 810XLT Super Max Power Cage Summary
The Fitness Reality 810XLT Super Max Power Cage with Lat attachment is a power cage for home use, including a lat machine with high and low pulleys. In particular, it's' a strength-training system for users of all levels offering a load capacity of 800 lbs for the cage and 270 lbs for the lat machine.
Moreover, it's' a versatile strength training system that allows the execution of over 40+ gym-quality exercises involving most muscle groups. And finally, it's' an excellent piece of powerlifting equipment, offering great value for the price.
I hope you found this article helpful and informative. Would you please speak up if you have anything you'd like to share on the topic or any opinions about my website? I look forward to your comments, questions, and the sharing of ideas.
Please remember that you should consult your physician before starting any exercise program to determine if you have any medical or physical conditions that could put your health and safety at risk or prevent you from using the equipment properly. In addition, your physician's advice is essential if you are taking medication that affects your heart rate, blood pressure, or cholesterol level.