The RHYTHM FUN Folding Treadmill features a shock-absorbing deck that integrates several cushioning elements to reduce the impact on the knees, ankles, and other body parts. In addition, the suspended running belt and a combined 7-layers of different materials result in shock reduction, which is also the main feature of this treadmill.
The RHYTHM FUN folding treadmill comes equipped with a 4.0 HP DC drive motor that gradually adjusts the speed, allowing you to quickly and safely adjust your pace to prevent falling due to sudden speed changes. Additionally, the speed range is 0.6 MPH – 9.3 MPH (1 – 15 kmh).
This good-looking, high-end, stylish, and exquisite treadmill has a multi-functional fitness console with an LED displaying the time, distance, speed, calories burned, and pulse. In addition, the console has Bluetooth connectivity and is compatible with the YPOO app available in Google Play and the Apple app store. The app lets you track your progress and workout history online.
Learn more in my complete review below!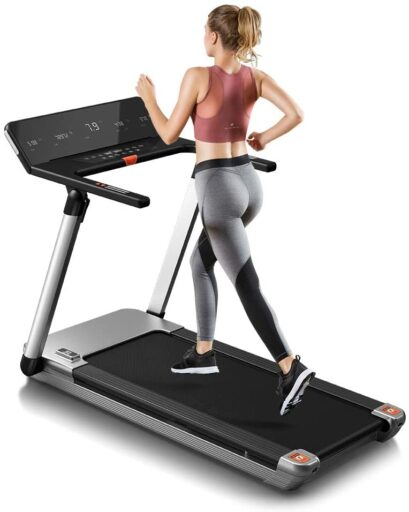 Product: RHYTHM FUN Folding Treadmill
Price: For a great deal on this treadmill, merely go here to Amazon.com
Warranty: Frame 10 years / Motor 2 years / Parts 1 year
My rating: is 8/10
Affiliate Disclosure: As an Amazon Affiliate Program participant, I earn commissions on purchases made through links in this post. Full disclosure
Details and Specifications
Assembled dimensions: 64L x 33W x 46.5H inches (163L x 84W x 118H cm)
Tread belt dimensions: 50L x 20W inches (127L x 51W cm)
Assembled weight: 132 lbs (60 kg)
Supported weight: 265 lbs (120 kg)
Motor: 4.0 HP, 0.6 MPH – 9.3 MPH (1 – 15 kmh)
Incline: No
Console: Built-in programs, Bluetooth, Fitshow compatible
Extras: Device holder
Warranty: Frame 10 years / Motor 2 years / Parts 1 year
Frame Construction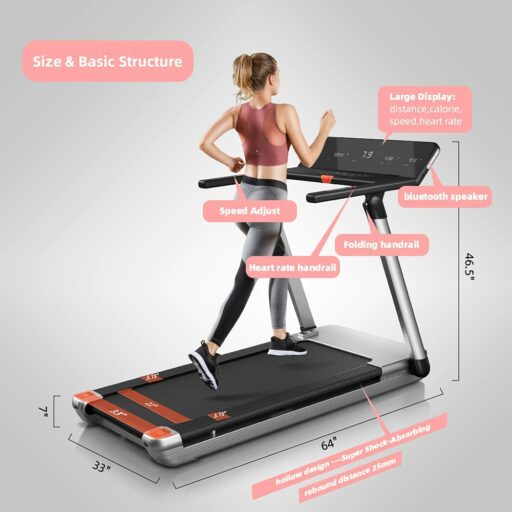 The RHYTHM FUN folding treadmill features a steel frame with a corrosion-resistant paint finish. However, the machine also integrates several plastic parts. For example, the motor cover, the side rail covers, and most consoles are made of durable thermoplastic materials.
The treadmill is not super large, and it's also foldable. It has a fold-flat design; the two upright bars with the console and the side grips fold down over the deck. When folded flat, the machine is only approx. 9″ (22.8 cm) from the floor, so it can store under a bed if there is that much clearance. It can also store vertically against a wall.
In its fully set up position, the machine is approx. 64″ (163 cm) long and 33″ (84 cm) wide, while its highest point, with the fitness console in its upright position, is approx. 46.5″ (118 cm). Thus, the machine doesn't take up too much space.
Furthermore, allowing at least two feet of clearance on each side of its running platform and at least three feet at the rear is advisable for safe usage.
The treadmill is relatively heavy as well. Its net weight is 132 lbs (60 kg). Therefore, two people should transport the packaged machine. However, once assembled and ready to use, one person can relocate the machine as its front base features a set of transport wheels.
Deck
One of the first aspects is that the RHYTHM FUN folding treadmill does not have an incline system. Its running platform is horizontal, and its angle is not adjustable.
Nevertheless, it offers a running/walking area of 50″L x 20″W (127 x 51 cm), which is fair for a home-use machine. It also has a maximum user weight capacity of 265 lbs (120 kg).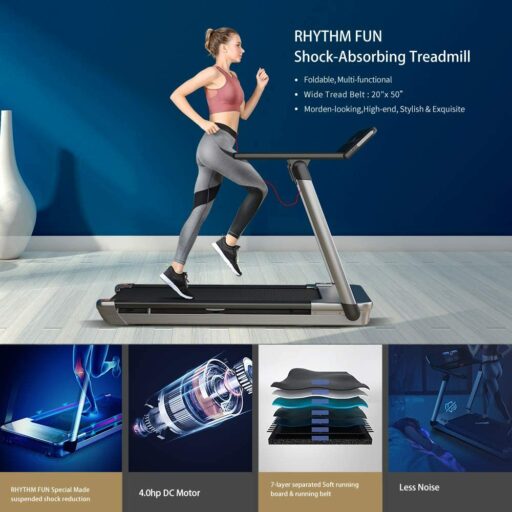 The machine's deck integrates several cushioning elements. Some of them are visible on each side. These reduce a considerable amount of the impact generated by each foot strike. Therefore, running this treadmill will result in less workout-related joint pain than running on concrete or asphalt.
The integrated thread belt features a multi-layer construction combining seven layers of different materials. Its top layer is rubber and textured for an improved grip. There is also an inner thicker layer of PVC foam which contributes to the overall shock absorption of the deck.
The diameter of the internal rollers is not specified. However, as is the case for most treadmills, the front roller is slightly thicker than the rear roller. They are both crowned to provide superior traction and reduce the wear and tear of the belt. They also integrate industrial-grade ball bearings for a smooth motion.
Drive motor
This RHYTHM FUN folding treadmill comes equipped with a 4.0 HP motor. Although it's not a 4.0 CHP (continuous horsepower) motor, it's still powerful for a home-use machine.
It integrates a small flywheel for improved stability and reduced vibration. It offers reasonably decent performance without overheating, even if you use the machine at top speeds for prolonged workouts.
The machine comes with a power cord and requires a 110V power source. The cord features a standard U.S. plug and connects to the deck's front part. There is also an On/Off switch near the cable port.
The motor offers a speed range between 1 – 15 kmh (0.6 MPH and 9.3 MPH). It's important to note that the console shows the speed and distance in km/h and kilometers without offering the possibility to change them to imperial metrics.
The speed adjustment increments are 0.1 kmh. Thus, the speed adjusts gradually, allowing you to change your pace easily.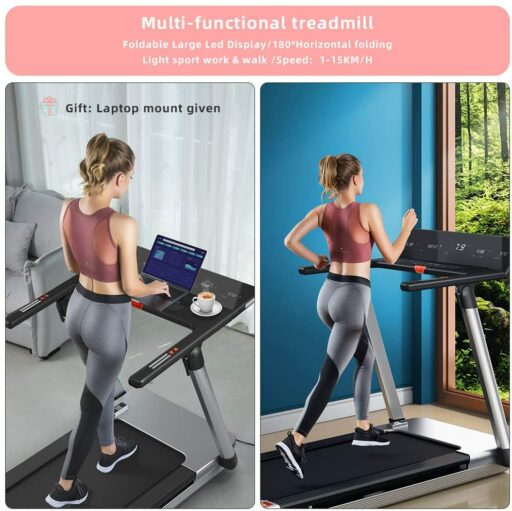 The console offers controls for gradual and quick speed adjustment, and there are also incremental speed adjustment controls built into the right handgrip of the machine. The quick speed adjustment controls are two kmh, four kmh, six kmh, eight kmh, ten kmh, and 12 kmh. That's roughly 1.2 MPH, 2.5 MPH, 3.7 MPH, 5 MPH, 6.2 MPH, and 7.4 MPH.
The motor is not too noisy. Generally, you will still hear your TV on a moderate volume level when running at full speed. However, depending on your weight, running gear, running techniques, and other factors, your cadence may generate more or less noise.
Console
The RHYTHM FUN folding treadmill comes equipped with a LED display console. It features five windows that indicate distance, steps, speed, time, calories burned, and pulse. Unfortunately, the speed and distance are in metric units, and there is no option for setting them to English units.
The pulse reading function is grip contact only. Accordingly, if you hold on to the sensors integrated into the side grips, the console only reads your pulse.
The console has Bluetooth connectivity. In addition, it is compatible with the YPOO app available in Google Play and Apple App Store. A QR scannable code sticker comes with the treadmill to easily install this app.
The app can track your progress and workout history online, offering extra readings, private coaching, fun games for runners, and more. The Bluetooth connectivity also works for the built-in speakers.
You can sync your tablet or phone with the machine's console and play music through these speakers for better sound quality. There also are +/- and mute volume controls on the console dashboard.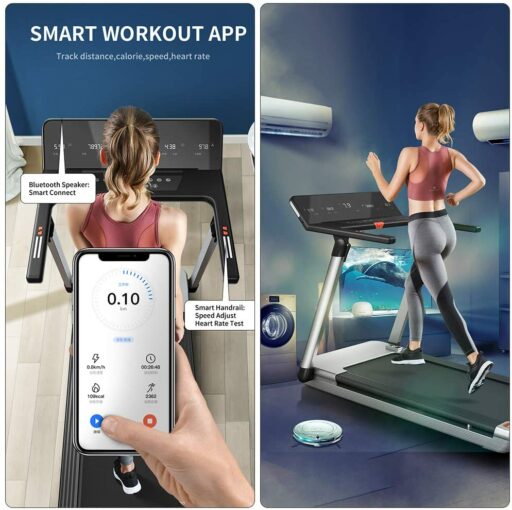 If you don't want to use the machine's fitness app, the console has a set of workout programs. Each program will auto-adjust the speed depending on its layout. For example, some programs have an interval layout, while others will help you improve stamina or focus on helping you lose weight.
Assembly and Maintenance
The RHYTHM FUN treadmill comes pre-assembled. You only have to unbox, unfold, and plug it in. The manual provides clear instructions and tools for adjusting the belt with the machine.
It would be best to clean the belt to prevent dirt or textile fibers from being caught in the motor or the rollers for maintenance. In addition, the belt requires periodic lubrication, and a bottle of lubricant comes with the treadmill.
Furthermore, wiping off the sweat that may fall onto the frame and console at the end of the workout is advisable. You should also periodically check if all the parts hold correctly and retighten as needed.
Pros
Sturdy construction – can support users up to 265 lbs (120 kg);
Compact design;
Fold-flat frame;
It can store upright, against a wall;
Transport wheels and adjustable levelers;
Integrated shock absorption system;
No assembly is required – all you need to do is unfold it and plug it in;
Fairly decent motor with a 4.0 HP peak power;
Speed levels up to 9.3 MPH (15 kmh);
Speed adjustment increments of 0.1 MPH so you can easily adjust your pace;
Quick speed selection controls;
An LED console that tracks time, distance, speed, steps, calories, and pulse;
Multiple pre-set workout programs;
Bluetooth connectivity and compatibility with the YPOO app;
Integrated HR pulse sensors in the side grips of the machine;
Bluetooth speakers;
Little maintenance is required.
Cons
There is no incline function;
The YPOO workout app is not exactly the best.
RHYTHM FUN Folding Treadmill Summary
The RHYTHM FUN folding treadmill is a home-use electric treadmill. It has a 4.0 HP motor, offering a speed range of 0.6 MPH – 9.3 MPH (1-15 kmh). It has a fold-flat frame, a durable deck, and a LED console with multiple pre-set programs and Bluetooth connectivity.
Moreover, it's a decent treadmill for low to high-intensity cardio workouts, stamina development, interval training, muscle toning, and weight loss.
I hope you found this article helpful and informative. Would you please speak up if you have anything you'd like to share on the topic or any opinions about my website? I look forward to your comments, questions, and the sharing of ideas.
Please remember to consult your physician to determine if you have any medical or physical conditions that could put your health and safety at risk or prevent you from using the equipment properly. In addition, your physician's advice is essential if you are taking medication that affects your heart rate, blood pressure, or cholesterol level.