For a good reason, the Murtisol Air Resistance Rower is one of the best-value air resistance indoor rowing machines out there. You'll get a smooth ride with minimal noise, plus adjustable footrests and an ergonomic handle for maximum comfort. Once you've finished your rowing workout, it separates into two pieces for easy storage.
The resistance level is dynamic, which means it is totally up to how fast/hard or slows you pull the handle and change your rowing speed. But also, to give you extra control over the amount of resistance, the flywheel has a damper feature with ten adjustable resistance levels.
But that's just part of what I like about this indoor air rower. The Murtisol is a rowing machine that will hold up under various workouts. The durable design has a maximum user weight capacity of 500 lbs (227 kg) and will allow you to get many years of use out of this machine, so long as you take care of it.
Besides, the Murtisol Air Resistance Rower has a multi-function fitness monitor that tracks time elapsed, distance (in meters), strokes per minute, strokes per session, total strokes, calories burned, and pulse. Also, Bluetooth functionality comes with this rower. It connects to your smart device (iOS and Android) to send the rowing workout stats to fitness apps where you can store your daily workouts.
Learn more in my complete review below!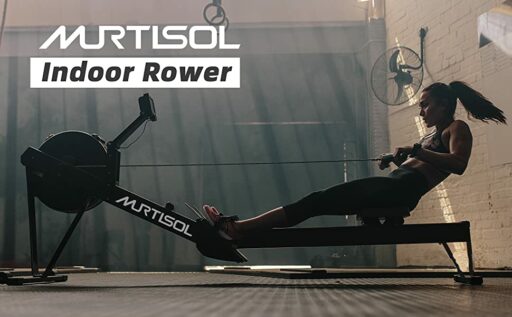 Product: Murtisol Air Resistance Rower
Price: For a great deal on this rower, merely go here on Amazon
Warranty: Not specified
My rating: 8/10
Affiliate Disclosure: As an Amazon Affiliate Program participant, I earn commissions on purchases made through links in this post. Full disclosure
Details and Specifications
Assembled dimensions: 98.4L x 24.4W x 44.5H inches (250L x 62W x 112H cm)
Assembled weight: 70.4 lbs (32 kg)
Supported weight: 500 lbs (227 kg)
Frame: Steel
Footrests: Adjustable
Resistance: Air, ten levels
Fitness Monitor: 3 programs, Bluetooth
Warranty: Not specified
Frame construction
The Murtisol air rower features a heavy-duty steel frame, similar to commercial-grade rowers. It's equipped with a long, rectangular rail designed to accommodate users up to 6'6″ (198 cm) with no problem and has a reasonably decent weight limit of 500 lbs (227 kg).
The fully assembled machine is pretty extensive, especially lengthwise. It is approx 98.4″ (250 cm) long and 24.4″ (62 cm) wide. Plus, it is advisable to leave at least two feet of clearance at the rear and on each rail side for ease of access and correct usage. Therefore, it may not fit too well in a small room or apartment.
But on the other hand, this rower is foldable. The rail folds up, and the machine assumes a triangular position. Therefore, it reduces its length by half, offering better storage possibilities. The rail section is also easily removable, and this does not require tools.
The fully assembled machine is pretty heavy. Its net weight is approx. 70.4 lbs (32 kg), so the transport of the packaged unit may require two people. However, one person can transport the rower with ease once completed as its front stabilizer integrates a set of small wheels.
All the steel parts in the machine's construction come double-coated with a corrosion-resistant and chip-resistant paint finish. The color used is black, with the "Murtisol" logo painted white.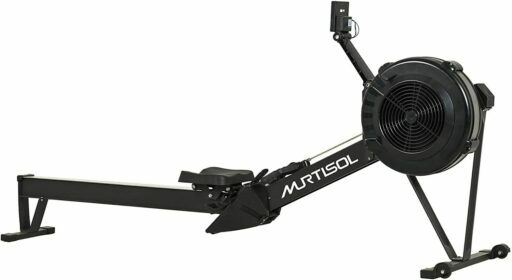 Of course, the machine also integrates several parts of durable thermoplastic material. For example, most of the fan casing and some of the components of the footrests are plastic-made.
Seat and other parts
The Murtisol air rower includes a pretty standard seat. Its top is a layer of high-density foam material, and it is contoured for better positioning and extra breathability. Unfortunately, it doesn't offer super comfort. However, a gel foam cover or seat cover remedies the situation.
The seat is not too large, approx 12″ (30 cm). Its base frame is steel. It integrates three sets of wheels, while the rail features a thin sheet of aluminum on top, which is a bit wider than the steel tube.
Two wheels slide on top of the rail, the other under the aluminum sheet for extra stability. The wheels integrate sealed ball bearings for a smooth seat motion and have a thick rubber layer on the outside to eliminate noise. The seat height is approx—14″ (35.5 cm) in size. Therefore, it provides an easy entry and exit even for tall users.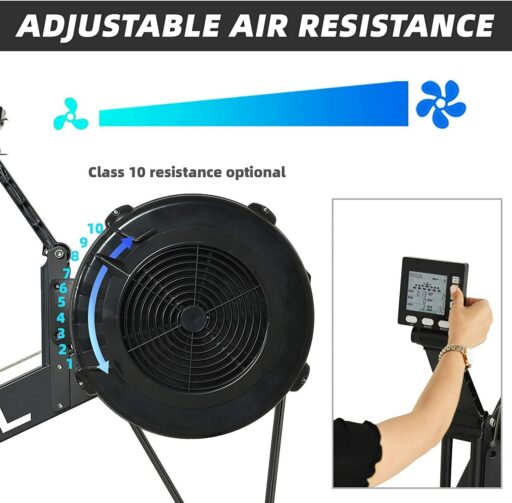 The Murtisol air resistance rower comes equipped with a set of large footrests. Their base combines steel and aluminum parts, so they're pretty sturdy. They are size-adjustable, so they should accommodate any shoe size. In addition, they feature heel guards and straps for maximum foot stability.
The machine's footrests are already attached to the mainframe. They do not pivot on their axis. They are set at an angle of approx—45 ° to provide optimal comfort for your feet during rowing.
The rower includes an ergonomic handle with high-density foam grips. Unfortunately, the handle does not integrate pulse sensors, but the included fitness monitor does have a pulse reading function.
The handle is attached to a chain, similar to the Concept2 rowers. This type of transmission is very durable and can last a lifetime but does make a bit of noise during rowing.
Resistance system
This Murtisol rower comes equipped with an air resistance system. The main resistance generator is a flywheel fan integrated into the front unit of the machine. As you pull the handle, the fan spins in its casing, thus, generating resistance.
The machine doesn't have a magnetic brake like some other rowers. However, the flywheel has a damper feature with ten levels of adjustment.
Thus, it allows you to select how much air enters and exits the fan casing, which adds or reduces the overall resistance. As a general idea, the machine offers a pretty decent resistance level, even on the first difficulty level.
Like any other water or air resistance rowers, the Murtisol machine generates a dynamic response during rowing.
Therefore, the faster you row, the fan will also spin faster and create more resistance. Furthermore, this resembles the sensation of rowing a real boat through the water, which can be a plus to the overall rowing experience.
One last aspect to note here regards the noise generated by the machine. As a general idea, air resistance rowers are the noisiest rowers, which also applies to the Murtisol rower. It is comparable to the noise generated by an electrical fan of the same size in terms of noise.
Also, as I've mentioned earlier, the machine's transmission uses a chain that may touch the recovery casing or the rail at times, generating a bit of noise, which is not the case for the rowers with a nylon belt transmission.
Fitness monitor
The Murtisol air resistance rower includes a fitness monitor that offers many functions. First, it comes equipped with an LCD divided into multiple sub-sections to show as many workout metrics as possible at once.
It tracks time elapsed, distance (in meters), strokes per minute, strokes per session, total strokes, calories burned, and pulse.
The rower does not have any integrated pulse sensors. Still, since the fitness monitor has an internal pulse receiver, it will sync with a wireless chest strap (probably a standard 5.3 Hz one). However, this accessory does not come included with the machine.
The fitness monitor has three workout programs, one manual two intervals. The Manual program records your workout metrics. You can also select goals for time, distance, and strokes for this mode, which counts down from the specified value. The two-interval programs are for work/rest periods of 20/10 seconds and respectively 10/20 seconds.
The machine's fitness monitor also has Bluetooth connectivity. In addition, it has a QR code on the back, which you can scan to install the corresponding app on your smartphone or tablet. This app saves your workout progress online, so you can always check your workout history.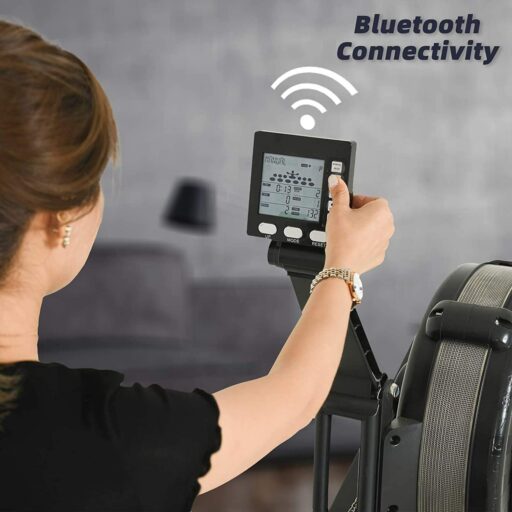 Finally, the machine's fitness monitor is battery-powered. However, the batteries do not come included with the machine. It starts when you begin rowing or press one of the buttons and automatically turns off if it does not detect any activity on the rower for a few minutes.
It also has an adjustable mount, so you can set it to the angle depending on your height to always see the workout metrics.
Assembly and Maintenance
The machine's resistance system with the fan and chain comes pre-assembled. You only need to insert the seat onto the rail, connect the rail to the front section of the rower, add the two base stabilizers and the fitness monitor.
Therefore, it shouldn't take more than 30 minutes of your time. The manual provides all the necessary instructions, and all the necessary tools come included with the rower.
Once assembled, maintenance doesn't require much. You only have to keep it clean, especially the rail, so that the seat wheels won't get any damage. The fan will require vacuuming from the outside if it accumulates dust. Also, even though it's a machine for indoor use, it's not a bad idea to lubricate the chain a little to ensure it won't catch rust.
Pros
Sturdy construction – can hold users up to 500 lbs (227 kg);
Folding frame;
Transport wheels on the front stabilizer;
Padded and contoured seat;
Adjustable footrests with heel guards and straps;
Air resistance for a natural, dynamic response during rowing;
A 10-level damper on the fan casing;
Multi-window fitness monitor that tracks time, distance, SPM, strokes, total strokes, calories, and pulse;
Three workout programs;
Bluetooth connectivity;
Angle-adjustable mount for the fitness console;
Reasonably quiet for an air resistance rower;
Easy to assemble;
All the necessary assembly tools come included;
Little maintenance is required.
Cons
Batteries for the fitness monitor do not come included;
A Heart rate chest strap does not come included;
The fitness monitor LCD does not have a backlight;
The fitness data is not too accurate.
Murtisol Air Resistance Rower Summary
The Murtisol rower comes equipped with an air resistance system featuring a damper with ten adjustment levels, a rail suitable for a wide range of users, and a fitness monitor with three workout programs and Bluetooth connectivity. The machine is also pretty sturdy and has a maximum user weight capacity of 500 lbs (227 kg).
Moreover, it's a decent alternative to a Concept2 rower, great for a full-body cardio workout, muscle toning, interval training, and weight loss.
I hope you found this article helpful and informative. Would you please speak up if you have anything you'd like to share on the topic or any opinions about my website? I look forward to your comments, questions, and the sharing of ideas.
Please note: Before starting any exercise program, you should consult your physician to determine if you have any medical or physical conditions that could put your health and safety at risk or prevent you from using the equipment properly. In addition, your physician's advice is essential if you are taking medication that affects your heart rate, blood pressure, or cholesterol level.