The RowWarrior Fitness Air Rower is a superior home gym rower with a compact, easy-to-store design uniquely created for home use. It's durable, effective, and reliable. It features a non-slip pulling handle, a 14-inch seat, and adjustable foot straps & footrests for more safety and stability. In addition, it has 550 lbs (250 kg) maximum user weight limit, which makes it ideal for all body types.
The innovative RowWarrior Fitness Air Rower combines cardiovascular and strength training in a high-intensity workout. Rowing is low-impact, so it's a perfect cross-training exercise. In addition, rowing works all the major muscles in the body, making it a great calorie burner and cardio workout.
The air rower has a fitness monitor with an LCD displaying time, time/500m, distance, watts, calories burned, strokes, total strokes, and pulse. In addition, the monitor has Bluetooth connectivity and comes with a QR code. By scanning the provided code, you can install the Fitshow app. The wireless pulse reading function requires an HR chest strap or armband that sells separately.
Learn more in my complete review below!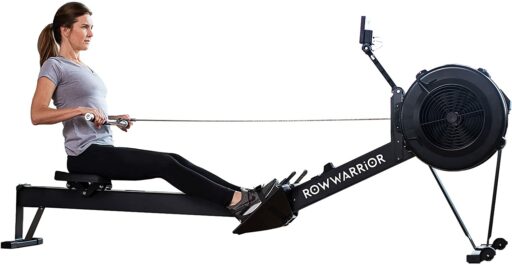 Product: RowWarrior Fitness Air Rower
Price: For a great deal on this rower, merely go here to Amazon.com
Warranty: Frame 2 years / Parts 1 year limited
My rating: is 8/10
Affiliate Disclosure: As an Amazon Affiliate Program participant, I earn commissions on purchases made through links in this post. Full disclosure
Details and Specifications
Assembled dimensions: 94L x 24W x 45H inches (239L x 61W x 114H cm)
Assembled weight: 67 lbs (30.3 kg)
Supported weight: 550 lbs (250 kg)
Frame: Steel, foldable
Footrests: Adjustable, with straps
Resistance: Air, ten levels
Fitness Monitor: Time, distance, strokes, total strokes, calories, watts, pulse, intervals, recovery, Bluetooth
Warranty: Frame 2 years / Parts 1 year
Frame Construction
The RowWarrior Fitness air rower features a steel frame, with the rail and the front part sustaining the thick rectangular tubing drive system. All the steel parts come coated with a durable black paint finish. The covers of the air resistance system are made of nylon or thermoplastic material.
The rower is pretty solid. Although it's not advertised as a commercial-grade machine, it's close to the Concept2 model D, so I can safely say it offers commercial-grade quality. In addition, its rail has a maximum user weight limit of 550 lbs (250 kg) which is quite impressive.
The machine's rail is long, approximately 53″ (134 cm). Therefore, the rower should accommodate users up to 6'6″ (198 cm) with no problem, allowing a complete leg extension and range of motion.
However, the machine is relatively large as well, especially lengthwise. It is 94″ (239 cm) long and 24″ (61 cm) wide. Plus, it would be best to allow at least two feet of clearance at the rear of the rail and on each side to ease access and safe usage.
The rower is foldable. The rail easily disconnects from the front part of the frame. Both pieces can store upright, so the machine's footprint reduces to approximately 33″L x 30″W (84 x 76 cm). Also, the folded rower's height is approximately—54″ (137 cm).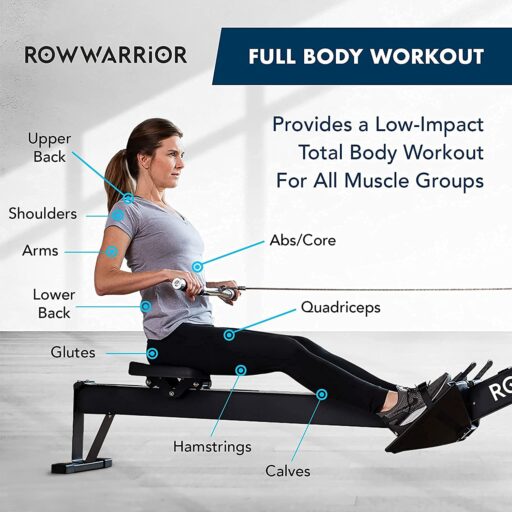 Lastly, the RowWarrior machine is not super heavy, weighing 67 lbs (30.3 kg). Therefore, the packaged unit may require a hand truck, but one person can assemble and relocate the machine as its front base bar also integrates two small wheels for transport.
Seat and other parts
The RowWarrior Fitness air rower includes a seat that provides optimal comfort. Its top is high-density foam. It is also contoured to prevent slippage and better position the user. It is approx—14″ (35 cm) wide, delivering plenty of contact surface.
The steel base of the seat integrates three sets of wheels. Two sets slide on top of the main rail, and the third set of wheels slides under the top plate of the rail to provide extra stability. The wheels have internal ball bearings for smooth operation. They are also rubberized to reduce noise.
The machine's rail is not completely horizontal. Instead, it is slightly inclined forward. Thus, the seat is approximately 14″ (35 cm) above the floor at its highest point.
The machine's footrests feature heel guards and straps to stabilize your feet perfectly. They have a fixed design; they do not pivot on their axis. Furthermore, their angle is approximately 45° for optimal foot positioning during rowing. In addition, they're also size-adjustable and comfortably accommodate athletic footwear of all sizes.
The machine's pulling handle is chrome-plated and features an ergonomic design with rubberized grips for improved contact and comfort. It attaches to a chain similar to a bike chain. Therefore, its drive system can last a lifetime.
However, compared to a rope or a synthetic mesh strap, the chain may generate a bit of extra vibration, especially if you row at a higher speed. Plus, the chain needs lubrication from time to time to prevent it from rusting.
Resistance system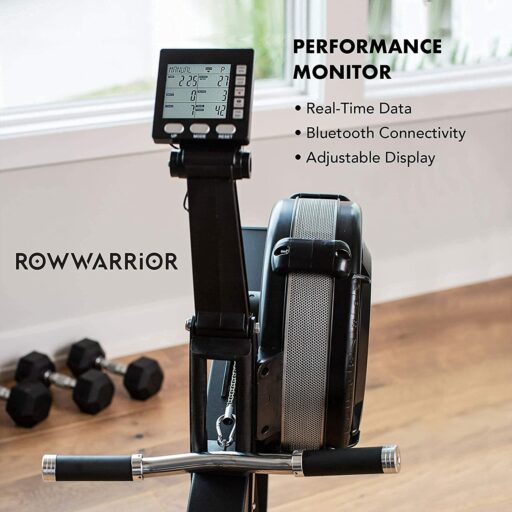 The RowWarrior air rower features an air resistance system. It does not have a magnetic brake or any other resistance elements. However, its casing features a damper with ten adjustment positions. By adjusting the drag, the case allows more or less air inside, which leads to more or less resistance.
The main resistance-generating element is a large fan concealed by the front plastic covers. The fan connects to the chain drive system via a set of pulleys. Therefore, pulling the handle spins the fan inside its casing, generating resistance.
One of the main pluses of the air resistance system is that it generates a dynamic response during usage. Therefore, the resistance depends on the damper's selected level and your stroke rate. Thus, the faster you row, the more resistance you will get.
This effect simulates the feeling of rowing through the water. Thus, it is quite a plus, especially for professional athletes, because the machine provides a rowing experience as close to an actual boat.
Most air-resistance rowers are pretty noisy compared to magnetic rowers. The RowWarrior machine falls into this category as well. However, it does not generate a loud noise during usage. The exact decibel output for this machine is not specified. Still, as a general idea, the sound level produced during rowing is comparable to a large electric fan.
Fitness Monitor
The RowWarrior Fitness rowing machine comes equipped with a mid-range fitness monitor. It has an LCD split into several sub-sections to show multiple workout metrics. For example, it indicates time, time/500m, distance, watts, calories, strokes, total strokes, and pulse.
The distance displays in meters. Unfortunately, there is no option for imperial units. The HR pulse reading is wireless. The rower has no integrated pulse sensors, so you need a Bluetooth HR chest strap to track your pulse. However, this accessory does not come with the rower and sells separately.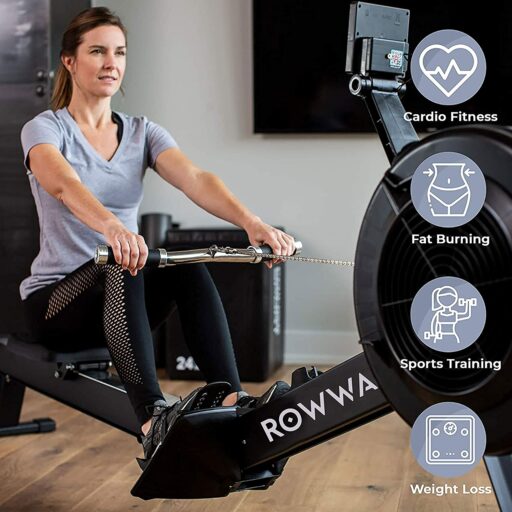 The fitness monitor offers two-interval programs, a pulse recovery function, and a manual rowing mode. In manual mode, it simply shows your workout metrics as you row. The interval programs are standard 20/10 and 10/20. The first one is for a work period of 20 seconds and a rest period of 10 seconds.
For the second one, the duration is the reverse, 10 seconds of work and 20 seconds of rest. Finally, the recovery function requires you to use an HR chest strap or armband so that the monitor will count your pulse at the end of your workout and rate your fitness level.
The monitor has Bluetooth connectivity and a QR code on the back. By scanning the provided code, you can install the Fitshow fitness app that syncs with your machine and offers extra features and tracking. The app is available for both Apple and Android devices.
Last but not least, the console is battery-powered, and the batteries come with the machine. It also has a long mount that allows for angle adjustment. In addition, it begins tracking when you start rowing and automatically turns off if it does not detect any activity on the rower for several minutes.
Assembly and Maintenance
The front part of the rower with the resistance system comes pre-assembled. However, the rest of the machine does require user assembly. You must attach the front base stabilizer, insert the seat on the rail, add the rear stabilizer, and then the monitor.
Therefore, it shouldn't take more than 30-40 minutes of your time. The manual provides step-by-step assembly instructions with attached schematics, and all the tools needed come with the machine.
Maintenance doesn't require much. First, keep the rower clean, especially the rail, to prevent damage to the seat's wheels. Next, oil the chain after approximately 50 hours to avoid link locking and rusting.
Finally, when the fan accumulates dust, you can vacuum it outside without separating its casing. Besides this, you should also periodically check for loose bolts and parts and retighten them as necessary.
Pros
Heavy-duty frame construction;
Superior weight capacity – can support users up to 550 lbs (227 kg);
Aesthetic design;
The rail can easily detach from the front unit to provide better storage possibilities;
Transport wheels on the front stabilizer;
Long rail – can accommodate users up to 6'6″ (198 cm);
Contoured ergonomic seat for optimal comfort;
Adjustable footrests with heel guards and straps;
Air resistance for a dynamic response;
10-level damper for resistance adjustment;
Fitness monitor included – it tracks time, distance, SPM, total strokes, watts, calories, and pulse;
20/10 and 10/20 interval programs;
Pulse recovery function;
Bluetooth connectivity – the monitor is compatible with the Fitshow app;
Angle-adjustable mount for the fitness monitor;
Easy to assemble;
All the necessary tools for the assembly come with the rower;
Little maintenance is required.
Cons
The HR armband or chest strap does not come with the machine;
The fitness monitor LCD does not have a backlight.
RowWarrior Fitness Air Rower Summary
The RowWarrior Fitness air rower is a heavy-duty fitness machine offering commercial-grade construction. It has a 10-level air resistance system, a long sturdy rail, adjustable footrests, and a fitness monitor that tracks all the essential workout metrics.
In addition, the monitor also has Bluetooth connectivity and is compatible with the Fitshow app. Moreover, it's an excellent machine for a full-body cardio workout, interval training, stamina, strength development, and weight loss.
I hope you found this article helpful and informative. Would you please speak up if you have anything you'd like to share on the topic or any opinions about my website? I look forward to your comments, questions, and the sharing of ideas.
Please remember to consult your physician to determine if you have any medical or physical conditions that could risk your health and safety or prevent you from using the equipment properly. In addition, your physician's advice is essential if you are taking medication that affects your heart rate, blood pressure, or cholesterol level.