The SereneLife SLFTRD18 Folding Treadmill is an excellent choice for fitness enthusiasts who have little time to go to the gym. With this home exercise trainer, you can achieve your dream body in your home! It's ideal for walking and jogging exercises, making it perfect for weight loss, cardiovascular fitness, endurance, and stamina building.
With this treadmill, your home becomes an ideal gym to stay in shape. The SereneLife SLFTRD18 features a stylish contemporary space-saving folding design for easy storage. In addition, the SLFTRD18 has a reliable, sturdy frame that supports a maximum user weight limit of 265-pounds (120 kg).
It features a 1.0 HP quiet motor that is great for light to medium-intensity workouts and versatile to meet all your family members' needs. The fitness console helps track time, calories, distance, speed, and heart rate.
It also pairs to your device via Bluetooth, downloads the 'FitShow App,' and gets connected to record and review training data, display training stats, challenge friends, and share fitness data on social media. It is compatible with iPhone and Android phones.
Learn more in my complete review below!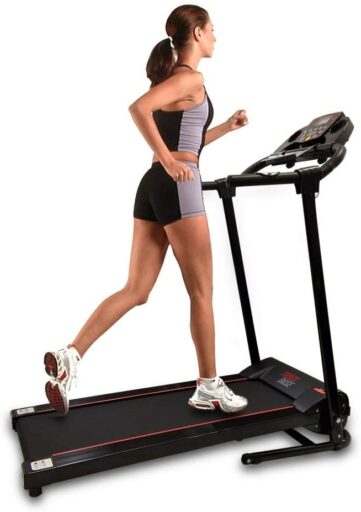 Product: SereneLife SLFTRD18 Folding Treadmill
Price: For a great deal on this treadmill, merely go here on Amazon
Warranty: 1 year limited
My rating: is 8/10
Affiliate Disclosure: As an Amazon Affiliate Program participant, I earn commissions on purchases made through links in this post. Full disclosure
Details and Specifications
Assembled dimensions: 49.6L x 24W x 51.2H inches (126L x 61W x 130H cm)
Tread belt dimensions: 39.3L x 13.4W inches (100L x 34W cm)
Assembled weight: 57.3lbs (26 kg)
Supported weight: 265 lbs (120 kg)
Motor: 1.0 HP, 0.6 – 6.0 MPH
Incline: N/A
Console: 12 programs, Bluetooth, FitShow app compatible
Extras: Device holder, accessory holders
Warranty: 1 year limited
SLFTRD18 Frame Construction
The SereneLife SLFTRD18 folding treadmill features a steel frame. The base frame is rectangular steel tubing. The two upright bars are oval-shaped, while the console supporting bar and the front base frame are cylindrical tubings. All the steel bars in the machine's construction come with a rust-resistant black paint finish.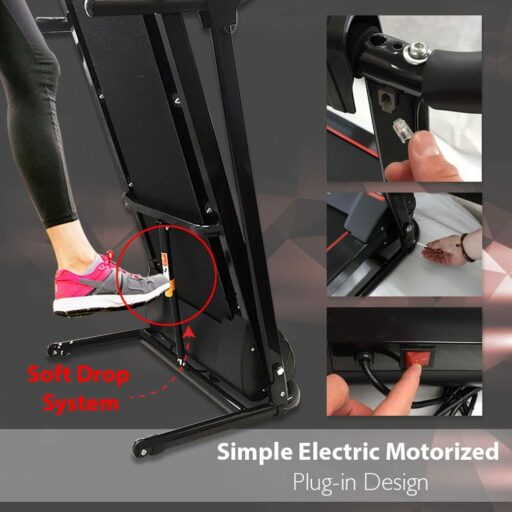 The fully assembled unit is not too large. It is approx. 49.6″ (126 cm) long and 24″ (61 cm) wide, while its highest point is the top of the console, which reaches approx. 51.2″ (130 cm) above floor level. It is advisable to leave at least three feet of clearance at the rear of the deck and two feet of clearance on each side of it for safe usage and ease of access.
The treadmill has a folding design. As a result, the deck can fold up and lock upright. Consequently, this is a plus if you don't have too much space to keep the machine in its position. It's also great to have vacuuming under the deck, as you won't have to hold it up yourself. The folding mechanism has a hydraulic cylinder that facilitates the unfolding of the deck, lowering it slowly to prevent damage.
This SereneLife treadmill is also pretty light. Its net weight is 57.3 lbs (26 kg), so one person can carry and assemble the machine. Plus, once completed, it is even easier to move as its front base has a set of small wheels.
Deck Construction
The SereneLife SLFTRD18 folding treadmill lacks incline elements. Unfortunately, it does not have any form of incline. Instead of the two folding rear feet, it has two adjustable levelers with large rubber pads for improved stability. It's important to note that its deck is not perfectly horizontal. It has, by default, a few degrees of incline, adding extra difficulty to the ride.
The machine offers a walking surface of 39.3″L x 13.4″W (100 x 34 cm). Admittedly, it's not a super large usage area, but still, for walking and light jogging, it accommodates users up to 6'2″ (188 cm), allowing a normal range of motion.
The belt has a multi-layer structure, with the top layer rubberized and textured for an improved grip. The side rail covers also have rubber sheets to provide a secure footing when you want to break without pausing the machine.
The rollers have a crowned design to improve traction and prolong the belt's lifespan. In addition, they come equipped with sealed ball bearings for smooth motion.
Since it's a rather basic treadmill, the deck of the SereneLife SLFTRD18 does not have any cushioning elements. However, its deck board has a bit of flex, so a walk or jog on this treadmill is more forgiving on your joints than a walk or jog on asphalt. It's also durable enough to support users up to 265 lbs (120 kg).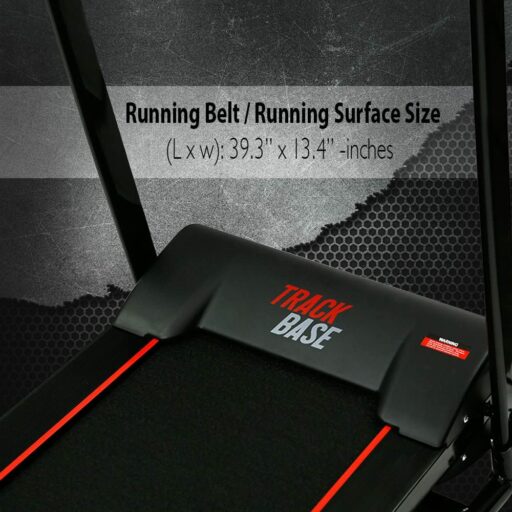 Lastly, the deck height is approximately 6″ (15 cm). Therefore, it is advisable to use the machine in a room with a ceiling at least 10″ (25 cm) higher than your height.
SLFTRD18 Drive Motor
The SereneLife SLFTRD18 folding treadmill is not a high-speed or high-intensity training machine. Thus, its motor is not super powerful. Instead, it is a 1.0 HP motor featuring a small flywheel for motion stability.
The treadmill's motor provides a speed range between 0.6 MPH and 6.0 MPH. The speed adjustment increments are 0.1 MPH, so you can easily adjust your pace. In addition, the console offers controls for gradual speed adjustment and the quick selection of 2 MPH, 3 MPH, 4 MPH, and 5 MPH.
The console also has several preset workout programs that adjust the speed automatically if selected. The speed adjustment increments used by the console programs are 0.5 MPH. However, the transition is pretty smooth, so you will have plenty of time to adjust your pace.
Since the treadmill has a light-capacity motor, you won't have to worry about high electricity bills. Also, the noise level generated by the motor is pretty low. But your cadence is heard, especially if using the highest speed setting and depending on your running technique, footwear, weight, and other factors.
Console
The SereneLife SLFTRD18 folding treadmill comes equipped with a simple console. It features an LCD with an LED backlight divided into several sub-sections to show as many workout metrics as possible.
It tracks time, distance, speed, calories burned, and pulse. The distance displays in miles, and the speed is in MPH. Unfortunately, the pulse reading function is hand-grip only. Therefore, if you hold on to the sensors integrated into the handlebars, the console reads your pulse. However, it cannot read the pulse from a wireless HR chest strap.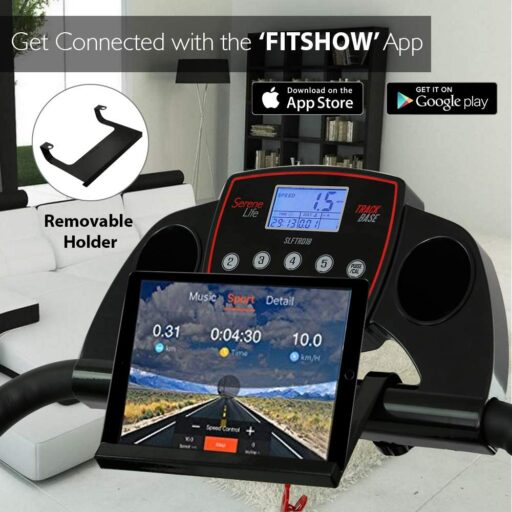 The console has 12 preset programs. These have various segment layouts and target different workouts. When a program is in use, the machine will automatically adjust the speed of the belt, depending on the service training. You can also select workout targets for distance and time.
The machine's console also has Bluetooth connectivity and is compatible with the FitShow app, available for Android and iOS. Therefore, you can install this app on your smartphone or tablet so that the treadmill can send your workout data. This way, you can keep track of your progress, run on a virtual trail, review your workout history, etc.
Unfortunately, the console doesn't have speakers, a cooling fan, a USB port, or other fancy features. However, its dashboard does integrate two compartments to store various small accessories or bottle holders. A device holder also comes with the machine.
SLFTRD18 Assembly and Maintenance
The machine's deck comes pre-assembled with the motor, rollers, transmission belt, and other elements. Thus, you only need to attach the two upright bars and the handlebar to the console for the assembly.
Consequently, this shouldn't take more than 30 minutes of your time. Furthermore, the task is relatively simple, and the manual provides precise assembly instructions. Also, all the necessary tools come with the machine.
For maintenance, deck lubrication is necessary after the first 25 hours of use and after every 50 hours. A bottle of lubricant comes with the machine. Other than this, keep the machine clean, especially the belt, and periodically check for loose bolts and parts and retighten as needed.
Please note the tablet contained in the image sells separately.
Pros
Sturdy construction – 265 lbs (120 kg) weight limit;
Compact design;
Folding deck with soft-drop mechanism;
Transport wheels included;
Speed range between 0.6 and 6.0 MPH;
Speed adjustment increments of 0.1 MPH;
Quick selection speed controls for 2, 3, 4, and 5 MPH;
Low power consumption;
LED-backlit LCD;
12 preset workout programs;
Target settings for time and distance;
Bluetooth connectivity and compatibility with the FitShow app for workout history tracking;
Tablet holder included;
Bottle holders built into the dashboard;
Pulse reading function;
Easy to assemble;
All the necessary tools for assembly come with the treadmill;
Lubricant for the deck comes with the treadmill;
Little maintenance is required.
Cons
The deck does not have an incline function;
The console does not have a USB charging port.
SereneLife SLFTRD18 Folding Treadmill Summary
The SereneLife SLFTRD18 is a walking and jogging treadmill for home use. It comes equipped with a 1.0 HP motor offering a speed range of 0.6 – 6.0 MPH. In addition, it provides a walking surface of 39.3″L x 13.4″W and a Bluetooth console compatible with the FitShow app and 12 preset programs.
Moreover, it's an affordable machine, great for light to medium-intensity workouts, muscle toning, interval training, stamina development, and weight loss.
I hope you found this article helpful and informative. Would you please speak up if you have anything you'd like to share on the topic or any opinions about my website? I look forward to your comments, questions, and the sharing of ideas.
Please remember that you should consult your physician to determine if you have any medical or physical conditions that could risk your health and safety or prevent you from using the equipment properly. In addition, your physician's advice is essential if you are taking medication that affects your heart rate, blood pressure, or cholesterol level.