The Stamina Outdoor Power Tower 65-1460 harnesses the power of nature to improve your health and fitness right where you want it: in the privacy of your yard. Complete upper-body outdoor workout; the power tower offers as much challenge as possible.
Whether toning, slimming down or bulking up, the 65-1460 tower's multiple workout stations offer a way to reach your goals. Put your arms, shoulders, upper and lower back, abs, and chest through an intense regimen of push-ups, pull-ups, sit-ups, tricep dips, vertical knee raises, and chin-ups with multiple grips.
Build a fit, healthy body and embrace the stimulating impact of an outdoor workout. Rugged, weather-resistant outdoor fitness equipment, the versatile Stamina outdoor power tower withstands the elements, yet its sleek design makes it an attractive addition to any yard.
In addition, it features paint designed for excellent weather-ability, providing chip and corrosion resistance and UV protection for superior color retention in non-salt water environments.
Learn more in my complete review below!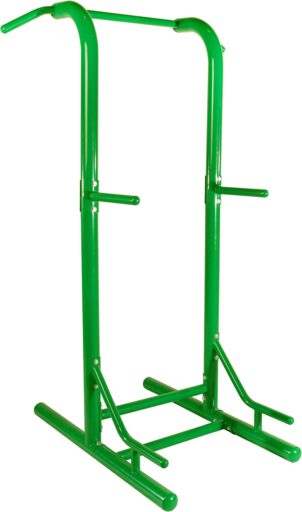 Product: Stamina Outdoor Power Tower
Price: For a great deal on this gym, merely go here to Amazon.com
Warranty: Frame 3 years / Parts 90 days
My rating: is 9/10
Affiliate Disclosure: As an Amazon Affiliate Program participant, I earn commissions on purchases made through links in this post. Full disclosure
Details and Specifications
Assembled dimensions: 49L x 50W x 81H inches (124 x 127 x 206 cm)
Assembled weight: 88 lbs (40 kg)
Weight capacity: 300 lbs (136 kg)
Possible exercises: 20+
Warranty: Frame 3 years / Parts 90 days
65-1460 Frame construction
The Stamina outdoor power tower 65-1460 features a durable cylindrical steel tubing frame so you can easily grip any of its sections. It comes double-coated with a green paint finish, highly resistant to corrosion and abrasion. Therefore, you can use it outside without a problem, as it should withstand rust or weather damage for many years.
The tower doesn't have a super large footprint. It measures 49″ (124 cm) in length and 50″ (127 cm) in width, so it doesn't take up too much space. However, it is advisable to allow at least two feet of clearance on each side and at least three feet at its front and rear so you can execute push-ups and sit-ups correctly.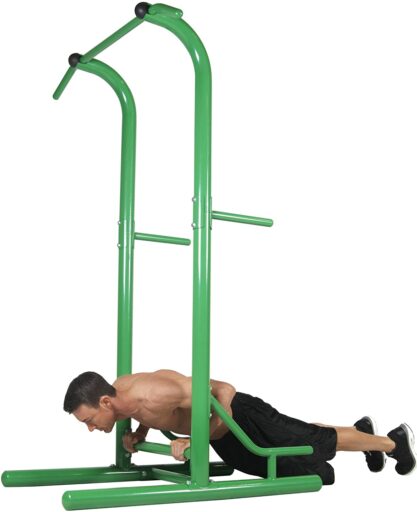 The tower's height is approximately 81″ (206 cm). Therefore, it fits in a room with a 7-foot (213 cm). However, it is advisable to place and use it in a room with at least an 8-foot (243 cm) to have plenty of headroom when doing pull-ups or muscle-ups.
The fully assembled tower is pretty stable. However, it may wobble a bit during pull-ups. In addition, it has anchor points for concrete on its base bars, so you can always secure it if you think it's necessary.
This Stamina power tower has a maximum user weight limit of 300 lbs (136 kg). Therefore, if you weigh less than that, you should be able to perform weighted pull-ups or dips without a problem.
Workout stations
The Stamina Outdoor Power Tower 65-1460 features four workout stations. These are:
Pull-up station. This workout station consists of a standard straight bar with curved side grips. The side grips' distance is approximately 50″ (127 cm). However, the pull-up bar does not have extra grips for parallel grip pull-ups or chin-ups. It also doesn't have PVC foam grip covers, and the machine does not include ab straps or ball grips like the Stamina X Fortress tower.
Dip station. The Stamina 65-1460 power tower includes two small handles for dip exercises. These attach approximately halfway up the upright bars. The distance between them is approximately 25″ (63.5 cm). Furthermore, they do not have any foam grip covers, just the paint finish as the rest of the frame. It's also important to note that this power tower does not have a backrest for the dip station.
Push-up station. The base assembly of the Stamina Outdoor power tower features two extra bars in the front, which offer the possibility to perform parallel grip push-ups or oblique parallel grip push-ups. Their lower, straight grips are approx—8″ (20 cm) above the floor.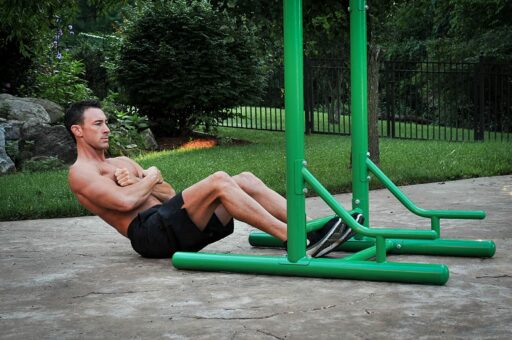 Sit-up station. This power tower includes an extra straight bar that can attach to the two upright pillars near their base. These can serve as foot stoppers for sit-up exercises. You can also perform standard grip push-ups on it.
65-1460 Possible Exercises
The Stamina 65-1460 Outdoor Power Tower can execute more than 20 exercises. The list includes:
Pull-ups
Wide grip pull-ups
Muscle pull-ups
Behind head pull-ups
Around the world, pull-ups
One-arm pull-ups
Cliffhangers
Weighted pull-ups
Chin-ups
Close grip chin-ups
Wide grip chin-ups
One hand chin-ups
Weighted chin-ups
Weighted dips
Band-resisted dips
Dip to leg raise
Side-to-side dips
Gironda dips
Reverse Gironda dips
Leg raises
Knee raises
Hanging knee raises
Hanging leg raises
Push-ups
Parallel grip push-ups
Oblique grip push-ups
Sit-ups
and more
65-1460 Assembly and Maintenance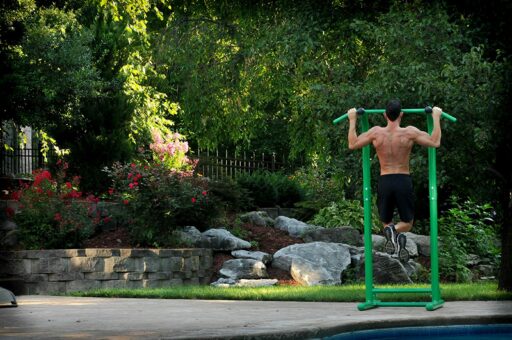 The Stamina outdoor power tower has a pretty simple construction, and its assembly is far from complicated. You'll have to put together the base first, add the two upright pillars, close the frame at the top with the pull-up bar, and add the dip handles.
Consequently, this shouldn't take more than an hour of your time. The manual provides clear assembly instructions with attached schematics. An L-type Torx Wrench also comes with the tower.
Once assembled, you don't have to worry too much about maintenance. If it's outside and it catches dirt, cleaning it from time to time may be necessary.
Pros
Sturdy frame – can support loads up to 300 lbs;
High-grade paint finish for outdoor use;
Anchor points on the base bars for attaching it to the floor or pavement;
Four workout stations – pull-ups, dip, push-ups, and sit-ups;
More than 20 exercises available;
Reasonably easy to assemble;
L-type Torx Wrench for assembly comes with the tower;
Little maintenance is required;
Excellent warranty.
Cons
No backrest for the dip station;
No parallel grips on the pull-up station.
Stamina Outdoor Power Tower Summary
The Stamina Outdoor Power Tower empowers you to build full-body strength in the comfort of your yard. The rugged frame is engineered to weather the elements and comes with corrosion, chip-resistant paint, and UV color protection.
It has four main workout stations to execute pull-ups, dips & leg raises, sit-ups, and push-ups. In addition, it offers the possibility to perform more than 20 exercises and their variations. Moreover, it's a pretty sturdy power tower, great for users of all levels, offering excellent value for the price.
I hope you found this article helpful and informative. Would you please speak up if you have anything you'd like to share on the topic or any opinions about my website? I look forward to your comments, questions, and the sharing of ideas.
Please remember that you should consult your physician to determine if you have any medical or physical conditions that could risk your health and safety or prevent you from using the equipment properly. In addition, your physician's advice is essential if you are taking medication that affects your heart rate, blood pressure, or cholesterol level.