Expertly crafted, the NordicTrack RW900 Rowing Machine features an upgraded 22″ HD Smart Touchscreen that tilts and pivots along with an upgraded 30W Premium Sound system, so your worldwide workout will be highly immersive–on or off the rower. Quickly rotate your screen to follow along through high-energy cross-training sessions.
Row worldwide, from pristine lakes to breathtaking rivers, at the touch of a button. Stream high-energy rowing classes with a personal trainer in a motivating and empowering atmosphere any time you want. Hop off the rower and follow your trainers to participate in high-powered, cross-training workouts to get you moving and feeling good.
An improved sliding rail system combined with an upgraded flywheel and Silent Magnetic Resistance technology ensures your rowing experience will be exceptionally smooth and quiet. Strap your feet onto the oversized pivoting pedals with adjustable nylon foot straps, which quickly release so you can easily slip your foot out of the pedals.
Power your way through 26 digital resistance levels as you strengthen your core, arms, and legs and build your stamina. First, your iFit trainer auto-adjusts your smart rower's resistance for an optimized workout that meets your goals. Then, increase the intensity and build strength by manually adjusting the additional air resistance.
Learn more in my complete review below!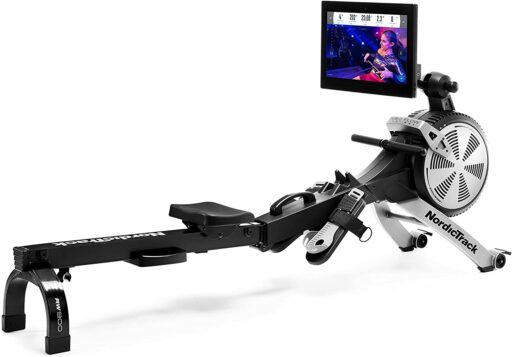 Product: NordicTrack RW900 Rowing Machine
Price: For a great deal on this rower, merely go here to Amazon.com
Warranty: Frame 10 years / Parts 2 years / Labor 1 year
My rating: is 8/10
Affiliate Disclosure: As an Amazon Affiliate Program participant, I earn commissions on purchases made through links in this post. Full disclosure
Details and Specifications
Assembled dimensions: 86.5L x 22W x 50.4H inches (220L x 56W x 128H cm)
Assembled weight: 131 lbs (59 kg)
Supported weight: 250 lbs (113 kg)
Footrests: Adjustable, with straps
Resistance: Air and magnetic
Console: 22″ diagonal, WiFi, Bluetooth, iFit enabled, 30 onboard workouts
Warranty: Frame 10 years / Parts 2 years / Labor 1 year
RW900 Frame Construction
The NordicTrack RW900 rowing machine features a pretty sturdy steel tubing frame. Most of the structure is painted black, except the front base frame, which is light gray.
The rower also integrates several plastic parts. The most notable ones are the drive system guards, the front frame section guards, the lifting handles, and the top sections of the footrests. These are all durable thermoplastic materials.
The fully assembled rower is relatively large. It is approximately 86.5″ (220 cm) long and 22″ (56 cm) wide. Therefore, it may not fit too well in a small room, considering that you also have to allow at least two feet of clearance on each side and at the rear for correct and unhindered usage.
The distance between the footrests and the rear seat stopper is approx—45″ (114 cm). Thus, the machine accommodates up to 6'6″ (198 cm) with no problem. It also has a maximum user weight limit of 250 lbs (113 kg).
In addition, the machine is foldable. The joint between the rail and the front frame section allows you to fold the machine. There is a lifting handle on the front section of the frame and another on the rail. In its folded position, its length reduces to 36.2″ (92 cm) while its height remains approximately the same – 50.4″ (128 cm).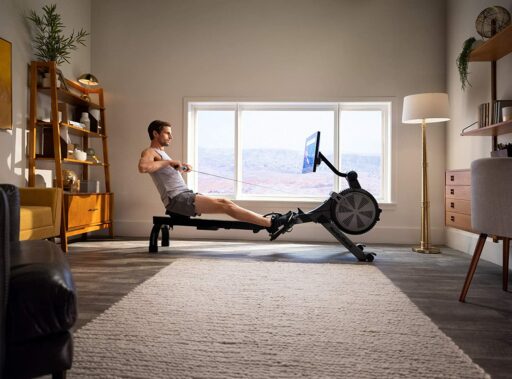 The machine is pretty heavy. Its net weight is approx—131 lbs (59 kg). Therefore, two people should carry and assemble the rower. However, one person can quickly move the rower as its front base comes equipped with transport wheels once completed.
Seat and other parts
The NordicTrack RW900 rowing machine comes equipped with a pretty standard seat. Its top section is approx. 12″ (30 cm) wide, providing plenty of contact surface. In addition, it has a contoured surface to provide better positioning for the user. It is also foam padded for extra comfort.
The base frame of the seat is steel-made. It integrates three sets of wheels. Two sets slide on top of the rail, while the third one slides under the edges of the top rail plate for extra stability. The wheels incorporate ball bearings for a smooth motion and a rubberized outer layer to reduce noise. Also, the highest point of the seat is 14″ (35.5 cm).
The machine comes equipped with a set of adjustable footrests. Their top sections are a durable thermoplastic material and have heel guards and straps for improved foot stability.
The machine's footrests are stationary. Therefore, they do not pivot on their axis. Instead, they come pre-attached to the frame and sit at an angle of approximately 45 ° to provide optimal positioning for your feet.
The unit's pulling handle is a simple, straight bar. It has rubber foam sleeves for an improved grip. It's attached to the machine's resistance system via a heavy-duty, braided nylon strap, highly resistant to stretching and abrasion. Unfortunately, it does not have any controls or pulse sensors.
RW900 Resistance system
The NordicTrack RW900 rowing machine combines air resistance with magnetic resistance. Its front unit integrates a large flywheel fan connected to the internal bungee cord. Therefore, when you pull the handle, it spins inside its casing, creating air resistance.
The air resistance system adds a dynamic effect to the workout. Therefore, the air resistance depends on how fast you pull the handle. For example, the fan will spin faster and generate more resistance if you pull the handle faster. For instance, this resembles, up to a point, the sensation of rowing an actual boat through the water.
In addition, the air resistance system also comes equipped with a damper. This element has a large handle with ten settings. Therefore, it allows you to increase or decrease the overall air resistance.
The motorized magnetic resistance features digital adjustment. It consists of a small servo motor and a magnetic brake. It adjusts exclusively from the console. The machine has a power adapter featuring a 12 ft. (3.6 m) cable. Its specs are Input 100-240 VAC, 50-60Hz, 1.5 A / Output 12.0V @ 4.0A.
The console interface features gradual increase/decrease digital controls, but they're also programs that automatically increase the magnetic resistance. There are 26 levels of magnetic resistance in total.
Lastly, the machine's fan system does not generate too much noise. It is quieter than a Concept2 Model D rower. However, it is not entirely silent, especially if the damper is set to the highest position and you stroke quickly.
Console
The NordicTrack RW900 rowing machine features a smart console featuring an HD 22″ diagonal touchscreen display. It features a user-friendly interface and operates like a tablet. It also has a solid mount that permits tilting and rotating it side-by-side.
The console is iFit enabled and requires a WiFi connection to sync with your online iFit account. As you start it up, it will prompt you to create an iFit account (if you don't already have one).
Unlike the smart console of the Bowflex T22 treadmill, it does not have apps like Netflix or Disney+ installed, and you cannot install any apps or watch TV on it. However, the machine comes with a 30-day free iFit family membership.
The iFit app allows stream live and on-demand workouts from an extensive database of workout videos. Furthermore, it also offers the possibility to row or exercise in various places, enabling you to track your progress online, compete with other users, create your program routines, and more.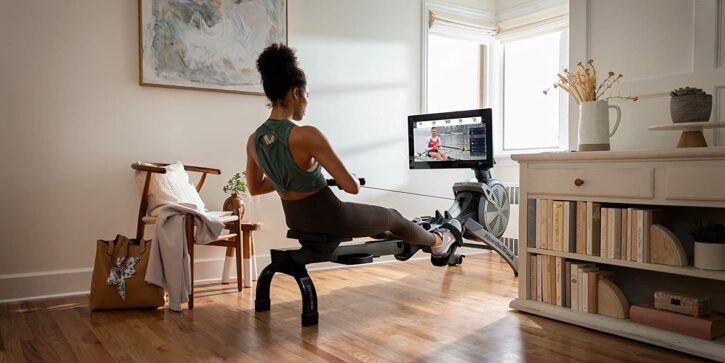 The use of the iFit application is not necessary. Once the free iFit membership expires, you don't have to renew it. The console has a database of programs that don't place you in a virtual location but show a wide array of workout parameters. Some of them automatically adjust the magnetic resistance.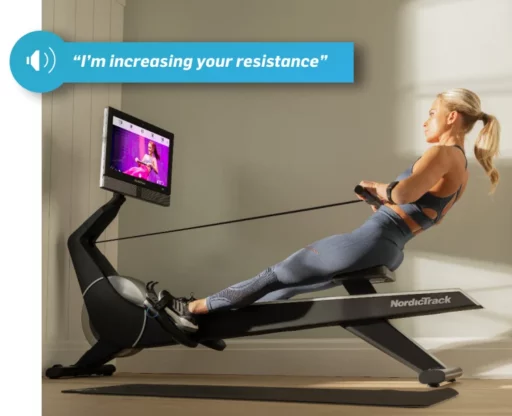 The console shows various workout metrics, including time, distance, strokes, total strokes, strokes per minute, heart rate, and calories burned. The heart rate function requires a Bluetooth heart rate chest strap or armband. Unfortunately, this accessory does not come included.
Also, the console integrates a set of speakers so you can connect your tablet or phone via cable to it and listen to your favorite music with better sound quality.
RW900 Assembly and Maintenance
Most of the machine comes assembled and in a folded position. So, you only have to unbox it, unfold it, insert the seat on the rail, and add the rear seat bumpers, the console mount, and the console.
Consequently, this shouldn't take more than an hour of your time. All the necessary tools for the assembly come included, and the manual provides pretty clear assembly instructions.
Once assembled, maintenance doesn't require much. You only need to keep it clean, especially the rail, to prevent damage to the seat's wheels. The internal parts shouldn't need any maintenance for an extended period. It is also advisable to periodically check for loose bolts and parts and retighten them.
Pros
Solid construction – can support users up to 250 lbs (113 kg);
Folding frame and integrated handles for easy folding;
Aesthetic design;
Transport wheels on the front stabilizer;
Long rail – the machine can accommodate users up to 6'6″ (198 cm);
Ergonomic seat for optimal comfort;
High seat (14″) for easy entry and exit;
Adjustable footrests with heel guards and straps;
Air resistance for a dynamic response – 10 levels;
Digital magnetic resistance – 26 levels;
22″ iFit enabled smart console with WiFi connectivity;
Live and on-demand workouts, scenic rides, workout planning, and more via iFit;
30-day free iFit family membership trial;
Multiple workout metrics and onboard programs;
Bluetooth connectivity for wireless HR chest straps;
2″ digitally amplified speakers integrated into the console;
AUX port for headphones;
Easy to assemble;
Excellent warranty;
Little maintenance is required.
Cons
No adjustable levelers;
The HR chest strap does not come with the rower;
Once the free membership expires, iFit requires a monthly subscription (currently $15).
NordicTrack RW900 Rowing Machine Summary
The NordicTrack RW900 is a rowing machine made for home use. It has 26-level digital magnetic and 10-level air resistance systems.
In addition, it features a sturdy folding frame with a long rail, adjustable footrests, and a 22″ iFit-enabled smart console. Moreover, it's a machine for users of all levels, great for a full-body cardio workout, muscle toning, stamina development, and weight loss.
I hope you found this article helpful and informative. Would you please speak up if you have anything you'd like to share on the topic or any opinions about my website? I look forward to your comments, questions, and the sharing of ideas.
Please remember that you should consult your physician to determine if you have any medical or physical conditions that could risk your health and safety or prevent you from using the equipment properly. In addition, your physician's advice is essential if you are taking medication that affects your heart rate, blood pressure, or cholesterol level.