The SereneLife SLRWMC50 Rowing Machine is a dual air and magnetic resistance machine that is a durable, high-quality rowing machine made from durable steel metal alloy and engineered ABS. This rowing machine is of premium quality and will last a long time. This rowing machine is suitable for most sizes and is strong enough to hold up to 250lb.
The SLRWMC50 comes equipped with ten levels of manual magnetic resistance. With a simple button twist, you can increase or decrease the resistance on this rowing machine, so your workout is tailored to your needs and fitness journey. Also, an air resistance flywheel fan enhances the magnetic resistance system.
The SereneLife SLRWMC50 Rowing Machine with dual air and magnetic resistance offer a full-body, low-impact workout which targets your forearms, biceps, triceps, shoulders, legs, thighs, and more with the easy-to-use air & magnetic rowing machine.
Workout while having fun – The SLRWMC50 rowing machine is ideal for sports training, cardio fitness, fat burning, and weight loss. This state-of-the-art rowing machine features a simple fitness monitor to track time, distance, pulse, calories, strokes per minute, count, and goals.
Learn more in my complete review below!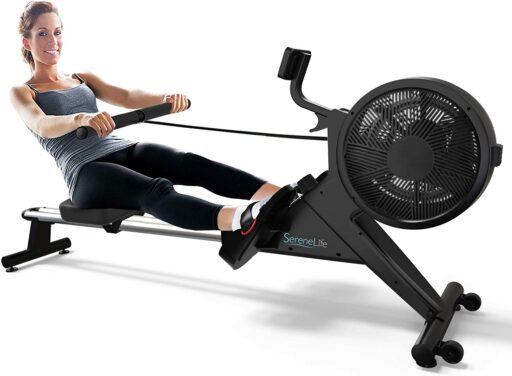 Product: SereneLife SLRWMC50 Rowing Machine
Price: For a great deal on this rower, merely go here on Amazon
Warranty: 1 year limited
My rating: 8.75/10
Affiliate Disclosure: As an Amazon Affiliate Program participant, I earn commissions on purchases made through links in this post. Full disclosure
Details and Specifications
Assembled dimensions: 83.5L x 19.3W x 34.8H (212L x 49W x 88H cm)
Assembled weight: 73 lbs (33 kg)
Weight capacity: 250 lbs (113 kg)
Resistance type: Air & magnetic, ten levels
Fitness Monitor: Time, distance, pulse, calories, strokes per minute, count, goals
Warranty: 1 year limited
SLRWMC50 Frame Construction
The SereneLife SLRWMC50 rowing machine combines steel and high-impact plastic parts in its construction. Its mainframe with the rail and base stabilizers is steel-made, while the sliding rail system has a different structure than similar machines. It consists of two parallel bars with extra steel sheet covers on top.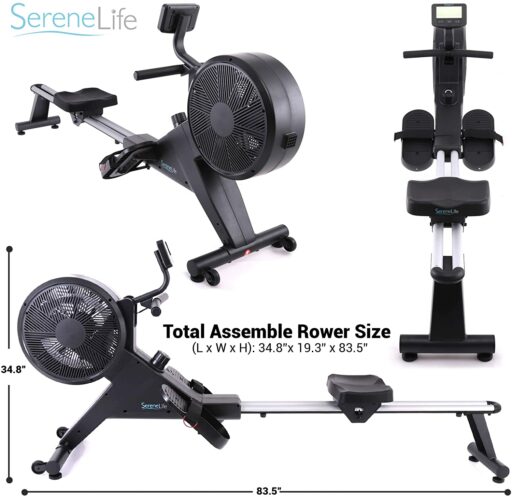 This type of rail system improves stability. In addition, it's relatively long, offering approx. 33″ (~84 cm) of travel for the seat. This means the rower can accommodate users up to 6'5 ″ (196 cm), allowing a complete leg extension and range of motion. Also, the machine's rail system is durable enough to support users up to 250 lbs (113 kg).
The high-impact plastic parts are pretty much the covers of the flywheel and the other elements of the resistance system. They don't play a part in the overall weight capacity of the machine. Their role is only protective.
The fully assembled machine is reasonably large. It is 83.5″ (212 cm) long and 19.3″ (49 cm) wide. Therefore, it may not fit too well in a small room. Plus, leaving at least two feet of clearance on each side of the unit and at the rear is advisable for easy access and safe usage.
The rower is not foldable, but it can store vertically. In addition, the flywheel casing's front section has a small bumper that can serve as a footpad when stored vertically.
Last but not least, this SereneLife rower is relatively heavy, weighing 73 lbs (33 kg). However, it's easily moved; its front base comes equipped with two large transport wheels. Also, its base bars feature adjustable stabilizers, allowing you to level the machine on any floor perfectly.
Seat and other parts
The SereneLife SLRWMC50 rowing machine has a seat designed for optimal comfort. Its top features a sheet of polyurethane material; it comes molded to provide superior user stability. It's approx. 16″ (40 cm) wide, giving plenty of contact surface.
The seat frame is steel-made. Therefore, it has no problem supporting users up to 250 lbs (113 kg). It integrates three sets of rollers. Two above the rail system, and the third is under it to improve stability.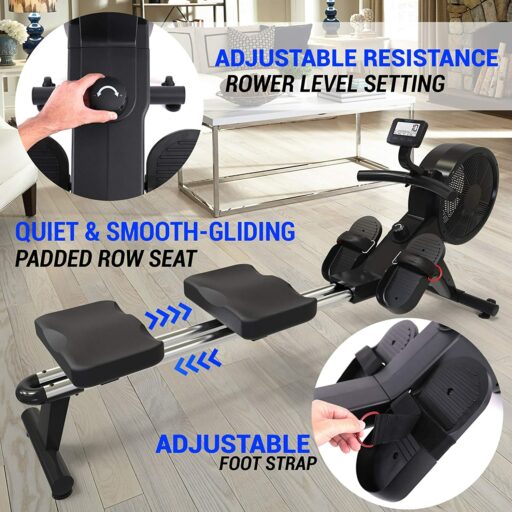 The rollers incorporate high-grade ball bearings for a smooth seat motion. To reduce noise and increase safety, they are concealed.
The top of the seat stands at approx. 16″ (40 cm) above floor level. This can be quite a plus, especially for users with specific disabilities or the elderly, improving the entry and exit possibilities. Also, the unit's rail is horizontal. Therefore, the machine delivers a neutral rowing motion instead of other rowers with a slightly inclined rail.
The SereneLife SLRWMC50 rower has two large footrests made of durable ABS material. In addition, they feature a ribbed surface for improved contact and heel guards for extra foot stability. Also, they come equipped with adjustable straps.
The pulling handle features rubberized grips slightly angled towards the user to minimize the impact on the wrists. Unfortunately, the pulling handle doesn't integrate HR pulse sensors like other, more expensive rowers. However, the included fitness monitor does have a pulse reading function.
The handle is attached to a heavy-duty nylon strap. The material of the belt is highly resistant to abrasion. In addition, the strap is relatively long, so you can perform other exercises (like biceps curls) with no problem.
SLRWMC50 Resistance system
The SereneLife SLRWMC50 rowing machine comes equipped with an air and magnetic resistance system. To begin with, it integrates a flywheel fan, which delivers a dynamic response during rowing.
For instance, if you pull the handle faster, the air resistance it generates will be higher. Thus, the machine creates a rowing sensation that resembles an actual boat rowing through the water.
An internal magnetic brake complements the machine's air resistance system. This magnetic resistance system allows you to increase or decrease the overall load output of the machine. In addition, the magnetic brake is mechanical, not motorized. Therefore, the rower doesn't need an external power source. Also, the fitness monitor cannot control the resistance automatically.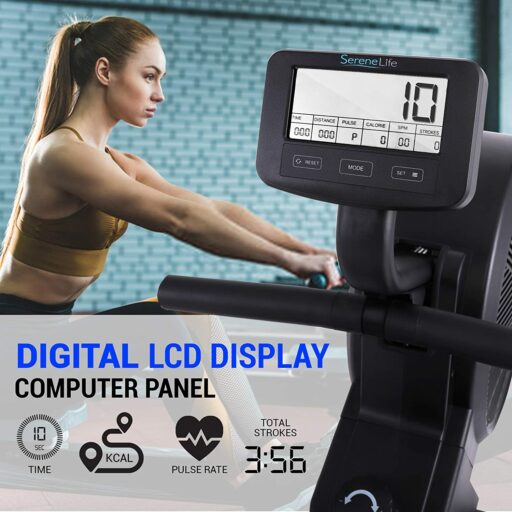 The magnetic brake connects to the tension knob on the rower's front section via a steel cable. Turning the knob clockwise, the brake moves closer to a small metallic flywheel, increasing the overall resistance.
The magnetic brake makes available ten levels of resistance. They are not pre-determined on the tension knob, but the knob has "clicks" that distinguish the levels.
The first resistance level allows you to work out using the fan output. Conversely, the 10th level of resistance adds quite a bit of tension, offering the possibility of a more intense workout.
Fitness monitor
As I've mentioned, the SereneLife SLRWMC50 is not a motorized rowing machine. Therefore, the fitness monitor included with it is just a simple one. Unfortunately, it doesn't adjust the machine's resistance automatically and does not have preset workout programs.
The fitness monitor features an LCD divided into multiple sub-sections. It tracks time, distance, calories, pulse, strokes per minute (SPM), strokes (per session), and total strokes. The distance reading displays in kilometers; there is no setting for miles. The time is on display as Time/500m.
The pulse reading function of the monitor requires the usage of a 5.3 kHz HR chest strap. Unfortunately, this accessory does not come with the rower.
The monitor is straightforward to use. It has three buttons – Set, Mode, and Reset. The Set button allows you to enter its set-up mode to select a target value for time, distance, calories, and strokes.
Suppose a target for any of these values gets chosen. In that case, the monitor will countdown from the selected target until it reaches zero and beeps to notify you that you have completed your workout-determined goal.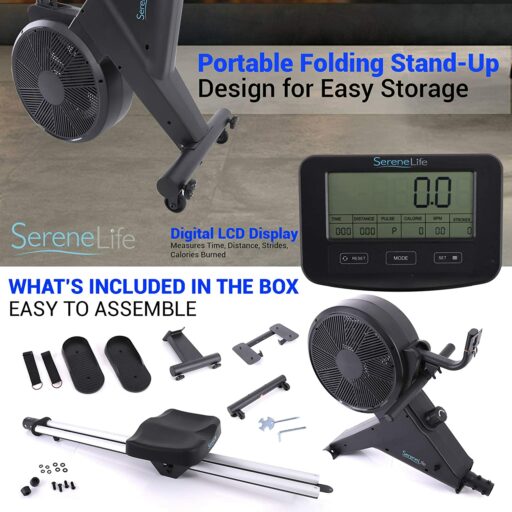 The Mode button allows you to select any of the workout metrics to display on the top more extensive display section. It also allows you to choose the Scan Mode, which automatically rotates all the top screen metrics.
Of course, the Reset button allows you to clear all the monitor values to zero, except the Total Strokes metric, which resets to zero by removing the monitor's batteries.
The monitor requires four AAA batteries as its power source; these come included with the rower. It starts if you press the Mode button, but it also has a sleep mode function. It will enter its sleep mode to save the battery if it doesn't detect any rower activity after a few minutes.
SLRWMC50 Assembly and Maintenance
Like most other rowers, the machine's front section comes pre-assembled with all the drive and resistance elements. However, you still have to connect the seat to the rail system, attach the rail system to the machine's front section, and attach the footrests, the two base stabilizers, and the fitness monitor.
Consequently, this may take more than an hour; however, the task is far from complicated. The manual provides step-by-step assembly instructions and schematics. In addition, all the necessary tools for assembly come with the machine.
Once completed, the rower doesn't call for too much maintenance. You only have to keep the machine clean, especially the rails, to prevent damage to the seat rollers.
If the fan casing accumulates dust, you can vacuum it from the outside without removing any parts. In addition, the internal belt system doesn't need any lubrication. And finally, it is advisable to inspect the machine checking for loose bolts periodically and retightening them if necessary.
Pros
Fairly sturdy construction – can hold users up to 250 lbs (113 kg);
Can be stored vertically to save space;
Transport wheels on the front base;
Adjustable stabilizers on both base bars;
Dual rail system for improved stability;
Long sliding rail offering 33″ (~84 cm) of travel for the seat;
Large footrests with heel guards and adjustable straps;
Padded and contoured seat;
Air resistance for a natural, dynamic response during rowing;
Ten levels of magnetic resistance for overall tension adjustment;
Fitness monitor which tracks time, distance, count, strokes per minute, total strokes, pulse, and calories burned;
Goal settings for time, distance, count, and calories;
Batteries for the monitor come included;
Very quiet for an air-resistance rower;
Easy to assemble;
All the necessary assembly tools come with the rower;
Little maintenance is required.
Cons
An HR chest strap does not come with the machine;
No backlight on the fitness monitor LCD.
SereneLife SLRWMC50 Rowing Machine Summary
The SereneLife SLRWMC50 is a rowing machine designed for home use. It comes equipped with an air & magnetic resistance system offering ten distinct tension levels. In addition, it features a dual rail system for improved stability with a large and reasonably high seat and a fitness monitor that tracks all the important workout metrics, including pulse (HR pulse strap does not come included).
It's an excellent machine for a full-body cardio workout, muscle toning, stamina development, and weight loss. It's also one of the most affordable rowers with an air & magnetic resistance combo, offering an excellent price/value ratio.
I hope you found this article helpful and informative. Please speak up if you have anything you'd like to share on the topic or opinions about my website.? I look forward to your comments, questions, and the sharing of ideas.
Please remember that you should consult your physician to determine if you have any medical or physical conditions that could risk your health and safety or prevent you from using the equipment properly. In addition, your physician's advice is essential if you are taking medication that affects your heart rate, blood pressure, or cholesterol level.