Lose weight and up your fitness levels the fun way with the SereneLife SLRWMC60 Smart Rowing Machine! The PMS system on this smart rower helps you burn calories and fat and lose weight by motivating you by showing immediate results. In addition, this rower offers a full-body workout that involves all your major muscles, including your arms, shoulders, abdominals, legs, and back.
The SereneLife SLRWMC60 has a 16-level air/magnetic resistance system. Therefore, both the air and magnetic elements are in play in generating resistance. The magnetic resistance is adjustable via the monitor buttons, and the air resistance develops depending on how fast you row.
The SereneLife SLRWMC60 Smart Rowing Machine's mid-range fitness monitor has Bluetooth 4.0 capability. It features an LED monitor that tracks workout stats such as time/500m, distance, watts, strokes per minute (SPM), total strokes, pulse, and calories burned. In addition, the monitor is telemetry enabled. However, it requires a Bluetooth HR chest strap to read your heart rate.
The Fitshow app is available for all iOS/Android smartphones, tablets, and computers. In addition, the Fitshow app is free to download online. Once downloaded, you can record, collect, and review workout data, put your training stats on display, and challenge friends. It also allows you to share health and fitness data via social media.
Learn more in my complete review below!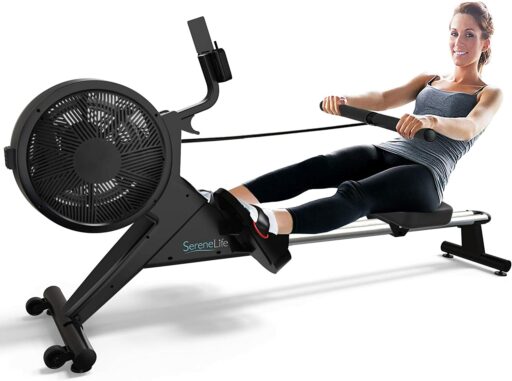 Product: SereneLife SLRWMC60 Smart Rowing Machine
Price: For a great deal on this rower, merely go here on Amazon
Warranty: 1 year limited
My rating: 8.5/10
Affiliate Disclosure: As an Amazon Affiliate Program participant, I earn commissions on purchases made through links in this post. Full disclosure
Details and Specifications
Assembled dimensions: 83.5L x 19.3W x 34.8H (212L x 49W x 88H cm)
Assembled weight: 73 lbs (33 kg)
Weight capacity: 250 lbs (113 kg)
Resistance type: Air & magnetic, 16 levels
Fitness Monitor: 21 programs, recovery, Bluetooth
Warranty: 1 year limited
SLRWMC60 Frame Construction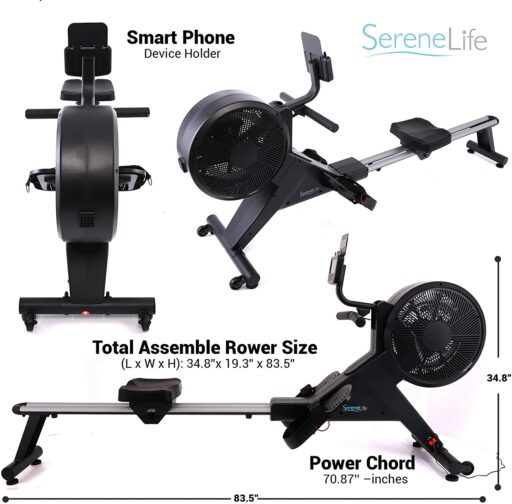 The SereneLife SLRWMC60 features a steel frame with a dual rail system that supports a maximum user weight capacity of up to 250 lbs (113 kg). In addition, this type of rail system offers extra stability. Also, the two-component bars of the rail system have two sheets of steel reinforcement.
All the steel parts of the rower feature a durable corrosion-resistant black paint finish. The only exceptions are the rail bars' two covers with a gray paint finish.
The fully assembled rower is relatively large. It is 83.5″ (212 cm) long and 19.3″ (49 cm) wide. In addition, its rail system provides approximately 33″ (84 cm) of travel for the seat. Thus, the machine can comfortably accommodate users up to 6'5″ (196 cm), allowing a complete range of motion.
This SereneLife rower does not have a folding design. However, it stores vertically, resting on its front stabilizer. When stored upright, its footprint becomes approximately 35″L x 19.3″ (48 x 88 cm). Also, the machine's front base bar has transport wheels for easy relocation, and both base bars have adjustable levelers.
The fully assembled rower is not extremely heavy compared to other fitness machines. However, it does weigh approximately 73 lbs (33 kg). Therefore, one person can carry and assemble the machine by only one person. In addition, its relocation is much easier due to its transport wheels.
Lastly, the SereneLife SLRWMC60 rower also incorporates several durable thermoplastic parts. For example, the casing of the fan and several other covers are made of plastic materials. Still, these only have a protective or cosmetic role and should not influence the machine's overall sturdiness.
Seat and other parts
The SereneLife SLRWMC60 rower comes equipped with a reasonably large seat. Its top is approximately 16″ (40 cm) wide, providing plenty of contact surface. Its top is high-density foam; it's not super soft, but it's not hard either. Furthermore, it is also contoured for improved comfort.
The machine's seat frame is steel-made. It features three sets of rollers. Two rollers slide on top of the dual rail system, while the third roller glides underneath the rail for improved stability. In addition, the rollers integrate a ball bearing for smooth motion and have a rubberized layer outside for reduced noise.
The top of the seat stands at approx. 15″ (38 cm) above floor level. Therefore, it can be quite a plus, especially for users with disabilities, making it easier to mount or dismount. Also, the machine's rail system is horizontal. Thus, the rower provides a neutral rowing motion.
The SereneLife SLRWMC60 rowing machine comes equipped with two large footrests. Their base frame connects to the machine's frame. Unfortunately, they're fixed and do not pivot like some other rowers. However, they are durable ABS materials with a textured surface for improved foot stability. In addition, they also have side and rear guards, as well as adjustable straps.
This SereneLife rower features an ergonomic pulling handle. Its grips curve slightly towards the user to minimize the impact on the wrists. Furthermore, its grips have a rubberized finish for extra comfort.
The pulling handle connects to a heavy-duty nylon strap. Thus, it is a plus as the machine's quieter usage and the belt doesn't require maintenance. Although it may wear over time, it should last a few years, even with everyday use.
SLRWMC60 Resistance system
The SereneLife SLRWMC60 rower has air and an eddy current brake resistance system. First, the main resistance-generating element is the large flywheel fan at the front of the rower. This fan connects to the pulling handle through a network of pulleys and the nylon strap, and as you pull the handle, the fan spins, generating resistance.
This rower provides a dynamic response like any other fitness machine with an air resistance system. Therefore, the resistance it generates depends on how fast you pull. For example, if you pull the handle more rapidly, the fan spins more quickly, creating more resistance.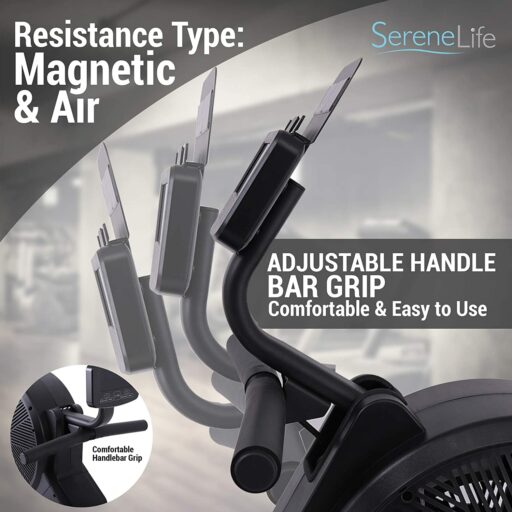 On the other hand, the machine also has an integrated eddy current magnetic resistance system. It comprises a small metallic flywheel, a magnetic brake, and a servo motor. This additional resistance system allows you to add or reduce the rowing resistance.
Since this magnetic brake uses a servo motor, the machine requires an external power source. Therefore, a power adapter comes included with the rower. The magnetic resistance is adjustable from the fitness monitor. Also, the monitor has several workout programs that adjust the magnetic resistance automatically.
The machine's magnetic brake makes available 16 levels of resistance. On the lowest level, you will work only with the resistance generated by the fan. Conversely, the 16th level considerably increases the machine's resistance and allows you to burn more calories.
Fitness monitor
The SereneLife SLRWMC60 has a decent fitness monitor for a home-use machine. First, it features an LCD with an LED backlight for improved readability.
The display divides into multiple sections to show as many workout metrics as possible. For example, it shows time, time/500m, distance, watts, strokes per minute, total strokes, pulse, and calories burned. Also, the bottom, more extensive section displays the grid of the program in use.
Although the rower does not have integrated HR pulse sensors, the monitor has a pulse reading function. However, you must use a 5.3 Hz standard heart rate chest strap to track your pulse. Unfortunately, this accessory does not come with the machine.
The machine's fitness monitor has 21 built-in programs. The list includes one manual, nine pre-set, 1 BMI, 1 watt, 4 HR, and four user-defined. It also has a Recovery function.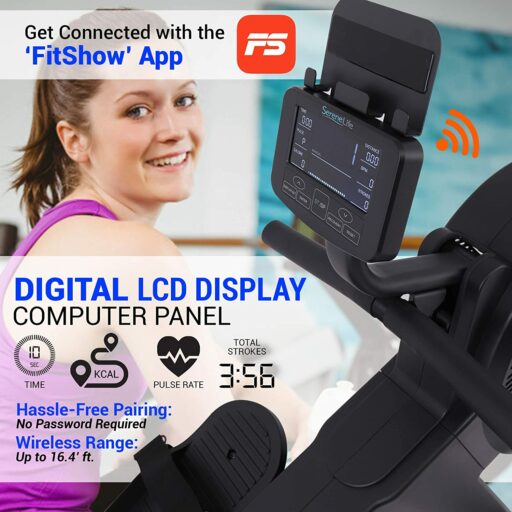 Of course, one of the essential monitor features is its Bluetooth connectivity. For example, it allows you to sync the rower with your smartphone or tablet via the Fitshow app, available for iOS and Android.
This app allows you to collect, record, and review exercise data, share it on social media or compete with friends. The app is available free in the App Store or Google Play.
One last feature to note is the integrated tablet holder with a small shelf at the top of the monitor with considerable support featuring a non-slip sticker. However, the monitor does not have a USB or other port to connect your device. The only connection available is Bluetooth.
SLRWMC60 Assembly and Maintenance
The front unit of the machine with all the resistance elements comes pre-assembled. All the other parts, however, require user assembly.
You must attach the front stabilizer, connect the rail system to the front part of the rower, add the seat onto the rails, close the rail system with the rear stabilizer, and attach the footrests to the front section. The manual provides clear assembly instructions, and all the necessary tools come included with the machine.
Maintenance doesn't require much. You only have to keep your rower clean, especially the rails, to prevent damage to the seat wheels. The internal parts do not require lubrication or any maintenance.
Pros
Fairly sturdy construction – can hold users up to 250 lbs (113 kg);
Can be stored vertically to save space;
Adjustable stabilizers on both base bars;
Transport wheels on the front base;
Dual rail system for improved stability;
Long sliding rail offering 33″ (84 cm) of travel for the seat;
Large footrests with heel guards and adjustable straps;
Padded and contoured seat;
Air resistance for a natural, dynamic response during rowing;
16 levels of eddy current resistance for overall tension adjustment;
Power adapter included;
Multi-window fitness monitor with LED backlight;
21 programs on the console;
Goal settings for time, distance, count, and calories;
Pulse reading function;
Bluetooth connectivity and compatibility with the free Fitshow app available for iOS and Android devices;
Very quiet for an air-resistance rower;
Tablet holder included;
Easy to assemble;
All the necessary assembly tools included;
Little maintenance is required.
Cons
An HR chest strap does not come with the rowing machine.
SereneLife SLRWMC60 Smart Rowing Machine Summary
The SereneLife SLRWMC60 is a rowing machine designed for home use. It has an air & magnetic resistance system offering 16 distinct levels of eddy current resistance. In addition, it features a dual rail system for improved stability and a large ergonomic seat.
Furthermore, its fitness monitor has 21 built-in programs and Bluetooth connectivity and is compatible with 5.3 Hz HR chest straps. Moreover, it's an excellent machine for a full-body cardio workout, muscle toning, stamina development, and weight loss.
I hope you found this article helpful and informative. Would you please speak up if you have anything you'd like to share on the topic or any opinions about my website? I look forward to your comments, questions, and the sharing of ideas.
Please remember to consult your physician to determine if you have any medical or physical conditions that could put your health and safety at risk or prevent you from using the equipment properly. In addition, your physician's advice is essential if you are taking medication that affects your heart rate, blood pressure, or cholesterol level.