The easy-to-assemble OMA 5925CAI Folding Treadmill has become highly popular, with a maximum user weight capacity of 300 lbs (136 kg). The treadmill includes 43 programs and three modes of versatile fitness training equipment.
Three of them are custom interval programs and countdown programs. You will also find a dedicated program to control your heart rate. Moreover, you can choose an option from 36 preset programs. This  OMA treadmill is compatible with Zwift, Kinomap, and AnyRun fitness apps, where you can have structured workouts with people worldwide.
The OMA 5925CAI Folding Treadmill features a high-performance 3 HP motor with magnet direct current technology. As a result, you can smoothly operate the treadmill for long hours. The speed rate is 0.5 – 11.2 MPH. In addition, the quick selection speed controls offer a quick selection for 3 MPH, 5 MPH, 7 MPH, 9 MPH, or six kmh, nine kmh, 12 kmh, or 15 kmh.
This OMA treadmill is relatively large. However, with the deck folded up, you'll save almost 40% of the space in your room. The folding mechanism involves a soft-drop hydraulic cylinder that slowly lowers the deck when you unfold it to prevent damage. In addition, the OMA 5925CAI folding treadmill comes with dual-layer cushioning on the large tread belt that measures 55L x 20W inches.
Learn more in my complete review below!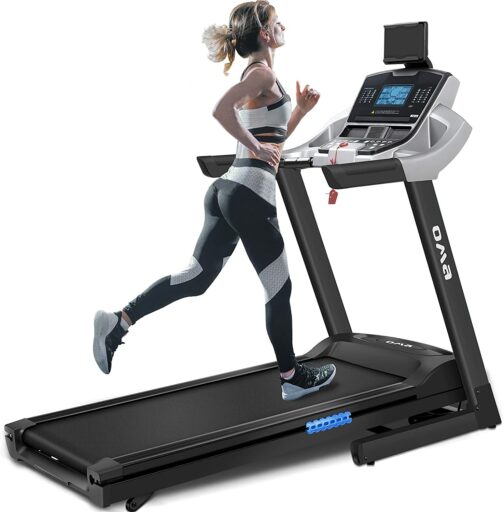 Product: OMA 5925CAI Folding Treadmill
Price: For a great deal on this treadmill, merely go here to Amazon.com
Warranty: Frame 5 years / Parts 2 years / Motor 1 year
My rating: is 9/10
Affiliate Disclosure: As an Amazon Affiliate Program participant, I earn commissions on purchases made through links in this post. Full disclosure
Details and Specifications
Assembled dimensions: 69.7L x 31.1W x 64.4H inches (177L x 79W x 164H cm)
Tread belt dimensions: 55L x 20W inches (140L x 51W cm)
Assembled weight: 185 lbs (84 kg)
Supported weight: 300 lbs (136 kg)
Motor: 3.0 HP, 0.5 – 11.2 MPH
Incline: Motorized, 0-15%
Console: 43 programs, Bluetooth, compatible with Zwift, Kinomap, and AnyRun
Extras: Device holders, accessory trays, speakers
Warranty: Frame 5 years / Parts 2 years / Motor 1 year
5925CAI Frame Construction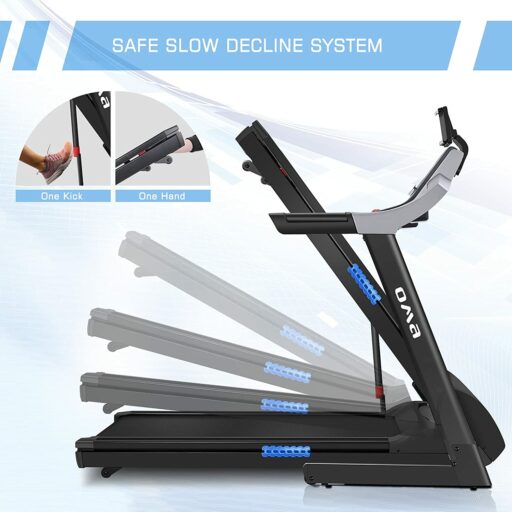 The OMA 5925CAI treadmill features a heavy-duty steel frame close to a light-commercial model. However, it is a machine for home use only and has a residential warranty.
Its frame combines rectangular and oval steel tubing for improved aesthetics and sturdiness. In addition, all the steel parts come double-coated with a rust-resistant black paint finish.
Of course, the machine also integrates several plastic parts. For example, the side rail covers, the motor cover, and the console dashboard are made of durable thermoplastic materials.
This OMA treadmill is reasonably large. With all the parts assembled, it is approximately 69.7″ (177 cm) long and 31.1″ (79 cm) wide. Therefore, it is advisable to leave at least 24″ (61 cm) of clearance on each side of the deck and at least 36″ (91 cm) at the rear for safe usage. The unit is also pretty heavy; its net weight is 185 lbs (84 kg), so its transport requires two people.
On the other hand, the treadmill is foldable. Its deck folds up, which is quite a plus for saving space and allowing easier cleaning under the machine. The folding mechanism involves a soft-drop hydraulic cylinder that slowly lowers the deck when you unfold it to prevent damage.
Deck construction and incline
The OMA 5925CAI treadmill offers a spacious running surface. It is 55″ (140 cm) long and 20″ (51 cm), similar to the running surface of the Schwinn 810 model. The inner deck board is made of durable HDF material; it supports maximum users of up to 300 lbs (136 kg). It also offers a bit of flex, reducing each footstrike's impact.
Speaking of shock absorption, the deck also integrates several cushioning elements. The side rail covers conceal some. The largest (blue) ones are visible on each side of the machine's walking platform.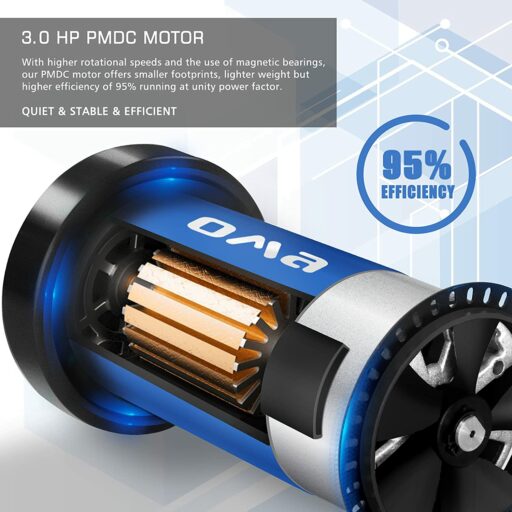 The belt is multi-layered, and its top layer provides an improved grip and prevents slipping. The inner rollers are crowned (their diameter is not specified). The crowned design enhances traction and prolongs the lifespan of the belt.
The OMA Fitness 5925CAI treadmill comes equipped with a motorized incline system. Therefore, you can adjust the incline as you run or walk. It also means the machine can adjust the angle automatically, depending on the program used.
The treadmill offers an incline range of 0% – 15%, which is not bad for a home-use machine. The incline increments are 1%. The console features gradual incline adjustment and quick selection controls for 6%, 9%, 12%, and 15%.
5925CAI Drive Motor
The OMA Fitness 5925CAI treadmill features a 3.0 HP drive motor that incorporates a small flywheel to minimize vibration and promote smooth movement for the belt. It offers a speed range between 0.5 and 11.2 MPH.
Like the incline, the console offers speed controls for gradual and quick selection adjustment. The incremental adjustment keys have a dual function. A short press adjusts the speed of the belt in increments of 0.1 MPH, and if you press and hold them for 0.5 seconds, the speed will increase or decrease more quickly.
The quick selection speed controls are on the right side of the console. Depending on your setup, they offer a quick selection for 3 MPH, 5 MPH, 7 MPH, 9 MPH, or six kmh, nine kmh, 12 kmh, or 15 kmh.
The motor itself is not extremely loud. However, depending on your running technique, weight, and other factors, your cadence may generate more or less noise. Also, since the motor is not super powerful, the daily usage of the machine shouldn't add too much to your electricity bill.
Console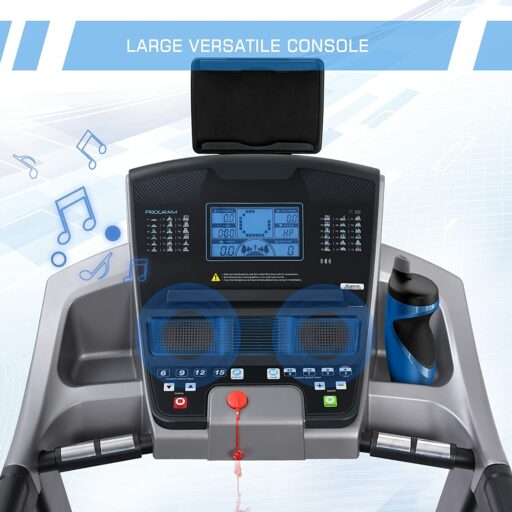 The console included with the OMA 5925CAI treadmill offers quite an impressive range of features. To begin with, it has a 7″ LCD  with an LED backlight for improved readability. In addition, the display divides into several sub-sections to show as many workout metrics as possible at once.
It tracks time, distance, calories, pulse, speed, and incline. Furthermore, there is also a 1/4 mile track with a lap count.
The machine's console is Bluetooth enabled and compatible with several fitness apps such as AnyRun, Zwift, and Kinomap. Therefore, if these apps are installed on your smart device, you can sync your device with the machine.
You can track your progress online, check your workout history, run on various virtual trails, compete with other runners, use custom programs, and more.
Nonetheless, the treadmill still covers you if you don't want to use any apps. It has 36 preset programs that automatically adjust the incline and speed. Their segment layouts are display on the console. The treadmill also offers three interval programs, three custom programs, and one heart rate program.
Among other notable console features, I can count two device holders, the bottle & accessory trays, and the speakers. One device holder is under the LCD and has a long shelf to place a larger tablet. The other device holder attaches to the top of the console.
The accessory trays mold into the console dashboard. And finally, the speakers have Bluetooth connectivity; thus, you can sync them with your smartphone or tablet to play your music through the machine's console or hear a coach's instructions if you're following one of the programs provided by the fitness apps.
5925CAI Assembly and Maintenance
The machine's running platform with the motors, deck board, belt, and rollers is pre-assembled. Therefore, you only need to attach the two upright bars and the console.
Therefore, it shouldn't take more than 30 minutes of your time. All the necessary tools for the assembly come included, and the manual provides step-by-step assembly instructions.
It is necessary to keep the machine clean for maintenance, especially the belt. In addition, the deck requires periodic lubrication. You'll also have to check for loose bolts and parts and retighten or replace them to ensure that your treadmill still functions properly.
Pros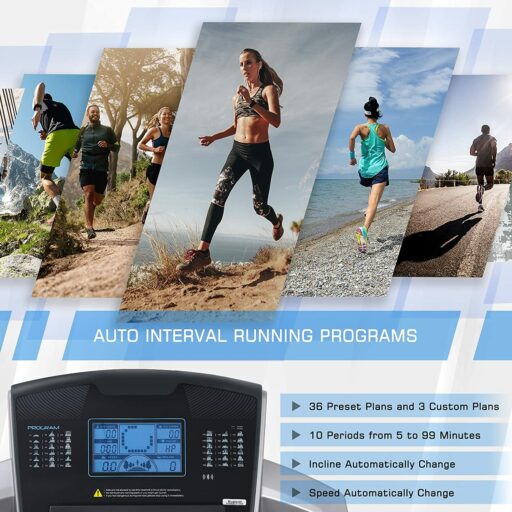 Sturdy construction – can support users up to 300 lbs;
Folding frame with soft-drop mechanism;
Shock absorption elements on each side of the deck;
Motorized incline – 15 levels;
3.0 HP motor, with a speed range between 0.5 – 11.2 MPH;
Speed adjust increments of 0.1 MPH, allowing you to find the perfect pace for your workout;
EGK pulse sensors integrated into the front handlebar;
Multi-function console with LED backlight;
Goal settings for time, distance, and calories;
1/4 mile track function for distance;
36 preset programs, three interval programs, three custom programs, and one heart rate program;
Bluetooth connectivity;
Compatible with Zwift, Kinomap, and AnyRun apps;
Device holders included;
Accessory holders included;
Bluetooth speakers included;
Reasonably easy to assemble;
Little maintenance is required;
Excellent warranty.
Cons
A tablet placed on the bottom holder will cover the console LCD;
The calorie reading is not too accurate.
OMA 5925CAI Folding Treadmill Summary
The OMA 5925CAI is an electric treadmill designed for home use. It has a 3.0 HP motor, an automatic incline system with 15 settings, and a console with 43 workout programs. In addition, it also has Bluetooth connectivity and is compatible with Kinomap, Zwift, and AnyRun fitness apps.
Moreover, it's a treadmill for users of all levels, great for light to intense cardio training, stamina development, interval workouts, and weight loss.
I hope you found this article helpful and informative. Would you please speak up if you have anything you'd like to share on the topic or any opinions about my website? I look forward to your comments, questions, and the sharing of ideas.
Please remember to consult your physician to determine if you have any medical or physical conditions that could put your health and safety at risk or prevent you from using the equipment properly. In addition, your physician's advice is essential if you are taking medication that affects your heart rate, blood pressure, or cholesterol level.