Run towards a better you with the Sunny Evo-Fit SF-T7955 Folding Treadmill. Engage in a full-body workout with 18 automatic incline levels at speeds up to 11.5 MPH. Keep your activities versatile with the 12 workout programs.
The SF-T7955 treadmill packs all the features necessary for an intense and enjoyable workout. With 18 automatic incline levels, the treadmill deck's top can raise itself to 5 inches off the ground. The 20-inch tread belt allows ample space to walk, jog, or run. In addition, the 3 HP peak motor produces speeds of up to 11.5 MPH allowing users to sprint as well!
The Sunny Evo-Fit SF-T7955 treadmill features an advanced fitness console that includes 12 workout programs and measures various metrics and data, including Time, Incline, Speed, Distance, Calories Burned, Heart Rate, Fitness Goals, and BMI.
Sync your favorite music or streaming training programs through Bluetooth to bring the best out of your fitness experience. The USB port allows you to charge your devices to keep going strong. Finally, stay calm and stay cool with the built-in cooling fan. You don't have to sacrifice comfort for fitness.
Learn more in my complete review below!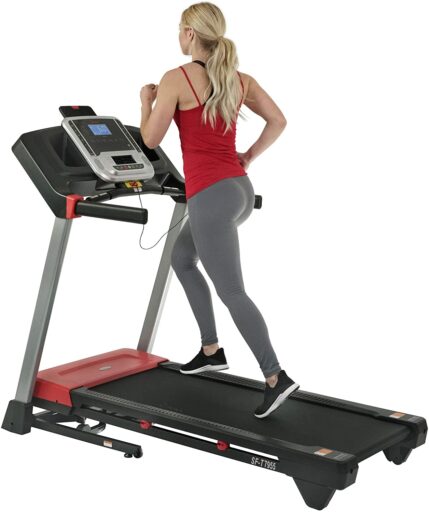 Product: Sunny Evo-Fit SF-T7955 Treadmill
Price: For a great deal on this treadmill, merely go here to Sunny Health & Fitness.com
Warranty: Frame 3 years / Parts 180 days
My rating: 8/10
Affiliate Disclosure: As a Sunny Health & Fitness Affiliate Program participant, I earn commissions on purchases made through links in this post. Full disclosure
Details and Specifications
Assembled dimensions: 70.7L x 34.5W x 59.5H inches (185L x 88W x 151H cm)
Tread belt dimensions: 54L x 20W inches (137L x 51W cm)
Assembled weight: 166.4 lbs (75.4 kg)
Supported weight: 275 lbs (125 kg)
Motor: 3.0 HP
Speed range: 1.0 – 11.5 MPH
Incline: Automatic, 0.6° – 5.7° (18 levels)
Console: 12 workout programs
Extras: Bluetooth speakers, cooling fan, USB charging port, device holders, accessory trays
Warranty: Frame 3 years / Parts 180 days
SF-T7955 Frame
The Sunny Evo-Fit SF-T7955 treadmill has a sturdy steel frame coated with a corrosion-resistant paint finish. The two upright bars that sustain the console are metallic gray, while the base frame is black. Of course, the machine also integrates several heavy-duty plastic parts. The most notable are the side rails, the motors cover, and the console dashboard.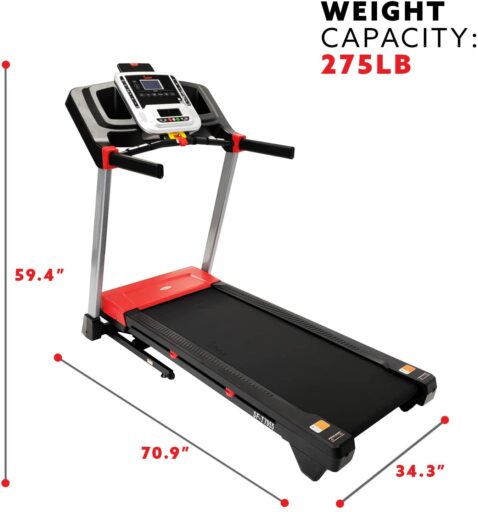 The fully assembled treadmill is not as heavy as a commercial-grade model but weighs approx. 166 lbs (~75.4 kg). Therefore, the transport of the boxed unit requires two persons. However, once assembled, one person can move it.
Its front base integrates a set of transport wheels. Its rear feet also have wheels, while the front base features four adjustable stabilizers.
The Sunny Evo-Fit SF-T7955 is a reasonably large treadmill as well. With all the parts assembled, it is approx 70.7″ (185 cm) long and 34.5″ (88 cm) wide. It is also advisable to leave at least two-three feet of clearance around it for safe usage and ease of access. Thus, you'll need a minimum usage area for it of at least 120″L x 85″W (304 x 216 cm).
On the other hand, this treadmill is foldable. Its deck is foldable to save space or when you need to vacuum underneath it. With the deck folded up, the unit's length reduces to 44.5″ (113 cm). The folding mechanism is a soft-drop type. It consists of a hydraulic cylinder, which lowers the deck slowly when you unfold it to prevent damage.
Deck
This Sunny treadmill has a slightly smaller running surface than a commercial machine. However, it still is 54″L x 20W (137 x 51 cm), so it can accommodate users up to 6'2″ (188 cm) with no problem, allowing a complete range of motion during running. The deck also has a maximum user weight capacity of up to 275 lbs (125 kg), which is not bad for a treadmill made for home use.
The belt is multi-layered, with a top, rubberized layer designed for a superior grip. The rollers' exact diameter is not specified, but they certainly have a crowned design to provide excellent traction for the belt and prolong its lifespan.
Last but not least, the machine's deck integrates eight shock absorption elements. Four are more extensive and visible, placed at the center sides of the deck. The other four parts are smaller and concealed by the side rail covers. Two are at the front, and the other two are at the rear. The more oversized, visible cushions are non-adjustable.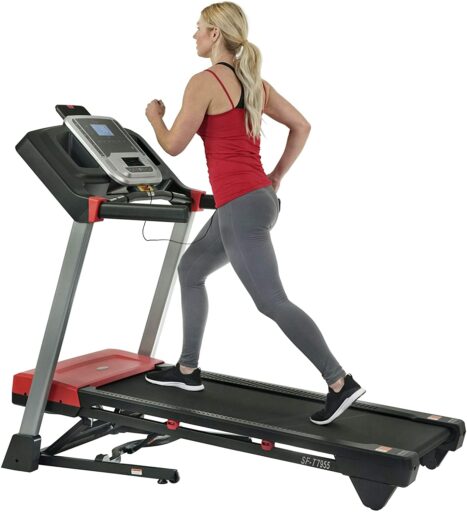 SF-T7955 Incline and step-up height
The Sunny Evo-Fit SF-T7955 treadmill has an automatic incline system, which means the machine's incline is only adjustable when it is powered up. It also means that the console automatically adjusts the resistance, depending on the user program.
The treadmill's incline system consists of a lift system connected to the deck's front section and a small motor, different from the drive motor. When the incline adjusts, the motor elevates or lowers the lift changing the running platform's pitch.
The machine has 18 incline levels, ranging between 0.6° – 5.7°. The console controls gradual incline adjustment and quick incline selection controls for 3, 6, 9, 12, 15, and 18.
With the incline set at 0%, the treadmill's running platform is approx—8″ above floor level. However, by selecting the pitch to be maximum, the front of the deck gains several extra inches. Therefore, using this treadmill in a room with a ceiling height of at least 15″ (38 cm) above the tallest user's height is advisable.
Drive motor
The Sunny Evo-Fit SF-T7955 comes equipped with a 3.0 HP motor that incorporates a small flywheel to minimize vibration and promote smooth belt movement. It offers a speed range between 1.0 and 11.5 MPH, which is not bad for a home-use machine.
The console offers speed controls for gradual and quick selection adjustment, just as for the incline. The incremental adjustment keys have a dual function. A short press adjusts the belt's speed in increments of 0.1 MPH, and if you press and hold them for 0.5 seconds, the speed will increase or decrease quickly.
The quick selection speed controls are on the right side of the console. They offer a quick selection for 2 MPH, 4 MPH, 6 MPH, 8 MPH, 10 MPH, and 11 MPH.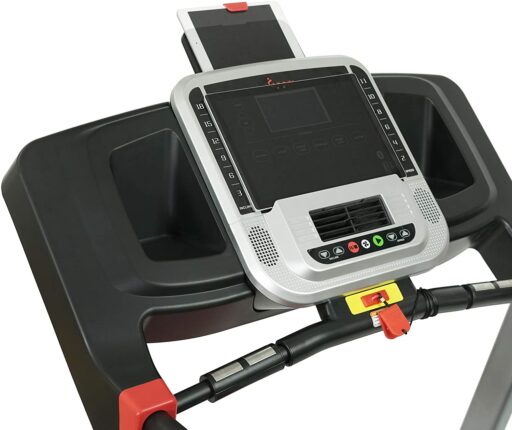 The motor itself is not extremely loud. However, depending on your running technique, weight, and other factors, your cadence may generate more or less noise. Also, since the motor is not extremely powerful, the machine's daily usage shouldn't add more than a few bucks to your electricity bill's cost.
SF-T7955 Console
The Sunny SF-T7955 treadmill comes equipped with a multi-function fitness console. First, it features an LCD with an LED backlight that tracks time, distance, speed, incline, calories, and pulse.
Unfortunately, the unit is not telemetric, though. Therefore, it only tracks your pulse if you hold on to the integrated pulse sensors of the machine's front handlebar. It does not work with Polar, ANT+, or any other heart rate chest strap. Also, speed and distance are only in English units (MPH and miles). There is no option for metric units.
Note: Smart device contained in the console image does not come included with the machine.
Workout programs
The console has 12 workout programs divided into six workout modes, and each has a quick key on the console. These are Manual, Goals, Weight Loss, Intervals, Heart Rate, and Custom.
The Manual mode only has one program, the Manual program. It is pretty much the standard program offered by any treadmill. It allows you to walk or run freely, adjusting the speed and incline to your liking throughout the workout.
The Goals modes offer countdown programs for time, distance, and calories. You select goals for these three metrics, and the console counts down from the chosen values until it reaches zero, notifying you when you've completed the goal.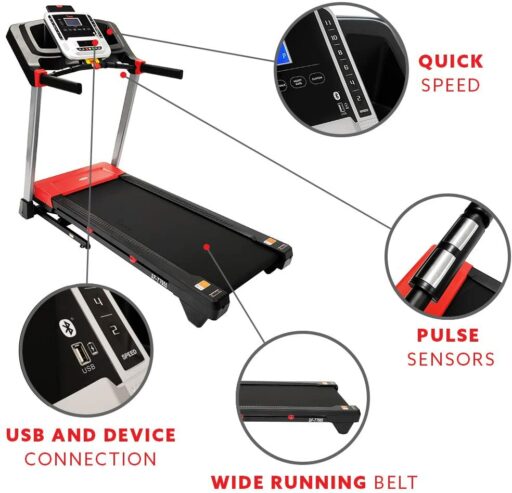 The Weight Loss mode offers six programs (P1-P6). Each program divides into ten segments, so each segment's operating time will be 1/10 of the selected time. After that, the segment time increases by 1/10 until you eventually reach the total time for each Weight Loss program. Also, each weight loss program adjusts both speeds and inclines automatically.
The Interval Mode offers another six programs (P7 – P12). These are all interval-based. For example, the P7 program will alternate speed intervals of 2 MPH and 5 MPH.
Like the Weight Loss programs, each Intervals program has ten segments, so each segment's duration will be 1/10 of the program's total selected time. In addition, each interval program adjusts incline as well.
The Heart Rate mode allows you to select a target for your heart rate. Therefore, if your heart rate is above the chosen level during the workout, the speed will decrease, or if your heart rate drops below the selected level, the speed will increase.
Finally, the Custom Mode offers two user profiles (User 1 and User 2). You or a second user create a customized workout program with each profile's desired speed, incline, and duration settings.
SF-T7955 Amenities
The machine's console also offers several other features. Among them, I can count the Bluetooth speakers, the cooling fan, the USB port, the tablet holders, and the device trays.
The fan is at the bottom of the console. It's not extremely powerful but does provide some cooling if needed. The two speakers are one on each side of the fan. This sound system has Bluetooth connectivity, so you can sync it with your smartphone or tablet to play your music through it. An AUX port is not available, though.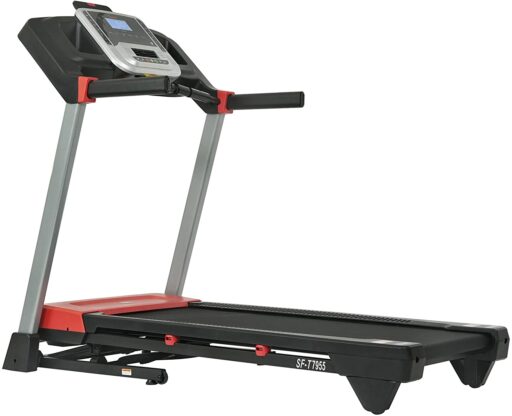 The USB port is on the right side of the console. It offers the possibility to recharge your phone or tablet. However, you cannot transfer workout data onto a USB stick or cable. The tablet holders are at the top of the console (this one has a small clip for fixing your tablet in place) and the other above the cooling fan.
And finally, the two accessory trays mold into the console dashboard. They are large enough to accommodate various hydration bottles or other accessories.
SF-T7955 Assembly and Maintenance
The treadmill deck, the motors, and all the other parts come pre-assembled. So all you have to do for assembly is attach the two upright bars and the console.
Therefore, it shouldn't take longer than an hour of your time. The task is far from complicated; the manual provides clear assembly instructions, and all the necessary tools come with the machine.
For maintenance, the deck requires lubrication before the first use and then every month, or every few months, depending on how often the machine is in use. In addition, the belt requires cleaning to prevent debris from being caught in the motor or the rollers.
Besides this, you only have to keep the machine clean and periodically inspect it to ensure there's no damage and everything functions properly.
Pros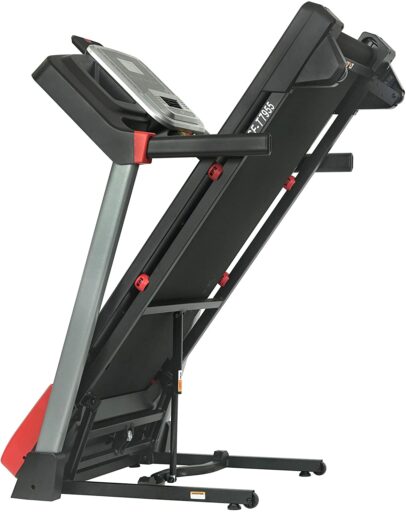 Sturdy steel frame construction – can hold users up to 275 lbs;
Folding frame with soft-drop mechanism;
Shock absorption elements on each side of the deck;
Motorized incline – 18 levels;
3.0 HP motor, with a speed range between 1.0 – 11.5 MPH;
Speed can be adjusted at increments of 0.1 MPH, allowing you to find the perfect pace for your workout;
EGK pulse sensors integrated into the front handlebar;
Multi-function console with LED backlight;
The console display indicates time, distance, speed, incline, calories, and pulse;
12 workout programs;
Bluetooth speakers;
Cooling fan;
Tablet holder;
Accessory holders;
USB charging port;
Reasonably easy to assemble;
Little maintenance is required;
Excellent warranty.
Cons
Sunny Evo-Fit SF-T7955 Treadmill Summary
The Sunny Health & Fitness Evo-Fit SF-T7955 is an electric folding treadmill for home use. It comes equipped with a 3.0 HP motor, an automatic incline system with 18 settings, and a console with 12 workout programs divided into six workout modes. It also has Bluetooth speakers, a cooling fan, and tablet holders.
Moreover, it's a treadmill for users of all levels, great for light to intense cardio training, stamina development, interval workouts, and weight loss.
I hope you found this article helpful and informative. Would you please speak up if you have anything you'd like to share on the topic or any opinions about my website? I look forward to your comments, questions, and the sharing of ideas.
Please note you should consult your physician to determine if you have any medical or physical conditions that could put your health and safety at risk or prevent you from using the equipment properly. In addition, your physician's advice is essential if you are taking medication that affects your heart rate, blood pressure, or cholesterol level.