The SNODE 8731B Indoor Cycling Bike is an exercise bike that can give you a more vigorous intensity and burn more calories. Make your home into your fitness studio; you will feel how efficient and convenient it is to achieve your fitness goals by working on an 8731B indoor bike.
Before you start your workout, you can adjust the handlebars and the seat to a suitable position according to your request. The distance between the seat and the handlebars should be as long as your forearm. Therefore, the 4-way adjustable seat & 2-way handlebar adjusts for proper form and perfect fit.
The SNODE 8731B Indoor Cycling Bike features a magnetic resistance system and a 35 lb (15.8 kg) flywheel that delivers quick & reliable changes to the resistance. There is virtually no maintenance, adjustable resistance to create an unbelievably smooth ride, and multiple riding levels for enthusiasts.
The 8731B has the updated function of a Bluetooth-enabled fitness monitor compatible with the Zwift and Kinomap apps. If you have either one of these apps instilled on a smartphone or tablet, you should be able to sync the monitor with your device for a virtual cycling experience, compete with friends, and track your progress online.
Learn more in my complete review below!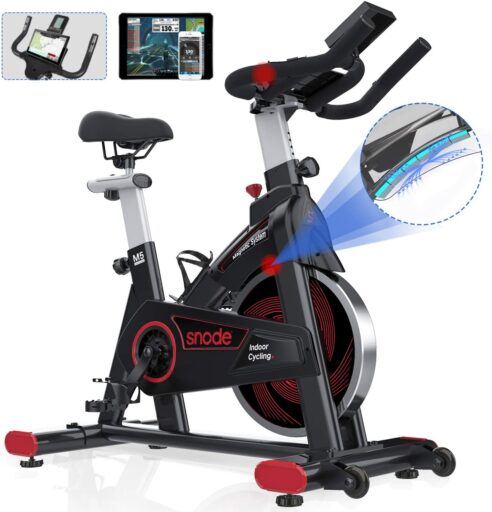 Product: SNODE 8731B Indoor Cycling Bike
Price: For a great deal on this bike, merely go here on Amazon
Warranty: 1 year limited
My rating: 8.5/10
Affiliate Disclosure: As an Amazon Affiliate Program participant, I earn commissions on purchases made through links in this post. Full disclosure
Please note that Smartphones and tablets do not come with the bike and sell separately.
Details and Specifications
Assembled dimensions: 43L x 20W x 46.5H inches (109L x 51W x 118H cm)
Shipping weight: 90.4 lbs (41 kg)
Flywheel weight: 35 lbs (15.8 kg)
Supported weight: 287 lbs (130 kg)
Seat: 4-way adjustable
Drive system: Belt
Resistance: Manual magnetic
Fitness Monitor: Time, speed, distance, calories, pulse, goals, scan, Bluetooth, Body Fat function
Extras: Tablet holder, bottle holder
Warranty: 1 year limited
8731B Frame Construction
The SNODE 8731B indoor cycle features a heavy-duty frame with oval steel tubing for improved aesthetics and sturdiness; however, the frame design is not a complete triangle like the average spin bike. Instead, its reinforced seat tube has an additional tube at the rear for added stability.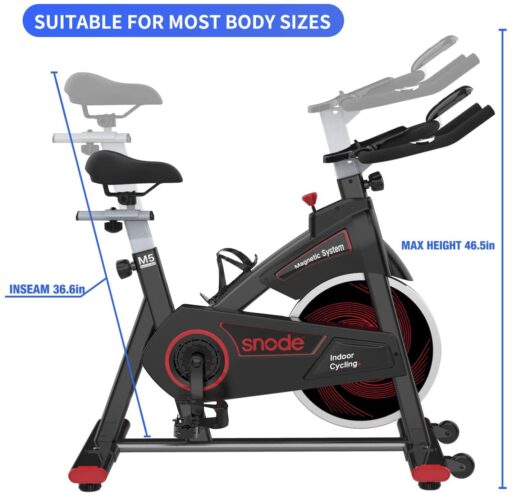 The bike's mainframe comes double-coated with a black, scratch-resistant, and chip-resistant paint finish. The seat and handlebar posts have a light gray paint finish, while the flywheel is chrome-plated with plastic side panels. Two other non-metallic parts are durable thermoplastic materials covering the magnetic brake and drivetrain.
The SNODE 8731B is not a large fitness machine like most other spin bikes. It is approx. 43″ (109 cm) long and 20″ (51 cm) wide, while its maximum height, with the handlebar set to its highest position, is 46.5″ (118 cm). Therefore, leaving at least two feet of clearance all around it is advisable for easy access and safe usage.
The bike is pretty heavy. It weighs approximately 90 lbs (41 kg) with all the parts assembled. Thus, it should be moved by two persons while packaged. However, once built, one person can quickly move the bike as its front stabilizer comes equipped with small transport wheels. Also, both base stabilizers have adjustable levelers.
Seat and handlebars
The SNODE 8731B includes a reasonably large saddle. Its shell is a sturdy yet flexible plastic material (probably nylon). It has a layer of vinyl material and integrates a thin layer of foam padding that is not too soft but not too hard. It also lacks the median groove that various other bicycle seat models have.
Moreover, it is a saddle made for optimal comfort. Nonetheless, its attachment system is a standard collar with a bolt and nut. Thus, you can easily replace it if needed, and compatible models should be available in most bike shops. Also, its overall comfort is improvable with a gel seat cover.
The bike's seat offers four-way adjustability (up, down, front, and back). Its vertical post has ten adjustment positions, while its horizontal slider adds a few extra inches of front-to-back adjustment. The seat assembly has an inseam length of 36.8″ (93.4 cm).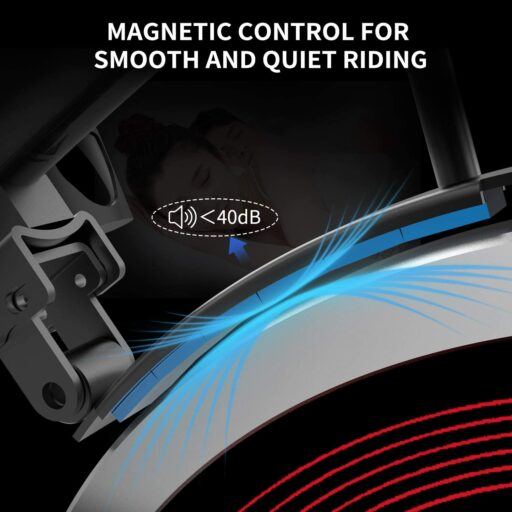 Thus, the bike should accommodate users comfortably up to 6'5″ (196 cm), allowing a complete leg extension. It also has a maximum user weight limit of 287 lbs (130 kg).
The bike's handlebar only offers two-way adjustability (up, down). Its vertical post provides several inches of adjustment but has fewer adjustment positions than the seat. Tablet support comes with the bike, and this accessory attaches to the lower part of the handlebar.
The handlebar features a multi-grip design. It offers the possibility to assume a climbing grip, a standard grip, and a racing grip. If you don't install the tablet holder, you can use the center loop bar for a close grip.
Its side grips integrate pulse sensors, and the included fitness monitor can track your pulse if you hold on to them. In addition, they have high-density foam sleeves for an improved and comfortable grip.
8731B Resistance and drive
The SNODE 8731B indoor cycling bike has a manual magnetic resistance system. Unfortunately, the included fitness console cannot automatically adjust the resistance. However, it also means that the bike does not require an adapter or an external power source.
The bike's resistance system consists of a magnetic brake attached to the frame's main tube right above the flywheel. This brake connects to the tension knob on top of the frame. Therefore, when you turn the knob clockwise, the magnets move closer to the flywheel, which increases the pedaling difficulty.
The bike's magnetic brake tension knob does not have pre-determined levels. Instead, you turn the knob until you get the desired pedaling difficulty. Also, the knob, when pressed down, stops the flywheel from spinning immediately.
This SNODE exercise bike comes with a mid-range flywheel. It weighs 35 lbs (15.8 kg) and has a perimeter-weighted design. This flywheel construction is excellent for spinning workouts as it provides superior inertia and consistent momentum. It also allows reverse pedaling, but coasting is impossible on this stationary bike. The pedals continue to spin for as long as the flywheel is spinning.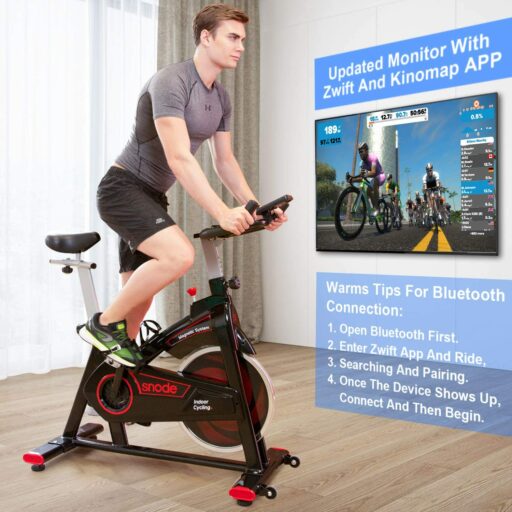 The integrated drivetrain consists of a heavy-duty poly-v belt. This drive system contributes to the ride's overall smoothness as the belt generates less vibration than a chain. It also eliminates the need for periodic lubrication, so it's hassle-free.
The bike comes equipped with a 3-piece crankset featuring solid steel arms. The pedals are aluminum alloy with rubber inserts for improved footing and adjustable toe cages.
Their threads are standard (9/16), so compatible replacements are widely available. Also, since the bike supports all spin workouts, the crank and pedal assembly supports standing-up pedaling with no problem.
Fitness Monitor
The SNODE 8731B includes a Bluetooth-enabled fitness monitor compatible with the Zwift and Kinomap apps. If you have one of these apps installed on your smartphone or tablet, you should be able to sync the monitor with your device for a virtual cycling experience, compete with friends, and track your progress online.
Nonetheless, the monitor offers essential functions if you don't want to use any of these apps or the Bluetooth connection.
First, it has an LCD divided into six sub-sections to show as many workout metrics as possible. It tracks time, distance, speed, calories, and pulse. Unfortunately, it's not telemetric, so it cannot read the pulse from a wireless HR chest strap.
Although the monitor does not have pre-set workout programs, it does have goal settings for time, distance, and calories. If a goal for these metrics is selected, the monitor will countdown the desired value to zero.
It also has a Body Fat calculator function with its quick key. You will have to input your weight, height, and age data and hold on to the integrated pulse sensors to use this function.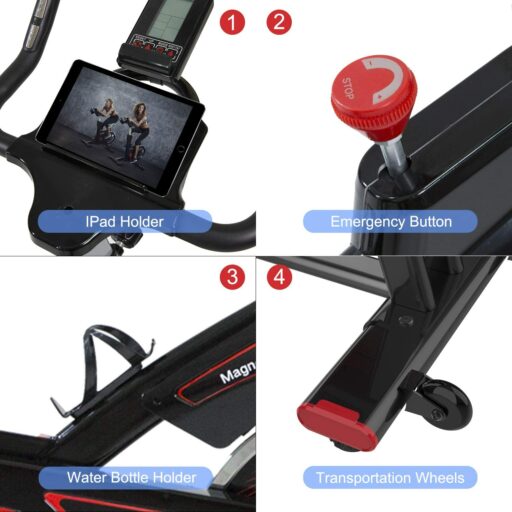 The fitness monitor is battery-powered. It starts up when you begin pedaling or press one of the buttons. It also automatically turns off if it does not detect bike activity for more than a few minutes.
8731B Assembly and Maintenance
Most of the bike's frame comes pre-assembled. The flywheel, the magnetic brake, the crankset, and the belt also come pre-installed. You only have to attach the two base bars, the seat post, the saddle, the handlebar post, the handlebar, the pedals, the device holder, and the fitness monitor.
Consequently, this shouldn't take more than 30-40 minutes of your time. The task is pretty straightforward, the manual provides clear step-by-step assembly instructions, and all the necessary tools come with the bike.
Since the bike has a belt drive system, its transmission does not require lubrication. Once assembled, it doesn't require too much maintenance at all. You need to keep it clean and periodically check for loose parts.
Pros
Sturdy frame – can hold users up to 287 lbs;
Aesthetic design and compact construction;
Transport wheels on the front base bar
Adjustable stabilizers on both base bars;
4-way adjustable seat;
2-way adjustable handlebar;
Multi-grip handlebar with pulse sensors;
Smooth, almost silent belt drive;
Metallic pedals with toe cages and standard threads;
Perimeter-weighted flywheel for high inertia;
No friction, magnetic resistance system;
Fitness monitor included – it can track time, distance, speed, calories, and pulse;
Goal settings for time, distance, and calories;
Body Fat calculator function;
The fitness monitor is Bluetooth-enabled and compatible with apps like Zwift and Kinomap;
Bottle holder included;
Device holder included;
Easy to assemble;
Assembly tools included;
Little maintenance is required.
Cons
No front-to-back adjustability on the handlebar;
The pedals do not have SPD clips.
SNODE 8731B Indoor Cycling Bike Summary
The SNODE 8731B is an indoor cycling bike made for spin workouts. It has a manual magnetic resistance system, a 35-lb perimeter-weighted flywheel, and a 4-way adjustable seat. In addition, it also includes a Bluetooth-enabled fitness monitor compatible with the Zwift and Kinomap apps.
Moreover, it's an excellent bike for high-intensity cardio workouts, interval training, stamina, strength development, and of course, for burning many calories. And finally, it is considerably more affordable than a commercial spin bike offering excellent value for the price.
I hope you found this article helpful and informative. Would you please speak up if you have anything you'd like to share on the topic or any opinions about my website? I look forward to your comments, questions, and the sharing of ideas.
Please remember that you should consult your physician to determine if you have any medical or physical conditions that could risk your health and safety or prevent you from using the equipment properly. In addition, your physician's advice is essential if you are taking medication that affects your heart rate, blood pressure, or cholesterol level.