Designed for fitness enthusiasts of all levels, the Schwinn 130 MY20 Upright Bike provides the quality and value that have made Schwinn the "go-to" brand for generations. It's Schwinn's most affordable upright bike that's intuitive, ergonomic, and loaded with user-friendly features for a cardio workout that's effective, comfortable, and enjoyable.
Amp up your exercise with the Schwinn 130 MY20 Upright Bike. The 13 workout programs help you focus on weight loss, aerobics, or performance goals, and the telemetry heart rate monitor lets you know when you've hit your target range. In addition, Explore the World, and Zwift apps (separate subscriptions required) help make your workouts intriguing and motivating.
It's a fun, comfortable ride offering 16 levels of resistance, adjustable handlebars, and smooth magnetic resistance. The 130's connectivity options allow you to immerse yourself in scenic destinations that match your cycling speed and interact with others in a virtual world that motivates you at every mile. Explore your next adventure with the Schwinn 130 – your ticket to a life well-lived.
Learn more in my complete review below!
Product: Schwinn 130 MY20 Upright Bike
Price: For a great deal on this bike, merely go here to Schwinn Fitness
Warranty: Frame 10 years / Mechanical two years / Electrical one year / Labor 90 days
My rating: is 9/10
Affiliate Disclosure: As a Nautilus and Schwinn Partner Program participant, I earn commissions on purchases made through links in the post. Full disclosure
Details and Specifications
Assembled dimensions: 41L x 22W x 58H inches (104L x 56W x 147H cm)
Assembled weight: 70 lbs (31.7 kg)
Supported weight: 300 lbs (136 kg)
Handlebar: Adjustable, with pulse sensors
Seat: Adjustable
Resistance: Motorized magnetic, 16 levels
Fitness Monitor: 13 programs, goals, Bluetooth, Explore the World, and Zwift App compatible
Extras: Device holder, bottle holder
Warranty: Frame 10 years / Mechanical two years / Electrical one year / Labor 90 days
130 Frame construction
The Schwinn 130 MY20 upright bike features a steel frame combining oval and cylindrical tubes in its construction for improved aesthetics. In addition, the bike's base frame with the drivetrain and the resistance elements come covered by several durable guards made of thermoplastic material.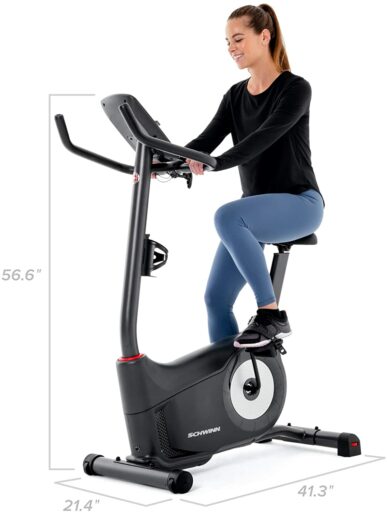 The steel bars come coated with a corrosion-resistant paint finish; the color used is black, this being the only color available for this model.
The bike is a bit larger than the average upright bike. However, it's still a reasonably small fitness machine. With all the parts assembled, it is approx 41″ (104 cm) long and 22″ (56 cm) wide. Due to its slightly larger footprint and low center of gravity, it provides excellent stability.
Plus, it weighs approx. 70 lbs (31.7 kg) are much more than the average road bike; this weight also adds to the unit's overall stability.
This Schwinn exercise bike does not have a folding frame. It is easy to move, though, once assembled. Its front base stabilizer has two small transport wheels, while the rear stabilizer features two adjustable levelers.
Seat and handlebars
The Schwinn 130 MY20 is equipped with a seat designed for optimal comfort and is larger than the average spin seat. Its inner shell is made of durable nylon material, while its cover is high-density foam. It is slightly contoured and also has an inner layer of padding.
The saddle has a standard, collar-type connection system to the post, making it easily removable if necessary. It also means that models compatible with the bike are widely available. So you should be able to find a saddle to fit in most bike shops.
The seat is only two-way adjustable (up, down). It does not have a horizontal slider. However, its vertical post features multiple adjustment positions, so the bike should be able to accommodate users between 5'0″ and 6'5″ (153 – 196 cm) with no problem. The bike has a maximum user weight capacity of 300 lbs (136 kg), which applies to the seat assembly.
The Schwinn 130 MY20 upright bike comes equipped with a multi-grip handlebar. It offers the possibility to adopt a racing grip, a climbing grip, and a close crip. In addition, its side grips have foam sleeves for improved comfort, and the lower section of the handlebar integrates a set of metallic pulse sensors. By holding on to them, the console can monitor your heart rate.
The front upright bar of the bike is non-adjustable. However, the handlebar is angle-adjustable. Its connection point to the front vertical bar features a small knob that allows you to loosen it, change its angle, and re-tighten it. Not all upright bikes have this feature, so it's a plus.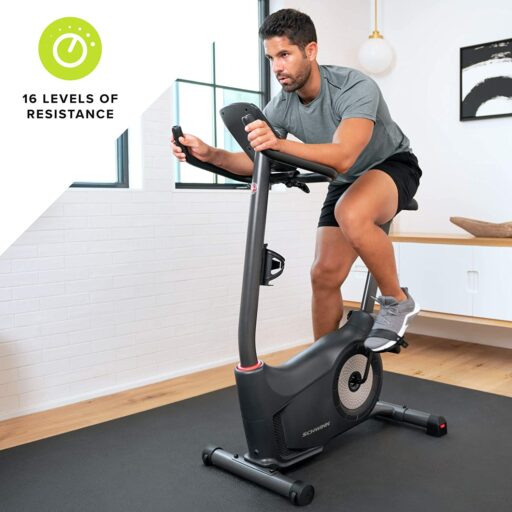 130 Resistance system
The Schwinn 130 MY20 upright bike has a motorized magnetic resistance system. Thus, it requires an external power source. The bike comes with a 60Hz AC input / 1.5A output and a 110V-120V power adapter. It also means that the console is programmable and adjusts pedal resistance automatically.
The bike's resistance system consists of a servo motor and a magnetic brake. When you adjust the console's resistance automatically, the engine changes the magnetic brake's position to the internal flywheel. Therefore, it adds to or reduces the pedaling difficulty.
As opposed to the older Schwinn 130 MY16 model, the MY20 only has 16 levels of resistance (down from 20). The first few levels deliver a relatively light pedaling difficulty, great for warm-ups, recovery training, or muscle toning. Conversely, the 16th level of resistance offers more pedaling difficulty simulating a hill climb.
The exact weight of the internal flywheel is not specified. However, considering the bike's total weight, it probably doesn't weigh more than 30 lbs (13.6 kg). It is perimeter-weighted and designed for enhanced inertia. It is also bi-directional (you can pedal reverse if you want).
Drive system
Like most other exercise bikes with magnetic resistance, the Schwinn 130 has a belt drivetrain. This type of drive system does not require any lubrication. It also generates less vibration than a chain drive, so the pedaling motion is smooth and almost entirely silent.
The bike comes equipped with a sturdy 3-piece crankset. The internal pulley is a bit larger in diameter than the flywheel. The two crank arms are cylindrical, steel-made, and painted black.
They are thinner than the crank components of a road bike, so they are not meant for spinning workouts or standing up on the pedals.
The bike comes with a set of standard exercise bike pedals. They are solid thermoplastic materials with a metallic core. They are weighted, so they should always turn face-up when you remove your feet from them, and they also have adjustable straps for improved foot stability.
130 Fitness monitor
The fitness monitor included with the Schwinn 130 MY20 offers fewer features than the console of the MY16 model. First of all, it lacks a smaller bottom display. It only has one 5.5″ display that tracks time, distance, speed, RPM, calories burned, and heart rate. Speed and distance are either English units (mph, miles) or Metric units (km/h, kilometers).
You can either use a Bluetooth chest strap or armband (this accessory does not come with the bike) or hold on to the sensors integrated into the handlebars.
The fitness monitor has 13 workout programs assigned to 3 categories, each with a separate button. The types are Manual, Interval, and Challenge. Naturally, the Manual category includes the Manual program. This typical workout allows you to manually adjust the resistance as you like during the activity.
The Interval mode only has one interval program. It is a "sprint" for 30 seconds and a "recovery" for 90 seconds. It's default duration is 12 minutes.
The Challenge mode includes 11 workout programs. The first ten are standard pre-set. These programs automatically adjust the pedaling resistance depending on their segment layout. You can set up goals for each one of them for time, distance, and calories burned.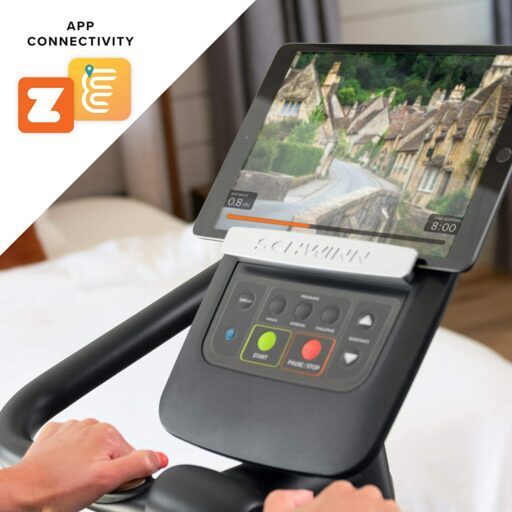 The 11th program is the HRC program and has a 125 BPM default. Therefore, the resistance will adjust depending on your current BPM, decreasing if you exceed 125 BPM and increasing if you fall below 125 BPM. Again, the default 125 BPM value is adjustable.
Amenities
The fitness monitor has Bluetooth connectivity and is compatible with various fitness apps, such as Zwift and Explore the World. These, however, require an existing subscription. Nevertheless, if you have any of them installed on your smartphone or tablet, you should be able to benefit from a virtual cycling experience, keep track of your progress, and compete with friends.
The console is also compatible with the Schwinn Toolbox app, which allows you to update the internal software if necessary.
Finally, the monitor does not have a sound system or a workout fan feature but a device holder. This accessory consists of a small shelf above the controls, large enough to accommodate any tablet.
130 Assembly and Maintenance
The base frame of the bike with all the drive and resistance elements comes pre-assembled. The rest of the parts do require user assembly, though. You will have to install the two base stabilizers, the seat post, the saddle, the front upright bar, the fitness monitor, and the pedals.
Therefore, it shouldn't take more than an hour of your time. The manual provides clear assembly instructions with illustrations, and all the necessary tools come included with the bike.
Once assembled, you don't have to worry too much about maintenance. The internal parts don't need any periodic lubrication or maintenance. So, it would help if you kept the bike clean and periodically inspected it to ensure everything functions properly.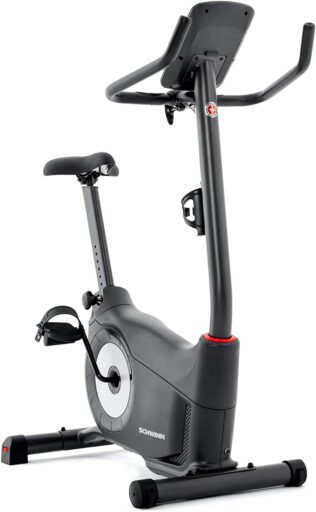 Pros
Sturdy construction – can support users up to 300 lbs;
Elegant design;
Large, padded seat;
Angle-adjustable, multi-grip handlebar with foam sleeves;
Grip pulse sensors;
Weighted pedals with adjustable straps for extra stability;
Motorized magnetic resistance – 16 levels;
Multi-function console with a 5.5″ LCD;
13 workout programs;
Goal settings for time, distance, and calories;
Bluetooth connectivity;
Compatible with various apps such as Zwift, Explore the Worlds, and Schwinn Toolbox;
Bluetooth HR chest strap or armband compatible;
Device holder included;
Maintenance-free;
Easy to assemble;
All the necessary assembly tools come included;
Excellent warranty.
Cons
Zwift and Explore the Worlds subscriptions do not come with the bike;
The Bluetooth HR chest strap does not come with the bike;
A tablet placed on the device holder may cover the fitness monitor LCD.
Schwinn 130 MY20 Upright Bike Summary
The Schwinn 130 MY20 is an upright exercise bike designed for home use. It features a 16-level eddy current resistance system, superior ergonomics, and a Bluetooth fitness monitor compatible with Zwift or Explore the World apps. The console also has 13 onboard programs.
Moreover, it's a tremendous stationary bike for muscle toning, stamina development, weight loss, interval training, and recovery training. And even though it lacks some features compared with the MY16 model, it is still one of the best in this price range.
I hope you found this article helpful and informative. Would you please speak up if you have anything you'd like to share on the topic or any opinions about my website? I look forward to your comments, questions, and the sharing of ideas.
Please remember that you should consult your physician to determine if you have any medical or physical conditions that could risk your health and safety or prevent you from using the equipment properly. In addition, your physician's advice is essential if you are taking medication that affects your heart rate, blood pressure, or cholesterol level.