Durable, comfortable, and smooth are Spirit Fitness XBR55 Recumbent Bike qualities. With this in mind, a breathable and reclining backrest, handlebar-mounted buttons, and unique 2-degree pedal inversion make for a super conformable ride.
Numerous electronic features are on the XBR55, including a large 7.5″ LED blue backlit display that tracks time, distance, calories burned, pace, pulse, the Watts workload, the laps completed, segment time, and resistance level.
And the XBR55 also works with the SPIRITFIT App! Easily switch back and forth from the workout display view to the internet/social media/email sites via icons on the display screen. When you've finished your workout, the data uploads to your calendar automatically for future reference.
The Spirit XBR55 also features a muscle activation profile that helps users understand which muscle groups are gaining the most benefit during the workout. The profile's LED lights will activate three degrees of engagement: Green represents minimal muscle involvement, Amber for medium involvement, and Red for full or heavy involvement.
Learn more in my complete review below!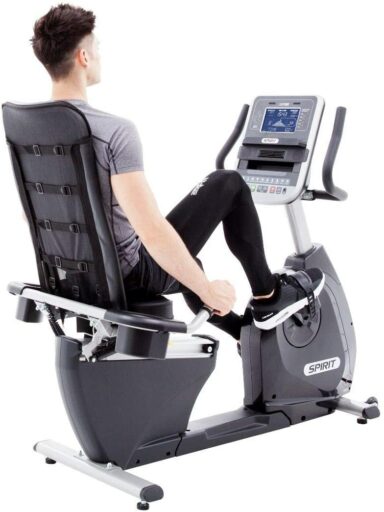 Product: Spirit Fitness XBR55 Recumbent Bike
Price: For a great deal on this bike, merely go here on Amazon
Warranty: Frame lifetime / Brake lifetime / Parts 10 years / Labor 1 year
My rating: 9.5/10
Affiliate Disclosure: As an Amazon Affiliate Program participant, I earn commissions on purchases made through links in this post. Full disclosure
Details and Specifications
Assembled dimensions: 57L x 30W x 50H inches (145L x 76W x 127H cm)
Assembled weight: 139 lbs (63 kg)
Weight capacity: 350 lbs (159 kg)
Flywheel weight: 24 lbs (10.8 kg)
Seat: Adjustable
Backrest: Mesh, reclining
Resistance: Eddy current, 20 levels
Console: 10 programs, Bluetooth, Spirit Fit App
Extras: Bottle holder, device holder, sound system, cooling fan
Warranty: Frame lifetime / Brake lifetime / Parts 10 years / Labor 1 year
XBR55 Frame Construction
The Spirit Fitness XBR55 recumbent bike features a heavy-duty steel frame except for the seat adjustment rail, which is extruded aluminum, similar to some rowing machines' tracks. All the steel parts are double-coated with a gray, abrasion-resistant, and corrosion-resistant paint finish. However, most base frames also have ABS guards for extra protection and improved aesthetics.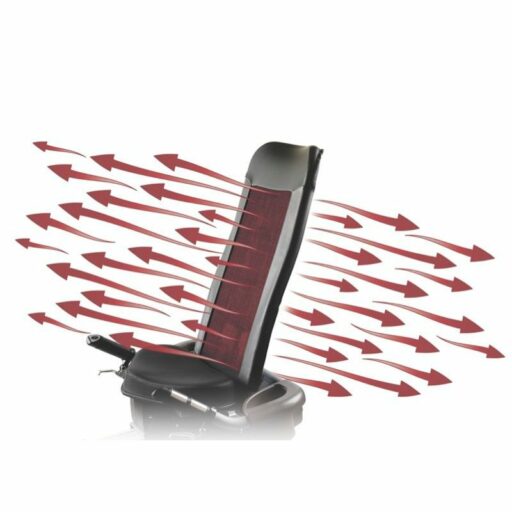 The bike has a step-through design. Thus, it can be quite a plus for users with specific disabilities as it facilitates entry and exit without stepping over the bike's drive system.
The fully assembled bike is not extremely large. It is 57″ (145 cm) long and 30″ (76 cm) wide. However, leaving at least two feet of clearance all around it is advisable for easy access and safe usage.
The bike is considerably heavy. It weighs 139 lbs (63 kg), with all the parts assembled. However, this weight is a plus because it delivers excellent stability. You can be sure it won't rock even if you engage in a high-intensity workout. Plus, both its base bars come equipped with adjustable stabilizers.
Given its weight, two people should carry the unopened box. However, once assembled, its relocation is possible by one person. In addition, its front base features a set of transport wheels, which considerably ease its relocation.
Seat
The Spirit Fitness XBR55 comes equipped with a high-comfort seat. First, the seat pad is relatively large (approx. 16″), providing plenty of contact surfaces. Second, it integrates a thick foam cushioning layer and is slightly contoured for improved comfort. Third, its top is durable vinyl, easy to maintain, and sweatproof.
The backrest has a different design than most other recumbent bikes. Its frame is metallic, while its cover combines vinyl, synthetic mesh, and adjustable buckle straps.
The vinyl sections improve the positioning of the backrest cover on its frame, the mesh center area gives it a good flex, and the buckle straps on the back improve its structural sturdiness. It's pretty impressive backrest construction.
The backrest of this Spirit Fitness exercise bike has a reclining feature. In addition, it has a hydraulic cylinder at the base and a separate lever from the seat adjustment lever, allowing you to adjust the backrest angle. This feature is quite a plus; most exercise bikes for home use don't have it.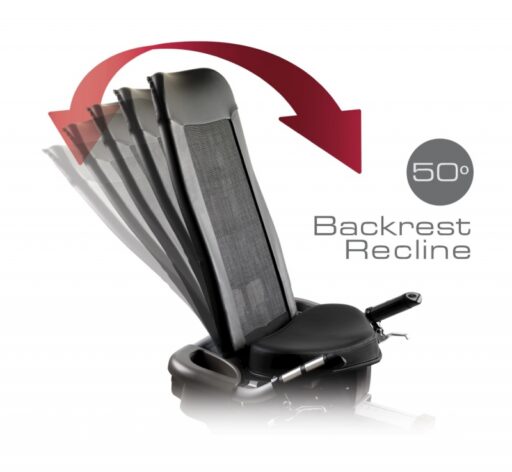 The whole seat assembly is fully adjustable. It is attached to an oblique rail system that offers 14 adjustment positions. Thus, the bike can accommodate users between 5'0 ″ and 6'5 ″ (153 – 196 cm). In addition, the adjustment system uses a lever lock, allowing you to change the seat's position without standing up.
XBR55 Handlebars
The Spirit Fitness XBR55 recumbent bike features two handlebars connected to the seat assembly and the bike's front mast. The seat handlebars integrate pulse sensors and resistance controls, which are far apart (approx. 28″) in between.
The front handlebars don't have any particular functions or pulse sensors. Instead, they are attached directly to the upright bar via screws, which are non-adjustable. In addition, a layer of rubber foam material fully covers them for improved comfort.
Resistance system
The Spirit XBR55 Recumbent bike has an automatic eddy current resistance system. Therefore, you must connect it to a wall power outlet to adjust the pedal resistance. However, it also means that the console can adjust the resistance automatically, depending on the selected workout program.
The bike's resistance system consists of an internal servo motor and a magnetic brake. The servo motor changes the magnets' pull, increasing or decreasing the pedaling difficulty as you adjust the resistance from the console controls or the controls integrated into the seat handgrips.
Similar to the XBR25 model, the Spirit XBR55 offers 20 levels of resistance. The first few levels deliver a relatively light pedaling difficulty and can serve as recovery training. Conversely, the 20th tension level provides a high pedal resistance simulating a steep climb.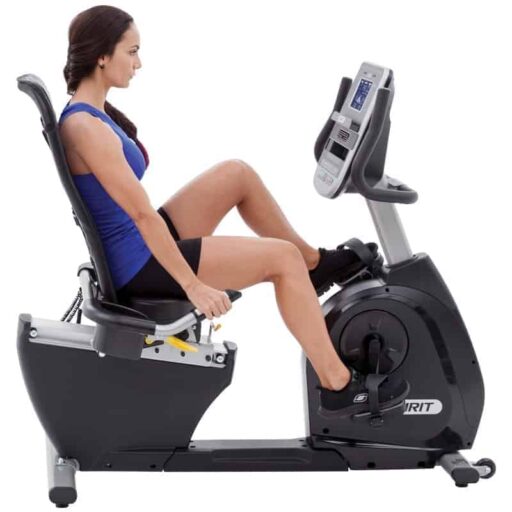 XBR55 Drive system
Like most other exercise bikes equipped with an eddy current resistance system, the XBR55 features a belt drive system. It comes equipped with an 8-groove poly-v heavy-duty belt with three main advantages.
First, you don't have to take the covers apart to lubricate the transmission. Second, it generates considerably less vibration than a chain drive, and third of all, the pedaling motion is silent.
The bike comes with a reasonably heavy flywheel. It weighs 24 lbs (~11 kg), and most of its weight is in its perimeter. This type of construction improves inertia and promotes a very smooth pedaling sensation.
It is also bi-directional, but you cannot coast on the bike. In other words, you can pedal in reverse, but when pedaling in reverse, you will get the same resistance as when pedaling forward, depending on the selected tension level.
Last but not least, the XBR55 recumbent bike features a 3-piece, cold-forged steel crankset with a case-hardened axle and commercial-grade sealed ball bearings. The crank arms are similar to road bikes, although they are shorter. The pedals are weighted, self-leveling, and feature adjustable straps.
Console
The Spirit Fitness XBR55 recumbent bike comes equipped with a multi-function console. First, it features a large, 7.5-inch diagonal display with an LED backlight for better readability. In addition, the screen is divided into several sub-sections so that you can view most of the workout metrics at once without using a scan function.
The top sections of the display indicate time, distance, calories burned, pace, and pulse. The center larger window shows the segments of the program in use. Simultaneously, the lower section of the display is a "message center" for the program and indicates the Watts workload, the laps completed, segment time, and resistance level.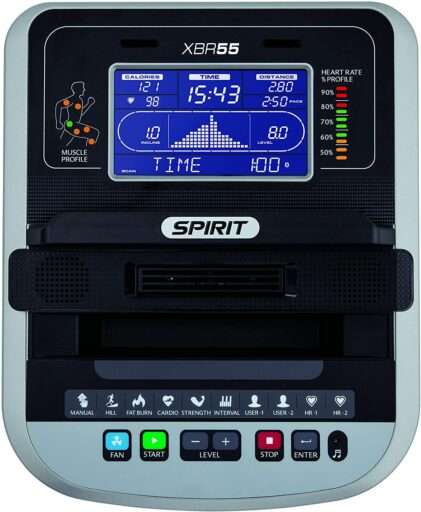 One last aspect to mention here regards the console pulse reading function. Not only that, it can read your pulse if you hold on to the sensors integrated into the seat handlebars, but it is also telemetric so that it can read your pulse from a wireless HR chest strap. A chest strap is (included) with the bike, but it also understands the Polar T34 transmitter's pulse transmission.
XBR55 Workout Programs
The console has ten workout programs. Each program has its quick selection button on the console. The list includes 1 Manual Program, 5 Preset Programs (Hill, Fat Burn, Cardio, Strength, and Interval), 2 User Defined Programs, and 2 Heart Rate Programs.
The Manual Program allows unrestricted pedaling and manual resistance adjustment during the session. Each preset program covers a specific type of workout (as their name suggests). The workout load for each one is adjustable.
The User Defined Programs allow you to design, save and re-use your custom programs. And finally, the Heart Rate programs are set for a maximum HR of 60% and 80%. Just like the other programs, they are customizable.
Amenities
The bike's console also has online connectivity. It has an internal Bluetooth module, and you can sync it with your tablet or smartphone via the Spirit FIT app, available for iOS and Android. In addition, the app allows you to track your progress online and share it on social media.
We can count a cooling fan, a set of speakers, and a tablet holder, among other console features. The cooling fan is not significant; it integrates into the middle of the unit.
The speakers are also pretty small but should provide a better stereo sound for your music if you connect your smartphone, MP3 player, or tablet to the console. The tablet holder has a small shelf above the speakers and fan system. However, it is large enough to support any tablet.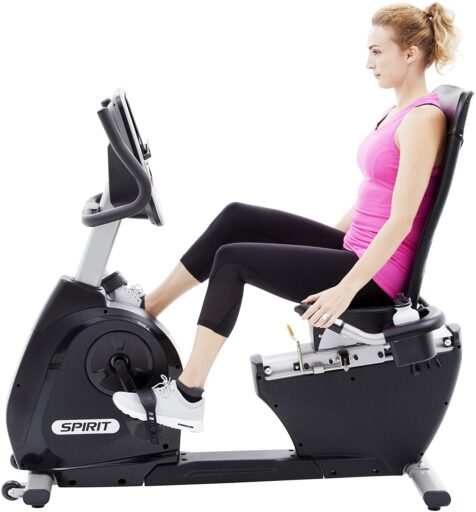 XBR55 Assembly and Maintenance
The bike's main frame comes pre-assembled. However, the base bars, seat, front mast, console, and other small parts require user assembly.
Therefore, it may be more than one hour of your time. However, the task isn't too complicated, and the manual provides all the necessary instructions. Additionally, all the tools required for the assembly are (included) as well.
Once fully assembled, you only have to keep it clean, periodically check for loose parts, and retighten them as needed. The internal mechanism doesn't require periodic lubrication.
Pros
Heavy-duty construction – can support users up to 350 lbs;
Aesthetic design and multiple covers for the frame;
Transport wheels on the front base bar;
Adjustable stabilizers on both bases;
Step-through frame design;
Pulse sensors integrated into the seat handgrips;
High-comfort seat with a thick layer of cushioning;
Large, flexible, and sturdy mesh backrest;
Reclining feature for the backrest;
Quick and easy lever-based seat adjustment system;
Quiet eddy current resistance system with 20 difficulty levels;
Weighted pedals with adjustable straps;
Multi-function console with a large LCD (7.5″);
Ten programs on the console;
Each program has its quick-access button on the console;
Wireless pulse reading function;
HR chest strap included;
Compatible with the Spirit FIT app;
Bluetooth connectivity;
Sound system included;
Cooling fan included;
Tablet holder included;
Bottle holders included;
Reasonably easy to assemble;
Little maintenance is required;
Excellent warranty.
Cons
A tablet placed on the tablet holder will cover the console display;
The cooling fan is not too overpowering.
Spirit Fitness XBR55 Recumbent Bike Summary
The Spirit XBR55 is a heavy-duty recumbent bike made for home use. It features an eddy current automatic resistance system, a high-comfort seat with a reclining backrest, and a console with ten workout programs. The console also has online connectivity (via Bluetooth) and is compatible with the Spirit FIT app.
Although it's a recumbent exercise bike made for home use, it offers the sturdiness and quality of at least a light commercial model. Moreover, it's an excellent trainer for light to intense cardio workouts, interval training, stamina development, weight loss, and recovery training. Above all, the Spirit XBR55 puts fitness within your grasp!
I hope you found this article helpful and informative. Would you please speak up if you have anything you'd like to share or any opinions about my website? I look forward to your comments, questions, and the sharing of ideas.
Please remember that you should consult your physician to determine if you have any medical or physical conditions that could risk your health and safety or prevent you from using the equipment properly. In addition, your physician's advice is essential if you are taking medication that affects your heart rate, blood pressure, or cholesterol level.