The SNODE Power-One 8729 Indoor Cycling Bike frame is built out of solid steel and coated with anti-corrosive paint preserving its quality while the seat and the handlebar posts are chrome. It is sturdy enough to support up to 280 pounds (127 kg) maximum user weight capacity.
The drive consists of a durable belt, a solid 3-piece crankset, chromed crank-arms, and of course, the large perimeter weighed 35 pounds (15.9 kg) flywheel. Together, these elements provide you with an outstanding and active drive.
The SNODE Power-One 8729 Indoor Cycling Bike comes with a fitness console. The console displays real-time workout data such as time, speed, distance, calories burned, odometer, and pulse. It is well-positioned for good readability. The LCD also has a SCAN function that rotationally displays workout metrics one at a time after a few seconds.
The seat on the SNODE Power-One 8729 is comfortable. It is well cushioned, has a breathable sponge, and has artificial leather covering. It has excellent heat dissipation performance and integrates two springs underneath, which serve as shock absorbers. In addition, you can adjust the seat 4-ways, horizontally (fore/aft) and vertically (upward/downward).
Learn more in my complete review below!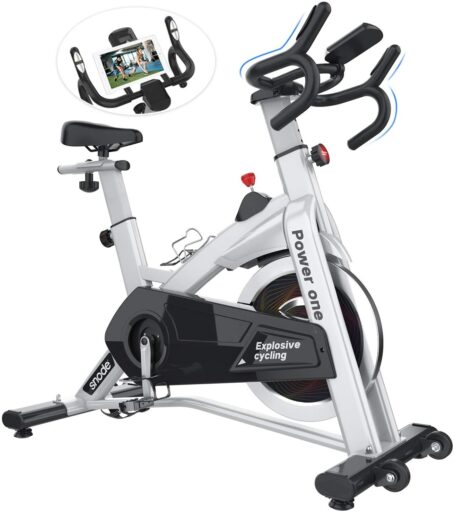 Product: SNODE Power-One 8729 Indoor Cycling Bike
Price: For a great deal on this bike, merely go here on Amazon
Warranty: 1 year limited
My rating: 8/10
Affiliate Disclosure: As an Amazon Affiliate Program participant, I earn commissions on purchases made through links in this post. Full disclosure
Details and Specifications
Assembled dimensions: 41L x 21W x 46H inches (104L x 53W x 117H cm)
Assembled weight: 90.4 lbs (41 kg)
Flywheel weight: 35 lbs (15.9 kg)
Supported weight: 280 lbs (127 kg)
Seat: 4-way adjustable
Drive: Belt
Resistance: Friction, wool felt pad.
Fitness console: Time, distance, speed, calories, pulse, odometer, SCAN
Extras: Bottle holder, tablet holder
Warranty: 1 year limited
Power-One Frame construction
The SNODE Power-One indoor cycling bike features a steel frame with ovalized tubes and a slightly curved main tube for improved aesthetics. In addition, the main structure comes with a corrosion-resistant paint finish; the color used is light gray, while the base bars are black.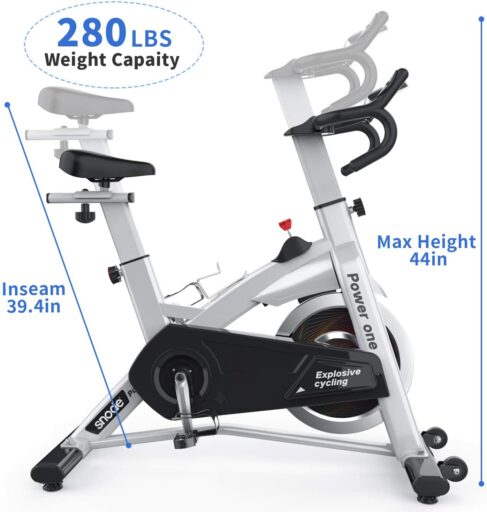 The seat post, the handlebar post, and the flywheel are chrome-plated. The only major non-steel part within the bike's construction is the belt guard; this part is durable ABS material.
An essential aspect of the bike's frame construction is the small horizontal bar that unites the mainframe tube's seat tube. This element not only improves the overall sturdiness of the frame, but it can also serve as a step-up element for certain exercising routines. Not all spin bikes have this element, so it's a plus.
The fully assembled bike is not extremely large. It is a few inches smaller than other models, such as the JOROTO X3. It is approximately 41″ (104 cm) long and 21″ (53 cm) wide. Thus, it can fit pretty well, even into a smaller room. It is advisable to leave at least two feet of clearance all around it to ease access.
The bike is not extremely heavy; however, it still weighs more than twice the average road bike's weight. Its fully assembled weight is ~90 lbs (41 kg). This weight, plus your weight, results in excellent overall stability.
Both base bars of the bike come with adjustable stabilizers. In addition, they have large rubber pads, which also add an excellent grip, preventing the cycle from sliding if it's on a slippery floor. Also, the front base bar features two small wheels, which makes its relocation easier.
Seat and handlebars
The SNODE Power-One 8729 indoor cycling bike features a 4-way adjustable seat. Its horizontal slider provides several inches for front-back adjustment, while its upright post has multiple adjustment notches.
Thus, the bike's seat can accommodate users between 5'0″ and 6'4″ (153 – 194 cm), promoting a complete leg extension and a satisfying range of motion. In addition, the whole seat construction is sturdy enough to support users up to 280 lbs (127 kg).
The top section of the saddle is a polyurethane material that offers superior heat dissipation. It has a central groove for extra breathability. Its rear area has two suspension springs, which improve its overall cushioning.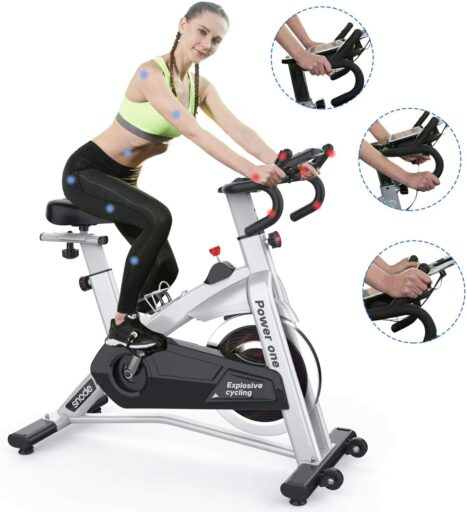 The saddle is fairly large as well. It is approx. 11″ (28 cm) long, 7.9″ (20 cm) wide, and 1.6″ (4 cm) thick. It offers plenty of contact surfaces and provides superior comfort.
The SNODE 8729 has a 2-way adjustable handlebar (up, down). It has a multi-grip design, featuring drop-down grips, an element that many other spin bikes do not offer. It also has a central loop aero bar to which the exercise meter attaches. Thus, it can provide a standard grip, close and full parallel grip, aero grip, or drop-down grip.
A layer of high-density rubber material covers the whole handlebar assembly to provide a secure grip. Also, its top grips integrate metallic pulse sensors so that the fitness console can monitor your heart rate if you hold on to them.
Power-One Drive and resistance
The SNODE Power-One 8729 indoor cycling bike integrates a 35 lbs (15.9 kg) flywheel, the optimal weight for spin workouts. The wheel is also perimeter-weighted to provide consistent momentum. As I've mentioned earlier, the flywheel is chrome-plated; however, it has ABS side protection panels, improving the bike's overall aesthetics.
The bike comes with a belt drivetrain. This type of transmission comes with three main advantages. One, the pedaling motion, is tranquil. Two, it does not require any lubrication. And three, it generates considerably less vibration than a chain. A black ABS guard protects the belt. It is removable if it is ever necessary.
The crankset is a sturdy piece featuring steel crank arms and metallic pedals. It can support users up to 280 lbs (127 kg) with no problem. The pedals have toe cages for extra thrust but do not have SPD clips for spin shoes. However, their threads are standard 9/16″, so replacement options are widely available.
The bike's drive system offers the possibility to pedal in reverse. However, coasting is not possible. The pedals will spin (either forward or backward) for as long as the flywheel is spinning.
The SNODE Power-One indoor cycling bike features a mechanical friction-based resistance system. Therefore, it does not require a power connection because the resistance adjustment is manual.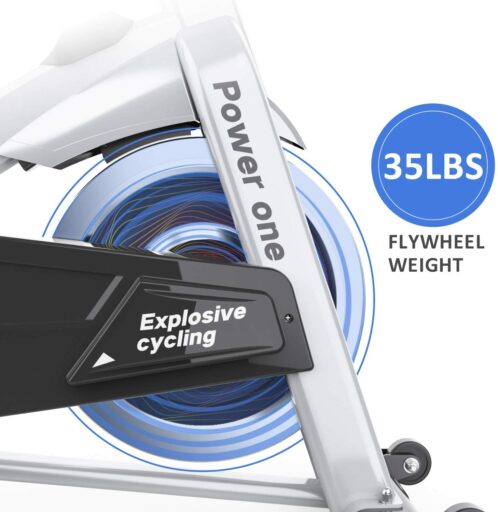 The resistance system consists of a wool felt pad attached to the tension knob on top of the mainframe bar. By turning the knob clockwise, the brake pad applies more friction to the flywheel, which results in an increased pedaling difficulty. The tension knob also acts as an emergency brake. You can press it down to stop the wheel if needed.
Like other friction resistance spin bikes, the SNODE Power One doesn't have pre-determined resistance levels. Instead, you tighten the brake until you get the pedal tension that suits you best. You can tighten the brake up to the point you can barely pedal.
Console
The bike includes a battery-powered fitness console. It does not have workout programs or connect online to any fitness apps. However, it does monitor the main workout metrics, including time, distance, speed, calories, and pulse. It also has an odometer function that keeps track of the total distance you have traveled on the bike from the first use.
The LCD only shows speed and distance in metric units (km/h and kilometers). It does not have an option for MPH and miles. Also, it can only read your pulse through the pulse sensors integrated into the handlebar. It is not telemetric, and it cannot communicate with wireless HR chest straps.
The fitness console is straightforward to use. It only has one button. You can repeatedly press the button to swap between the workout stats or select the Scan Mode. If Scan is selected, the unit will rotate all the metrics showing each one for several seconds.
The console also has a sleep mode function. If the bike is not in use for several minutes, it will turn off automatically to save the battery.
The included metallic bottle holder attaches to the base of the mainframe. It can accommodate most hydration bottles. The tablet holder connects to the handlebar's top and is wide enough to accommodate any tablet.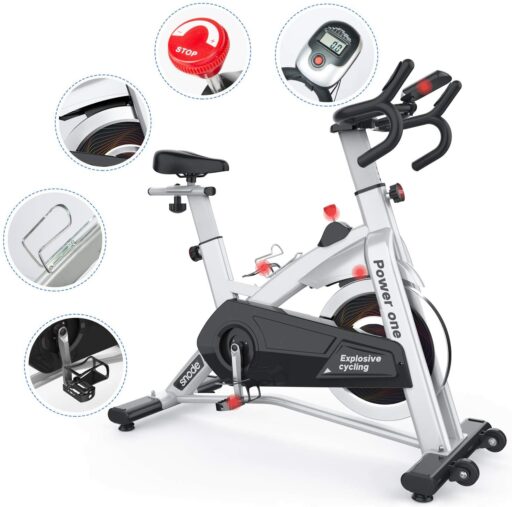 Power-One Assembly and Maintenance
The main drive and resistance elements come pre-assembled, attached to the bike's frame. Therefore, you only have to connect the base bars, the seat post, the saddle, the handlebar post, the handlebar, the pedals, the tablet holder, and the fitness console.
Therefore, it shouldn't take more than 30 minutes of your time. In addition, the box includes all the necessary tools for assembly, and the manual provides precise assembly instructions.
The bike's maintenance doesn't require much. The drive elements do not require any lubrication. All you need to do is keep the cycle clean, periodically check for loose parts, and retighten if necessary.
Pros
It has a sturdy construction – it can support users up to a maximum user weight capacity of 280 lbs (127 kg);
Aesthetic design;
Adjustable stabilizers on both bases;
Transport wheels on the front base;
2-way adjustable handlebar;
Multi-grip handlebar with drop-down grips and curved-up grips;
Pulse sensors integrated into the handlebar;
4-way adjustable seat;
Large saddle with thick cushioning for extra comfort;
Step-up bar between the seat tube and the main tube of the frame;
Smooth, almost silent belt drive;
Perimeter-weighted, 35 lbs (15.9 kg) flywheel for high inertia;
Friction resistance for a wide array of pedaling difficulty levels;
Heavy-duty metallic pedals with toe cages;
Fitness console included – it can track time, distance, speed, calories, and pulse;
Odometer function;
The bottle holder comes included;
Tablet holder included;
Easy to assemble;
Little maintenance is required.
Cons
Only metric units for speed and distance;
No backlight on the LCD;
The pedals don't come with SPD clips.
SNODE Power-One 8729 Indoor Cycling Bike  Summary
The SNODE Power-One 8729 is a mid-range indoor cycling bike equipped with a 35 lbs (15.9 kg) flywheel, felt-pad resistance, and a silent belt drive. It supports spin workouts of all sorts and has a maximum user weight capacity of 280 lbs.
It also includes a fitness console that can track your main workout stats. Moreover, it's an excellent trainer for high-intensity cardio workouts, stamina development, muscle toning, and weight loss. In all, it offers superb value for the price.
I hope you found this article helpful and informative. Would you please speak up if you have anything you'd like to share on the topic or any opinions about my website? I look forward to your comments, questions, and the sharing of ideas.