The BodyCraft VR200 Rowing Machine is a great compact rower with excellent resistance! Complete with both air & magnetic resistance; the dual resistance technology allows users to adjust to meet all fitness levels and goals! It also allows them to grow stronger without ever outgrowing the machine. In addition, tight space users love the compact design and easy fold storage.
The BodyCraft VR200 Rowing Machine has eight levels of adjustable resistance. The first level is 100% air, while levels 2-8 are air and magnetic. The combination makes it great for many users and is perfect if multiple people want to row on the same machine.
The VR200 comes with heavy-gauge, powder-coated steel leg supports and a high T13 aluminum seat rail. This durable build quality allows for a sturdy, firm rowing stroke that can handle a lot of physical abuse. In addition, the profoundly contoured seat sits on top of ultra-smooth, industrial-grade bearings housed inside friction-free rollers.
Aside from having excellent build quality, the VR200 Rower also has exceptional comfort. The rowing stroke is smooth and quiet, with nothing feeling unstable. A well-padded contoured seat is comfortable enough for long rowing sessions, and the precision bearings allow for a mild gliding rowing stroke.
Learn more in my complete review below!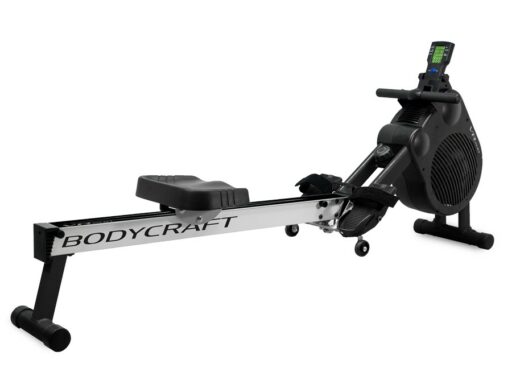 Product: BodyCraft VR200 Rowing Machine
Price: For a great deal on this rower, merely go here on Amazon
Warranty: Frame lifetime / Parts 5 years / Wear parts one year / Labor 1 year
My rating: 8.5/10
Affiliate Disclosure: As an Amazon Affiliate Program participant, I earn commissions on purchases made through links in this post. Full disclosure
Details and Specifications
Assembled dimensions: 79L x 17.75W x 36.25H inches (201L x 45W x 92H cm)
Assembled weight: 59.5 lbs (27 kg)
Weight capacity: 300 lbs (136 kg)
Frame: Steel and aluminum
Footrests: Pivoting, with straps
Resistance type: Air & magnetic, eight levels
Fitness Monitor: Time, time/500m, strokes per minute, total strokes, distance, calories
Warranty: Frame lifetime / Parts 5 years / Wear parts one year / Labor 1 year
VR200 Frame Construction
The first aspect is that the BodyCraft VR200 rower combines aluminum and steel elements in its frame construction. The front part that supports the flywheel and the resistance system, along with the rear stabilizer, is steel. In addition, the track of the seat is made of extruded aluminum to provide a smoother journey for the seat.
The unit's steel parts feature a corrosion-resistant, black powder coating, while the rail has its natural aluminum polish, with only the BodyCraft logo. Of course, the machine's construction also integrates plastic parts, such as the flywheel covers, but these don't affect the unit's overall sturdiness.
Speaking of sturdiness, this rowing machine's rail and seat assembly have a maximum user weight capacity of 300 lbs (136 kg), which is not bad for a home-use rower. However, it's not extremely heavy, weighing 59.5 lbs (27 kg) when fully assembled. Thus, assembly and transport shouldn't be a problem. In addition, its mid-base also has transport wheels, which facilitate its relocation.
This model is slightly smaller than the VR500 Pro in terms of size. With the frame fully assembled and extended, it's 79″ (201 cm) long and 17.75″ (45 cm) wide.
The frame has a folding design; the rail with the seat assembly can fold up to save space. With the track folded up, its length is 35.5″ (90 cm). The safe operation should leave at least two clearance feet on each side and at the unit's rear.
Seat, Footrests, and Pulling Handle
The BodyCraft VR200 rowing machine has a durable, lightly padded seat featuring a deep contour to provide maximum stability and comfort. In addition, its metallic frame integrates heavy-duty wheels with industrial-grade bearings for smooth and quiet operation and a prolonged lifespan.
The top of the seat stands at approx. 15.5″ (39 cm) above floor level. Therefore, entry and exit aren't too difficult, even for users with disabilities. Also, the unit's rail provides 34″ travel, which means it can accommodate users up to approx — 6'4 ″ (193 cm).
This BodyCraft rower features a set of large footrests made of heavy-duty nylon material. They have adjustable straps and heel guards, providing maximum foot stability. In addition, they're large enough to accommodate feet of all sizes.
And finally, they also have a pivoting design, which allows them to adjust their position as you row slightly, always offering the perfect angle.
The rowing handle consists of an aluminum bar with rubberized grips for optimal comfort and hand adherence. It's lightweight and approx — 16″ (40.6 cm) long, delivering a natural grip and hand positioning.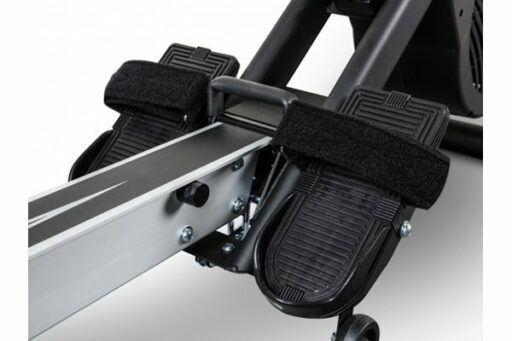 VR200 Resistance and drive
As mentioned earlier, the BodyCraft VR200 rower has an air and magnetic resistance system. It integrates a flywheel fan, which offers a dynamic response with each stroke.
Therefore, the airflow created by its spinning generates more or less resistance depending on how hard or fast you pull the handle. Thus, it results in rowing feeling closer to rowing a real boat.
Furthermore, on the other hand, the machine also features a mechanical, magnetic drum system connected to the resistance dial. For instance, when you turn the dial clockwise, the magnetic brake will generate more resistance, which results in a more consistent workout. Conversely, as you turn the dial counterclockwise, the resistance decreases.
The level 1 setting offers no magnetic resistance, just the air resistance caused by the flywheel. Conversely, the 7-8 levels add drag, resulting in a more consistent workout.
The top of the flywheel casing features a small air vent that allows you to direct the air current generated by the flywheel at you. Therefore, it may be helpful when you engage in a longer and more intense workout.
The unit's drive belt is whisper-quiet, smooth, and clean; it doesn't require lubrication. It's a belt tested at 287 lbs of stress, pulled over half a million times. The handlebar is attached to an abrasion-resistant nylon strap with a commercial-duty clutch and returns spring.
Fitness monitor
The fitness monitor included with the BodyCraft VR200 rower offers a bit more than the average simple one. The first aspect that places it above a simple one is its 7-panel LCD which simultaneously shows seven workout metrics.
The top six panels show total strokes, strokes per minute, time/time500m, distance, calories burned, and overall length. The lower, larger panel is the mode display. It allows you to run a SCAN function and rotate all the workout metrics or choose one of them to view larger.
The monitor offers both km and miles options for the distance display. In addition, the Time/500m shows your average 500-meter time and will automatically be displayed and continuously updated.
Unfortunately, the big downside of this fitness monitor is that it can't read your pulse. Thus, if you need to keep an eye on your heart rate during exercise, you must use a separate device.
The fitness monitor is relatively easy to operate and has two buttons, MODE and RESET. The MODE button controls the SCAN function, while the RESET button clears all values.
If the SCAN function is on, the values are displayed in sequence, showing for 5 seconds. The RESET key clears all the values on the monitor to zero.
The monitor is battery-powered and requires two AA batteries included with the machine. It starts up if you press a button or pull the handle. In addition, it has a sleep function that it will enter if there is no activity on the machine for several minutes.
VR200 Assembly and Maintenance
The front part of the rower, which includes the flywheel and the resistance system, comes pre-assembled. First, however, you will have to attach the unit's base stabilizers, mount the seat on its track, attach the track to the front part of the frame, attach the footrests, and finally, the fitness monitor.
Consequently, it may take up to an hour of your time. However, the manual does provide excellent assembly instructions and schematics. In addition, a set of essential assembly tools also comes with the machine.
Maintenance requires periodic dusting; the rail should require cleaning to prevent damage to the seat wheels. Oil-Based furniture polish is ideal for rail maintenance. It's also advisable to periodically check for loose bolts or damaged parts and retighten or replace them.
Pros
Sturdy construction – can hold users up to 300 lbs;
Folding frame, space-saving design;
Transport wheels integrated into the middle base;
Pivoting footrests with straps and heel guards for maximum foot stability;
Deep-contoured, padded and spacious seat supplying excellent comfort;
Air resistance for a natural, dynamic response during rowing;
Eight levels of magnetic resistance for overall tension adjustment;
7-panel fitness monitor which indicates time, time/500m, meters, strokes per minute, total strokes, distance, and calories;
Reasonably quiet for a rower with air resistance;
Easy to assemble;
Little maintenance is required;
Excellent warranty.
Cons
The fitness monitor isn't telemetric;
The fitness monitor LCD doesn't have a backlight.
BodyCraft VR200 Rowing Machine Summary
The BodyCraft VR200 is a rowing machine featuring an air and magnetic resistance system equipped with a mid-range fitness monitor that can track time, time/500m, distance, strokes per minute, total strokes, and calories. It has a sturdy construction, a T13 aluminum rail, and a folding frame design.
Moreover, it's a rower for home use, perfect for light to intense, full-body cardio training, interval training, stamina development, and weight loss. Finally, it's not one of the most affordable models but offers excellent price value.
I hope you found this article helpful and informative. Would you please speak up if you have anything you'd like to share on the topic or any opinions about my website? I look forward to your comments, questions, and the sharing of ideas.
Please remember that you should consult your physician before starting any exercise program to determine if you have any medical or physical conditions that could put your health and safety at risk or prevent you from using the equipment properly. In addition, your physician's advice is essential if you are taking medication that affects your heart rate, blood pressure, or cholesterol level.