The Spirit Fitness XE295 Elliptical is a midrange cross-fit trainer with plenty of features to improve cardiovascular fitness. The XE295 is their traditional mid-priced elliptical. It has the same features as the XE195 plus two heart rate and user programs, additional console feedback, adjustable pedal angle, and various handgrip positions.
The XE295 elliptical machine's muscle-activation profile shows how much exert you exert to work your hamstrings, thighs, calves, pectoral muscles, arm muscles, and buttocks your exercise. With this in mind, the LCD console displays green lights for minimal effort, amber for medium exertion, and red for heavy exercise.
The Spirit Fitness XE295 Elliptical has easy program controls, with ten preset workout programs and 20 levels of resistance to make each fitness routine more challenging as you build strength and endurance. Moreover, the handlebar-mounted remote resistance controls are where you need them to provide a comfortable and secure workout.
The XE295 has a fitness monitor featuring a 7.5″ blue backlit LCD screen that tracks time, segment time, speed, distance, RPM, watts, calories, and pulse. The distance also displays as a 1/4-mile race track. A wireless HR chest strap transmitter (included) and heart rate pulse grips help keep your workouts safe and effective.
Learn more in my complete review below!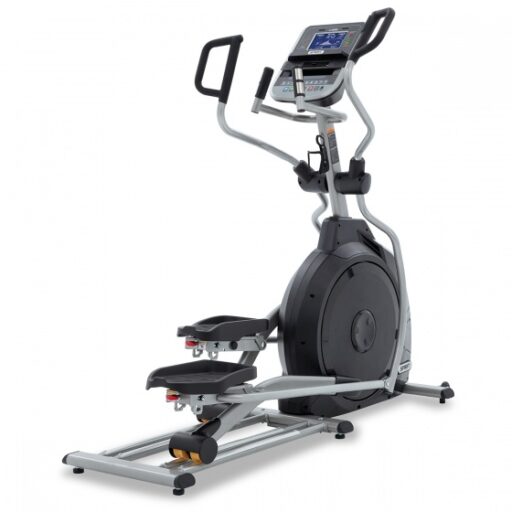 Product: Spirit Fitness XE295 Elliptical
Price: For a great deal on this elliptical, merely go here on Amazon
Warranty: Frame lifetime / Brake lifetime / Parts 10 years / Labor 1 year
My rating: 8.5/10
Affiliate Disclosure: As an Amazon Affiliate Program participant, I earn commissions on purchases made through links in this post. Full disclosure
Details and Specifications
Assembled dimensions: 70L x 22W x 64H inches (178L x 56W x 162H cm)
Assembled weight: 187 lbs (85 kg)
Flywheel weight: 30 lbs (13.6 kg)
Weight capacity: 400 lbs (181 kg)
Stride: 20 inches (51 cm)
Incline: N/A
Resistance: Eddy current, 20 levels
Fitness Monitor: 10 programs, Bluetooth
Extras: Bottle holder, device holder, sound system, cooling fan
Warranty: Frame lifetime / Brake lifetime / Parts 10 years / Labor 1 year
XE295 Frame Construction
The Spirit Fitness XE295 elliptical trainer features a heavy-duty construction comparable to commercial-grade machines. Its frame is commercial-grade steel tubing coated with a corrosion-resistant and chip-resistant paint finish gray.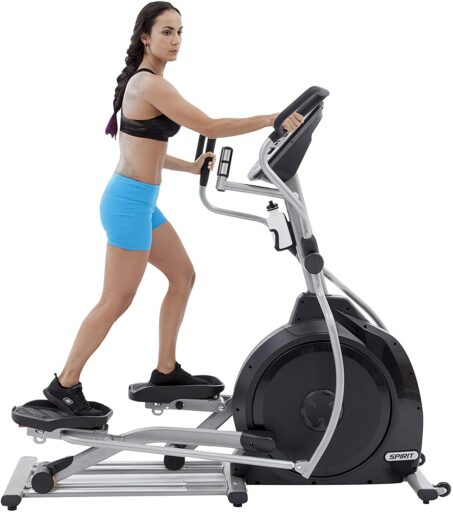 Of course, the machine also incorporates several non-steel parts in its construction. For example, the covers of the drive and resistance elements, the pedal trays, and several other small covers are made of durable thermoplastic materials. Also, the surfaces of the rails are aluminum alloy.
Like most other gym-grade ellipticals, the Spirit Fitness XE295 is heavy. Its net weight is 187 lbs (85 kg). Therefore, it requires to be transported by at least two people. But on the other hand, all this weight provides superior stability.
Once fully assembled, it is relatively easy to move by only one person as its front base integrates a set of wheels, facilitating its relocation. Also, all the base bars come equipped with adjustable levelers.
This Spirit Fitness elliptical cross trainer is relatively large as well. With all the parts assembled, it is approx 70″ (178 cm) long and 22″ (56 cm) wide. It is also advisable to leave at least two feet of clearance all around it for easy access and safe usage. Therefore, it may not fit too well in a small room.
Like most other elliptical trainers in this price range, the XE295 has two sets of handlebars, one fixed and one mobile. The fixed handlebars have short, simple grips with integrated pulse sensors. They are welded directly to the front mast of the machine, so they are non-adjustable.
The mobile handlebars offer multiple grip possibilities. They do not have pulse sensors, but the right grip does integrate resistance adjustment controls. Unfortunately, the mobile handlebars connect to the pedal bars and cannot lock to remain stationary. As a result, they cannot move independently from the pedals.
Elliptical path, stride, and pedal height
First, the Spirit Fitness XE295 elliptical does not have an incline system. Thus, the stride length and position of the elliptical path are not adjustable.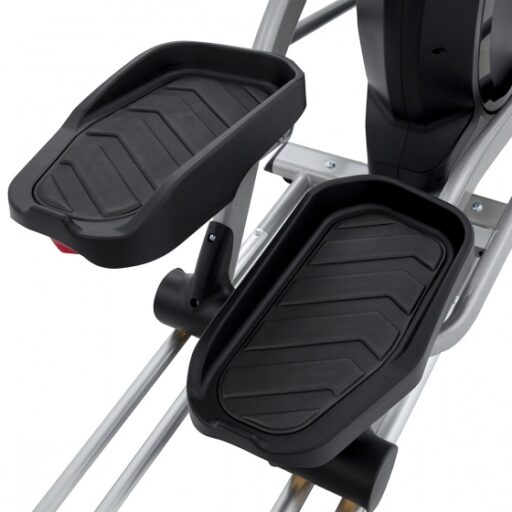 It offers a fixed stride length of 20″ (51 cm), similar to most commercial machines. Therefore, the trainer comfortably accommodates 6'5″ (196 cm) users.
The machine has a pretty neutral, almost entirely horizontal elliptical path. The pedals have a 2-degree inward tilt to provide a more comfortable foot position and minimize the ankles' lateral stress.
They have rubber cushion inserts with a textured surface for an improved grip and extra shock absorption. They are also adjustable, similar to the Sole Fitness E35 machine pedals. Each oversized, cushioned pedal has three angle-adjustment levels of 0°, 5°, and 10°.
The pedal trays are attached to durable steel bars. Thus, they support users up to 400 lbs (181 kg), similar to commercial machines. They slide on dual tracks for improved stability. The pedal wheels integrate industrial-grade ball bearings and have an outer layer made from polyurethane material to minimize noise.
This Spirit Fitness elliptical has a narrow Q-Factor (spacing between the pedals) of only 2″ (5 cm). Therefore, this is quite a plus as you don't have to ride with your feet too far apart, reducing the lateral stress on the knees and ankles.
Also, the lowest pedal position is approx. 9″ (23 cm) above floor level, while the highest pedal position is approx 16″ (41 cm) above floor level. Therefore, placing and using the machine in a room with a ceiling at least 20″ (51 cm) higher than your height is advisable.
XE295 Drive and resistance
The Spirit Fitness XE295 has a reasonably heavy flywheel for an elliptical trainer. The internal flywheel weighs approximately 30 lbs (13.6 kg), similar to the mid-range spin bike's flywheel.
It is also perimeter-weighted for improved inertia and allows pedaling in reverse. However, coasting is not possible on this machine. The pedals continue to move for as long as the internal flywheel is spinning.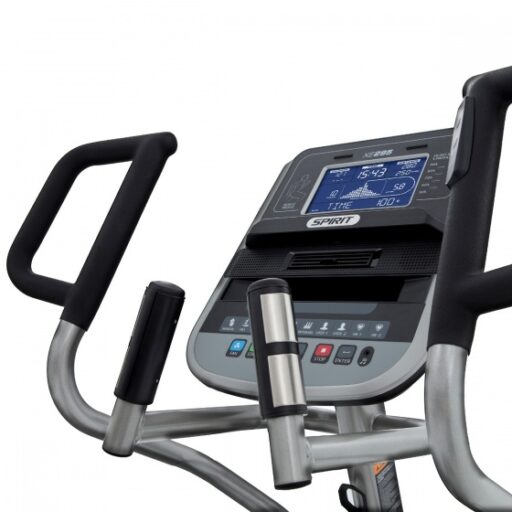 The machine's drivetrain uses a durable poly-v belt. This transmission type delivers a smooth pedaling motion, generating less vibration than a chain. It also doesn't require periodic lubrication like a chain drive system.
The Spirit Fitness XE295 elliptical trainer features an eddy current resistance system. Therefore, you must connect it to a power source to power up its console and benefit from resistance adjustments. It also means that the monitor can adjust the resistance automatically.
The trainer's resistance system consists of an internal servo motor and a magnetic brake integrated into the flywheel system. Therefore, as you adjust the console's resistance or adjust the resistance automatically, the motor changes the magnets' pull, increasing or decreasing the pedaling difficulty.
The machine makes available 20 levels of resistance. Due to the heavy flywheel, even the first levels offer decent pedaling inertia. Conversely, the top 18-20 levels provide quite a high pedaling difficulty simulating a steep climb and offering the possibility to improve strength.
Fitness Monitor
The Spirit Fitness XE295 elliptical trainer has the same monitor as the Spirit XBU55 upright bike. In addition, it features a 7.5-inch LCD with an LED backlight, divided into multiple sub-sections to show as many workout metrics as possible.
It tracks time, segment time, speed, distance, RPM, watts, calories, and pulse. The distance is also a 1/4-mile race track with a lap count function. Also, the monitor is telemetric. Therefore. It can track your pulse from a wireless HR chest strap, and this accessory comes with the machine.
XE295 Workout programs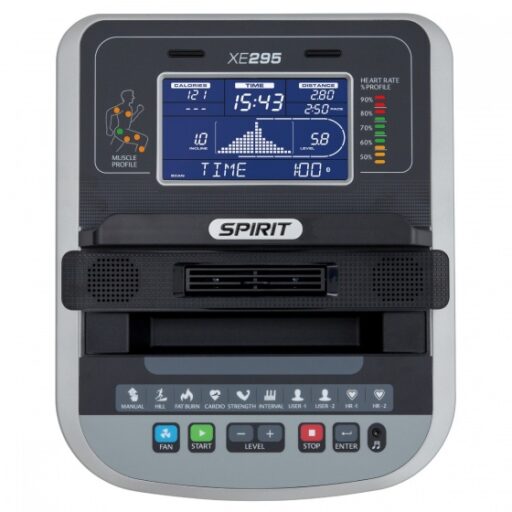 The monitor offers ten workout programs. The list includes one manual program, five preset programs, two user-defined programs, and two heart rate programs, and each program has its quick-access key on the console.
The Manual program offers the possibility of working out freely, adjusting the resistance from the console, or controlling the right grip. The preset programs are Hill, Fat Burn, Cardio, Strength, and Interval.
Each one has a standard segment layout consistent with its name. For example, the Interval program alternates low and high resistance, while the Hill workout progressively increases resistance to the middle of the selected duration and then decreases it.
The two user-defined programs allow you to create custom programs, save them, and reuse them whenever you want. And finally, the two heart rate programs are preset for HR values of 60% and, respectively, 80%.
Amenities
The monitor also has Bluetooth connectivity, and you can sync it with your smartphone or tablet via the Spirit Fit App. This app allows you to track your workout progress and save your history online; it can also sync your workout data with various fitness cloud sites like MapMyFitness, iHealth, FitBit, and more.
Other notable monitor features are the sound system, the cooling fan, and the device holder. The sound system consists of two speakers and an AUX port on the bottom-right corner of the monitor. Thus, you can connect your smartphone or tablet to the console and play your music through the integrated speakers.
The cooling fan is not large; it integrates into the middle of the unit. The tablet holder has a small shelf above the speakers and fan system. However, it is large enough to support any tablet.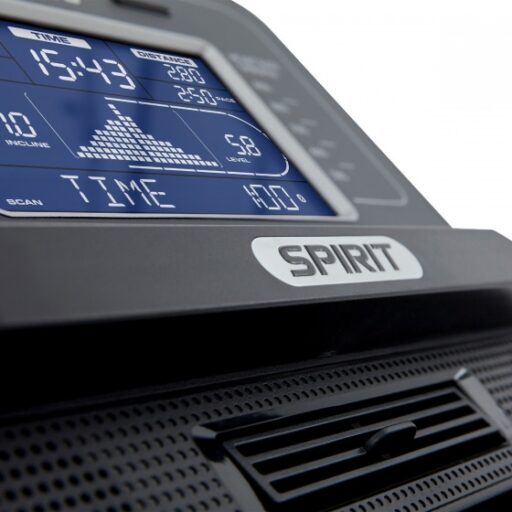 XE295 Assembly and Maintenance
The machine's section that holds all the drive and resistance elements comes pre-assembled. However, the rest of the parts do require user assembly. Therefore, you must connect the rail section to the machine's front area and add the monitor mast, the moving arms, the fitness monitor, and several small covers.
Consequently, this may take more than one hour of your time, but the task is pretty straightforward. Also, all the necessary tools come with the machine, and the manual provides precise assembly instructions.
For maintenance, it is advisable to lubricate the rails of the machine periodically. A bottle of lubricant comes included. The joints may also need lubrication after a while, but it is advisable to grease them during assembly.
The internal parts shouldn't require any maintenance for a very long time. So, other than this, you should keep your elliptical clean, periodically check for loose bolts and parts, and retighten as needed.
Pros
Heavy-duty commercial construction – can support users up to 400 lbs (181 kg);
Transport wheels on the front base;
Adjustable levelers on all three base bars;
Fixed and mobile handlebars;
Extra-heavy (30 lbs) flywheel for improved inertia;
Oversized, cushioned pedals with three angle-adjustment levels;
Narrow Q-factor for zero lateral stress on the joints;
Dual rail tracks for enhanced stability;
Eddy current, automatic resistance (20 levels);
Multi-function fitness monitor featuring a multi-window, 7.5″ LCD with LED backlight;
Pulse sensors and pulse reading function;
Telemetric receiver built-in the console for wireless HR chest straps;
The HR chest strap comes included;
Ten workout programs available;
Quick access keys for each workout program;
Bluetooth connectivity – compatible with the Spirit Fit App;
Accessory holders included;
Sound system included;
Cooling fan included;
Bottle holder included;
Quiet operation;
Easy to assemble;
Little maintenance is required;
Excellent warranty.
Cons
Spirit Fitness XE295 Elliptical Summary
The Spirit Fitness XE295 is a heavy-duty elliptical trainer made for home use. It has a 20-level eddy current resistance system, a heavy 30-lb flywheel, and a Bluetooth fitness monitor with ten workout programs.
Additionally, it has dual tracks for improved pedal stability and adjustable cushioned pedals. It also has an impressive 400 lbs weight capacity. And finally, even though it's not exactly an affordable elliptical machine, it offers excellent quality for the price.
I hope you found this article helpful and informative. Please speak up if you have anything you'd like to share on the topic or opinions about my website.? I look forward to your comments, questions, and the sharing of ideas.
Please remember to consult your physician to determine if you have any medical or physical conditions that could risk your health and safety or prevent you from using the equipment properly. In addition, your physician's advice is essential if you are taking medication that affects your heart rate, blood pressure, or cholesterol level.