The Stamina Magnetic Recumbent Bike 845 is a low-impact, user-friendly way to improve cardiovascular function, strengthen the lower body, and burn fat. Getting on and off the bike is a breeze thanks to the step-through design, making it an ideal fit for users of all age groups and mobility levels.
The Stamina Magnetic Recumbent Bike 845 has your fitness goals in mind. Three expert-guided streaming workouts come included (access code in the user manual), and you can watch them on your smartphone, tablet, PC, or smart television devices.
Track the metrics that matter on the large, easy-operation LCD fitness monitor, including speed, time, distance, calories, watts, pulse, and RPM (rotations per minute). Then, tailor the bike to your specific goals using customizable programs, including interval workouts, metric-specific routines, and a body-fat percentage tracker.
The Stamina Magnetic Recumbent Bike 845 includes comfortably padded handlebars with integrated pulse sensors, an adjustable, padded seat and backrest, and textured pedals with adjustable straps. The reclined, recumbent design makes a relaxed pedaling workout easier on the joints than on a traditional upright bike.
Learn more in my complete review below!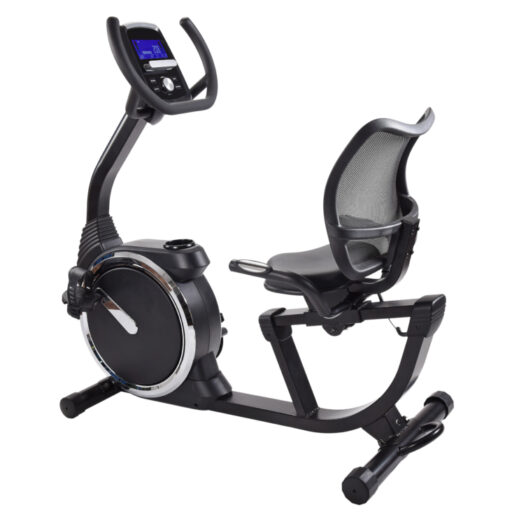 Product: Stamina Magnetic Recumbent Bike 845
Price: For a great deal on this bike, merely go here on Amazon
Warranty: Frame 3 years / Parts 90 days
My rating:  9/10
Affiliate Disclosure: As an Amazon Affiliate Program participant, I earn commissions on purchases made through links in this post. Full disclosure
Details and Specifications
Assembled dimensions: 51.1L x 23.6W x 46.3H inches (130L x 60W x 118H cm)
Assembled weight: 96 lbs (43.5 kg)
Supported weight: 250 lbs (113.3 kg)
Resistance: Motorized magnetic, 16 levels
Drive: Dual belt
Fitness Monitor programs: 1 manual, 12 pre-set, four heart rates, 1 watt, body fat, recovery
Extras: Device holder, bottle holder
Warranty: Frame 3 years / Parts 90 days
845 Frame construction
The Stamina 845 recumbent bike features a one-piece frame with a step-through design. This construction is a plus for users with specific disabilities as it facilitates easy entry and exit. However, not all recumbent bikes have this feature.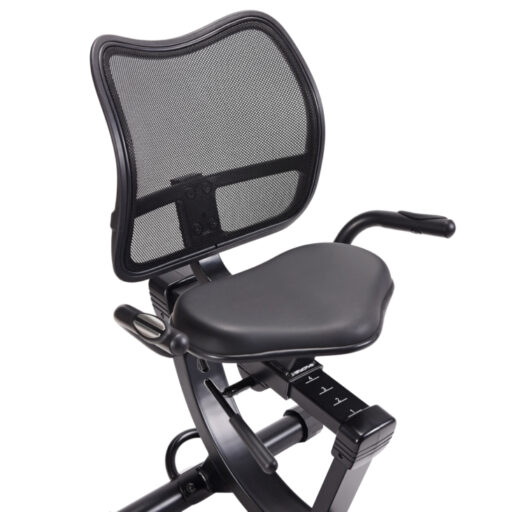 The bike's frame is rectangular and cylindrical steel tubing double-coated with a corrosion-resistant paint finish, black. Of course, the bike also integrates several thermoplastic parts in its construction. The most notable ones cover the drive and resistance elements, the backrest's frame, and a few other small covers.
The fully assembled bike is not extremely large compared to other fitness machines. However, it still is approximately 51.1″ (130 cm) long and 23.6″ (60 cm) wide. Therefore, leaving at least two feet of clearance on each side and at least one foot at the front and rear is advisable to ease access and unhindered usage.
The bike is pretty heavy as well. Its net weight is 96 lbs (43.5 kg). Thus, two persons should carry the packaged unit. However, once completed, one person can quickly move the bike as its front stabilizer bar integrates two small wheels, while the rear base stabilizer features a small lifting handle.
Seat
The Stamina 845 comes with a large seat to provide superior comfort. It is pretty similar to the construction of certain office chairs. Its bottom pad integrates a thick layer of foam padding and has a durable faux leather cover which is also sweatproof and easy to maintain.
The seat assembly features a mesh-type backrest with a frame of a durable thermoplastic material (probably polypropylene). Its frame is contoured and slightly flexible, so it adapts to the shape of your body. Also, the mesh structure provides excellent breathability.
The seat is adjustable. It is attached to an oblique rail, and you can secure it closer or farther from the pedals. The seat adjustment system is lever-based, which is quite a plus because you can adjust the seat's position without getting up. In addition, a lever on its right side allows you to unlock it and re-lock it in the desired position.
The seat adjustment span comfortability accommodates users between 5'0″ and 6'3″ (153 – 190 cm). It also has a maximum user weight capacity of 250 lbs (113 kg).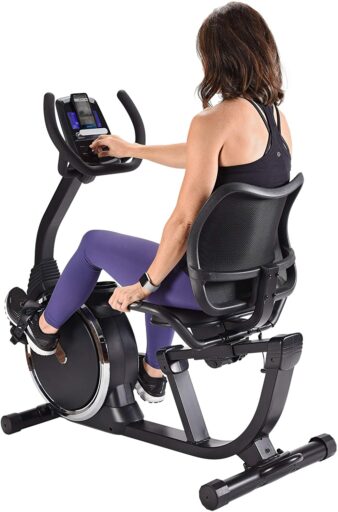 Unfortunately, the backrest cannot adjust independently from the rest of the seat. It attaches to the seat frame via several screws. Therefore, it doesn't recline and does not have an up/down adjustment slide.
845 Handlebars
The Stamina 845 recumbent bike comes with two sets of handlebars. One is attached to the front mast of the bike, and the other to the seat assembly. The front handlebars offer the possibility to adopt several grips. A layer of high-density foam material covers them for a comfortable and secure grip.
Due to the curvature on the front mast, your position is not awkward and uncomfortable if you exercise by holding on to them, as is the case for some other recumbent bikes.
The seat handlebars feature the same foam covers as the front handlebars. However, they integrate metallic pulse sensors. Thus, the console can monitor your heart rate by holding on to them. Unfortunately, none of the handlebars are adjustable.
Drive and resistance
The Stamina 845 recumbent bike comes equipped with a dual belt drive system. This means it has two internal belts and two pulleys. This type of drive system adds stability and consistency to the ride. It also improves the overall pedaling resistance. And since the bike uses belts for its transmission, you don't have to worry about their lubrication.
The bike's internal flywheel is perimeter-weighted. This type of construction improves inertia. Its exact weight is not specified, but it should be around 20 lbs (9 kg), considering the bike's overall weight. It is also bi-directional. Thus, the bike allows pedaling in reverse.
The bike comes with a set of two standard bike pedals. In addition, they have a weighted design to self-level when you remove your feet from them. They also have adjustable straps so you can secure your feet on them if necessary.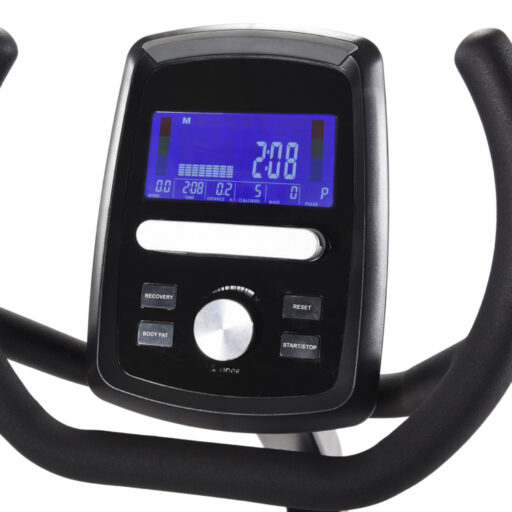 The Stamina 845 recumbent bike features a motorized magnetic resistance system. It requires an external power source to power up the monitor and makes the resistance adjustment possible. It comes with an adapter (9V, 500 mA).
The bike's resistance system consists of a servo motor and a magnetic brake. The servo motor connects to the fitness monitor and the brake. Therefore, the motor changes the magnets' pull when adjusting the resistance, increasing or decreasing the pedaling load.
The bike offers 16 levels of resistance. The 1-3 difficulty levels offer light resistance, great for recovery training or a light warm-up. The 7-10 levels are great for toning leg muscles and improving strength and stamina. And finally, the 10-16 levels allow you to achieve a higher calorie burn and an increased cardiovascular rate in a shorter time.
845 Fitness monitor
The Stamina 845 comes equipped with a mid-range fitness monitor. It features a multi-window LCD with a blue LED backlight for improved readability. It tracks time, speed, RPM, distance, calories burned, watts, and pulse.
The speed and distance are in Imperial units (mph and miles). For the monitor to read your pulse, you must hold on to the sensors integrated into the seat handlebars. The monitor cannot read the pulse from a wireless transmitter.
Unfortunately, the bike's monitor does not have Bluetooth and is not compatible with any fitness apps. However, it has a pretty decent built-in program database. To start, it has a Manual Mode which allows you to adjust the resistance as you like during the workout.
Next, there are 12 pre-set programs. These adjust the resistance automatically. They have different layouts and cover various types of workouts. And finally, there are four heart rate programs, three pre-set for 55%, 75%, and 90% heart rate, while the fourth is a user custom.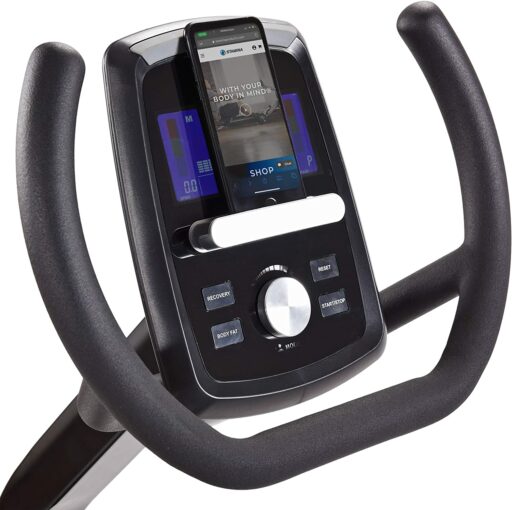 The fitness monitor offers target-setting functions for time, distance, calories, and watts. After selecting a target, time, distance, and calories it will count down from the specified value until you reach zero and complete your current goal.
The watt target is a bit different. If you choose a watt target, the monitor will automatically adjust the resistance to keep you close to the selected target watt.
Body Fat and Recovery functions are available and have quick access keys on the monitor. The Body Fat function calculates your Body Mass Index based on your data input (age, gender, height, weight).
The Recovery function counts your pulse at the end of the workout and determines your fitness level, rating it between F1 – excellent and F6 – poor.
845 Assembly and Maintenance
The main body of the bike comes with the drive and resistance unit and comes pre-assembled. However, the rest of the parts do require user assembly. You will have to connect the front and rear frame stabilizers, the pedals, the front mast, the front handlebars, the fitness monitor, the seat, and the backrest.
Therefore, this may take up to two hours, but the task is not too complicated. Furthermore,  the manual provides clear, step-by-step instructions and schematics, and all of the necessary tools for assembly come with the bike.
You only have to keep the bike clean and wipe the sweat that may fall on the frame at the end of your workout for maintenance. The internal parts do not require lubrication. It is also advisable to periodically inspect the bike to ensure all the parts are functioning correctly and all the bolts hold tight in their places and retighten as needed.
Pros
Sturdy construction – can support users up to 250 lbs;
Elegant design;
Large cushioned seat with flexible mesh backrest;
Two sets of handlebars;
Pulse sensors integrated into the seat handlebars;
Weighted pedals with adjustable straps for extra stability;
Motorized magnetic resistance – 16 levels;
Multi-function backlit fitness monitor;
12 pre-set programs;
4 HRC programs;
Two user profiles;
Body Fat and Recovery functions;
Goal settings for time, distance, watts, and calories;
Device holder included;
Bottle holder included;
Maintenance-free;
Easy to assemble;
All the necessary assembly tools included;
Excellent warranty.
Cons
The fitness monitor does not have online connectivity;
The fitness monitor does not have a Bluetooth function;
A tablet placed on the device holder may cover the fitness monitor LCD.
Stamina Magnetic Recumbent Bike 845 Summary
The Stamina 845 is a recumbent bike made for home use. It has a 16-level motorized magnetic resistance system, a high-comfort seat, and a fitness monitor with multiple workout programs.
Moreover, it's an exercise bike for users of all levels for light to intense cardio training, recovery training, muscle toning, stamina development, and weight loss.
I hope you found this article helpful and informative. Would you please speak up if you have anything you'd like to share on the topic or any opinions about my website? I look forward to your comments, questions, and the sharing of ideas.
Please note you should consult your physician to determine if you have any medical or physical conditions that could risk your health and safety or prevent you from using the equipment properly. In addition, your physician's advice is essential if you are taking medication that affects your heart rate, blood pressure, or cholesterol level.