The FISUP Magnetic Rower features a stable structure and ergonomic design made of a solid steel frame with a triangle design, a comfortable oversized seat, and two adjustable foot platforms that offer comfort and stability during exercise. This rowing machine has a maximum user capacity of up to 265 lbs.
The FISUP rower has eight manual magnetic resistance levels for an easy or more challenging workout according to different family members' needs for different exercise phases; you can simultaneously train your whole body. This gear is excellent for strengthening other muscle groups and increasing cardiovascular.
The FISUP magnetic rower has a 30-inch high, large rotating digital fitness monitor that easily tracks speed, distance, time, calories burned, SPM, date, and ambient temperature to keep you updated on your progress and fitness.
This rower is compact and doesn't occupy much space wherever you put it. You can move it quickly on its transportation wheels to a good spot for storage. It is a well-constructed rowing machine with good quality parts, components, and fitness products checked thoroughly before getting out on the market.
Learn more in my complete review below!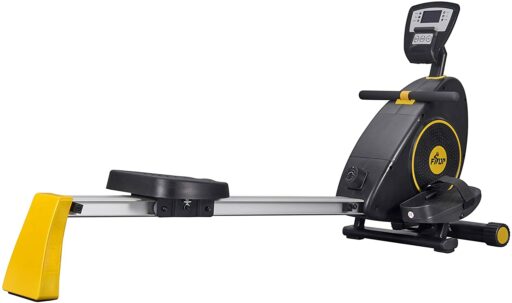 Product: FISUP Magnetic Rower
Price: For a great deal on this rower, merely go here on Amazon
Warranty: 1 year limited
My rating: 8/10
Affiliate Disclosure: As an Amazon Affiliate Program participant, I earn commissions on purchases made through links in this post. Full disclosure
Details and Specifications
Assembled dimensions: 60L x 18W x 30H inches (152L x 46W x 76H cm)
Weight capacity: 265 lbs (120 kg)
Frame: Steel & aluminum
Footrests: Pivoting, with straps
Resistance: Magnetic, eight levels
Fitness Monitor: Time, count, SPM, distance, calories, scan, goals
Extras: Device holder
Warranty: 1 year limited
FISUP Frame Construction
The FISUP magnetic rower combines steel, aluminum, and thermoplastic parts in its construction. Its rail is extruded aluminum, the front part of the frame that supports the drive system, and the rear stabilizer is steel, while the covers of the drive system and the footrests are thermoplastic material.
The steel parts come coated with a corrosion-resistant paint finish. The rear stabilizer comes painted yellow, while the front section is black. The aluminum rail has natural light gray polish, while the front plastic covers are black. These are the only colors available for this FISUP rower.
The fully assembled machine is relatively small compared to other magnetic rowers. It is approx 60″ (152 cm) long and 18″ (46 cm) wide. Furthermore, the footrests' placement allows a rowing range of approximately 50″ (127 cm). Therefore, this rower comfortably accommodates users up to 6'2″ (188 cm) with no problem allowing a complete leg extension.
It is advisable, though, to leave at least two feet of clearance at the rear and on each side of the machine for easy access and to execute the rowing motion correctly.
Unlike similar magnetic rowers, the FISUP model does not have a folding rail. However, it can store vertically, resting on its front stabilizer and a small bumper integrated into the front section's drive system. When stored vertically, its footprint becomes approx. 30″L x 18″W (76 x 46 cm).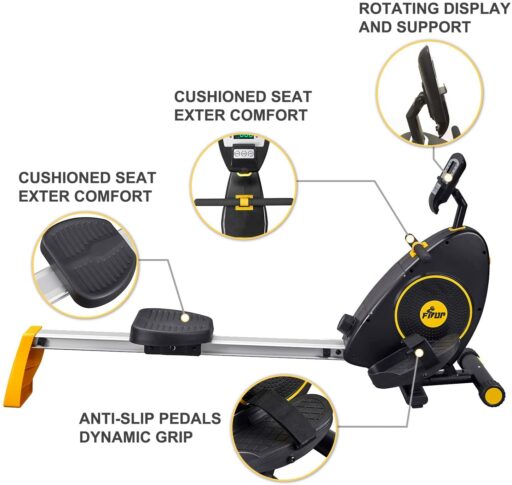 Like other rowers in this feature range, the FISUP model is not too heavy. It weighs approx. 50 lbs (22 kg), so one person can carry and assemble the machine. Once completed, it is easy to move as its front base integrates two small wheels.
Seat and other parts
The FISUP magnetic rower comes equipped with a seat designed for optimal comfort. Its top is high-density foam with a ribbed texture. It is approx. 12″ (30 cm) wide, providing plenty of contact surface.
The base of the seat is steel-made. It features three sets of wheels that slide through the side grooves of the rail. The seat base frame conceals them for improved safety. In addition, they integrate ball bearings for a smooth seat motion. Also, their outer covers are rubberized to reduce noise.
The seat assembly and rail have a maximum user weight capacity of 265 lbs (120 kg). The rail is slightly inclined forward. Therefore, the leg push phase from the rowing motion delivers a slightly better workout for the legs. Also, at its highest point (to the back), the seat is approximately 9″ (23 cm) above floor level.
The machine comes with two large footrests, durable thermoplastic material. In addition, they have heel guards and adjustable straps for maximum foot stability. They also feature a pivoting design. In other words, they can tilt back and forth to adapt better to the position of your feet throughout the rowing motion.
The rower's pulling handle is a short straight bar. Its side grips feature high-density foam sleeves for improved comfort. It connects to a nylon strap, which is highly resistant to abrasion.
This can be a plus, as it reduces noise during rowing compared to a chain drive rower. Also, the strap does not require lubrication. However, the handle does not have any HR pulse sensors, and the monitor does not have a pulse reading function.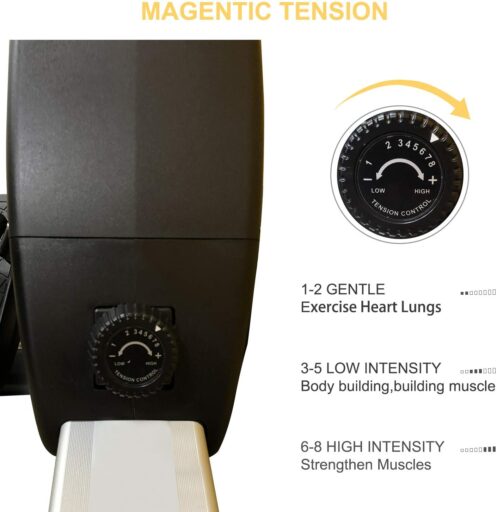 FISUP Resistance system
This FISUP rowing machine comes equipped with a manual magnetic resistance system that is up to a point similar to a magnetic exercise bike's resistance system.
Of course, since the resistance adjustment requires manual action, you don't need an adapter or an external power source for the rower. But on the other hand, the included fitness monitor cannot adjust the resistance automatically.
The main resistance element is an internal magnetic brake connected to the tension knob on the rower's front unit through a steel cable. When turning this knob clockwise, the brake moves closer to the internal flywheel, which adds difficulty to the rowing motion.
The FISUP magnetic rower makes available eight resistance levels. The lowest level delivers a rowing difficulty slightly more significant than other similar machines, but it's still a reasonably light workout load. On the other hand, the 8th level of resistance provides considerably more resistance for a more consistent workout.
It's important to note that the rower does not provide a dynamic response. This means that the rowing difficulty does not depend on how fast you pull the handle, as is the case for water rowing machines or air resistance rowers.
Since it is a magnetic rower, the resistance only depends on the selected resistance level. This shouldn't be a major inconvenience; it's just that the rowing sensation of an air rower or water rower is closer to the feeling of rowing a real boat. Nevertheless, the machine still provides a pretty consistent full-body cardio workout.
One of the main pluses of any magnetic rower, which also applies to this FISUP model, is the overall quietness. Since the internal magnetic brake does not contact the flywheel, and there is no internal fan or water tank, the machine generates almost no noise during rowing.
Fitness monitor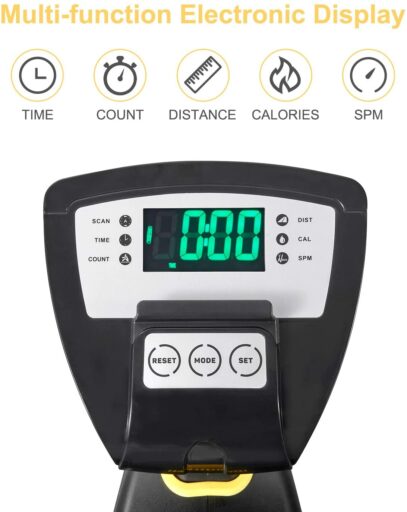 The FISUP magnetic rower comes equipped with a large fitness monitor. Although it does not have online connectivity or pre-set programs, it offers a few extra features over a simple unit.
The monitor features a bright green LED display with significant digits that are easy to read. It tracks time, distance, stroke count, strokes per minute, and calories burned—the distance displays in miles (cannot be converted to meters). Unfortunately, the monitor does not have a pulse reading function. Therefore, it cannot communicate with a wireless heart rate chest strap or other similar devices.
The machine's fitness monitor is straightforward to use. It has three buttons – Mode, Set, and Reset. The Mode button allows you to select the workout metric you want to view on display.
You can scroll through all the metrics mentioned above by pressing them repeatedly. This way, you can also select the Scan Mode, which automatically rotates all the metrics showing each one for several seconds.
The Set button allows selecting workout targets (or goals) for time, count, and calories. Once a goal is selected, the monitor will count down from the set value until zero. And finally, the Reset button allows you to clear all the values on the display to zero.
The fitness monitor is battery-powered. It begins tracking your workout data when it detects flywheel movement, and it automatically turns off if it does not see any activity on the machine for a few minutes. It also integrates a small device holder to place your smartphone or tablet. However, it does not have any ports to connect your device.
FISUP Assembly and Maintenance
The front section of the rower, with all the drive and resistance elements, comes pre-assembled. However, the rest of the parts do require user assembly. You will have to insert the seat on the rail, connect the rail to the front part of the machine, and add the front and rear stabilizers, the footrests, and the fitness monitor.
The task shouldn't take more than 30 minutes. Furthermore, all the necessary tools come with the machine, and the manual provides clear step-by-step assembly instructions.
Keeping the unit's rail clean is necessary to prevent damage or seat wheels. However, the internal parts do not require any lubrication. Besides this, you only periodically check for loose bolts and parts and retighten them as needed.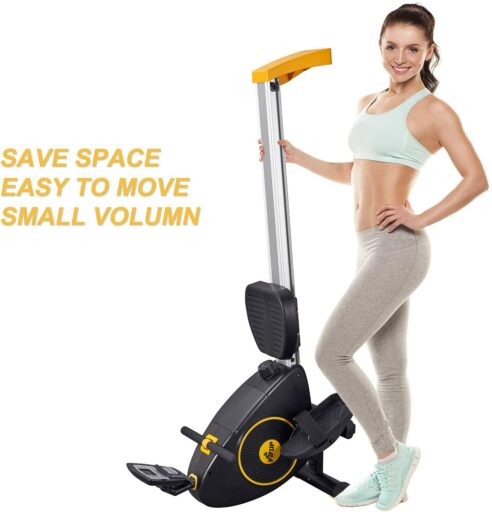 Pros
Light-weight construction, easy to carry and handle;
Compact and aesthetic design;
It can store vertically;
Transport wheels on the front stabilizer;
Large padded seat;
Wide aluminum rail for improved seat stability;
Pivoting footrests with straps and heel guards;
Offers a reasonably long motion range – can accommodate users up to 6'2″;
Smooth magnetic resistance system with eight distinct levels;
Fitness monitor included – it can track time, distance, count, strokes per minute, and calories burned;
Goal settings for time, count, and calories;
Device holder included;
Easy to assemble;
Little maintenance is required.
Cons
The fitness monitor mount does not fold;
The fitness monitor does not have a pulse reading function;
A tablet placed on the media holder will cover the fitness monitor LCD.
FISUP Magnetic Rower Summary
The FISUP magnetic rower is a fitness machine designed for home use. It has an 8-step magnetic brake, a wide aluminum rail, and a fitness monitor that tracks time, distance, count, calories, and strokes per minute.
Moreover, it's a fairly decent machine for a full-body cardio workout, interval training, stamina development, and weight loss. And finally, it's not an expensive rower, considerably more affordable than a light-commercial or commercial machine, and great for any home gym setup and users of all levels.
I hope you found this article helpful and informative. Would you please speak up if you have anything you'd like to share on the topic or any opinions about my website? I look forward to your comments, questions, and the sharing of ideas.
Please note you should consult your physician to determine if you have any medical or physical conditions that could risk your health and safety or prevent you from using the equipment properly. In addition, your physician's advice is essential if you are taking medication that affects your heart rate, blood pressure, or cholesterol level.