The Stamina X Water Rower is a compact rowing machine that uses water resistance to simulate the feel of real rowing and, unlike other full-sized water rowers, places the water wheel below the rower instead of on end to save space.
Dynamic water resistance on the Stamina X Water Rower simulates the feeling of real-world rowing. The smooth motion of this type of resistance provides a great full-body workout. If you want to increase the resistance, simply row harder. Ease off, and the resistance will ease with you. You can also add or remove water from the tank to change the baseline resistance.
For tracking your progress, the Stamina X Water Rower features a multi-function monitor that tracks calories burned, time, stroke count, and distance during your workout. Use scan mode to cycle through each of these metrics. Attach the included wireless HR chest strap transmitter to your chest to view your pulse.
Rowing is a significant low impact, total body workout that builds strength and endurance, burns calories fast, provides effective cardiovascular exercise, helps reduce stress, and is, best of all, quite easy to do. So. if you have very limited space to devote to a traditional long rowing machine, then check out this cool new Stamina X Water Rower.
Learn more in my complete review below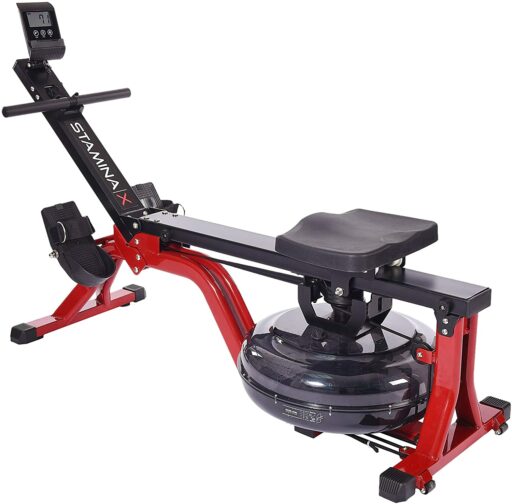 Product: Stamina X Water Rower
Price: For a great deal on this rower, merely go here on Amazon
Warranty: Frame 3 years / Parts 90 days
My rating: 7.75/10
Amazon Affiliate Disclosure: I may earn commissions on purchases made through links in this post.
Details & Specifications
Assembled dimensions: 63L x 20W x 37.5H inches (160L x 51W x 95H cm)
Assembled weight: 74 lbs (33.5 kg)
Supported weight: 300 lbs (136 kg)
Frame: Steel
Footrests: Pivoting, with straps
Resistance type: Water
Fitness computer: Time, count, distance, calories, pulse, Scan Mode, goals
Warranty: Frame 3 years / Parts 90 days
X Frame construction
The Stamina X water resistance rower features a frame made of steel tubing. It's rail and seat are durable enough to support users up to 300 lbs (136 kg). All the steel parts in its construction are double-coated with corrosion-resistant and chip-resistant paint. The colors used are black for the gliding rails and front bar, and red for the base frame.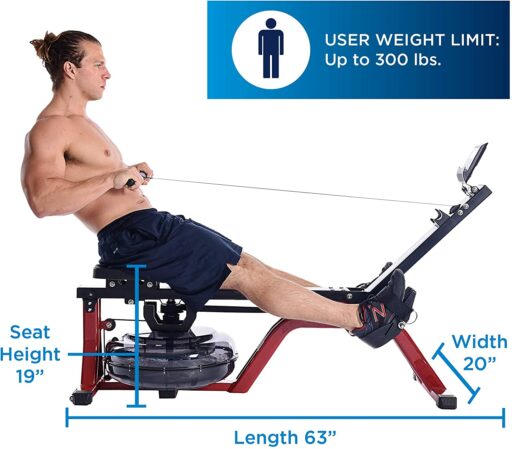 This Stamina rower has a different frame design than most other rowing machines, with the tank placed under the main rail. Other models have their water tanks placed at the front, and therefore, they take considerably more space lengthwise.
The Stamina X is only 63″ (160 cm) long, and 20″ (51 cm) wide. However, its frame does not have a quick-folding design like other models. You can still fold its front section that holds the console over the main rail, but to do this, you will have to remove the two screws that secure it into its usage position.
It is possible to store the machine vertically on its rear base. The manual does not recommend vertical storage, though.
The machine's rail is approx. 40″ (~102 cm) long, and the distance between the two-seat stoppers is approx 36″ (91 cm). Therefore, considering that the seat offers 36″ (91 cm) of travel, the machine should be able to accommodate users up to 6'4 ″ (193 cm) with no problem, promoting a correct and complete leg extension.
The fully assembled unit is relatively heavy. It weighs approx 74 lbs (33.5 kg). This weight delivers a lot of stability. The bases are equipped with rubberized pads, improving the unit's grip on the floor. Also, the rear base of the rower has two small wheels that facilitate its relocation.
Seat & other parts
The Stamina X Water Rower features a padded seat with a contoured surface. It comes designed to provide optimal comfort and a correct rowing form. It also has a highly adherent surface, preventing the user from sliding off of it during rowing.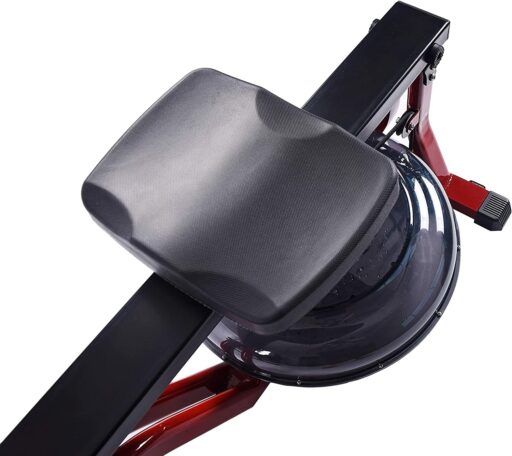 The base of the seat is steel-made; it integrates six wheels, four above the rail, and two under the railway. They're hidden by the side metallic sections of the seat base to improve safety. They integrate ball bearings for a smoother seat movement and a longer lifespan.
The top of the seat is approx—14″ (35.5 cm) wide. Also, considering that the water tank is under the rail, the seat is placed on a higher level than for other machines.  Therefore, it provides easier access for users with specific disabilities or elderly users.
The Stamina X water resistance rower comes equipped with two large footrests made of nylon material. They feature heel guards and adjustable, velcro straps, to provide maximum stability for your feet during each workout session.
They also have a pivoting design. In other words, they can slightly tilt on their shaft during each stroke, basically allowing you to adjust the position of your feet correctly throughout the whole rowing motion.
The rowing handle is a simple straight bar, featuring rubber foam grips for extra comfort. It's attached to a heavy-duty, abrasion-resistant nylon strap. Thus, the unit's drive system doesn't need any lubrication. Also, the strap generates considerably less vibration than a chain, especially when rowing at a faster rate.
X Water tank & resistance system
The Stamina X rower integrates a polycarbonate water tank, similar to some other rowers. Its exact total capacity is not specified, but considering its size and diameter, it should be between 3-4 gallons. It has six water levels marked on its side, and should not overfill past its 6th level, which is considered the maximum filling point.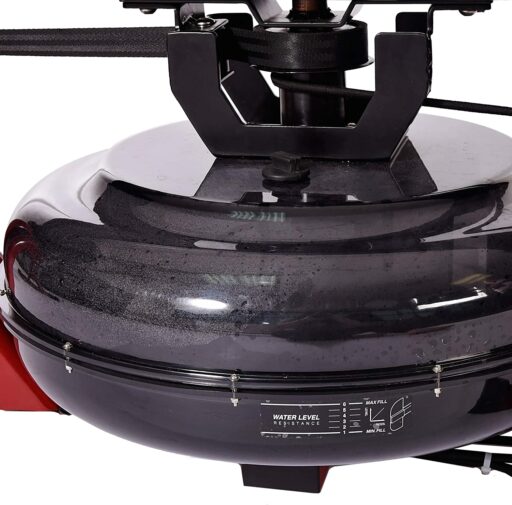 The water tank has only one chamber, not two, like the First Degree Fitness rowers. Therefore, it does not have a resistance adjustment dial, and if you want to adjust the overall resistance, you will have to add or remove water manually.
The tank comes equipped with a 3-blade impeller that spins into the water when you pull the handle. The level of resistance generated is related to the water level inside the tank. If you want the maximum resistance possible, you should fill it up to its 6th marking.
Like most other water resistance rowers, the Stamina X generates a dynamic response during rowing. Differently put, the faster you pull the handle, the more resistance you will get. This type of variable resistance is only specific to water rowers and air rowers. Full-magnetic or hydraulic rowers offer constant resistance.
Console
The fitness computer included with the Stamina X is not a highly advanced one. It does not have preset programs, nor it has online connectivity. However, it features a large LCD that tracks time, distance, stroke count, calories, and pulse. It has a Scan Mode which rotates all these metrics, keeping each one of them on-screen for 6 seconds.
The distance shown is in meters. For the pulse reading, the machine does not have any sensors, but a wireless HR chest strap is (included) with it. If you're wondering, the HR receiver built-in the console operates at 5 kHz. So, basically, any 5 kHz transmitter should work with it.
The console is easy to operate. It requires two AA batteries, which are not (included) with the machine. It starts up when you begin rowing or when you push any of the three buttons: Set, Mode, and Reset.
The Set button allows you to enter setup mode to select a goal value for any of the workout metrics. The Mode button allows you to choose any of the parameters to be shown on display or to select the Scan Mode. And finally, the Reset button clears all the values on the meter to zero.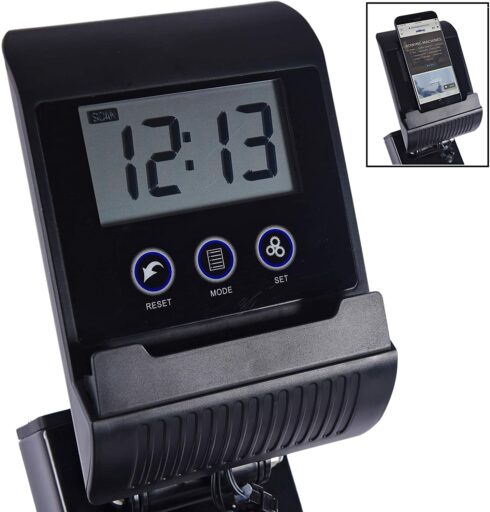 X Assembly & Maintenance
This Stamina rowing machine comes pre-assembled. You only need to unfold the front bar and the front base, lock them into position, add the footrests, the seat, the console, and then fill up the tank.
This shouldn't take more than 30 minutes. An essential toolkit for assembly and a water filling kit is also (included) with the machine. The manual provides clear assembly instructions for each part.
For maintenance, it is advisable to add water purification tablets into the tank periodically (Sodium Dichlor 60%). However, these are not (included) with the machine.
Also, if the unit will be stored away for more than one year, the water should be removed from the tank. Other than this, it's advisable to check the machine for any loose or broken parts periodically.
Pros
Sturdy steel frame – 300 lbs capacity;
Space-saving design;
Transport wheels on the rear base;
Large, padded and contoured seat;
Pivoting footrests with adjustable straps;
Water resistance for dynamic response and a natural rowing feel;
Fitness console included;
Goal setting functions for all the workout metrics;
Tablet holder included;
Wireless HR chest strap included;
Assembly tools are (included) with the machine;
Pump and funnel for filling up the tank with water, are included;
Reasonably easy to assemble;
Little maintenance required;
Cons
Batteries for the fitness console are not (included) with the machine;
Water purification tablets are not (included) for the water tank;
No programs on the console;
No time/500m function.
Stamina X Water Rower Review Summary
The Stamina X is a water resistance rower featuring durable construction and a space-saving design. It comes equipped with a fitness console that tracks time, distance, strokes, calories, and pulse. Like any other rower with a fluid resistance system, it provides a dynamic response that simulates the rowing of a boat through the water.
It's perfect for a full-body cardio workout, muscle toning, stamina gain, and weight loss. And finally, it offers an excellent price/quality ratio.
I hope you found this article helpful and informative. If you have anything that you'd like to share or any opinions about my website, please do speak up. I look forward to your comments, questions, and the sharing of ideas.
Recommended articles:
ProRower H2O RX-750 Rower – Hydro-Power Drive System!