Get a heart-pumping, calorie-busting, intense workout from the comfort of your couch with the Sunny SF-B020026 Mini Exercise Bike. Push your cycle session as vigorously as you desire; the suction cups will ensure your mini-exercise bike is solid and will not slip. Use it in the comfort of your living room, sitting at work in the office, or even on vacation!
The SF-B020026 features eight levels of magnetic resistance to provide variance to your exercises so you can switch up your workouts on demand. In addition, the 7-inch stride enables a much more efficient workout than other mini-exercise bikes with shorter strides. Furthermore, pedal with your feet or your hands! Achieving an upper body workout is simple, fun, and effective.
Stay on top of your fitness goals and progress. The Sunny SF-B020026 mini exercise bike has a digital fitness monitor that tracks and displays the time, speed, distance, and calories burned. In addition, it includes a scan function to rotate between all the metrics.
The SF-B020026 mini exercise bike stores away easily with its compact, space-saving design. In particular, the carry handle allows for quick and easy portability. Furthermore, lift it onto your desk for a short upper body hand pedaling session or move it around your home or office.
Learn more in my complete review below!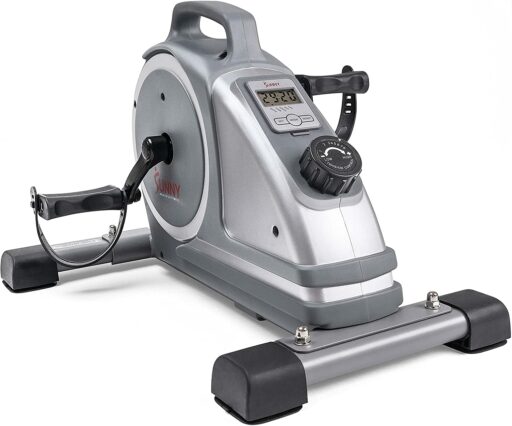 Product: Sunny SF-B020026 Mini Exercise Bike
Price: For a great deal on this bike, merely go here to Sunny Health & Fitness.com
Warranty: Frame 1 year / Parts 180 days
My rating: is 9/10
Affiliate Disclosure: As a Sunny Health & Fitness Affiliate Program participant, I earn commissions on purchases made through links in the post. Full disclosure
Details and Specifications
Assembled dimensions: 21.6L x 18.7W x 14.4H inches (55L x 47W x 36H cm)
Assembled weight: 20.5 lbs (9.2 kg)
Flywheel weight: 3.5 lbs (1.5 kg)
Pedals: With straps
Resistance: Manual magnetic, eight levels
Fitness Monitor: Time, distance, speed, calories, goals, scan
Warranty: Frame 1 year / Parts 180 days
SF-B020026 Frame Construction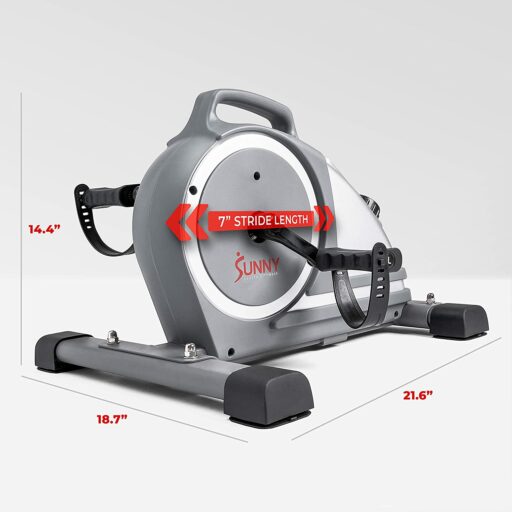 The Sunny SF-B020026 mini exercise bike features a steel frame, but most of its median area has two large guards made from a durable thermoplastic material. The guard casing also features a handle at the top for easy portability.
The bike's metallic frame comes double-coated with a corrosion-resistant gray paint finish. In addition, the end caps of the base bars are ABS material. Furthermore, they rest on rubberized pads. However, these are non-adjustable.
Since it's an under-desk bike, the Sunny SF-B020026 doesn't have a large footprint. However, with all the parts assembled, it is approx—21.6″ (55 cm) long and 18.7″ (47 cm) wide. The maximum pedal height is approx—12″ (30 cm).
However, you shouldn't need that much clearance between your knees and the top board of the desk. Furthermore, you can place the bike farther from the seat, and your knees won't raise that much.
The bike is also pretty light, weighing approximately 20.5 lbs (9.2 kg). Therefore, one person can carry and assemble the bike.
In addition, it's also important to note that this Sunny exercise bike does not come with elastic bands for arm exercise like some other bikes or ellipticals. However, you can set the mini bike on a table and pedal with your hands to achieve an upper body workout.
Resistance system
The Sunny SF-B020026 exercise bike comes equipped with a manual magnetic resistance system. Therefore, it does not have an internal motor, and you don't need to connect it to a power source. Unfortunately, on the other hand, the bike cannot adjust the resistance automatically and does not have pre-set programs.
The resistance system consists of a small magnetic brake placed near the internal flywheel and connected to the bike's tension knob.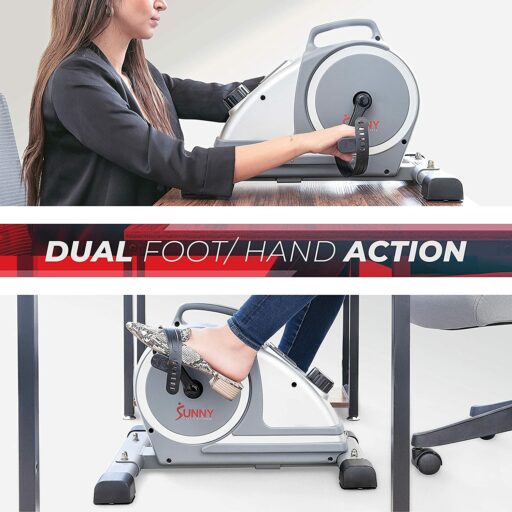 Thus, when you turn the knob clockwise, the magnets move closer to the flywheel, increasing the pedaling difficulty. Conversely, if you turn the knob to the left, the gap between the magnets and the flywheel increases, and the pedaling difficulty is reduced.
The bike offers eight levels of resistance. The lowest level delivers a relatively light pedaling difficulty, great for recovery training, muscle toning, or warming up. Conversely, the 8th level of resistance provides considerably more pedal tension, which is excellent for strength and stamina development.
The bike's magnetic resistance system comes with two main advantages. First, the magnets do not touch the flywheel, so there is no internal friction, and you won't ever need to lubricate or replace the brake. And second, the pedaling motion is very smooth and quiet.
SF-B020026 Drive system
Since the Sunny SF-B020026 is a mini exercise bike, it does not have an extra-heavy flywheel. Instead, it comes equipped with a 3.5 lbs (1.5 kg) flywheel concealed by the large frame covers. The flywheel has a perimeter-weighted design. Moreover, this leads to a more stable and smooth pedaling motion and more consistent momentum.
The flywheel is bi-directional, meaning you can pedal forward or backward. However, coasting is not possible on this bike, and when pedaling in reverse, the resistance remains constant, given the selected level.
Like most exercise bikes with a magnetic resistance system, the Sunny SF-B020026 has a belt drive system. It uses a J300 poly-v belt highly resistant to stretching and abrasion.
The main advantage of the belt drive is that you don't have to take the covers apart to lubricate the transmission periodically, and the belt generates slightly less vibration than a chain.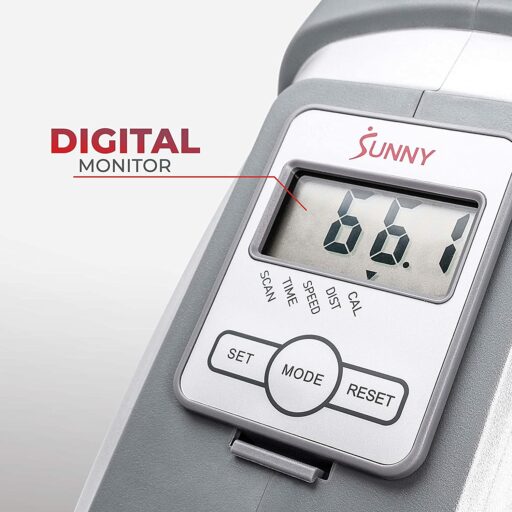 The bike comes equipped with a pretty sturdy crankset. Its arms are shorter than the arms of a regular road bike, so the Sunny SF-B020026 offers a stride of approx. 7″ (18 cm). In addition, the Q-Factor (spacing between the pedals) is pretty narrow, so you won't experience any lateral stress on the knees.
No maximum user weight limit is specified for this exercise bike as it's mainly for seated exercises. The included pedals are heavy-duty nylon material with internal metallic rods. They are narrow, so you can get a comfortable grip if you want to use this bike for arm exercises. In addition, they also have adjustable straps.
Fitness monitor
The Sunny SF-B020026 mini exercise bike has a pretty simple fitness monitor. It has an LCD that tracks time, distance, speed, and calories burned. Unfortunately, the speed and distance are in MPH and miles; there is no option for changing the units to metric. Furthermore, the monitor does not indicate RPM and also does not have a pulse reading function.
In addition, there are no pre-set programs on the monitor either, but it does have a goal-setting function. Therefore, it allows selecting a workout target for time, distance, or calories.
After choosing a goal, the monitor will count down from the specified value until it reaches zero. Indeed, this is a plus, as it can help you keep track of your progress from one workout session to another.
The fitness monitor is straightforward to use. It has three buttons, which are Set, Mode, and Reset. The Set button covers the goal-setting function.
The Mode button allows you to select the workout metric you want on display or the Scan Mode. In Scan Mode, the monitor rotates the four workout metrics, showing each one for four seconds. The Reset button clears all the values to zero.
The fitness monitor is battery-powered, and it requires 1 AAA battery which comes included. It starts up automatically when it detects flywheel movement or when you press the Mode button. In addition, it automatically turns off after a few minutes of inactivity on the bike.
SF-B020026 Assembly and Maintenance
The main body of the bike, with all the drive and resistance elements, comes pre-assembled. You only need to attach the two base bars and the pedals. Consequently, this shouldn't take more than 15 minutes of your time. All the necessary tools come with the machine, and the manual provides clear step-by-step assembly instructions and schematics.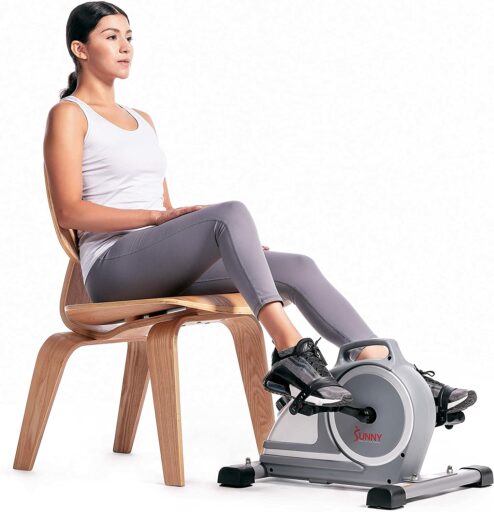 Once assembled, maintenance doesn't require much. You only have to keep it clean, periodically check for loose parts, and retighten them as required. The pedals might need lubrication after a while. However, the internal components should not need any lubrication or other maintenance.
Pros
Sturdy construction and compact design;
Built-in carrying handle;
Narrow pedals for a better grip if used for arm exercises;
Pedals have adjustable straps;
Frictionless magnetic resistance (8 levels)
Fitness monitor that tracks time, distance, speed, and calories burned;
Goal functions for time, distance, and calories;
The battery for the monitor includes the following;
Easy to assemble;
Little maintenance is required;
Tools for assembly included;
Excellent warranty.
Cons
The monitor does not have a pulse reading function;
The fitness monitor LCD does not have a backlight.
Sunny SF-B020026 Mini Exercise Bike Summary
The Sunny SF-B020026 is a mini exercise bike for home or office use. It features an 8-level magnetic resistance system, a set of narrow pedals with straps, and a fitness monitor that tracks time, distance, speed, and calories burned.
Furthermore, it's a great exercise bike for light workouts, recovery training, stamina and strength improvement, stress reduction, and cardiovascular fitness.
I hope you found this article helpful and informative. Would you please speak up if you have anything you'd like to share on the topic or any opinions about my website? I look forward to your comments, questions, and the sharing of ideas.
Please remember that you should consult your physician to determine if you have any medical or physical conditions that could risk your health and safety or prevent you from using the equipment properly. In addition, your physician's advice is essential if you are taking medication that affects your heart rate, blood pressure, or cholesterol level.