The UREVO URTM005 Folding Treadmill has a soft-drop hydraulic mechanism, a great feature that allows the deck to gently lower itself to the floor. The soft drop hydraulic mechanism assures safe, hands-free unfolding. In addition, a 17-inch wide multi-layered tread belt and world-first whole-machine anti-shock system can withstand a maximum weight of 265 pounds (120 kg).
The URTM005 features a light-commercial 3.0 HP DC Smart Motor with good stability and durability. Furthermore, this UREVO treadmill can provide a steady running experience at prolonged speeds of 0.5 – 8.5 MPH with silent bearing noise. In addition, you can conveniently adjust the speed you want with the built-in handrail controls.
A large area of running surface, 41L x 17W inches (104L x 43W cm), with the multi-layer 15 mm thick running belt can absorb vibration for a better running experience while helping to protect your knees and prevent injuries. In addition, the UREVO URTM005 folding treadmill comes equipped with a 3-position manual incline ( 1%, 3%, 4.5 %) to improve the effect of aerobic training.
Learn more in my complete review below!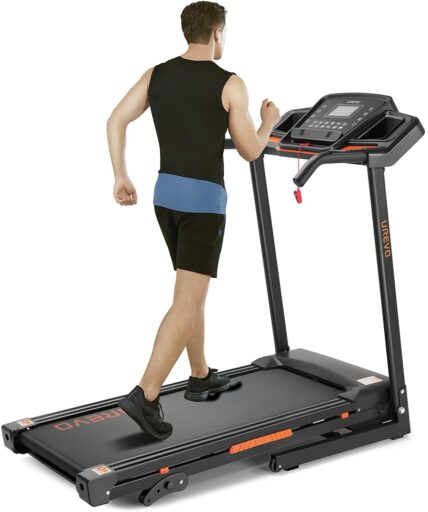 Product: UREVO URTM005 Folding Treadmill
Price: For a great deal on this treadmill, merely go here to Amazon.com
Warranty: Frame 1 year / Parts 90 days
My rating: 8.25/10
Affiliate Disclosure: As an Amazon Affiliate Program participant, I earn commissions on purchases made through links in this post. Full disclosure
Details and Specifications
Assembled dimensions: 55L x 29W x 50H inches (140L x 74W x 127H cm)
Tread belt dimensions: 41L x 17W inches (104L x 43W cm)
Assembled weight: 81.5 lbs (37 kg)
Supported weight: 265 lbs (120 kg)
Motor: 3.0 HP, 0.5 – 8.5 MPH
Incline: Manual, three levels
Console: 12 programs, goal settings
Extras: Accessory holders, the device holder
Warranty: Frame 1 year / Parts 90 days
URTM005 Frame Construction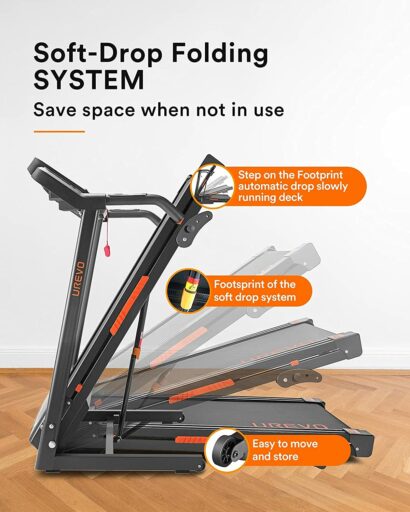 The UREVO URTM005 treadmill features a steel tubing frame. The base tubes are rectangular, the two upright bars that support the console are oval, and the two side handrails are cylindrical and have a thick layer of PVC foam for an improved grip. All the steel parts in the machine's construction come with a durable black paint finish, with the "UREVO" logo orange.
The treadmill integrates several plastic parts as well. The most notable ones are the motor cover, the covers of the side rails, and the console dashboard. These are rigid thermoplastic materials, also black, to fit the color theme of the machine.
It is approx. 55″ (140 cm) long and 29″ (74 cm) wide, while the top of the console reaches approx. 50″ (127 cm) above the floor level. But even though it's not a giant treadmill, it is advisable to allow at least two feet of clearance on each side of the deck and at its rear for safe usage.
The machine is foldable. The deck can fold up, which is quite a plus because you can save some space when the treadmill is not in use, but it also offers the possibility of cleaning underneath it easily. The folding mechanism uses a hydraulic cylinder that safely lowers the deck when unfolding it.
One last aspect to note regards the unit's weight. This UREVO treadmill has a net weight of 81.5 lbs (37 kg). Therefore, two people should transport and assemble the treadmill. But once completed, one person can quickly move the treadmill as its front base frame has transport wheels.
Deck Construction
The UREVO URTM005 folding treadmill is small, but it has a pretty sturdy running platform. In addition, it has a maximum user weight limit of 265 lbs (120 kg) which is not bad for a home-use machine.
The treadmill's running platform has some cushioning. It features three shock absorption elements on each side. One pair is more extensive and placed in the middle of the deck. The other two pairs are smaller and placed closer to the front and rear of the deck. The internal deck board also has a bit of flex which adds to the overall shock absorption properties of the machine's running platform.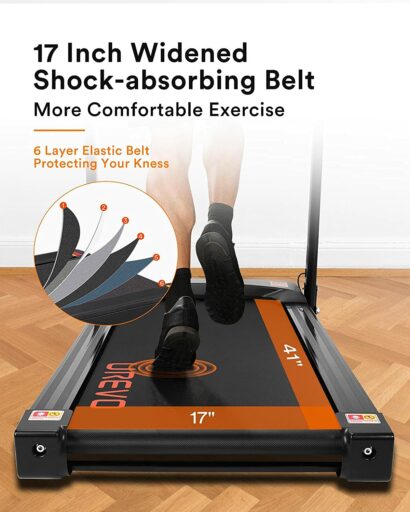 Since it's a small treadmill, the URTM005 doesn't offer a super sizeable active area. Its running surface is only 41L x 17W inches (104L x 43W cm). Therefore, it comfortably accommodates users up to 5'7″ – 5'8″ (170 – 173 cm) for running. Taller users may not benefit from a complete range of motion for running, but they should be able to use this treadmill with no problem walking.
The machine comes with a 6-layer belt featuring a textured, rubberized top layer for improved contact. The second layer reduces noise, while the mid-layers improve the belt's structural strength. And finally, the bottom layer is the compression layer and has a unique texture that enables it to stick better to the rollers.
The exact diameter of the rollers is not specified. But as a general idea, they're not too thick since it's light-capacity treadmills for home use. In addition, the rollers have a crowned finish, which improves traction and prolongs the belt's life. Furthermore, they also integrate high-grade ball bearings for smooth motion.
URTM005 Incline system
The UREVO URTM005 comes equipped with a manual incline system. Unfortunately, you cannot adjust the incline while actively using the treadmill. Instead, you have to pause your workout and step off the machine.
The console programs also do not adjust the incline. Furthermore, the calorie reading also does not adapt to a workout with an incline, even though you will burn more calories if exercising with an incline.
The unit's incline system is pretty simple. It's similar to the one of the SereneLife SLFTRD25. It consists of two metallic folding feet connected to the rear section of the running platform. Each foot has three adjustment holes. To adjust, you remove and re-inserting the pull-pins in the desired positions.
It's essential to note that the machine's deck does not have a perfectly horizontal position. With the pins inserted into the lowest holes of the adjustable feet, the machine's active area has approximately an incline of 1%. The other two incline increments are 3% and 4.5%.
Drive motor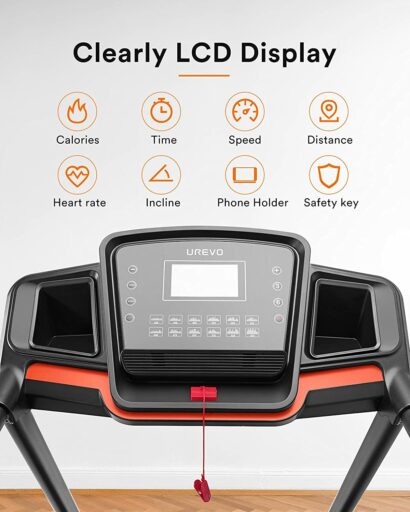 The UREVO URTM005 folding treadmill is a motorized treadmill. For instance, you will need to connect it to an electrical outlet to power up the console and adjust the speed of the belt. A power cord with a standard U.S. plug comes with the machine. The power cord connects in the front of the machine, next to an ON/OFF switch.
The machine comes equipped with a 3.0 HP DC motor. Although it is not as powerful as the motors of commercial-grade machines, it still provides excellent performance for walking and jogging. In addition, it also integrates a small flywheel for motion stability.
The motor offers a speed range between 0.5 MPH and 8.5 MPH. In addition, the speed adjusts in increments of 0.1 MPH. Therefore, you can quickly adapt your pace to speed adjustments.
There are speed controls for gradual and quick adjustment on the console and integrated into the right handrail. When pressed, the +/- keys adjust the speed in increments of 0.1 MPH. The preset speed adjustment buttons allow selecting 3 MPH or 6 MPH.
The motor does not generate too much noise at the highest speed. However, you may make noise when using the machine depending on weight, running gear, running technique, floor type, and other factors.
URTM005 Console
The UREVO URTM005 folding treadmill comes equipped with a pretty standard console. In addition, it features an LCD that tracks the most crucial workout metrics, including time, speed, distance, calories, and pulse.
In addition, it does not have a pace count feature. Unfortunately, the pulse reading function is hand-grip only. Therefore, the console can only track your pulse if you hold on to the HR pulse sensors integrated into the machine's handrails. You cannot sync it with a wireless HR chest strap.
The console has 12 preset onboard programs. Each one of them has a segment layout engraved on the console. Some have an interval layout, others have a random arrangement, and others help burn more calories. You can select the desired workout program by repeatedly pressing the console's program button.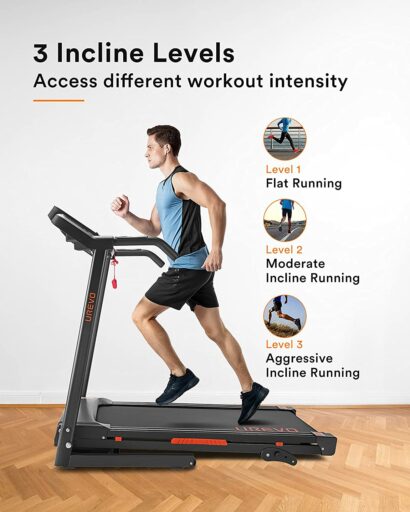 In addition, the console also has a workout goal function. It allows selecting a workout target for time, distance, or calories burned. After choosing a goal, the console will count down from the desired value until it reaches zero.
Since it's a pretty simple treadmill, the UREVO URTM005 does not have features such as speakers and Bluetooth connectivity and is not compatible with any fitness apps.
In particular, its dashboard has two accessory trays, while the bottom of the console features a small shelf that can support your tablet or phone. However, you cannot connect your device to the console.
URTM005 Assembly and Maintenance
The machine's deck comes pre-assembled with the belt, motor, rollers, and other parts. Therefore, you only have to attach the two upright bars and the console with the handrails.
Consequently, it shouldn't take more than 30 minutes of your time. The included manual provides clear assembly instructions, and all the necessary tools come with the machine.
For maintenance, similar to other treadmills, the deck requires periodic lubrication. The manual provides instructions for this as well. You should also keep the machine clean, periodically check for loose bolts and parts, and retighten them when needed.
Pros
Sturdy deck and base frame – can support users up to 265 lbs;
Folding design;
A soft-drop hydraulic mechanism for unfolding the deck;
Transport wheels;
Cushioned deck;
Speed settings up to 8.5 MPH;
Preset speed controls for 3 MPH and 6 MPH;
Multi-window console display with LED backlight – it indicates time, distance, speed, pulse, and calories burned;
12 preset workout programs;
Device holder included;
Accessory trays included;
Very easy to assemble;
Little maintenance is required.
Cons
The console does not have any app connectivity.
UREVO URTM005 Folding Treadmill Summary
The UREVO URTM005 is a home-use electric folding treadmill. It has a 3.0 HP DC motor and a speed range of 0.5 – 8.5 MPH. In addition, it features a cushioned deck with a running surface of 41L x 17W inches and has a maximum user weight limit of 265 lbs. Furthermore, it also has a console with 12 preset workout programs and preset controls for 3 MPH and 6 MPH.
I hope you found this article helpful and informative. Would you please speak up if you have anything you'd like to share on the topic or any opinions about my website? I look forward to your comments, questions, and the sharing of ideas.
Please remember that you should consult your physician to determine if you have any medical or physical conditions that could risk your health and safety or prevent you from using the equipment properly. In addition, your physician's advice is essential if you are taking medication that affects your heart rate, blood pressure, or cholesterol level.