The HCI Fitness PhysioStep HXT-300 Recumbent Cross Trainer provides a smooth and low-impact motion. It features a step-through design and a low entry seat. In addition, the quick-release adjustable handles allow users to set a position to target a specific group of muscles. For example, the shorter arm movement will not strain your shoulders while engaging the upper body.
The HXT-300 uses a semi-elliptical motion with minimum extension. Thus, many are for rehab or physical therapy. In addition, it is a medium-duty cross-training machine capable of handling a maximum user weight of up to 330 pounds. Therefore, the HXT-300 provides an effective cardiovascular workout by combining upper and lower body flexibility and coordination into one impact-free motion that is easier on your joints.
The PhysioStep HXT has a large, user-friendly LCD that tracks the essential metrics along with 17 programs and an easy QuickStart Button. With 16 levels of electronic resistance, the PhysioStep HXT's resistance is adjustable with a touch of a button. In addition, the PhysioStep HXT has a low starting resistance and manageable increments allowing users to increase resistance gradually.
Regular elliptical machines will increase heart and lung capacity while improving health and burning calories. The compact HCI Fitness PhysioStep HXT-300 is for home gyms and fitness enthusiasts looking for a low-impact workout.
Learn more in my complete review below!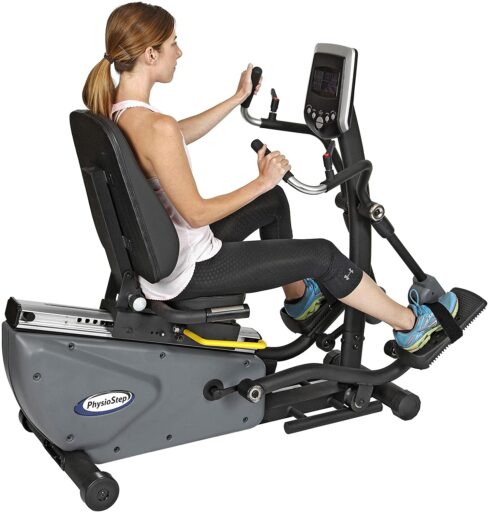 Product: HCI PhysioStep HXT-300 Recumbent Cross Trainer
Price: For a great deal on this hybrid, merely go here to Amazon.com
Warranty: Frame lifetime / Parts 3 years / Electronics 3 years / Labor 1 year
My rating: 9/10
Affiliate Disclosure: As an Amazon Affiliate Program participant, I earn commissions on purchases made through links in this post. Full disclosure
Details and Specifications
Assembled dimensions: 52L x 25W x 51H inches (132L x 64W x 130H cm)
Assembled weight: 165 lbs (75 kg)
Weight capacity: 330 lbs (150 kg)
Seat: Adjustable
Resistance: Eddy current, 16 levels
Console: 17 programs
Warranty: Frame lifetime / Parts 3 years / Electronics 3 years / Labor 1 year
HXT-300 Frame construction
The HCI Fitness PhysioStep HXT-300 Recumbent Cross Trainer features a heavy-duty steel frame combining cylindrical, rectangular, and oval tubes in its construction. The only exception is the seat adjustment rail, which is extruded aluminum.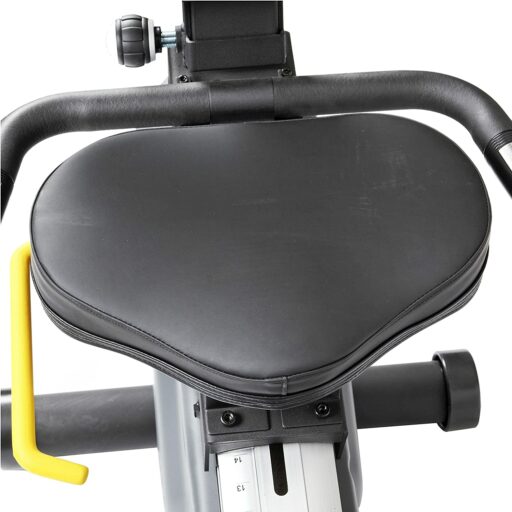 While the pedals, the drive mechanism covers, the console casing, and several other small covers are durable thermoplastic materials. Overall, the machine has a light-commercial build and a relatively decent maximum user weight capacity of 330 lbs (150 kg).
All the steel frame parts come coated with a corrosion-resistant and abrasion-resistant paint finish, black. In addition, the two adjustable sections of the machine's moving arms have a chrome plating finish.
The HCI PhysioStep HXT-300 is quite heavy. Its net weight is approx—165 lbs (75 kg). Therefore, two people are required to transport and assemble the packaged machine. However, once completed, one person can relocate the unit as its rear base stabilizer features a set of transport wheels.
The unit is pretty bulky as well. With all the parts assembled, it is approximately 52″ (132 cm) long and 25″ (64 cm) wide. Plus, leaving at least a few feet of clearance around it is advisable for easy access and safe usage.
Seat and handlebars
The HCI Fitness PhysioStep HXT-300 recumbent cross trainer comes equipped with a high-comfort seat. To begin with, both the seat base and the backrest integrate a thick layer of foam cushioning.
In addition, their covers are a black vinyl material that is durable and easy to maintain. Also, the backrest is contoured to provide better positioning and stability for the user.
The seat is pretty large as well. The seat base is approx. 15″ (38 cm) wide, and 11″ (28 cm) deep, while the backrest is 19″ (48 cm) long and 15″ (38 cm) wide. Thus, it comfortably accommodates most users up to the maximum weight limit with no problem.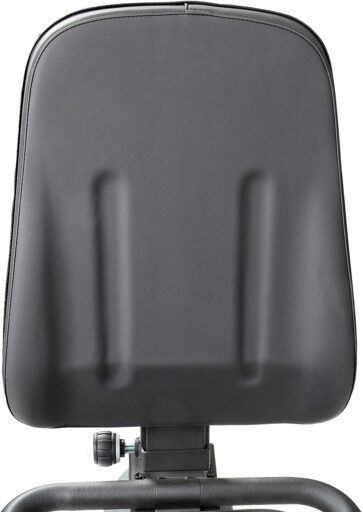 The seat is adjustable. It slides on a rail system of extruded aluminum. The applicable user height range is 4'9″ – 6'2″ (145 – 188 cm). Taller persons can still use this trainer but may not benefit from a complete range of motion.
The adjustment system of the seat is lever-based. Therefore, you can easily slide it forward or backward on its rail simply by lifting the lever on the right side. The seat is adjustable with no problem while you are seated. Also, the backrest has a reclining function, so you can adjust its angle by pulling the pin at the base of its backbone.
The PhysioStep HXT-300 comes equipped with two sets of handlebars. One is attached to the seat assembly, the other to the pedals. The seat handlebars have short grips and integrate HR pulse sensors. The moving arms are adjustable and attach to the machine's front mast and pedal bars. Thus, they will always move while you are pedaling; they do not lock to remain stationary.
HXT-300 Drive system
The HCI Fitness HXT-300 is a rear-drive cross-trainer. Thus, its drive system is located under the seat and in the machine's rear section. It features a 3-piece crankset with two short arms of steel that connect to the long pedal bars.
The machine's pedal system is different from most similar recumbent cross-trainers. The pedal bars have v-wheels at the base, which slide on two steel bars for improved stability. The pedal bars do not directly connect to the machine's moving arms. There's also an intermediary set of small bars that further reduce the impact of the pedaling motion and add extra stability to the ride.
The machine's pedal trays are large enough to accommodate shoes of all sizes. They have a textured surface and adjustable straps for improved foot stability and are durable thermoplastic materials. They do not have extra cushioning, but the machine provides a smooth, low-impact ride due to the pedal articulation.
The internal flywheel is perimeter-weighted for improved inertia. Its exact weight is not specified, but it's not as heavy as the flywheels on most spin bikes. It's also smaller and thicker and allows pedaling in reverse, which is a plus for recovery training.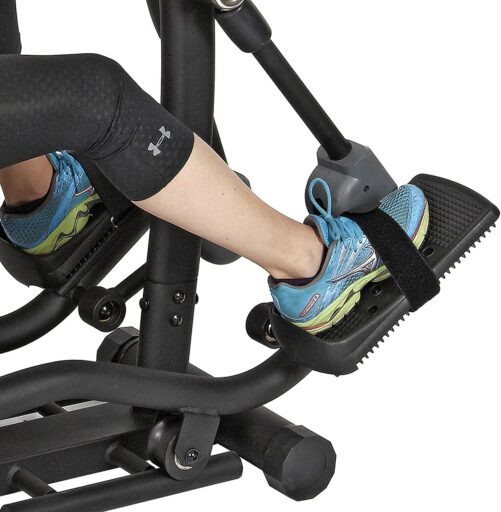 Last but not least, the machine uses a belt drivetrain. It integrates a durable poly-v belt resistant to stretching. Since the machine uses a belt, not a chain, the drivetrain does not require periodic lubrication. It also generates less vibration than a chain, contributing to the smoothness and quietness of the ride.
Resistance system
Like the XTERRA Fitness RSX1500, the HCI Fitness PhysioStep HXT-300 has an eddy current magnetic resistance system. Thus, it requires connecting to an external power source to turn on the console and adjust the resistance.
A power adapter comes with the machine; it attaches to the rear base section, and its cable is approx—3-foot (91 cm) long with a standard US plug.
The machine's resistance system consists of a servo motor and a magnetic brake integrated into the flywheel system. Therefore, when you adjust the resistance from the console, or when the console adjusts the resistance automatically, there is a shift in the magnets' pull which increases or decreases the pedaling difficulty.
The HXT-300 recumbent cross trainer offers 16 levels of resistance. The first few levels deliver a very light pedaling difficulty which is great for recovery training and muscle toning.
Conversely, the 16th level of resistance provides a considerably higher workout load, great for anyone who wants a more significant cardiovascular activity or burns more calories.
The main advantage of the magnetic resistance system is that the brake does not touch the flywheel. Thus, the pedaling motion is seamless and whisper-quiet. Also, the brake does not suffer any wear and tear, as with bikes or ellipticals with a friction resistance system.
HXT-300 Console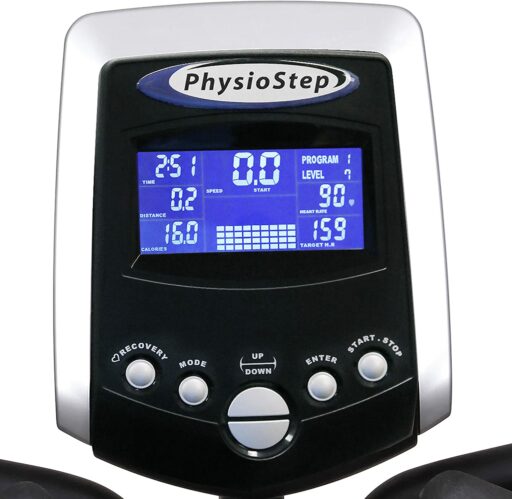 Considering the price of the HCI HXT-300 trainer, the console included with it is not exceptional. In other words, it does not have Bluetooth connectivity, is not compatible with any fitness apps, and has no extra amenities like a workout fan or integrated speakers. Nonetheless, it does have a relatively decent number of programs selected to keep you motivated.
The console features an LCD with an LED backlight for improved readability. It tracks time, speed, distance, RPM, watts, calories, and pulse, and the speed and distance are in MPH and miles. Unfortunately, the pulse reading function is grip contact only; the console cannot read your pulse from a wireless transmitter.
Workout Programs
The program list includes 1 Manual program, 6 Preset programs, 1 Body Fat program, 4 Heart Rate Control programs, 1 Watt Control program, 4 User Setting programs, and 1 Pulse Recovery program.
The Manual program allows you to pedal while adjusting the resistance from the console manually, as you like. TPresetSet programs have different segment layouts offering various types of workouts.
The three preset Heart Rate Control (HRC) programs are 60% HRC, 75% HRC, and 85% HRC. The fourth one allows you to select a custom HRC. Depending on the HRC selected, the machine will auto-adjust the resistance depending on your current heart rate to keep you within the desired heart rate zone.
The User Profile programs allow four users to create their workout program with the desired workout goals and resistance settings. For example, the Watt program is related to pedaling speed. Depending on the selected Watt value, the resistance will increase or decrease depending on if your pedaling speed is too slow or fast.
The Body Fat program is a calculator for your Body Mass Index. In contrast, the Pulse Recovery program rates your fitness level based on the time your heart takes to return to a normal BPM after the workout.
HXT-300 Assembly and Maintenance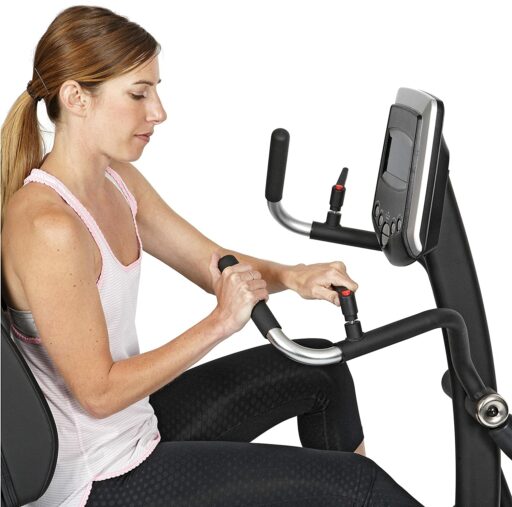 The HCI Fitness HXT-300 recumbent cross trainer comes partially assembled. Thus, its main body with all the drive and resistance elements is pre-assembled. All you have to do is attach the base stabilizers, the seat, the front mast, the pedals, the moving arms, and the console.
Consequently, this may take more than an hour of your time. However, the task is not too complicated; the manual provides clear assembly instructions, and all the necessary tools come included with the machine.
For maintenance, you only have to keep the machine clean. However, the joints and wheels may require lubrication from time to time. Other than this, it is also necessary to periodically inspect the machine to ensure that all the moving parts still function correctly and hold tight in their places.
Pros
Heavy-duty construction – can support users up to 330 lbs;
Aesthetic design;
Superior stability;
Transport wheels integrated into the rear base stabilizer;
Large padded seat base and backrest;
Adjustable seat;
Reclining function for the backrest;
Lever-based adjustment system for the seat;
Handlebars with pulse sensors attached to the seat;
Adjustable moving arms;
Extra articulation for the pedals for improved pedaling stability;
Oversized pedals with straps and heel guards;
16 levels of eddy current resistance;
Multi-function console featuring a large LCD with an LED backlight;
17 programs on the console;
Recovery function;
Reasonably easy to assemble;
Little maintenance is required;
Excellent warranty.
Cons
The console does not have online connectivity;
The console is not compatible with any fitness apps;
It does not have a sound system;
There is no device holder.
HCI Fitness PhysioStep HXT-300 Summary
The HCI Fitness PhysioStep HXT-300 is a light-commercial recumbent cross-trainer. It has a high-comfort adjustable seat, a 16-level eddy current resistance system, and a console with 17 workout programs. In addition, it features heavy-duty construction with a maximum user weight capacity of 330 lbs.
Moreover, it's an excellent machine for recovery training, light to medium-intensity cardio training, muscle toning, stamina development, and weight loss.
I hope you found this article helpful and informative. Would you please speak up if you have anything you'd like to share on the topic or any opinions about my website? I look forward to your comments, questions, and the sharing of ideas.
Please note you should consult your physician before starting any exercise program to determine if you have any medical or physical conditions that could put your health and safety at risk or prevent you from using the equipment properly. In addition, your physician's advice is essential if you are taking medication that affects your heart rate, blood pressure, or cholesterol level.