The Sunny SF-B1203 Indoor Cycling Bike from Sunny Health and Fitness boasts a solid built that has made this model one of the best-sellers. Highly efficient and built to last for decades, this particular model also has excellent convenience features.
Despite its highly economical price, this bike presents a surprising array of features designed to enhance your training session. For example, it comes equipped with a fitness console that tracks various fitness-related data such as calories burned, distance, speed, and time.
The Sunny SF-B1203 indoor cycling bike also features a horizontally and vertically adjusted saddle, which once again maximizes comfort by adapting to the user's best riding position. The pedals are also wide enough to accommodate even the largest shoe size and come with wide straps that provide quite a firm grip around your feet.
Because of the heavy-duty steel frame, this piece of gym equipment is durable. More importantly, it does not budge or wobble, even during vigorous workouts. In addition, the bike can accommodate up to 220 pounds of maximum user weight, which is quite a refreshing change from other lightweight models.
Learn more in my complete review below!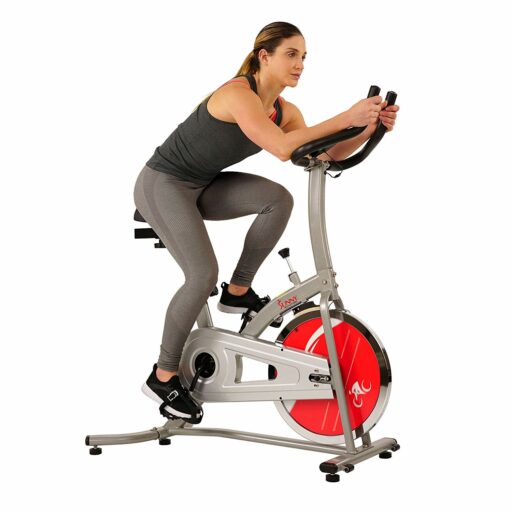 Product: Sunny SF-B1203 Indoor Cycling Bike
Price: For a great deal on this bike, merely go here to Sunny Health & Fitness.com
Warranty: Frame 1 year / Parts 90 days
My rating: 8/10
Affiliate Disclosure: As a Sunny Health & Fitness Affiliate Program participant, I earn commissions on purchases made through links in this post. Full disclosure
Details and Specifications
Assembled dimensions: 30.7L x 24.8W x 48.43H inches (78L x 63W x 123H cm)
Assembled weight: 61 lbs (27.6 kg)
Flywheel weight 22 lbs (10 kg)
Supported weight: 220 lbs (109 kg)
Handlebars: Fixed
Seat: Adjustable
Pedals: With Straps
Drive mechanism: Chain
Brakes: Direct-contact, one wool-felt pad
Resistance: Adjustable
Bottle holder: No
Fitness console: Yes
Warranty: Frame 1 year / Parts 90 days
SF-B1203 Frame
As you can see, this Sunny SF-B1203 Indoor Cycling Bike is not an extremely heavy exercise bike, such as the Sunny Pro SF-B901, for example. Instead, it's a hybrid bike between a spin cycle and an upright bike. The bike's frame is steel-made, pretty sturdy, offering all the stability a user would need. The weight limit is a maximum user weight capacity of 220 lbs (109 kg).
This is a space-savvy bike, measuring only 30 inches (78 cm) in length and about 25 inches (63 cm) in width. However, it's narrower and less lengthy than your average spin bike. Therefore, if you're short on space, this model might be just the right one for you.
Handlebars and Seat
The handlebar design is similar to the one commonly seen in upright bikes. That's why many would say that this is an upright bike. It's a drawback that the handlebars aren't adjustable, horizontally or vertically. However, their position is just right for the design of the bike and user-targeted height.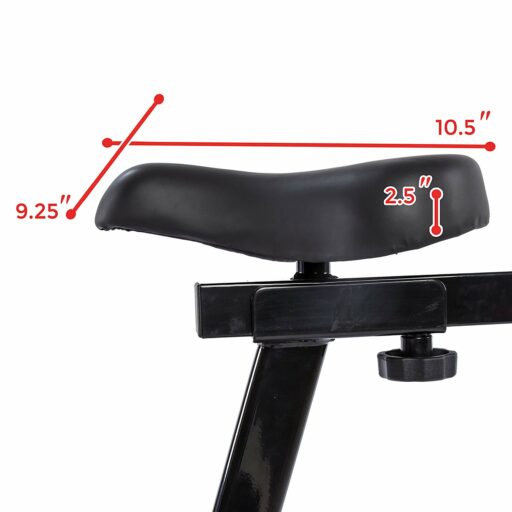 They offer a variety of working-out postures, from upright to pretty steeply leaned forward. This can result in a good workout for your shoulders and abdominal muscles as well, along with your leg workout.
The seat also has a design similar to the ones present in upright bikes. However, it's more comfortable than the seats most indoor cycles have. It's front to back and vertically adjustable.
The bike can accommodate users beginning with 4'10" (147 cm) and up to 6 (183 cm). You can work out on this bike even if you're up to 6'2″ tall, but in this case, you won't benefit from a full leg stretch. If you're taller, you might want to go for a different exercise bike model.
SF-B1203 Drive and Resistance
Apart from the slight difference in frame style and lack of handlebar adjustment options, the main difference between the Sunny SF-B1203 Indoor Cycling Bike and other spin bikes in the collection is the flywheel size.
Weighing 22 lbs, this is far from being the most massive flywheel that Sunny Health and Fitness include on one of their bikes, but it is slightly more than what I would expect from a bike at this price point.
Powering the flywheel movement is the same high-quality chain drive system Sunny uses on every bike in the SF spin bike range (except the SF-B1002, belt-driven). This essentially means that as you pedal, the crank system's movement moves an internal chain around inside the chain guard, which causes the rotation of the flywheel.
By rotating the resistance knob, the friction pad moves further towards or further away from the wheel's perimeter.
You can also use this as an emergency brake for added safety to bring the flywheel to an immediate stop by pressing down instead of turning.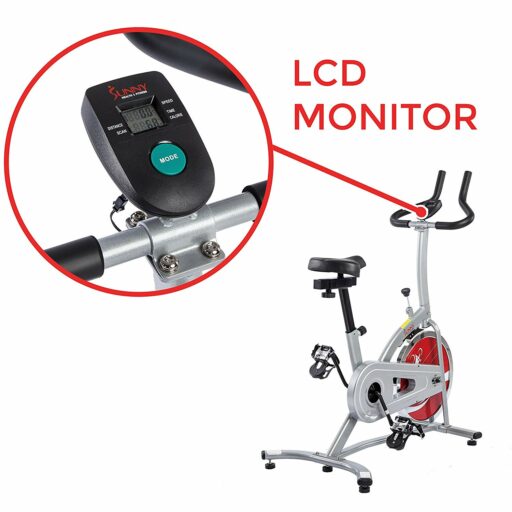 Pedals and cranks are heavy-duty, similar to the ones present in most indoor cycling bikes. The indicated maximum weight for this bike is 220 lbs. But even at this weight, you can work out in a standing position if you want, placing all your weight on the pedals without fearing they would snap.
Pedals are anti-slip, equipped with straps, but losing contact with the pedals shouldn't be much of an issue since it's a stationary bike. You won't be mountain biking with it.
Fitness Monitor
Unless you're already familiar with Sunny's collection of spin bikes, you might not know that the Sunny SF-B1203 Indoor Cycling Bike is the only model in this price range to provide a fitness monitor.
For most bikes, if you wanted to track necessary workout information such as heart rate and distance, you would either have to pay for one of the more expensive models or purchase a compatible bike fitness monitor separately at an additional cost.
The monitor is also a pretty simple device. It has auto on/off and will automatically shut down if no signal is coming from the flywheel. Also, it auto-powers when you start your exercising routine on the bike. To reset all functions, you need to press and hold the button for 4 seconds.
The functions of the device are 1-Time, 2-Speed, 3-Distance, 4-Calories, 5-Scan. The last one will scan through all the tasks between 1 and 4. 2 The console is battery-powered and requires 2 AA batteries.
There are no preset workout programs or entertainment options, but it's still helpful to keep track of your time, speed, distance, and calories burned. Unfortunately, due to the display screen size, you can only view one feedback item at a time.
SF-B1203 Assembly and Maintenance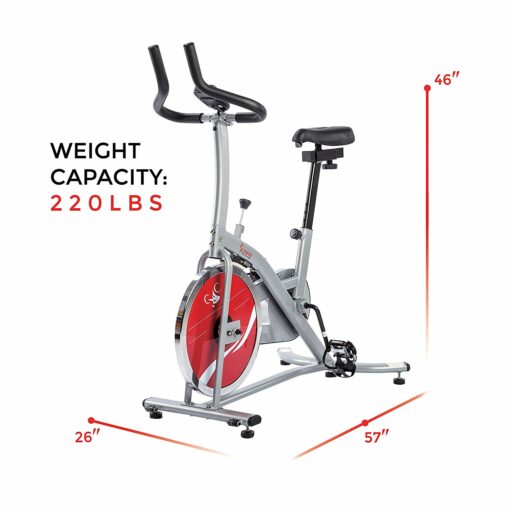 This Sunny SF-B1203 indoor cycling bike comes with the instructions manual and the tools to do the task, two wrenches for four dimensions. Assembly shouldn't take more than 30 minutes. The flywheel, crank, chain, and chain protection are already attached to the frame. All you need to do is install the handlebar, seat, pedals, and front and back bases.
The frame has transportation bases that you will need to remove and install the bike's standard bases. These come with adjustable "feet" for leveling the bike if the floor is not level.
When it comes to maintenance, you must check for any loose and re-tighten parts if necessary from time to time. In addition, the chain needs to be lubricated monthly.
The wool-felt brake pad also needs periodic lubrication with a silicon-based lubricant. For this, you can use any oil available in a bike shop or even the usual WD-40. Even with heavy, daily use, though, several months can pass until the chain requires greasing.
Regarding troubleshooting regarding the fitness monitor, check if the sensor wires are correctly connected if there is no signal. Also, the blurry screen suggests low batteries. Unfortunately, the device does not have a battery power indicator.
Pros
Quiet cycling motion, with only a tiny amount of noise created by the friction pad and chain;
Wide range of seat adjustment options;
The seat remains comfortable, even during longer workouts;
Sturdy frame design remains stable during high-intensity interval training;
Fitness monitor tracks time, speed, distance, calories burned, and scan;
Straightforward, clearly labeled instructions in the user manual;
Transport wheels make it much easier to move around if needed;
Challenging range of resistance options;
Small footprint makes it ideal for anyone with limited space to exercise;
The low price makes this bike highly affordable;
Easy to put together;
Smooth cycling motion.
Cons
No attachment to store a water bottle;
Feedback for calories burned tends to be inaccurate most of the time.
Sunny SF-B1203 Indoor Cycling Bike Summary
If you're looking for a highly inexpensive home exercise bike for daily use, the Sunny SF-B1203 might be the exact one to put on your list. It offers almost everything a user would want from an indoor cycle.
Moreover, it's the exercising equipment that will help you shed off the unwanted pounds or tone your abdominal, leg, and shoulder muscles. It can help you burn up to 7-800 calories daily and also track your progress. It's low maintenance, long-lasting, solid piece of equipment, an investment you won't regret.
I hope you found this article helpful and informative. If you have anything you'd like to share or opinions about the content on my website, please speak up. I look forward to your comments, questions, and the sharing of ideas.